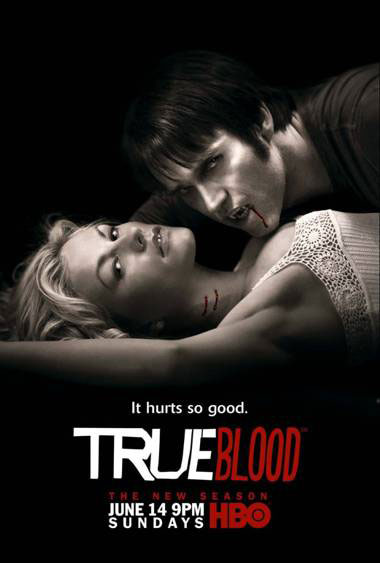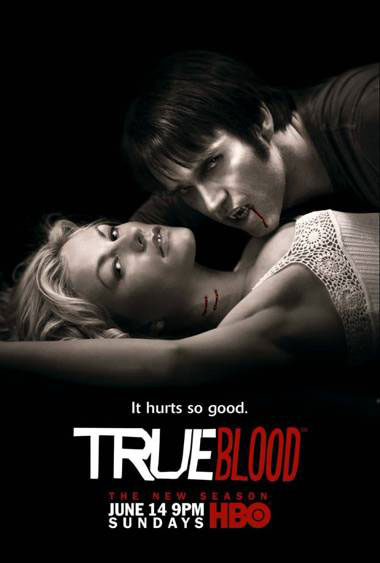 Review: True Blood 2.02 – Keep this Party Going
Original Air Date: 21 June 2009
Rating: NR/AO (Not Rated/Adults Only)
Okay. There are a lot of plots running rampant in this 50 minute hour, so strap down, get a tasty beverage and a snack, and tuck in for a ride.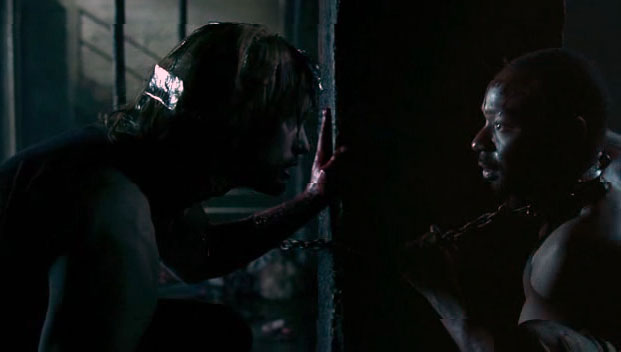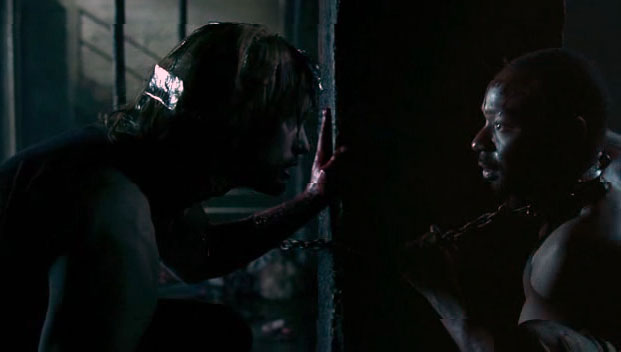 Eric, having torn the redneck into pieces, tosses a severed limb into Lafayette's face. And it is the best use of slow motion ever. Not to mention that fantastically juicy sound it makes as it bounces of Lafayette's chest. Made me laugh so hard! Realizing he's covered in Redneck's blood, he asks Lafayette if he has any in his hair in a slightly earnest way (I mean, as much as Eric can be, he's kind of got "bored" and "hungry" and "angry" settings and that's it). Lafayette finally tells him that he does, and Eric sighs that "Pam is going to kill [him]." Obviously not finding this scenario nearly as funny as me, Lafayette asks who the f*%& Pam is in that "You just tore an adult man limb from limb while you drank his blood in front of me, threw his arm at my face, and you're seriously asking me if your highlights are messed up?!" kind of voice. Eric unchains him to introduce him to Pam. And on that note, we cue the music.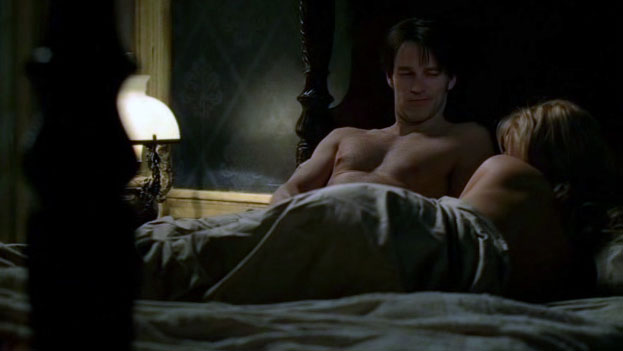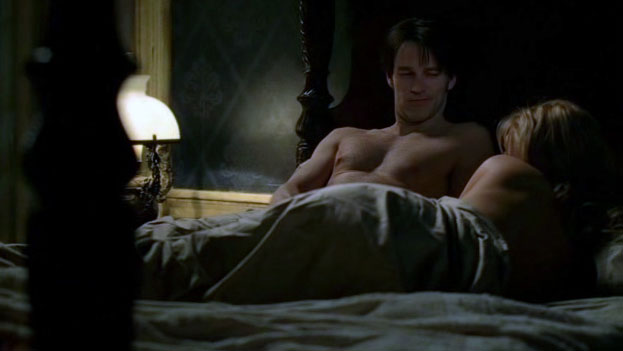 At the Undead Love Shack, Sookie and Bill are chatting about how great Make-Up Sex is (so much better than I Thought You Were Dead Even Though You Really Are Dead Sex). Bill tells her that they shouldn't get used to it because they don't want to be "one of those couples", and we all roll our eyes and gag because we all know that's exactly the kind of couple they are. They then proceed to argue about Jessica (OMG, Sookie's apparently a screamer) and how Bill needs to be a little bit easier on her since she's not only a teenager, but a vampire teenager. Bill gets all *rabblerabble* about how she is a vampire and not human anymore, and Sookie points out that he needs to try something different because his current tactics aren't working. You know what that leads to, right? More Make-Up Sex! Surprisingly, all we get is yet another shot of Anna Paquin's wabbs and not another sex scene. TB has had very little of that so far this season.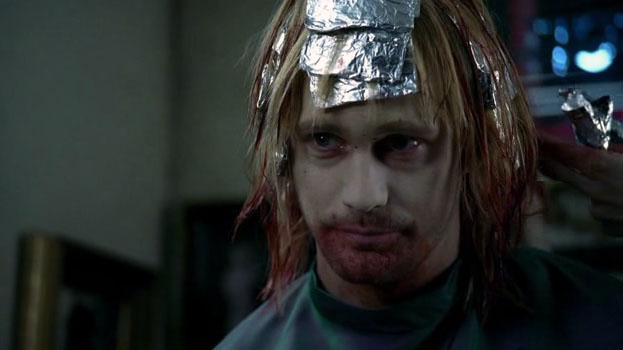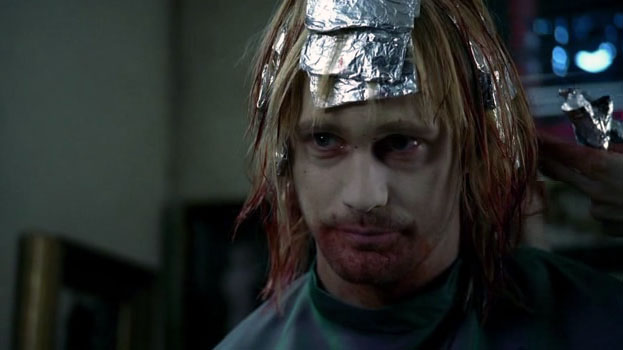 Back at Fangtasia (I will never get over how dumb that name is), Pam is indeed not pleased with Eric's hair. He claims self defense and orders Lafayette to defend him. Lafayette is dying to tell them anything they want to know just so he can get out of that stank basement and not die. I wish I could transcribe his speech about being a survivor first and a capitalist second, but there are some choice words and phrases in it (it cracked me up).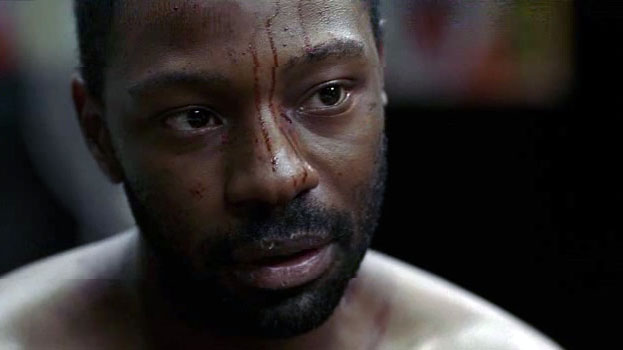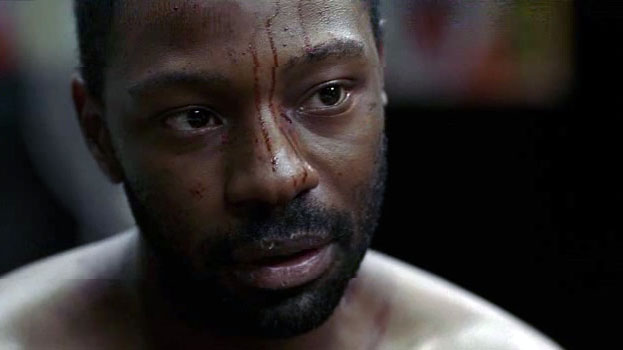 He spills his guts and throws Jason under the bus about that missing vampire that was one of his "clients". Fortunately for Jason, Pam and Eric have plans that involve Sookie so he's off limits at this point. However, an old friend of Eric's is missing in the Texas area. His blood is worth far more than Eric's would even be, and he pumps Lafayette for info on V dealers in that area. Turns out he did have one contact down there, but didn't know about him/her getting any new product lately. Back to the basement he goes!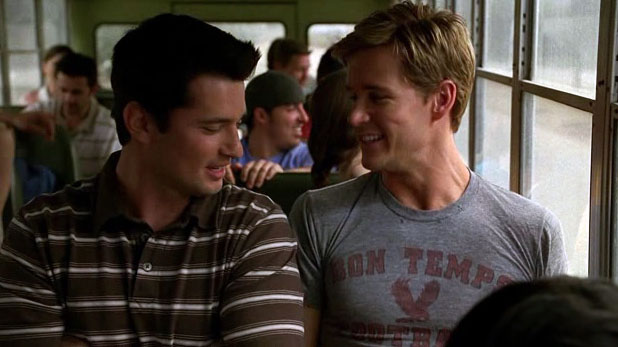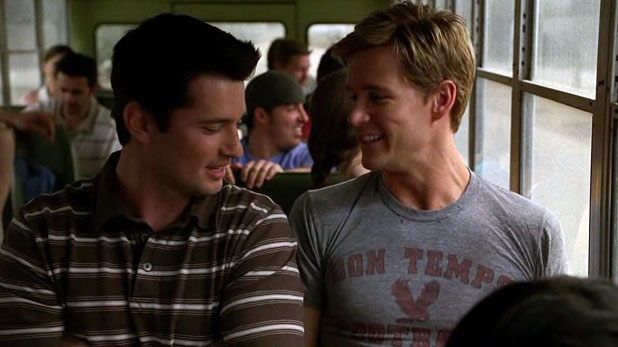 We check in with Jason. Yep, still an idiot and on a bus full of idiots. In all honesty, I think he may be smarter than he realizes he is. He makes friends with Luke McDonald (no relation to the restaurant or farm) on the bus ride to the leadership camp. Turns out Luke used to be a football star at Texas A&M before he blew his knee out. For the past three years, he's been set on getting into the Church of the Fellowship of the Sun's leadership camp. Funny how it only took Jason two days and $1200.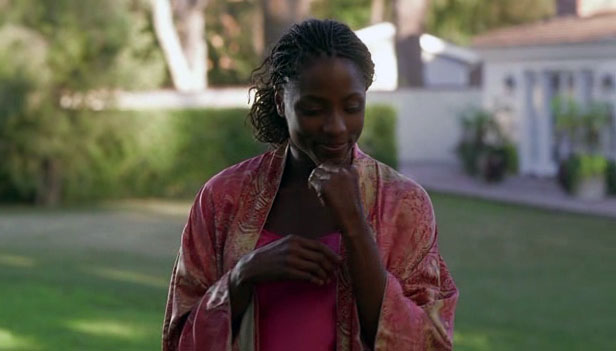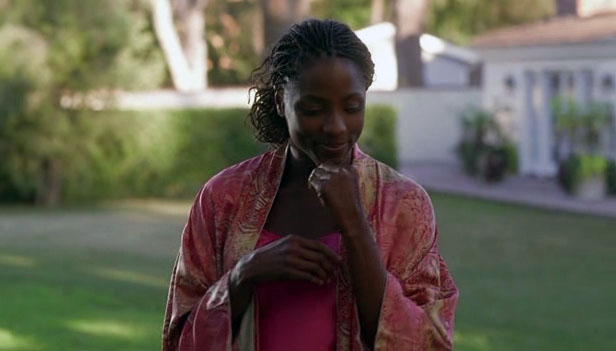 Catching up with Tara on Maryann's Estate of Misfit Toys, we find out that she's really digging on "Eggs" Benedict. Well, duh, he's way smoking hot with a a voice to match. Let's take a minute and appreciate that fact.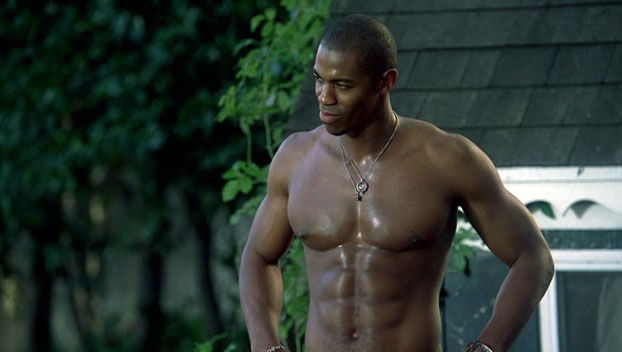 Anyways, she has reservations about him because she doesn't know anything about him. He finally tells her (after some prodding on her part) he doesn't have a job, that Maryann found him living under a freeway overpass, and that he'd spent time in prison. Naturally, she's a little taken aback by the prison time, and being that she's Tara and has kind of a big mouth says so. Eggs gets a bit ouchie about telling her and walks away. I'm trying to figure out if he's in on Maryann's game like the bald manservant (who I think was definitely that Paul Bunyan pig from S1).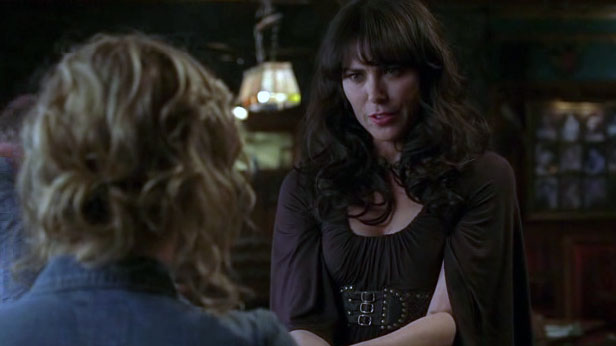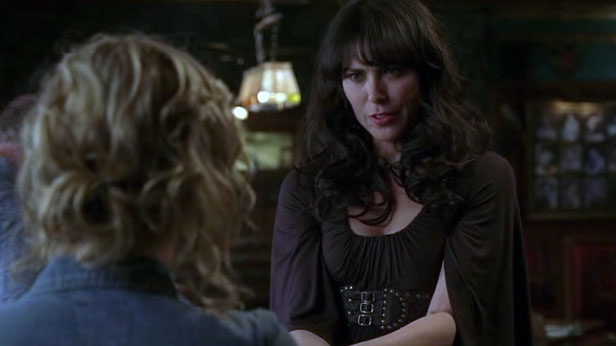 Maryann shows up at Merlotte's with Tara to torment Sam a little more. She proceeds to order just about everything on the menu (Circe, I'm telling you). Also, Daphne doesn't seem to be working out. I'm not sure what kind of deal they have at Cracker Barrel, but she's clearly never worked in the food serving industry before. Sookie also shows up to have Girl Talk with Tara. Turns out that Tara has suspicions about Maryann's setup. Not that she doesn't like it (who wouldn't?), but something feels off about the whole deal. Thank goodness she recognizes that something's wrong with Maryann because Tara's the smartest person on this show so far and I didn't want her to get duped by some lady offering her a free ride. Sookie asks Tara to move in with her (it'll be just like high school, only funner!), but before Tara answers there's a Daphne commotion, and Sookie tries to leave before Sam suckers her into working that night. Maryann stops her from leaving to talk with her, and Sookie takes a peak into Maryann's mind where she's thinking in a foreign language! Maryann is not happy about the possibility of Tara moving out.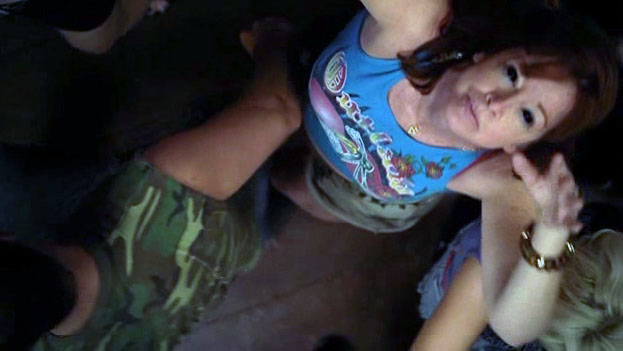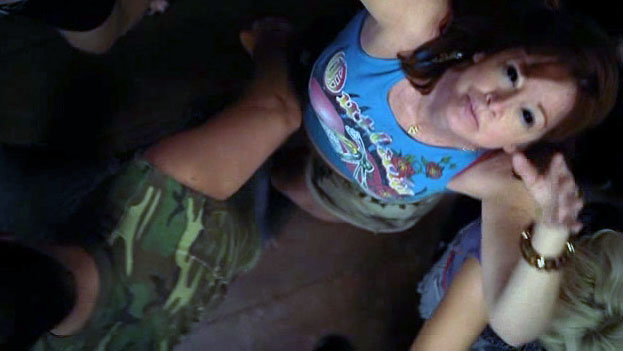 So she does something to cheer herself up: Makes Sam miserable! Overhearing Sam talking with Andy about how they hate places where people dance, she works her magic (literally) on everyone in the bar and gets them up and moving and flirting and making out with one another. Eggs shows up to let Tara know that he's interested in her and interested in making a relationship between the two of them work. Sam confronts Maryann about messing with his place, his people, and his town. She reminds him that he's got a lot to hide and she could expose that deep secret if he keeps pushing her.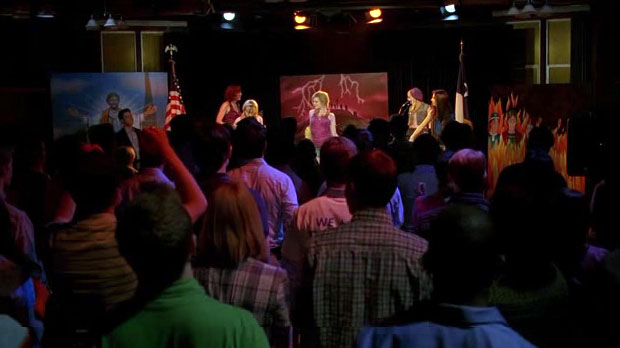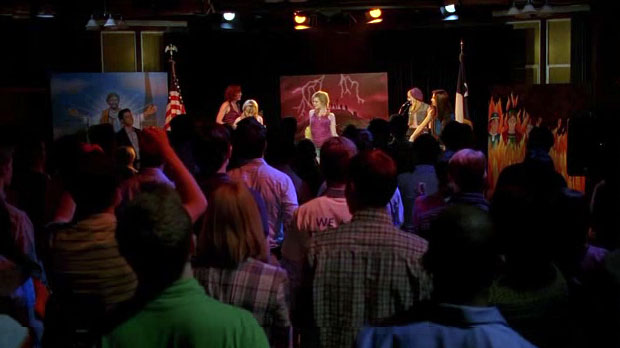 Catching back up with Jason, he finally makes it to Brainwashing Camp. It's all pretty standard and lame, but here are the highlights: they all get "purity" rings and t-shirts, play an 80's version of Capture the Flag, Luke shows some impressive moves for having a dodgy knee (could he be Lafayette's contact?), and Jason melts the underoos right off of Mrs. Newlins by winning the game. They also have this concert where a song is sung that I'm pretty sure Jesus was offended by, they have some role playing between Mrs. Newlin and Jason, and Jason starts to remember how he made friends with that vampire his junkie g/f killed in his basement. He's clearly having some conflict of interest here. Luke and Mrs. Newlin seem to have a thing for Jason, but I'm going to guess that Mr. Newlin's plans for Jason are going to be the most sinister. The Lukenator (as he dubbed himself), informs Jason that he'll be keeping an eye on him because he knows Jason is a fake, and I still think he has a crush on him.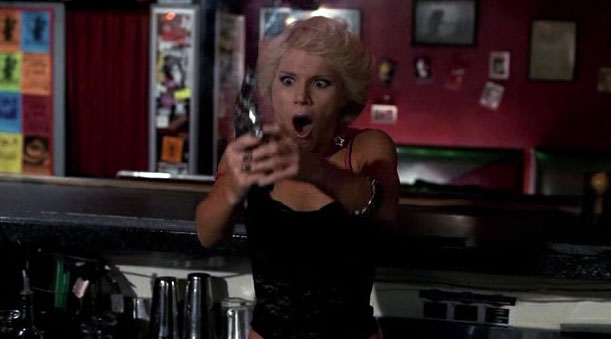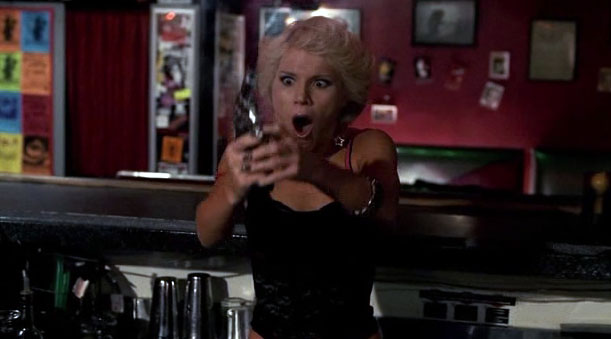 Lafayette, back on the chain, remembers that Redneck told him about having a hip replacement. Yep, that's right. Lafayette works his way over to the leftovers, finds the leg with the metal in it, digs it out of the flesh and bone with his hands and teeth, and uses it to break his chain. That's dedication to get free, my friends. He makes his way to the front door of the club only to be surprised by the gun-toting human employee. She can't let him go or they'll kill her and he's about had it with this whole situation. Needless to say, she accidentally shoots him in the leg. Caught again by his vampire keepers, he tells them to make him a vampire instead of just killing him. They say it's an option, then go in for a hot meal.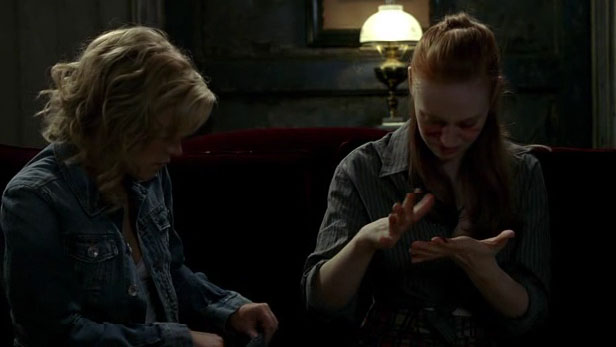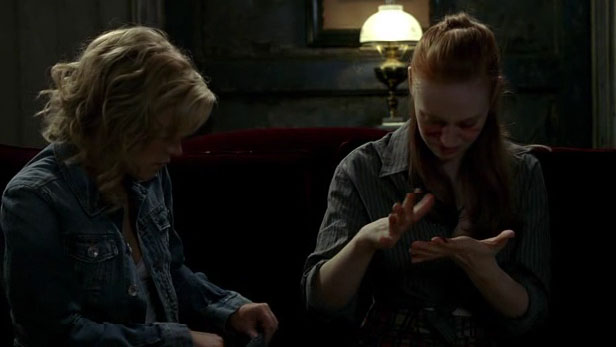 Sookie ends up playing step-mom to Jessica because Bill is not home. Jessica is way upset about seeing her parents on the news talking about how she's missing. She starts crying about it, and freaks out about the blood instead of tears. Sookie has to explain to Jessica about the crying blood (something Bill probably should have told her about it), then tries to commiserate with her about losing family. Jessica totally sees an in and pounces (i.e. she cons Sookie into driving her to her parents' house).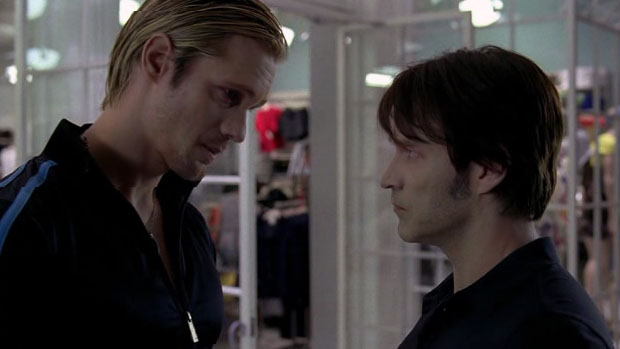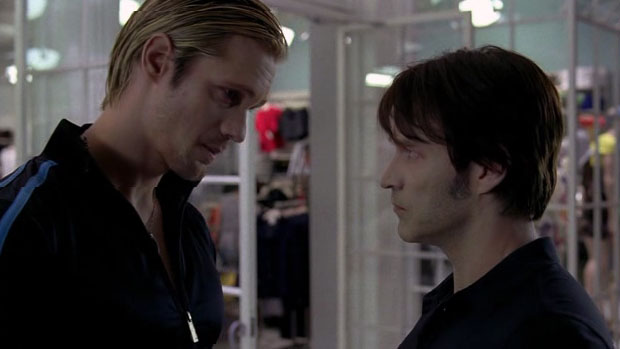 Turns out Bill's shopping for Jessica, trying to find her some clothes that don't look skanky. The sales lady tries to proposition him, which was funny. Eric shows up (looking super hot in that tight outfit), and tells Bill the situation with Godric (his missing vampire friend). He wants to take Sookie to Texas to help him in his search, and is going through the formalities of asking Bill his permission. Bill, of course, says no. Eric informs him in that icy deadpan way that his decision is unfortunate.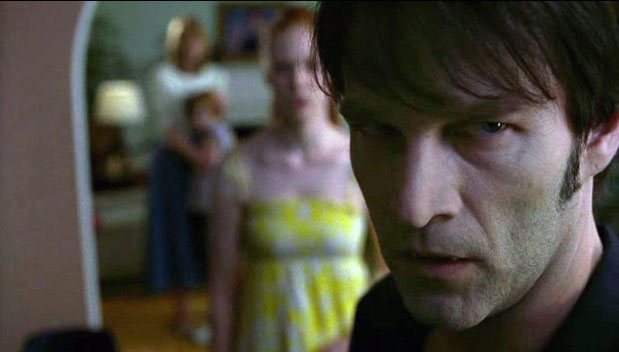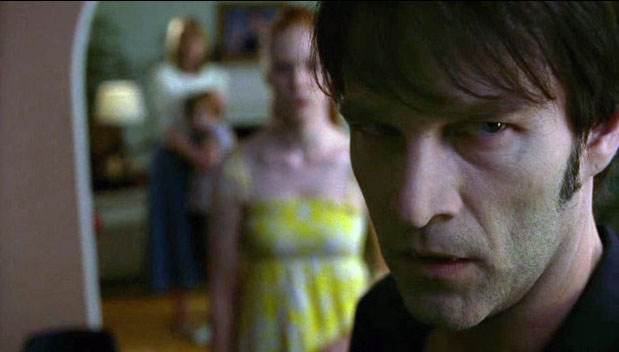 Dumb runs in the Stackhouse gene pool because Sookie does take Jessica to her family's house! It goes about as well as you can expect. Jessica starts out all remorseful teenager who misses her family until her father shows up (who, I suspect, used to beat the crap out of her). The fangs come out and she tries to kill him. Bill busts down the front door, glamours the kid sister into inviting him in, chews Sookie out big time as he throws her out of the house, and gets ready to clean up the mess.
*WHEW* Sookie, pack your bags because you're so going to Texas with Eric now.