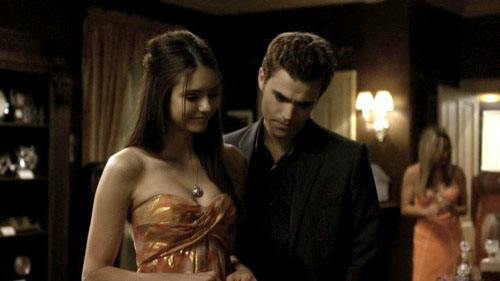 Episodes: The Vampire Diaries 1.03 – "Friday Night Bites" and 1.04 – "Family Ties"
Original Air Date: September 24, 2009 and October 1, 2009
Screencaps by toxic_caps.
Greetings, gentle reader. Your humble reviewer has returned from a muy fabulosa vacation (many thanks to Celeste for filling in), has finally shaken off the jet lag and an ensuing family crisis or two, and is now completely caught up with her favorite new show.
I think we can all agree that The Vampire Diaries is no True Blood, but summer is over, and we must make do with what we can now that we know winter is around the corner. If you forgive the bad metaphor, if True Blood is a real suntan, then The Vampire Diaries is our fake bake. This scrappy CW show doesn't have the same sophisticated polish as its premium channel counterpart, but it has quickly wormed a place into this old goth's heart. Besides, I've missed the "lumpies" of the Buffy vamps, and these vamps have a cool eye changing lumpy thing going on.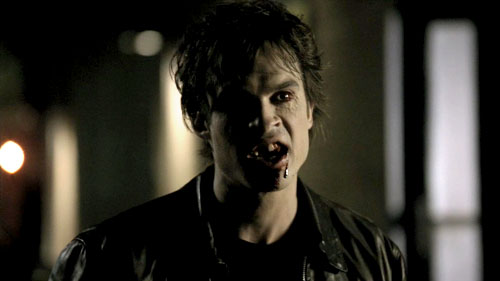 First of all, I cannot help but to think of The Vampire Diaries as the postmodern love child of Buffy and Roswell, which just endears it to me even more. Also, Ian Somerhalder belongs on the small screen, and he just chews his scenes like they were a hapless highschooler. His vamping (pun intended) elevates Damon's snarkiness and inhumanity to a higher level, and the tight black clothes don't hurt either. But, enough about how much I love this show, I've got two episodes to catch you up on, gentle reader.
The third episode, "Friday Night Bites" (har, har, har) opens with yet another victim of Damon's teenage terror — only this time, it's his girlfriend/blood buddy (and BFF to Elena), Caroline Truitt, and she's not so much terrorized victim as willing participant. Turns out, Caroline is under Damon's sexy vampire thrall, which only serves to make it easier for Damon to infiltrate Elena's life.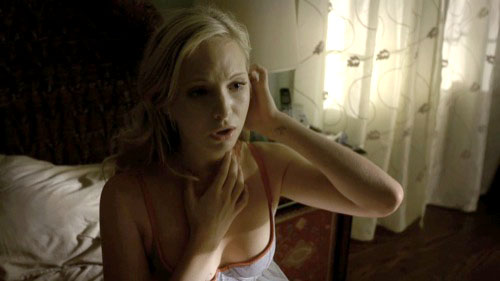 Elena is still seeking a sense of normalcy after her parents' accident, and her blossoming relationship with Stefan provides that feeling, just as Stefan is trying to have a normal "human" life. In fact, it seems as if the writing team is constantly trying to remind the audience of that very fact by having our lovebirds refer to themselves as "mysterious loner guy" and "gloomy graveyard girl."
Normal is the watchword for this episode — after Tyler tosses a football at Stefan, he makes an attempt at normalcy by going out for the football team. Much to everyone's surprise, he is a natural. Stefan is reluctantly let on the team by history teacher/Coach Tanner, and is quite taken with his new hobby. At the same time, Elena takes up her old hobby of cheerleading, and finds that she doesn't have the same spirit for school spirit that she used to. In fact, she is easily talked out of continuing by Damon, who is starting to try to work his charms on Elena.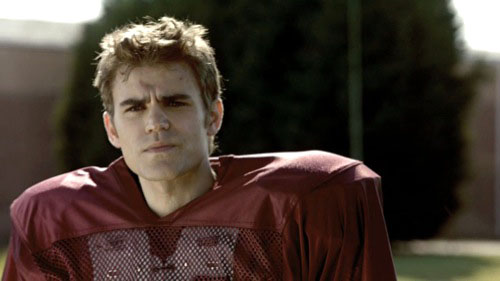 Elena also attempts to make peace between Bonnie and Stefan by having them both over for dinner, where Bonnie reveals her growing powers as a witch (a decidedly cool one, descended from the Salem witches). Of course, Damon and Caroline crash her dinner party, but not before Damon snags himself an invite to Elena's house. Meanwhile, Tyler and Jeremy are continuing their rivalry over Vicki Donovan, thus proving that sometimes the stoner kid can actually be the better man.
The episode ends with a premonition of Bonnie's coming true — the numbers 8, 14, and 22 entered around death and Stefan. Bonnie was close; Damon kills Coach Tanner and sets up Stefan to take the fall. Stefan pours his heart out about Damon's inhumanity to his secret diary, although one suspects it's just a reason to give him a voice-over.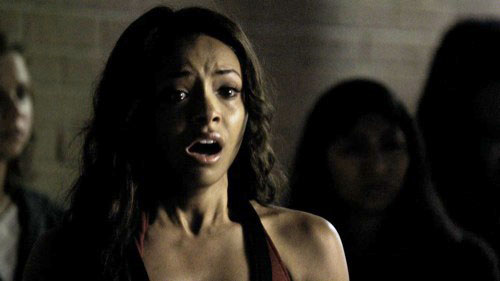 In episode 4, "Family Ties," we see more of Damon doing what he does best — messing with his little brother's (un)life, unnerving Elena, and keeping his human descendant, Zach, on his toes.
The episode begins with a shot of a newscaster reading an announcement that Elena Gilbert has been found dead, and that the police have tied all five deaths to a wild animal. Clearly this is all a dream, but it's Stefan's dream, not Elena's.
We get to see more of Damon's (the "older sexy danger guy" — gee, thanks, writers) and Caroline's relationship, which is not just a donor-recipient. In one soon-to-be classic (yet strangely postmodern scene), we see Damon curled up in Caroline's bed, reading Twilight — apparently Anne Rice had the right idea.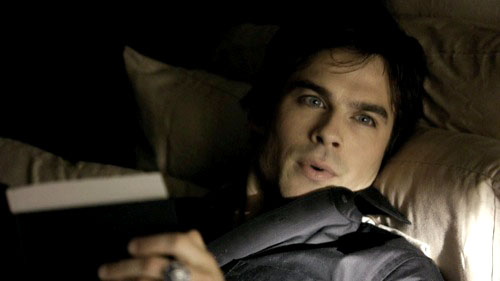 This episode delves into the history of Mystic Falls and its patron families, including the Lockwoods, Salvatores, and Gilberts. We learn more about the Salvatore brothers, including Stefan's plot to dope Damon with vervain in order to match his strength without taking human blood. The human relatives of the Salvatores grow vervain just in case, and at great danger to them.
Needless to say, the first attempt fails, which just fuels Damon's desire to turn Elena against Stefan even more. Fortunately for Damon, he has ample opportunity at the Founder's Day party, held at the house of Mayor and Mrs. Lockwood, who have assembled a collection of historical artifacts donated by the town's families. There is a very touching subplot where Elena gives Jeremy their dad's pocketwatch. It's adorable. The vampires are better.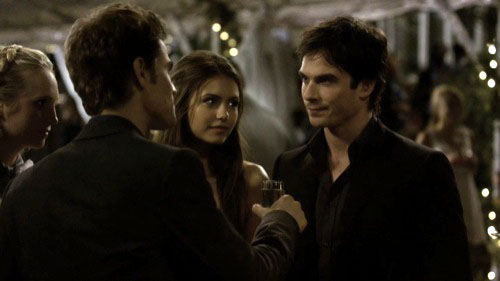 At the Founder's Day party, Vicki breaks up with Tyler, and Elena learns more about Katherine, whom she truly bears an uncanny resemblance to. In recanting his history with Stefan, Damon successfully turns Elena against his brother, but only until she learns the nature of Damon and Caroline's relationship. We also learn more about Aunt Jenna and her past, including a relationship with the local newscaster, as well as Bonnie's burgeoning powers. Ultimately, Elena and Stefan are fine, and even getting a little hot and heavy.
The episode ends with a gathering of town officials, and they have a secret, too: they know about the vampires.
Both episodes: 4 / 5 Stars