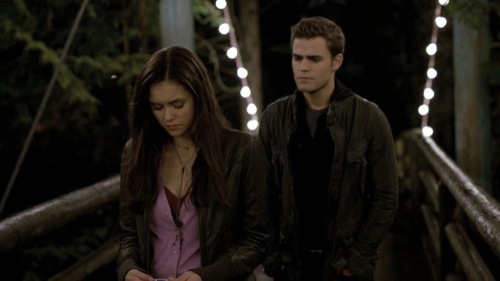 Review: The Vampire Diaries 1.01 – "Pilot"
Original Air Date: September 10, 2009
Screencaps by toxic_caps.
Based on the popular YA series by L.J. Smith, The Vampire Diaries is the latest franchise of babes and bloodsuckers to ride off of the popularity of Twilight. Fortunately, this new show, which premiered on September 10 on The CW, owes a greater debt to Buffy than Bella.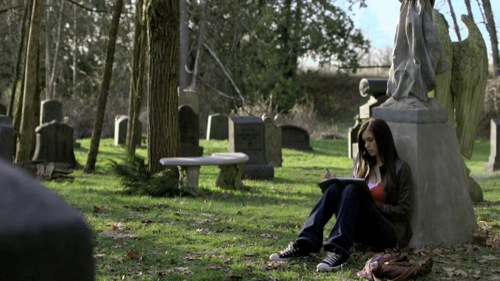 The Vampire Diaries centers around Elena Gilbert (Nina Dobre), queen bee and all around high school golden girl, whose voiceover diary entries/narrations sound like Liz Parker mooning over Max Evans on Roswell. Elena hangs out with her best friend Bonnie and and frenemy Caroline, or is usually writing in her journal at her parents' grave site. She lives with her Aunt Jenna and brother Jeremy (Steven R. McQueen) in the small town of Mystic Falls, four months after a car crash that claimed the lives of their parents. Elena and Jeremy are coping in their own ways: she wants to move on with her life and reclaim her status as the golden girl (version 2.0), Jeremy has discovered drugs and girls. Luckily for Elena, the best way for a popular girl to make a statement is to start flirting with the dark, mysterious new guy in town.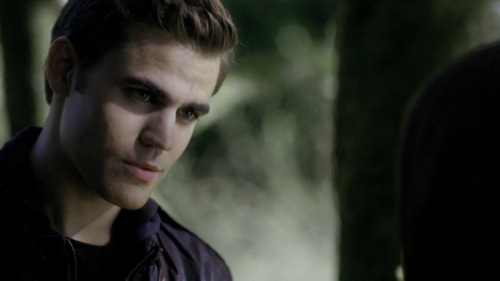 Enter brooding, hunk Stefan Salvatore (Paul Wesley, doing his best David Boreanaz impression), who just moved to town with his Uncle Zach and has just started school with Elena. Stefan is trying to be a good little vampire, not feed on humans, and stay out of trouble. Unfortunately for Stefan, trouble comes in the form of Elena — a dead ringer for Katherine, his former love from 1864. Katherine was loved by both Stefan and his estranged brother Damon (Ian Somerhalder, in fine bad-boy form), who has decided to come back and wreak some havoc. Stefan and Elena can't seem to stay away from each other, and their chemistry makes for excellent CW drama. For those of us who like our vampires a little less altruistic and mopey, Damon is the perfect foil for Elena and Stefan's burgeoning romance.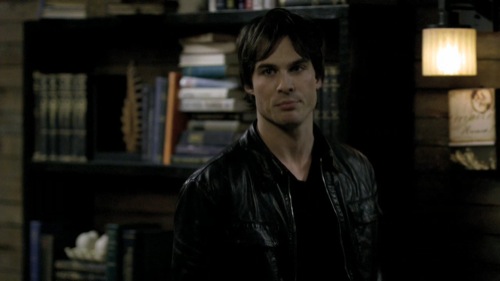 While the series takes some liberal departures from the book, writer Kevin Williamson (of Dawson's Creek fame) does a wonderful job with both updating and keeping the tone of the original. There is a lot of expository ground that the show needs to cover, but The Vampire Diaries has the potential to be the next hit among fans of both Buffy and Dawson's. Here's hoping that this anti-Gossip Girl has a long (after)life.