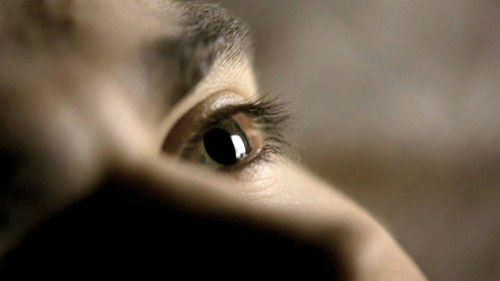 Review: The Vampire Diaries 1.02 – "The Night of the Comet"
Original Air Date: September 17, 2009
Screencaps by toxic_caps.
Lauren's on vacation, so I'm subbing for this week's The Vampire Diaries recap. So far I'm enjoying the show — it's not the cleverest or most innovative story ever (at least not yet), but it's enjoyable and I love to see how different writers handle the vampire mythos.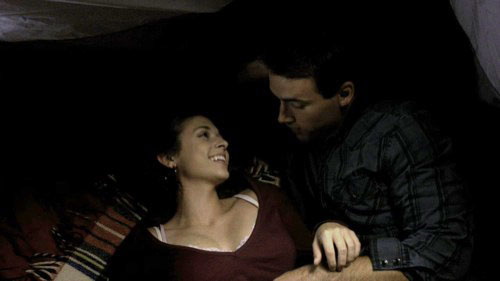 The episode begins with yet another pair of lovers being mauled out in the middle of nowhere, with the perp never showing his face onscreen. Luckily, this is only the teaser and the opening credits start (seriously, how many times have we seen this exact scene in fiction over the years?).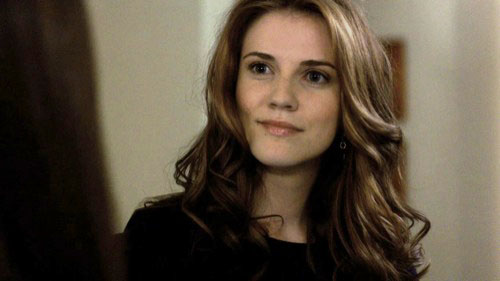 Cue voiceover of diary entries by both Elena and Stefan as they wake up excited to see each other again. Overall, I think the writing on the show is decent, but the diary bits are pretty painful. Anyway, Elena gets ready for school as Aunt Jenna gets ready for a parent/teacher conference with Mr. Tanner (the only teacher in the school, apparently) about Jeremy (who himself has left early to stop by the hospital to check on Vicki).
At school, Elena and Stefan get busted for making googly-eyes at each other in class, and Stefan lends Elena a copy of Wuthering Heights "passed down through the family." I'm hoping there will be something in the book (a note scribbled in the margins, something inserted) that either mentions Katherine or alerts Elena to the fact that Stefan himself has actually owned the book since its publication.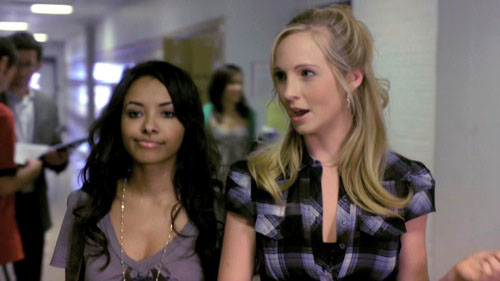 Meanwhile, Bonnie and Caroline are discussing Bonnie's newly-discovered psychic ability. She says her Grams told her she's descended from some "really cool Salem witch chicks." Caroline wants her to use her power to get Caroline the name and number of "that guy from last night" who, of course, is Stefan's dangerous bro Damon. So, a witchy best friend and somewhat vapid, flirtatious frenemy with an eye for bad boys? There are definitely some serious Buffy parallels on this show.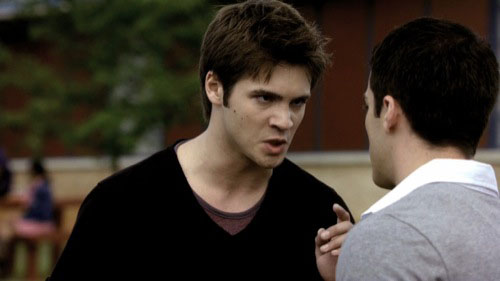 Jeremy confronts Tyler, who's chatting up some ladies near the football field, about what a suck boyfriend he is for not bothering to visit Vicki in the hospital. Then he gives him a death threat, which is always a brilliant tactic. No way is THAT not gonna come back to bite him in the neck.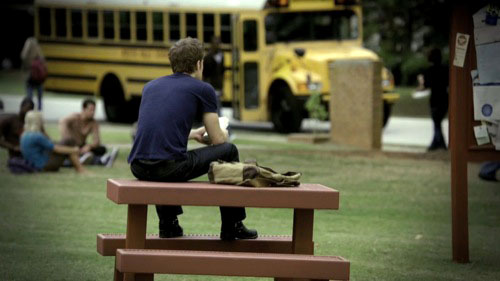 Elena catches up with Matt about Vicki's progress, and we learn that their mom is kinda deadbeat. Do any of these CW shows have teens whose parents are actually both alive and well-adjusted? Anyway, the conversation turns to Stefan, naturally, who is sitting nearby on a picnic table using his super vampire ears to eavesdrop on them (he knows that's creepy, right?). He perks up when Matt says Vicki claimed it was a vampire that attacked her and disappears, probably to investigate.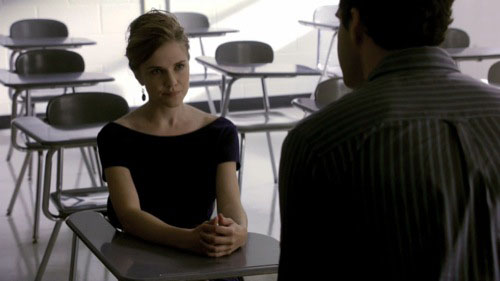 Aunt Jenna shows up for her conference with Mr. Tanner who, in between insulting her parenting skills, reveals to her that Jeremy clearly has a drug problem. Not sure how she missed that, since she was apparently a big stoner in high school.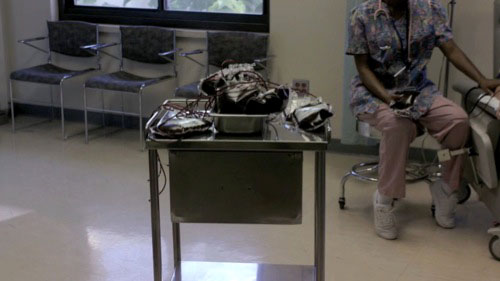 Matt goes to visit Vicki, who has a screaming panic attack when he touches her. When he runs off to get a nurse, Stefan zips in and semi-successfully glamours her into thinking it was an animal, not a vamp, that attacked her. He's on his way down the hall when Matt spots him and he has to escape through a room filled with people getting transfusions or something — blood bags everywhere!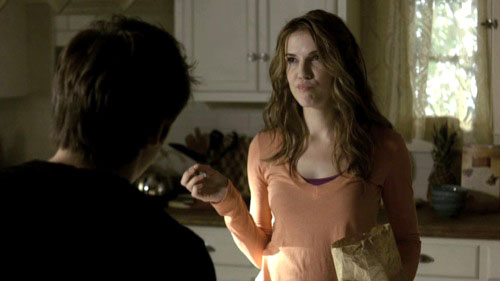 Aunt Jenna plans a whole big intervention for Jeremy, but basically spends the whole time telling him how great it was when she used to get high and how she would totally still do it if she weren't working on her thesis. Excellent strategy! Or not.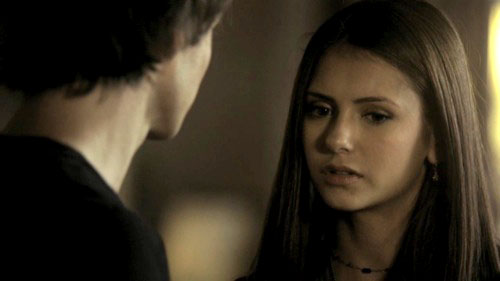 Elena visits Stefan's house in an attempt to be proactive, but instead finds Damon, who is super creepy and cruelly insincere, which of course Elena doesn't seem to notice at all. She does, however, seem shaken by the news of Katherine, who Damon only refers to as Stefan's ex and fails to mention the hundred or so years in between. (Quick note: I thought Ian Somerhalder was great on Lost, but he's a bit too arch here for me. I really hope his character proves to have more depth than he currently appears to.)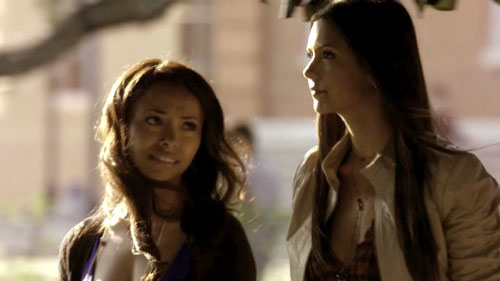 The whole town gathers for the Night of the Comet celebration, and Bonnie tells Elena to stop making excuses for why not to pursue a relationship with Stefan. Caroline sees Damon and tries to follow him, but he disappears, and Jeremy supplies a newly-discharged Vicki with some drugs for her pain.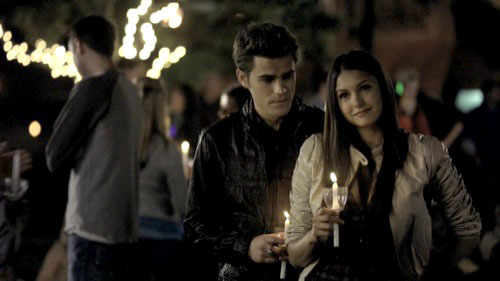 Stefan and Elena reunite and re-bond over the romance of the comet. But Elena tells him she understands that both of them have complications that make it too hard to date, so forget it, buddy. He obviously doesn't agree, but she leaves anyway.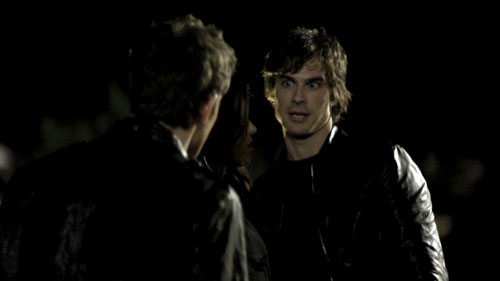 Vicki goes to the ladies' room to down the pills Jeremy gave her, and Damon takes that opportunity to abduct her. Stefan uses his super vampire ears again to find them on the roof of a building, where Damon glamours Vicki into thinking it was Stefan who attacked her. And since Damon drinks a lot of human blood, his glamour is actually gonna work. Uh-oh! He makes her forget for now, though, so Stefan takes her back to Matt, who patches her up, and then asks Bonnie and Caroline where Elena went.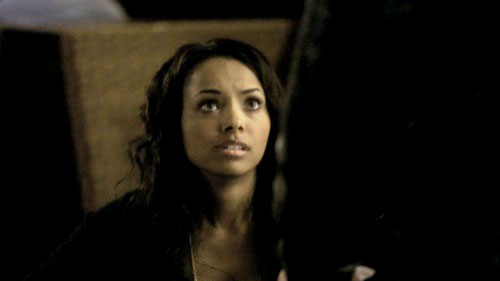 Bonnie gives him Elena's contact info (though he doesn't really strike me as the texting type) and when they touch, she gets a flash of something that freaks her out. We don't get to see what it is, but she and Caroline both brush it off like it's nothing. Her powers clearly are real, though, so I wonder what she felt and where it'll go.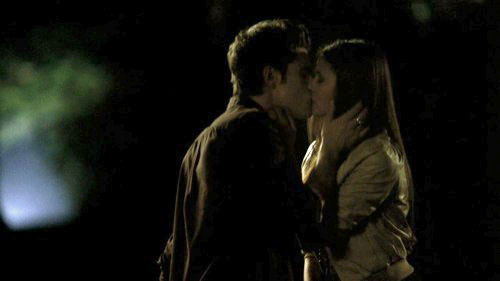 Elena returns to Stefan's house to make up and make out. Well, maybe not make out, but they do get their first kiss!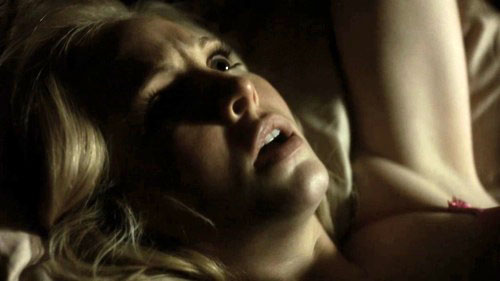 Speaking of making out, Caroline leaves the Mystic Grill and finds Damon, who finally responds to her flirting. Cut to Damon licking her stomach (or something? I don't know, it's the CW, they can't show what he was obviously really doing, given her reaction). Suddenly, he vamps out and bites her on the neck as she screams and the credits roll.