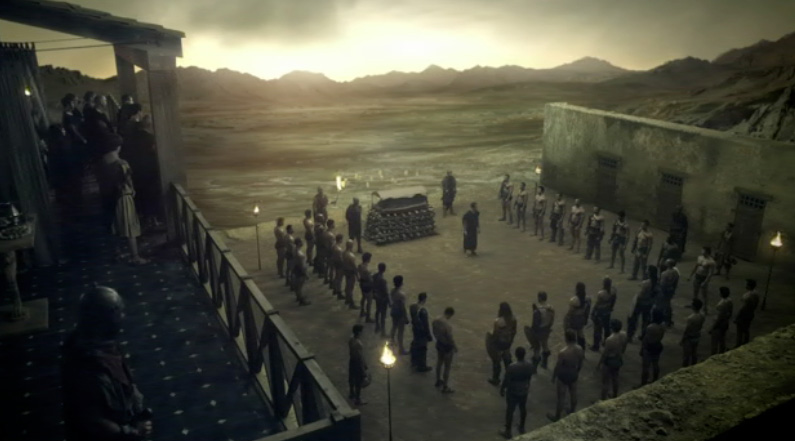 Episode: Spartacus: Gods of the Arena 1.06 – "The Bitter End"
Original Air Date: February 25, 2011
If there's one thing the Spartacus shows do well, it's finales and this one did not disappoint. There was some serious action and twists going on here!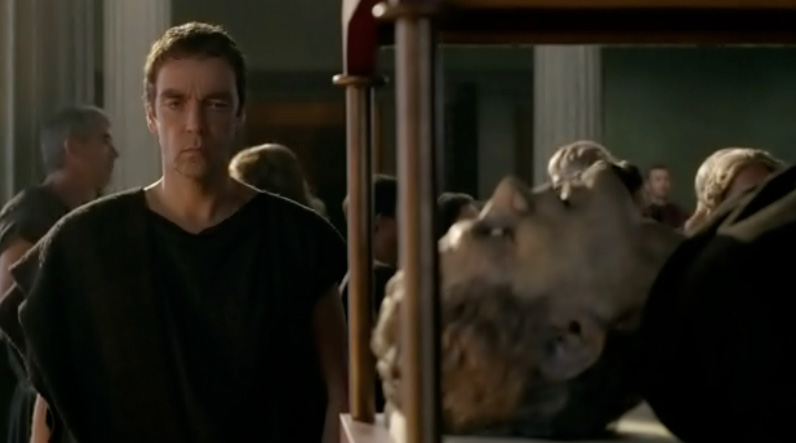 So, Quintus totally buys that Tullius had something to do with his father's death hook, line, and sinker. But why wouldn't he, right? Lucretia tells him that the wine Titus drank right before he choked on his own blood was the wine Tullius gave him, and there's no real need to look into the matter further for him. Solonius, on the other hand, suggests that it might not have been Tullius (and I wager that's because he's in Tullius's pocket and would like to stay there in order to better his ludus), and it's concluded by Quintus that Vettius probably had something to do with it and that he also needs to be taken out. Lucretia is just concerned with getting revenge for Gaia. Also during this wake for Titus, Solonius tries again for Lucretia's favor by saying that if things ever go pear shaped for the House of Batiatus, she could come to him. She just gives him this weird look before Quintus shows up and starts insulting Solonius again. I mean, seriously, how could Quintus not see a betrayal by Solonius coming a mile away?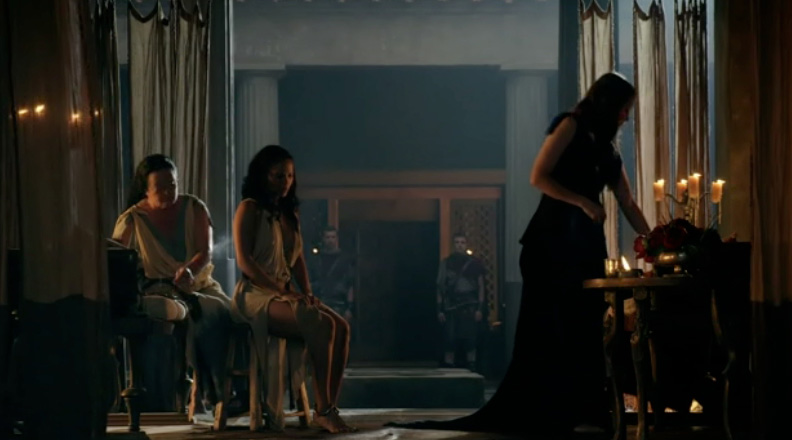 Shortly after all that, Naevia becomes Lucretia's personal slave in Mellita's place. Lucretia promises that she won't be whored out, like Diona, and that she will be saved until she can be given to someone worthy (like Mellita and Oenomaus). For all her flaws, Lucretia does seem to care a great deal about her female slaves and what they are used for. You know, as long as they don't decide to get involved with the gladiator she's involved with.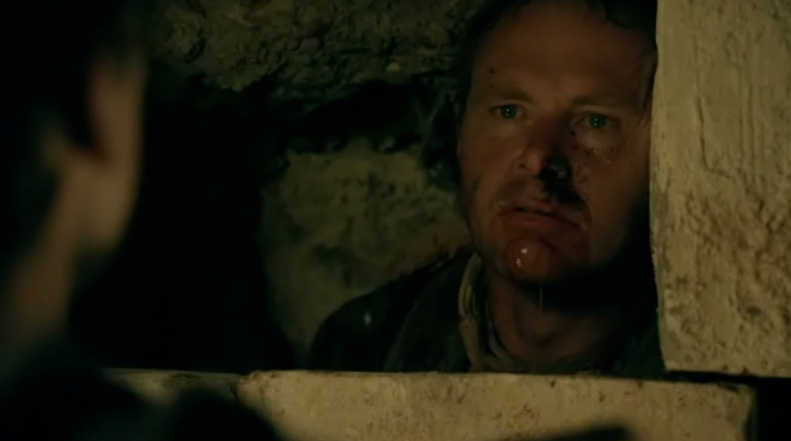 After he verbally assaults Solonius and then apologizes, Quintus and he come up with a plan to take out both Tullius and Vettius. They set up a trap by saying Quintus is selling Gannicus to someone else, and when Tullius and Vettius roll in to stop the exchange, the fight is on. All goes as plan (with the exception of Barca being injured in the fight, thus out of the opening games of the new arena), and Tullius and Vettius are bound and taken to their respective ends. Quintus takes care of Tullius, while Solonius handles Vettius. Solonius talks Vettius into covering up the fact that Tullius will be missing from the opening games of the new arena. Vettius has to agree to this; without Tullius to protect him, he's fair game. Then we go to Quintus and Tullius. Tullius thinks this is all happening because he wants to buy Gannicus, and when told it's because his wine poisoned Titus he's confused by the accusation (and rightly so, because why would he kill Titus?). Doesn't matter, and Quintus, Gannicus, and Oenomaus stab the living hell out of him. And this was a pretty awesome part: they totally go all Cask of Amontillado on Tullius and make him a part of the arena he couldn't wait to have up and running.
The opening games finally arrive, and Vettius does his part and claims that Tullius has gone to Antioch and that he will follow. He also drops the bomb that he's given his ludus to Solonius, and this is where the rift between him and Quintus happens. The plan was for them to split Vettius's stock 50/50, but Solonius tells Quintus that he was only following Quintus's example and was looking out for himself and the betterment of his ludus. This means that they are the only two luduses in the games, and that Solonius has a greater number of gladiators.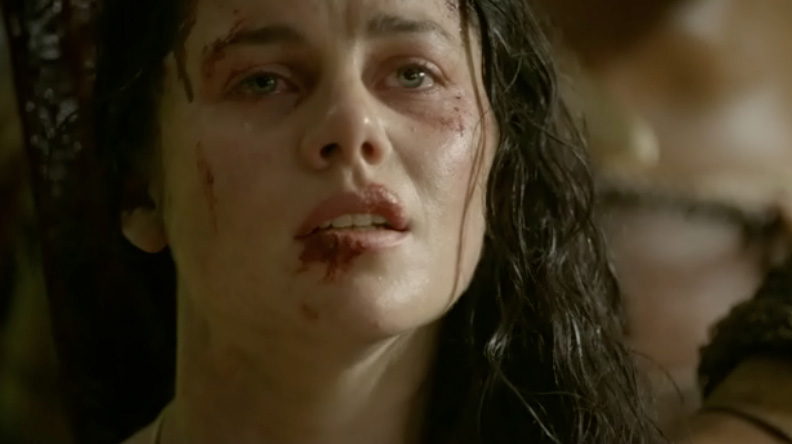 Biggest drawback to an otherwise excellent episode was Diona being executed at the beginning of the games (like I feared she would be). I thought that was bad form and that they should have just let the character disappear. Instead, she gets killed while the guy who raped her instead of Naevia laughed at the spectacle of her death and her dead body unceremoniously being dragged away by her hair. Lucretia, again in an odd show of concern for her slaves, seemed to not want this to happen. However, Quintus was all ready enraged by Solonius's betrayal and wanted to make an example of her. This just soured me. Bad enough the writers have this character raped in like every episode, then they kill her in this manner? Thumbs down on that.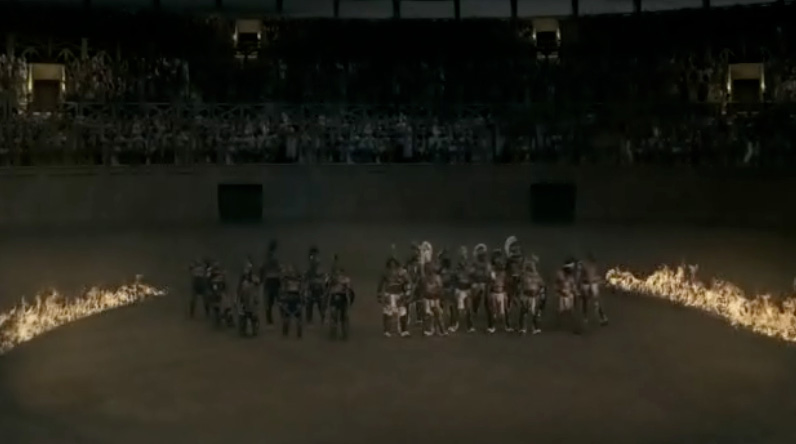 Many times during this episode, it looked like Gannicus wanted to confess to Oenomaus about him and Mellita, but he never does and is very lackluster about doing his job. Oenomaus tells Gannicus that he should fight for Mellita in order to get him to man up for the games, and, boy, does it work. The games are bloody and well choreographed and exactly what you watch the show for. It was great. Once night falls on Capua, it's House vs. House in a big showdown battle. Solonius has an advantage in number, but Quintus has an advantage in skill. During the melee, Ashur kills Dagan then suggests to Crixus they both take Gannicus out. Crixus, wanting a straight up fight between himself and Gannicus, breaks Ashur's leg and throws him out of the fight (these are the injuries he is recovering from during Blood and Sand).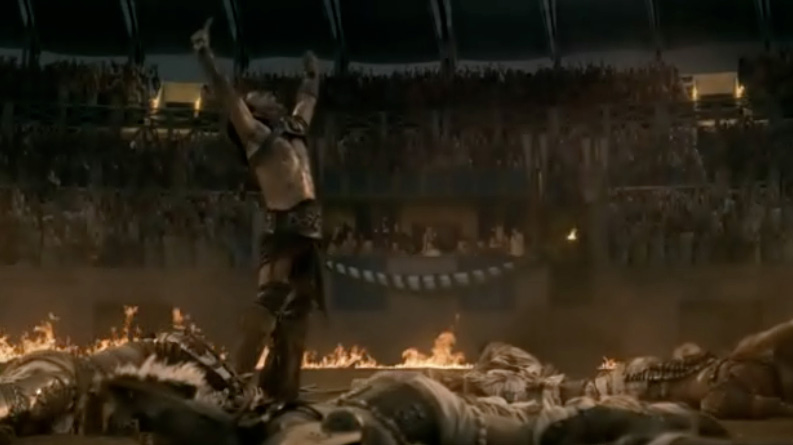 Crixus tries to take out the guy Gannicus is fighting so they can fight each other, but it doesn't work and Gannicus, in the most spectacularly bloody and violent way, proves himself champion of Capua by being the last man standing. I seriously loved this fight. I had to watch it twice. This grants favor to the House of Batiatus, and everyone wants Gannicus to fight in their games. Solonius, not liking that, suggests that it would be a perfect ending to the grand opening of the new arena to grant Gannicus his freedom, and that's what he gets.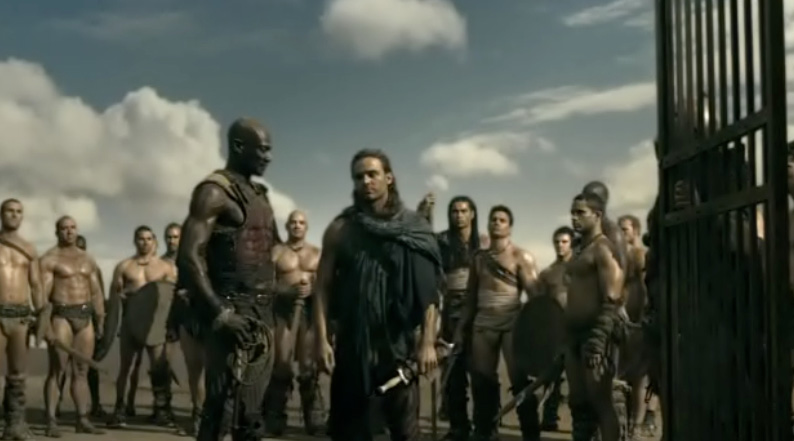 In the end, the brotherhood gathers to see Gannicus off. Crixus and Gannicus have a mutual respect in the end, with Gannicus giving Crixus the necklace he got when he became champion of the House of Batiatus (telling him to do a more honorable job of being champion than he did) and that when Crixus wins his own freedom he can look Gannicus up for a real rematch. Again, right before he leaves, it seems like he's going to tell Oenomaus the truth, but he ends up just telling him that Mellita loved him above all others and then he leaves to be seen again in Spartacus: Vengeance. In the end, I have to admit I actually liked Gannicus and can't wait to see him later on. His character had a nice development that I wasn't expecting in six episodes.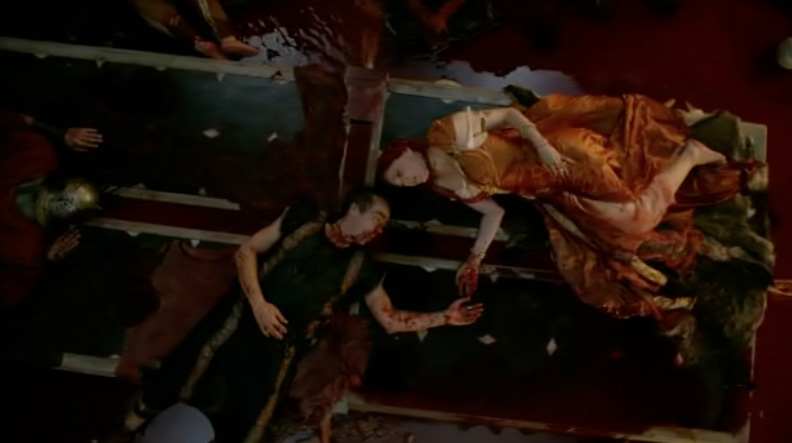 The show ends with a great tie-in to Blood and Sand as Quintus is watching the gladiators train, he tells Lucretia, "We will see this house elevated … We will leave our mark upon the city. One day, we'll see proper reward for all we have done". Then the final scene is one from Blood and Sand of him and Lucretia dead with a voice over of Spartacus giving his speech about bringing down Rome. It's a great way to get fans excited for the next chapter in the Spartacus story. I know I can't wait to see where they go from here.
Rating: 4.5 / 5 Stars