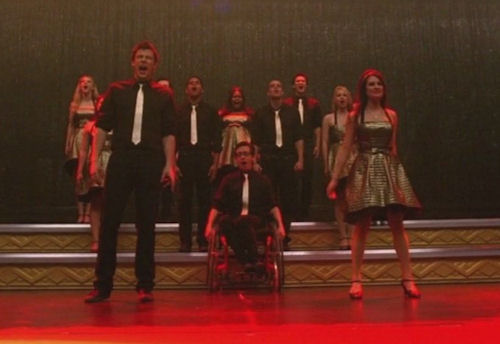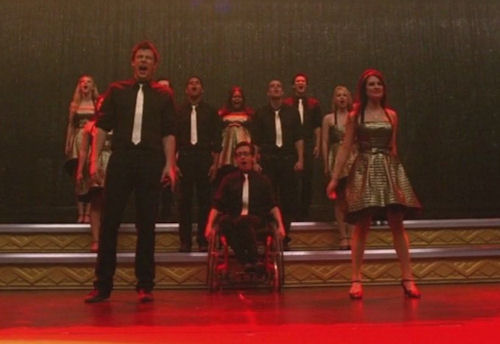 Episode: Glee 1.22 – "Journey"
Original Air Date: June 8, 2010
Screencaps by rawr-caps.net.
The season finale of Glee and Regionals are here. Yeah, I know, I'm a few days late. You know I had a bad week when it takes two days just to watch the season finale of arguably my favorite show. This was the episode of many "Awww"s and it started with a kick in the stomach.
What?! Sue Sylvester is a judge at Regionals and despite this obvious unfairness Principal Figgins is standing by his threat to disband the glee club if they don't place. Things are not looking good for New Directions.
Mr. Schuester holds a party for the glee club to decide their numbers for Regionals, but the kids are too depressed, certain that they are destined to lose. Sue even went so far as to announce at Cheerios practice that she planned to kill any chances they have of winning. The pizza party turns into a pity party as they reminisce over what they're going to lose.
Mr. Schuester then finds out that Emma is dating a dentist, which is the straw that breaks the glee club coach's back. Driving home from school, a song on the radio finishes him off and he pulls his car to the side of the road and bawls. This emotional moment inspires the team's theme for Regionals: Journey.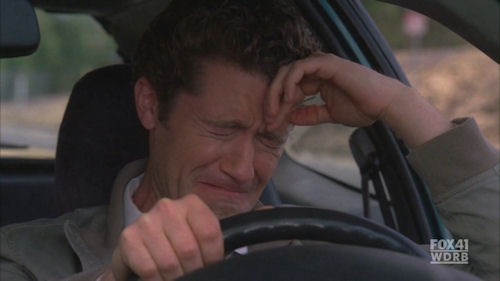 Finn confronts Rachel and convinces her not to give up, just in time for Mr. Schuester's pep talk. Mr. Schu tells them that it doesn't matter how they do at Regionals when they had so much fun just getting there. It's not the destination but the journey that matters, and this helps the kids all perk up.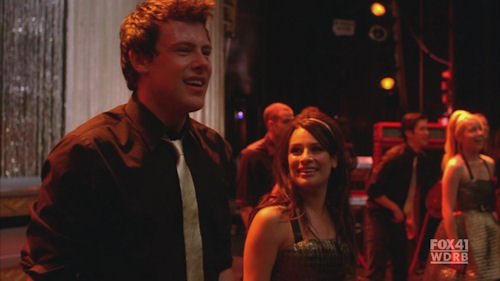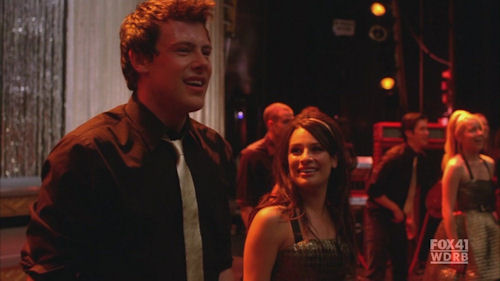 We jump right to Regionals, where we learn that the other judges besides Sue are Josh Groban, Olivia Newton-John, and Rod Remington, a local anchorman. We also get the first big "Awww" moment of the episode. Just as they are about to begin their performance, Rachel tells Finn to "break a leg," to which he responds "I love you." Everyone say it with me now: "Awww!"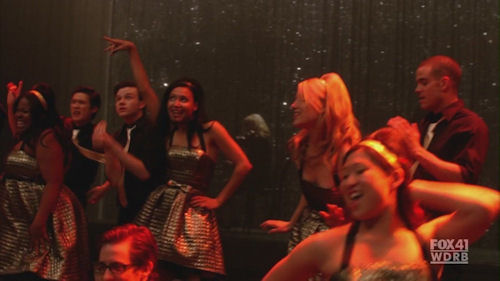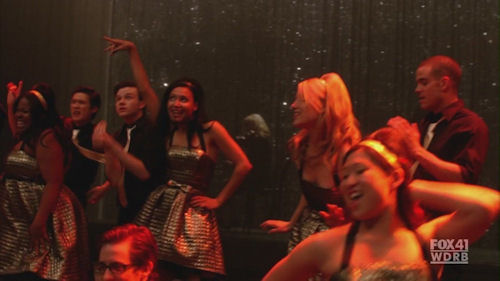 His confession adds an extra intensity to their performance, which started with "Faithfully" and included "Don't Stop Believin'," "Any Way You Want It," and "Lovin', Touchin', Squeezin'."  The audience obviously loved their performance as much as I did (Why wasn't I a judge?!).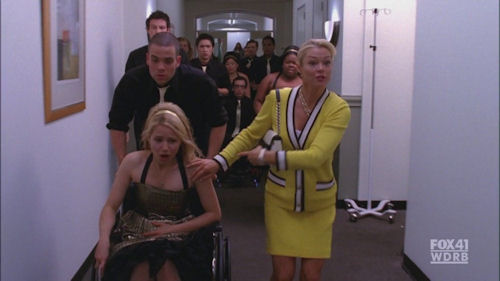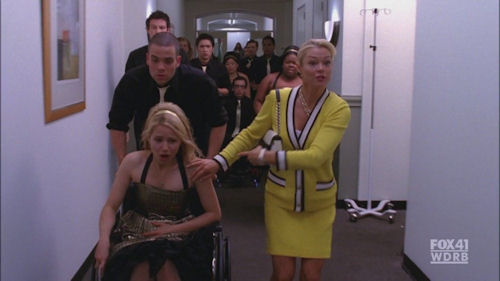 When New Directions leaves the stage, Quinn's mother is waiting full of apologies. She asks Quinn to come home, to which she replies "My water just broke." This I did not see coming. Her pregnancy seemed to fly by and before her comment early in this episode that she was due in a month I thought she was maybe halfway there. Lucky girl. I wish my pregnancies went by that fast!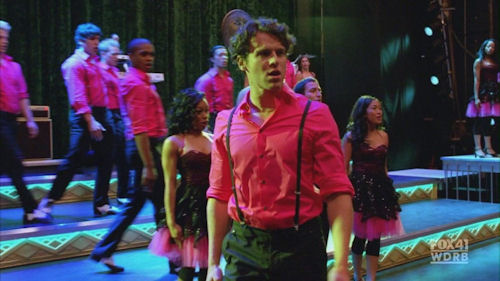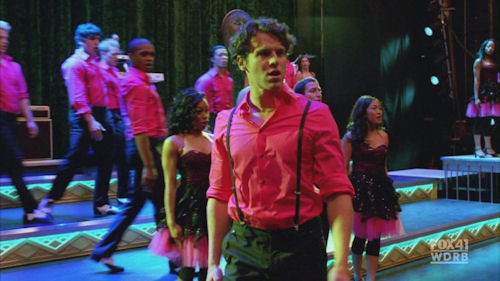 Next we get to see Vocal Adrenaline's performance of Queen's "Bohemian Rhapsody," which is mixed with scenes of Quinn's rush to the hospital. The entire team, minus Rachel, accompanies her and as she is being taken back she insists that Mercedes is by her side. We see her screaming at an overwhelmed looking Puck.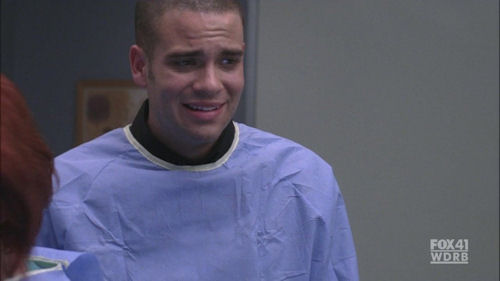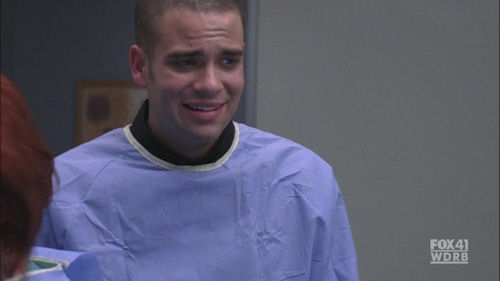 There was an awesome LOL moment as he takes a peek at what's happening under the drape. His face is priceless! They did a great job of cutting her delivery into the musical number, and let me tell you, I am still so glad I had C-sections and didn't have to go through that. Ouch! Quinn's baby is absolutely gorgeous, which of course warrants an uncontrollable "Awww" at the very least from the female half of the viewing population.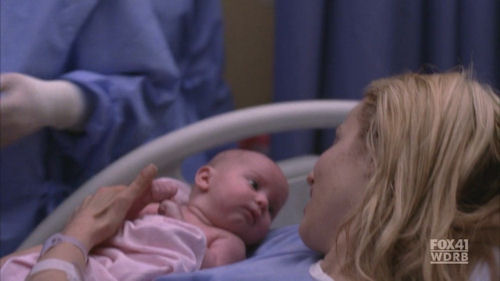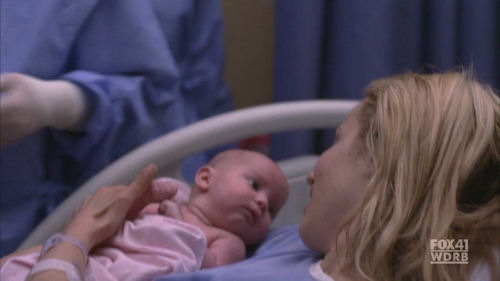 After Rachel watches Vocal Adrenaline's performance, she tries to convince Miss Corcoran to teach at McKinley High and co-coach glee club with Mr. Schuester. It's an obvious attempt to get to spend time with her mother, but sadly she's turned down. Miss Corcoran says that she's tired of glee club and wants a real life, with a house and a family. This here is our first hint of what's to come.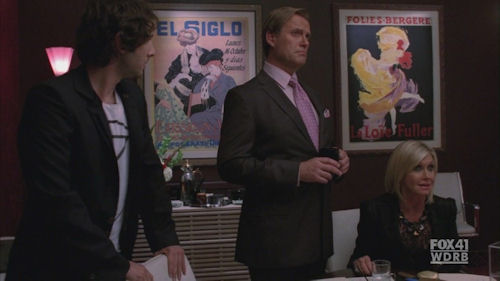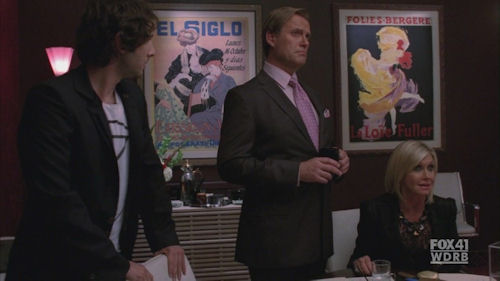 The conversation between the judges was hilarious. We expected to see Sue tanking New Directions, but she didn't even need to. Aural Intensity, the third glee club to perform, had done songs by both Josh Groban and Olivia Newton-John, so of course they were most impressed with them, no matter the quality of their performance. All the judges were very snobby and conceited and it was awesome to see them insulting Sue. They said she didn't belong there as a celebrity judge because she wasn't a real celebrity, knocking her attitude down a notch or two.
Sue announces the winners, and she actually looks sort of surprised that Vocal Adrenaline won first place and Aural Intensity got second, leaving New Directions at third, losing. It was so hard to see all the kids hear that, knowing that they'd given their all and very well should have won.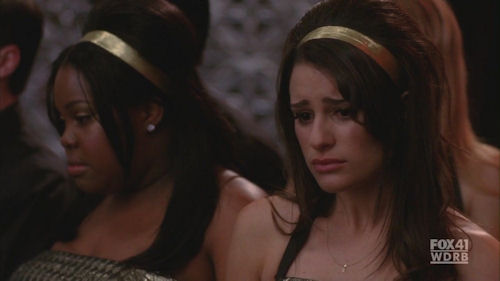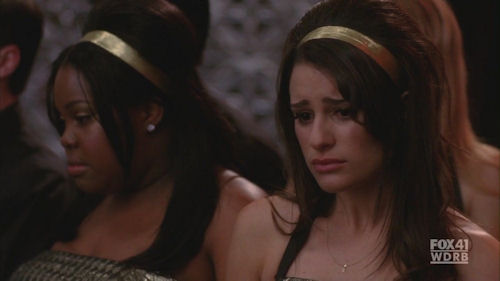 We get another "Awww" moment with Puck and Quinn outside the nursery at the hospital looking at their baby girl. He asks her if she wants to keep the baby and there is no hesitation in Quinn's voice as she says no. She then asks him if he loved her and he say (tissue moment!) "Yes, especially now." Miss Corcoran then shows up and asks which one is theirs and what her name is. Quinn says she doesn't have a name, but Puck calls her Beth, for a double "Awww." Miss Corcoran's appearance here put thoughts in my head; hint two of the big ending surprise.
Mr. Schuester sees Emma and Figgins fighting over his killing glee club and when she comes out he confronts her. Are we ready for more "Awww"? I hope so! He tells her he loves her, dentist or no, and kisses her, shutting her right up and ending any protests. Rachel then summons him to the auditorium.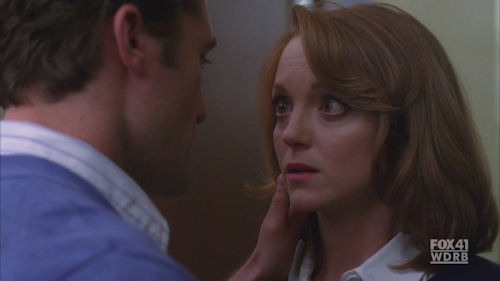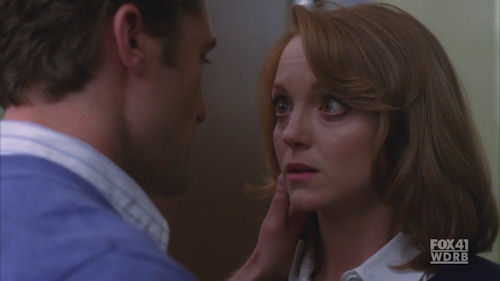 The whole glee club is waiting and they all thank him for what he's done for them. Glee club will never end because Mr. Schuester is glee club, and he will always be a part of them now. They then sing "To Sir, With Love," which is beyond an "Awww" as they all have tears in their eyes. If I was the crying type I would have been crying right along with them. Sue sees this and I swear there was a tear on her cheek! Sue isn't made of ice after all!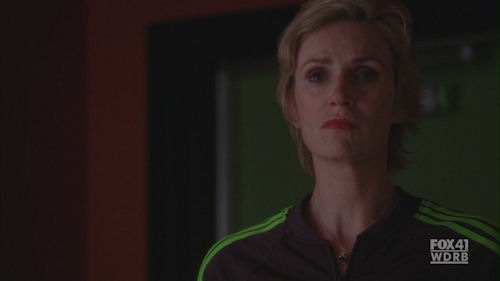 It is revealed to us, though I doubt Mr. Schuester will ever know, that she actually voted for New Directions for first place because she thought they truly deserved to win. She then goes and arranges with Principal Figgins to give glee club another year. She does so by promising to never use their affair (icky icky icky) to get anything from him again, which is a big thing for her.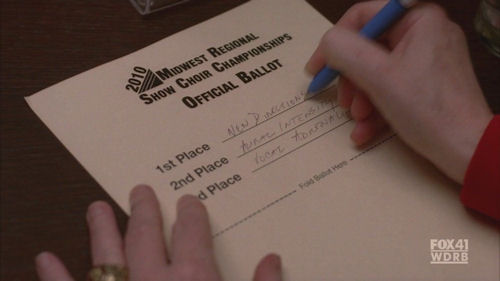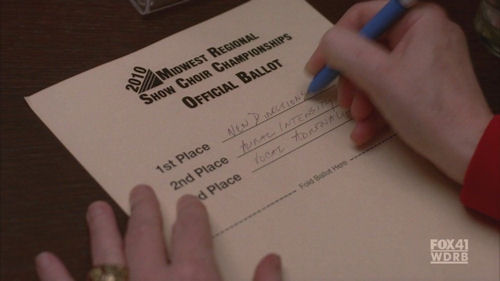 Mr. Schuester gets to tell the whole glee club that they're not canceled after all and then he and Puck sing "Somewhere Over the Rainbow" together as a response to their song earlier. This is cute enough, but it can't hold a candle to the big finale!
Dun Dun Dun! Miss Corcoran adopts Quinn and Puck's little girl. Super "Awww." And she names her Beth! Super Duper Mega "Awww"! I think this was a wonderful ending. She gave up Rachel as a baby and now adopts another little girl so she can have a chance to be the mother she always wanted to be.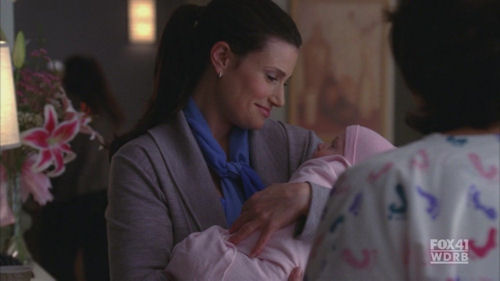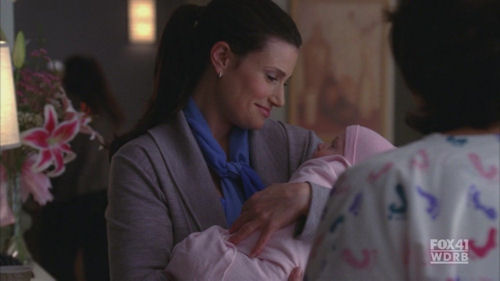 I can't wait until season two starts! Until then I guess I'll have to be happy with watching the entirety of season one in the meantime. It's better than nothing!
Rating: 5 / 5 Stars