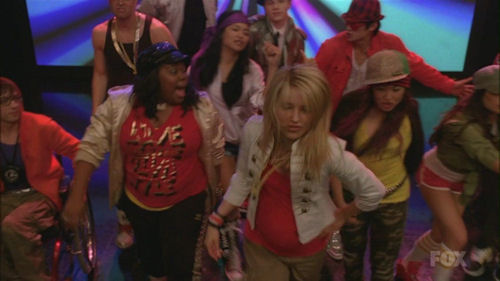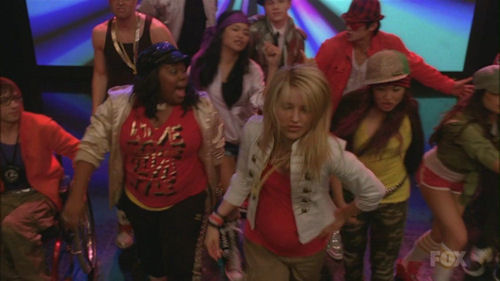 Episode: Glee 1.21 – "Funk"
Original Air Date: June 1, 2010
Screencaps by rawr-caps.net.
With the season finale looming only one week away, the latest episode of Glee, entitled "Funk," did not disappoint. Those viewers that were disappointed that last week's episode was distinctly lacking in Sue Sylvester will be happy to know that this was a Sue-heavy episode. Hopefully that will soothe your pain. Sadly, or happily depending on if you're me or my husband, I didn't know the words to most of the songs this week. I think he was far too happy not to have to listen to me sing along while making our baby dance. The baby enjoys it, I swear!
From about here on is spoilers, so if you haven't watched this episode, put down the mouse and go sit in front of your TV! Don't forget to come back though!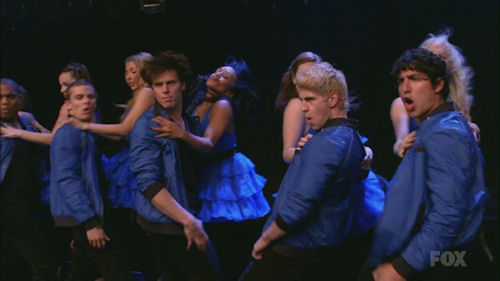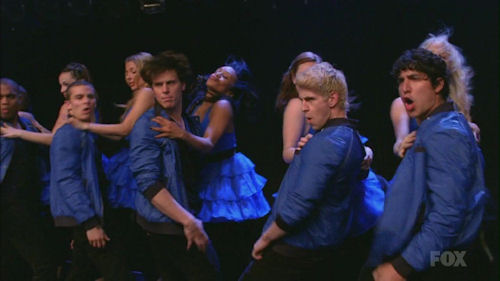 The episode starts off with Jesse, who has left New Directions and returned to their competition Vocal Adrenaline, showing up with his entire group. They perform "Another One Bites the Dust" by Queen in an attempt to shake New Direction's confidence about their chances at regionals, a process they call "funkification." This was punctuated by decorating the glee practice room with toilet paper. It is quickly discovered that Sue Sylvester was the one who allowed them access as she declares that their practice room will become her trophy room once they lose regionals.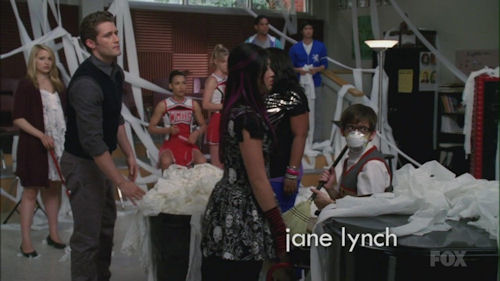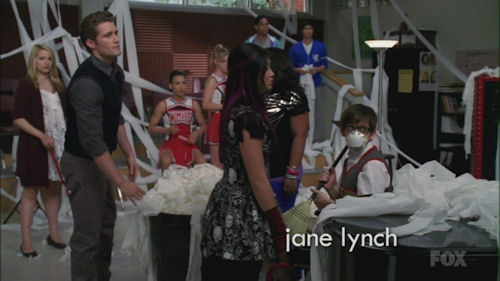 Mr. Schuester signs his divorce papers, which gets him thinking about regrets. He declares that they have to get back at Vocal Adrenaline to show that they haven't succeeded in intimidating them, so they don't regret letting them get into their heads. Puck and Finn take it upon themselves and slash the tires of all 26 Range Rovers owned by the members of Vocal Adrenaline. They get caught and nearly get expelled, but instead agree to pay for the damages.
Mr. Schuester and the glee club's collective depression, sure they will lose regionals, along with a tip from Sandy (the previous glee coach), inspires the week's assignment, Funk. Vocal Adrenaline has never done a funk number in a competition and Mr. Schuester deducts that it is their weakness because there is no real emotion in their performances.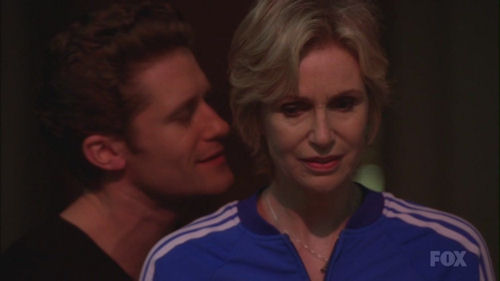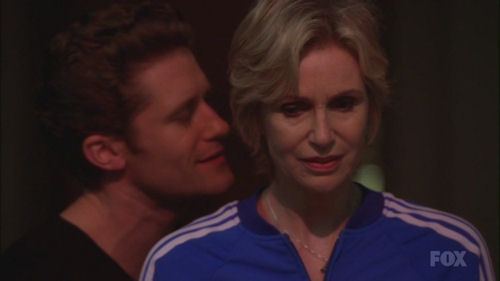 Rachel's depression about Jesse and her arrogant idea that she is the team's only hope to win at regionals gives Mr. Schuester another idea, this one to finally defeat Sue. He tricks her into meeting him in the practice room and performs "Tell Me Something Good" by Rufus and Chaka Khan. His plan works as he's wiggled his way into Sue's head and she admits to her journal that she's suddenly attracted to him. He invites her to dinner but then stands her up. She shows up at his apartment, angry, and he tells her like it is. Only after she refuses to get out of bed for days and calls off the Cheerios' trip to nationals does he realize that hurting her hurts all the cheerleaders as well.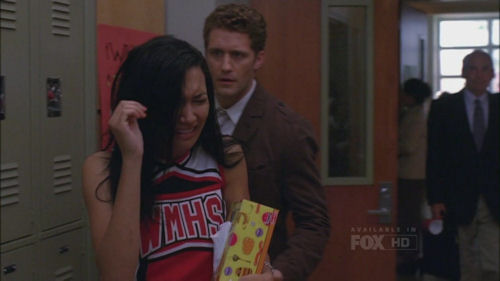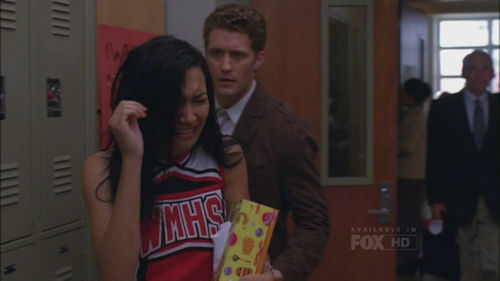 Puck and Finn are forced to get a job to pay for their tire slashing prank and both are hired at Sheets-N-Things, working with the now ex-Mrs. Schuester. They perform "Loser" by Beck (which I knew the words to… Yay!) as they contemplate their less-than-enjoyable positions. Meanwhile, Mrs. Schuester begins to take an interest in Finn, seeing him as she remembers her ex-husband, the sixteen-year-old boy she fell in love with in high school. She even decides to help him with his Glee assignment.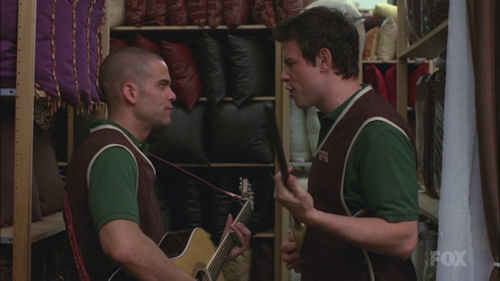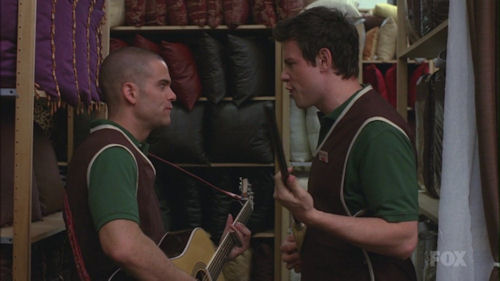 Quinn performs "It's a Man's Man's Man's World" by James Brown and Betty Jean Newsome with other pregnant teens. Dante, my two-month-old, loved this song. It was adorable. He stared at the screen, absolutely enthralled, and cooed along. I know that doesn't mean much to anyone else, but I'll never forget it! On another note, Quinn finally actually looks pregnant consistently throughout an entire episode.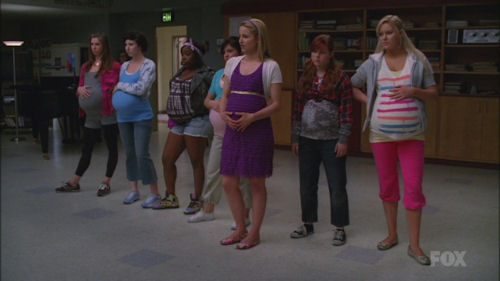 Finn and Puck do their assignment with Mercedes, singing "Good Vibrations" by Marky Mark and the Funky Bunch. This one was just too funny. The way they changed the words to incorporate their names was just the right level of dorky. Mercedes was perfect for her part in the song. Her voice always amazes me. Only after they finished were they told that the song wasn't funk just because funk was in the name of the artist.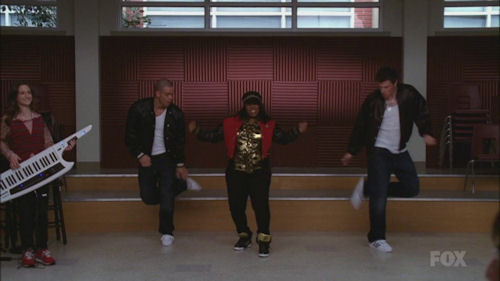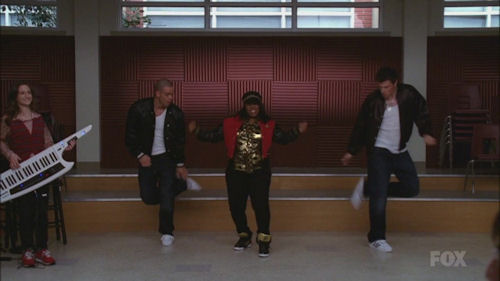 There is a really touching moment when Quinn and Mercedes bond through funk over their different but still shared poor treatment by the general population. Mercedes invites Quinn to move in with her, hoping to reduce some of the stress she's under living with Puck and his less than supportive mom.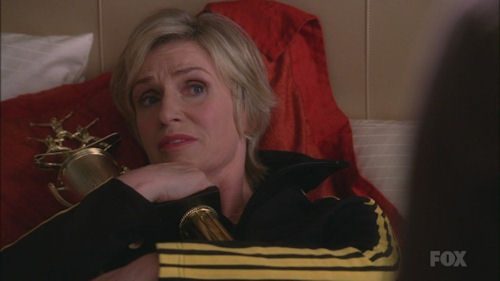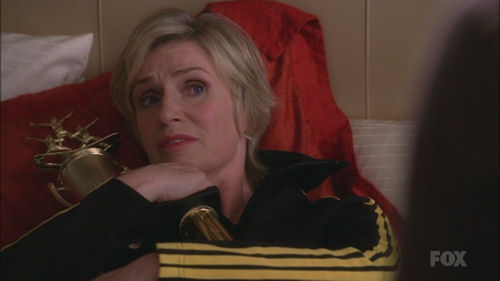 His guilt over the cheerleaders, some of which would lose their college scholarships without the nationals competition, leads Mr. Schuester to go visit Sue and try to fix things. His scheme made her realize what her life was missing, but he manages to talk her out of her depression by reminding her that she does have love in her life, that she loves her cheerleaders. He gets through to her and she goes to nationals, winning for the sixth consecutive time. She then has the trophy, which is taller than her by the way, installed in the glee practice room to spite him.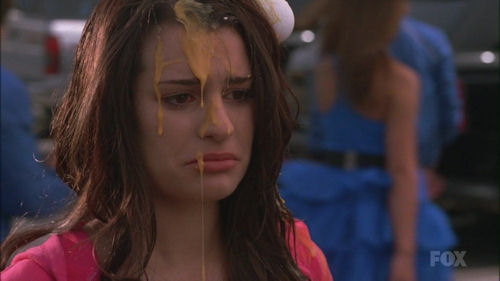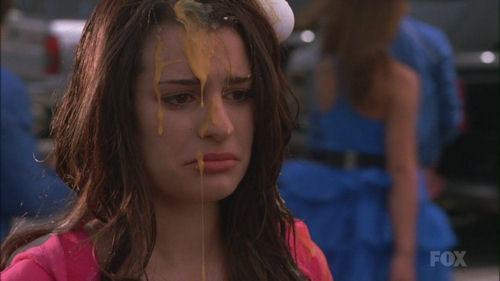 Now, this next part was just downright wrong. Jesse lures Rachel into the parking lot, letting her think he is there to see her, only for Vocal Adrenaline to pelt her with raw eggs. He finishes the job of breaking her heart by breaking an egg on her forehead. This results in the guys of New Directions wanting to fight Vocal Adrenaline. Mr. Schuester puts a stop to it, instead calling them to meet.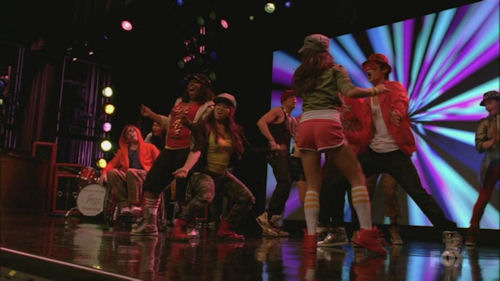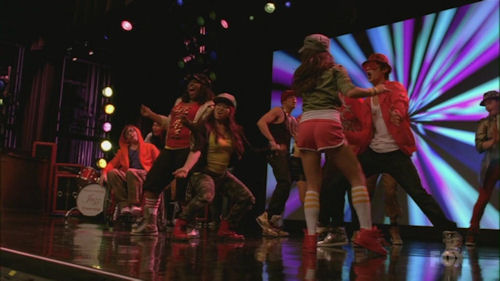 The episode ends just like it started, but in reverse, as New Directions performs "Give Up the Funk" by Parliament. They successfully psych out Vocal Adrenaline as it is confirmed that they have never been able to pull off a funk number. It seems that the playing field has been leveled once again.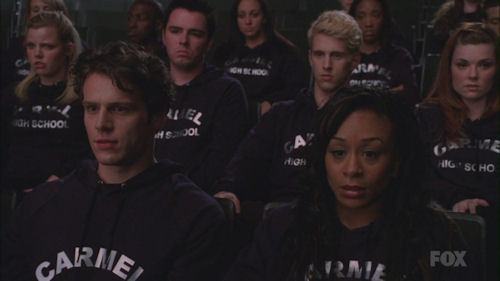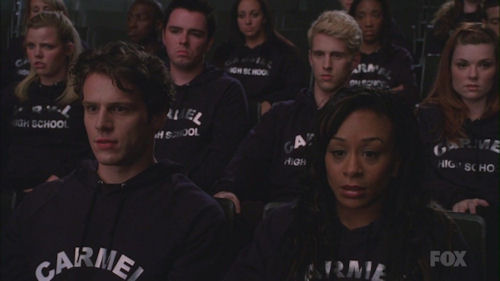 The next episode is the season finale! As sad as that is, it's also exciting. They'll finally make it to regionals! I'm more than looking forward to seeing what songs they will perform and I can't wait to see who wins!
Rating: 4.5 / 5 Stars