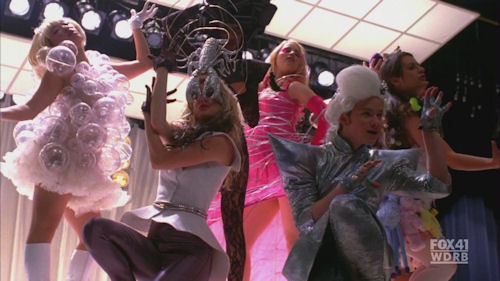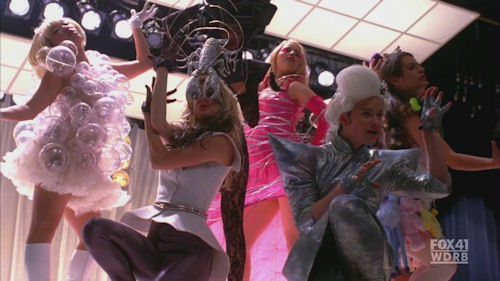 Episode: Glee 1.20 – "Theatricality"
Original Air Date: May 25, 2010
Screencaps by rawr-caps.net
I love Glee and I always have, since the first episode aired more than a year ago. I can't help it. I never had a chance. After spending 20 plus hours in a car with my grandparents listening to The Sound of Music soundtrack against my will, musicals wormed their way into my heart whether I liked it or not. Besides, the music from Glee is nowhere near as painful, most of the time.
I knew from the beginning I'd enjoy the program, so that wasn't much of a surprise. What did surprise me, however, is that my husband likes it too. He has somewhere between disliked and hated every song they've ever sung and yet he still enjoys the show. I don't know how they did it, but I suspect some kind of black magic. I, on the other hand, have enjoyed and often sang along with the songs from previous episodes (while he rolled his eyes at me), but not this one. Finally I got to see the show from his perspective.
As advertised, the Glee Club assignment of the week was Lady Gaga, whose music is definitely not on any of my playlists. Still, somehow, they managed to hold my attention and keep me interested, even when I realized I was humming a Lady Gaga song and wanted to gag myself and smack my subconscious for causing me to do such a horrible thing. I mean no offense to Gaga fans, of course. Everyone has their own tastes, and it can't be expected that everyone will like everything. This fact only demonstrates just how strong Glee is. No matter how much I hated the music, I still loved the episode.
This episode has three main storylines: the first dealing with Tina being told by Principal Figgins that she can no longer dress goth, the second has Finn being forced to share a room with Kurt when their parents move in together, and the third being Rachel's discovery of the identity of her mother. It also has a small but absolutely touching peek under Puck's tough exterior.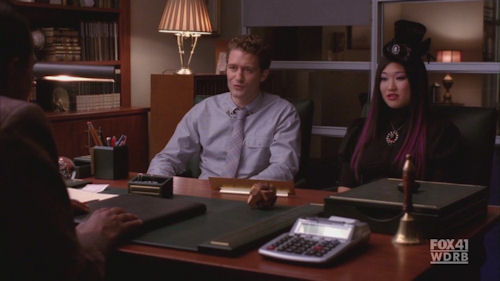 We start with Tina and Mr. Schuester in Principal Figgins's office, where he tells them that Tina can no longer dress goth or she will be suspended. It quickly becomes apparent that Figgins thinks that goth = vampires and believes that vampires are real and dangerous, and no amount of discussion will change his views on the matter.
Finn receives an unwanted surprise as he finds out that his mother and Kurt's father are taking the next step in their relationship and moving in together. This means that he will be forced to share a room with Kurt, a revelation he does not accept with open arms. Kurt assumes the problem is one of interior decorating and declares that he will redecorate so that the room is a better fit for Finn.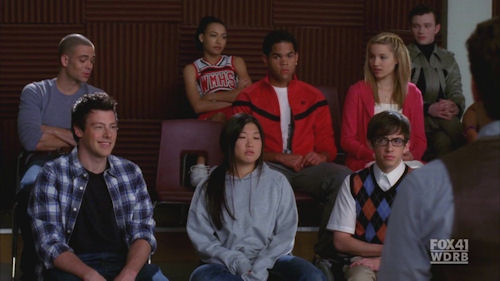 While the other glee club members try to help a depressed and more normally dressed Tina think of a new style, Rachel storms in with the news that, after some spying and detective work, she has discovered that Vocal Adrenaline is "doing Gaga." This leads to Mr. Schuester assigning Gaga for the week in the hopes that it will also help Tina find a new look.
The assignment sends Rachel right back to Vocal Adrenaline again, this time accompanied by Quinn and Mercedes. They see Miss Corcoran, the coach, singing "Funny Girl" and Rachel instantly recognizes her voice as the same as the tape from her mother in the last episode. As if pulled by invisible strings, Rachel is drawn to the stage where she introduces herself to Miss Corcoran as her daughter. They have a somewhat uncomfortable conversation before Miss Corcoran apologizes and leaves rather abruptly.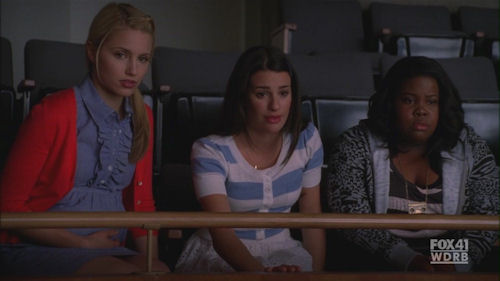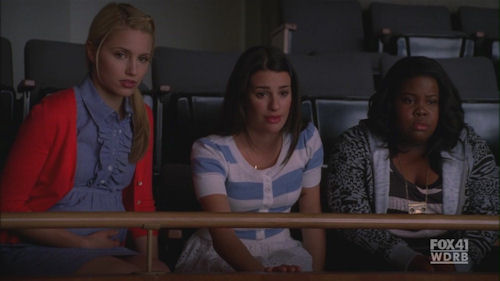 Finn meets with Mr. Schuester and says that he and the rest of the guys, minus Kurt, don't want to do Gaga and Schuester agrees to allow them to do something else.
Puck does a great job of showing his immaturity by suggesting that Quinn name their baby Jack Daniels. When she doesn't seem impressed he concedes to Jackie Daniels instead, totally missing the point. Quinn tells him she's giving up the baby so that she doesn't have to do this with him and he should be happy about it.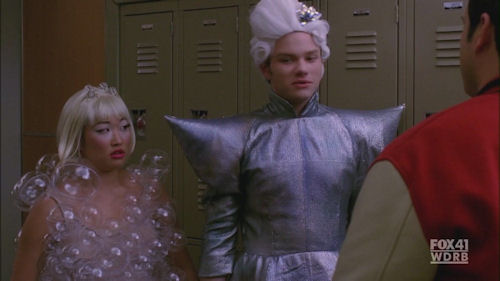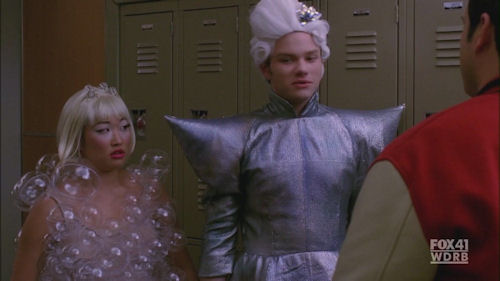 A few members of the football team give Kurt and Tina a hard time about their Gaga costumes, and Kurt stands up to them, telling them that they can pick on him but they should keep their hands off girls. This ends in further threats from the jocks.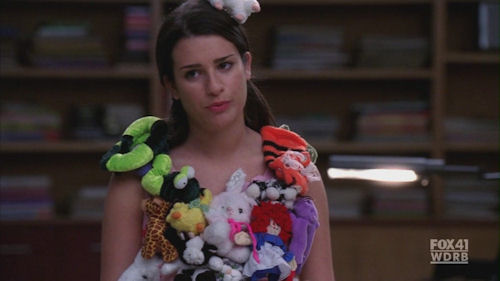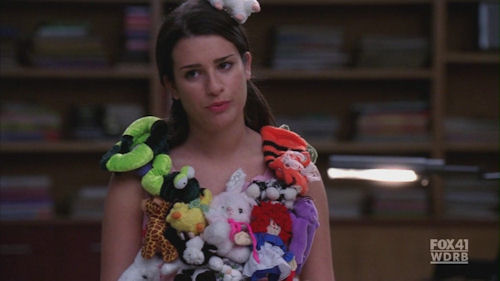 Quinn and Mercedes share Rachel's news with the group at rehearsal which leads to them immediately thinking that Rachel will leave them for Vocal Adrenaline. Rachel shows up and assures them she won't, but she is clearly still dealing with the discovery. Her Gaga outfit's less than impressive quality doesn't help her mood. Then they perform "Bad Romance," which I hate to admit is still stuck in my head.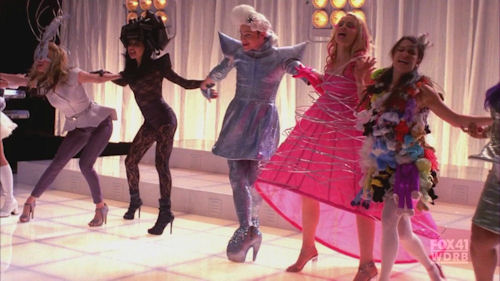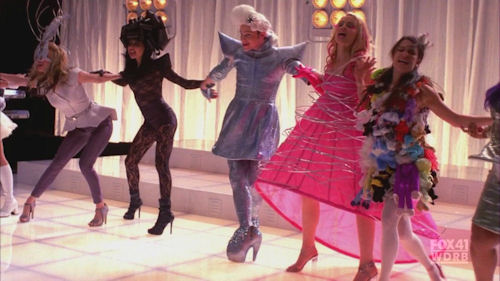 Finn has a similar run in with the jocks who still haven't accepted his participation in the glee club. They also hassle him over his moving in with Kurt and his father, calling him gay, which gets under his skin.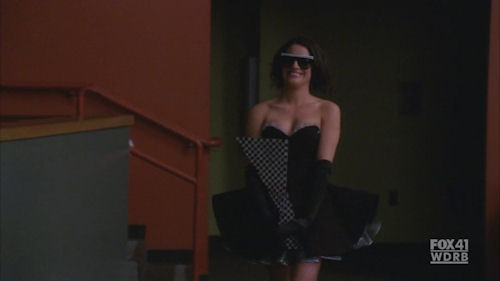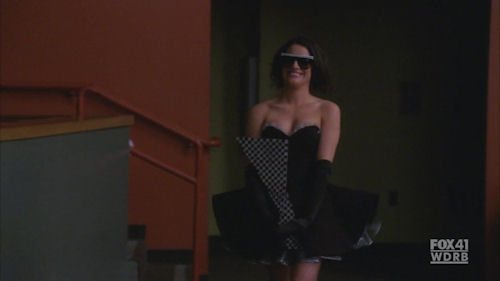 Rachel visits yet another Vocal Adrenaline practice and Miss Corcoran doesn't really seem thrilled to see her. Rachel reveals her Gaga costume and asks for help. Rachel then shows up at glee rehearsal in a much better outfit, and the girls and Kurt are treated to the guy's performance of "Shout It Out Loud" in full Kiss costume and makeup. Their song is easily as theatrical as the girls' and they prove themselves by knowing the background of the bands' costumes.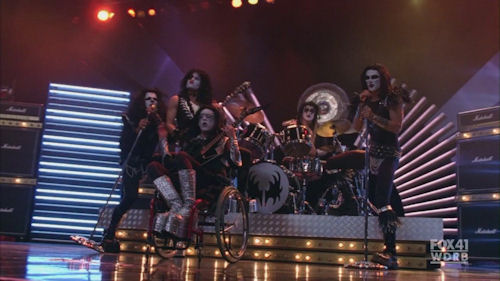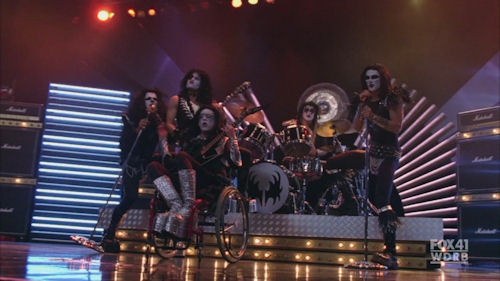 Kurt and Finn are talking while Finn tries unsuccessfully to remove his Kiss makeup. Kurt asks if Finn could get the football players off his back and Finn asks why Kurt can't just try fit in. When Kurt tries to help Finn with his makeup, Finn flips out and decides to finish up in the laundry room. Kurt's feelings are obviously hurt.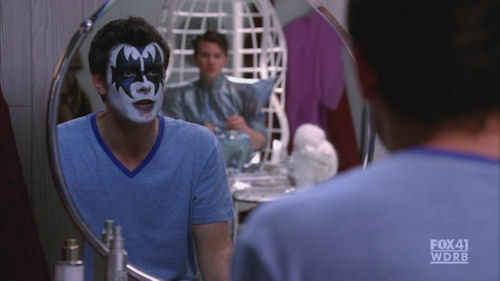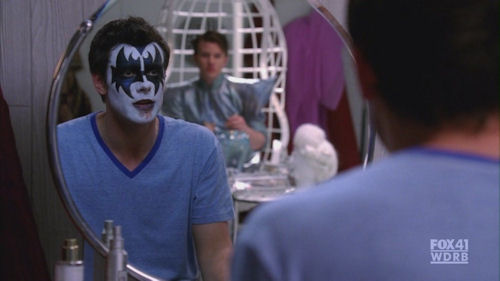 Will calls Miss Corcoran, Shelby, in for a meeting, concerned for Rachel. We learn that she can't have any more children, which is why she wanted so badly to connect with Rachel. After some conversation, she realizes that she wanted her baby back and doesn't really know how to deal with a teenager. Will tells her to have a conversation with Rachel and be honest with her.
Kurt has finished his redecorating project and proudly shows it to Finn, but Finn doesn't like it a bit. Their disagreement over style quickly devolves into Finn declaring his discomfort at sharing a room with Kurt because of his sexual orientation. He thinks Kurt still has a crush on him, and when Kurt tells him they can redecorate again he starts calling various decorative items "faggy."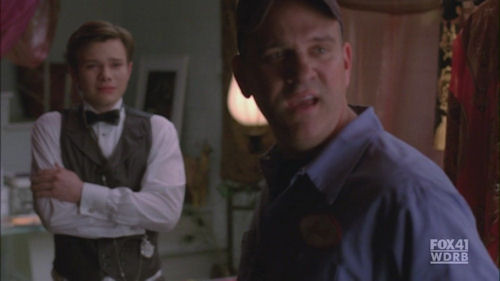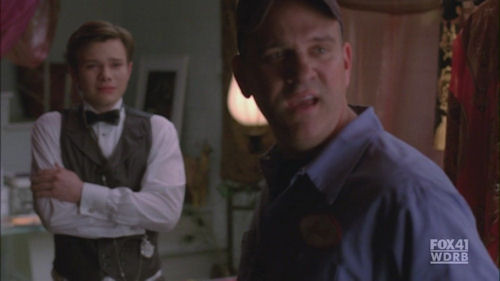 Kurt's father overhears and comes downstairs to put a stop to it. He defends his son, showing that he truly accepts Kurt for who he is, and calls Finn out on his homophobic behavior. Burt tells him that he thought he was different and that he's not welcome in their home. He chooses his son over his relationship with Finn's mother, giving Finn a lot to think about.
In the next glee practice, Finn tries to talk to Kurt but he's not interested. Puck stands up before the group and opens up about his father. He's realized that Jackie Daniels is not a good name for a baby and that he has a better idea. He and the guys sing "Beth," his attention clearly focused on Quinn. When the song ends, he suggests that she name the baby Beth before she gives it up and asks there to be there for the delivery, so he can meet his daughter. It is a beautiful moment and Quinn is touched. She has tears in her eyes as she nods.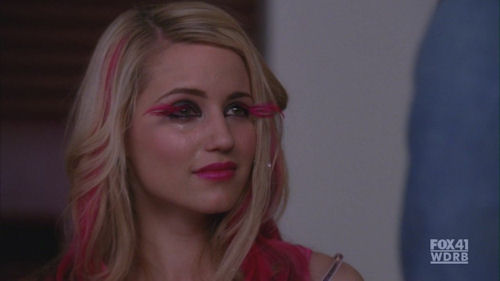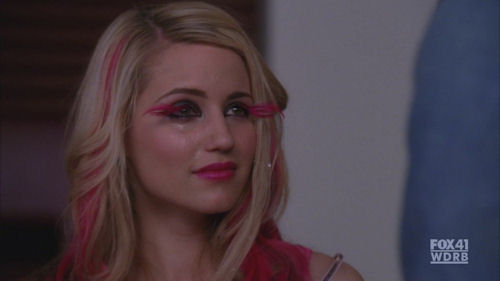 Miss Corcoran, following Mr. Schuester's advice, goes to see Rachel. They talk and agree that now just isn't the right time for them to begin their relationship. Shelby says that she is her mother, but she isn't her mom, which explains things perfectly in my opinion. She also gives her a gift, a glass with a gold star on it, saying "gold stars are kind of my thing." This strikes a chord in Rachel, who also feels a strong connection to gold stars as shows in the very first episode of Glee, when she says that she always puts a gold star by her name because she's going to be a star someday.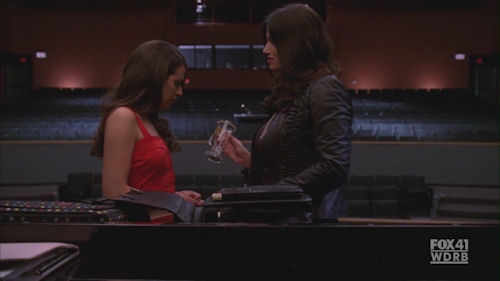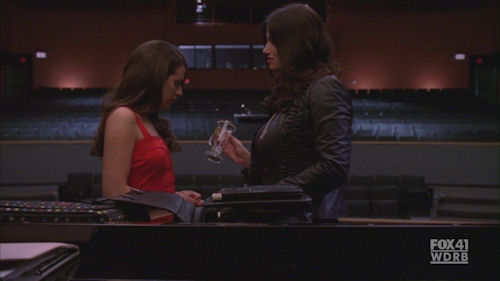 Rachel asks if they can sing one song together before they part and they sing a slow version of "Poker Face." This part I didn't like much. First, the lyrics of the song don't make it one I can see choosing to sing with your mother, especially if you only have one chance, and also it just didn't sound right to me slowed down.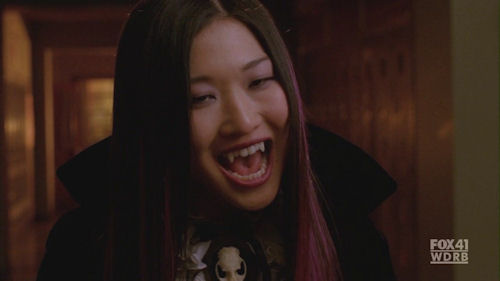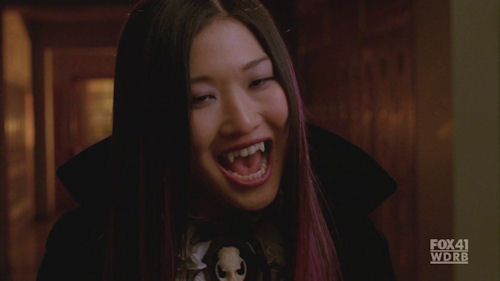 The glee members ask what the lesson of the week's assignment was. Will says he isn't really sure and then Tina says she knows as she shows up dressed in her usual style. I loved this part, where she pretends to be a vampire and scares Figgins into allowing her to dress the way she wants to. Figgins and his gullibility are hilarious.
They then realize that both Kurt and Finn are missing. We then see Kurt being cornered by the football jocks. He refuses to back down, saying that he is proud of who he is and will never change. He says they can beat him up if they want and just when they are about to hit him, Finn shows up dressed in what he calls a shower curtain, a bright shiny red dress and with sequins around his eyes, and defends Kurt. He says he won't let anyone hurt Kurt and the jocks threaten him as well.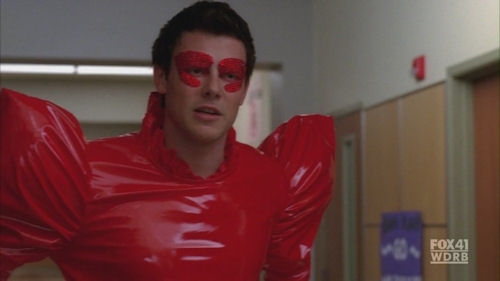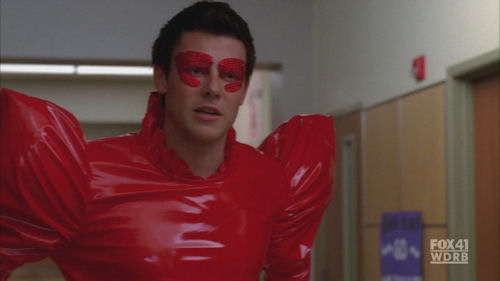 The rest of the club show up just in time and the jocks are outnumbered and surrender, saying that next time they will bring friends too, to even the score. The glee club members realize that even if they're all freaks, they're freaks together and they shouldn't have to hide it. Mr. Schuester applauds them figuring out the lesson of the week themselves, wishing he'd planned it.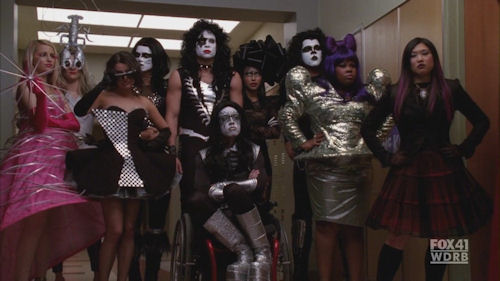 I loved the final message of the episode, that you should be who you are and proud of it. Overall, even with not liking any of the musical numbers, it was great. This episode was touching and memorable and I can't wait until next week. There are only two episodes left this season, and then we'll have to wait until fall for more Glee, but there is still good news! Already it has been announced that the show has been picked up for a third season so there's plenty of Glee on the way!