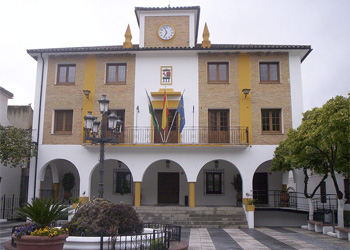 Review: Ghost Hunters International 2.06 – "Holy Ghosts"
Original Air Date: 12 August 2009
Rated: TV: PG (Parental guidance suggested)
On the season finale (6 episode long season?), the GHI team hits up Chile twice and exchanges a team member once again. Ashley has things to take care of back in the States, so Barry's pal Paul is brought in to take her place. He also brings some more equipment with him that the team gets to test out. This was a really short season, but the original Ghost Hunters starts back up this week so you don't have withdrawals on your armchair hunting of ghosts. Or your MST3K riff traxing of the hunting of ghosts. Whichever is your bag.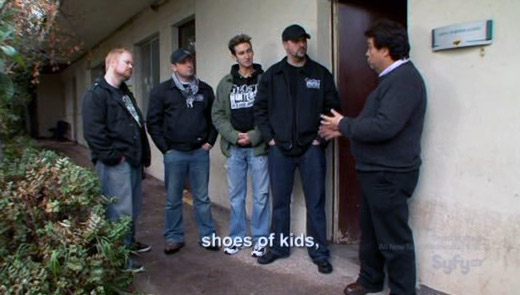 The first site is the El Bosque City Hall in El Bosque, Chile (sorry, guys, I couldn't find a link for it). The site used to be an orphanage run by Catholic priests, and after that it was the retirement home for said priests. Today, the building houses El Bosque government offices. As usual with these types of buildings, this one doesn't have a sunshine and rainbows background.
Back in 1973, there was a political coup, and the story goes that the government used a room in the basement to torture and murder suspected Communists. Of course, it gets grimmer as the tour goes on. When they were converting the building to be used for offices, they came across a sealed up room. Upon opening the door, they found some disturbing stuff; the room was apparently used as a "punishment" room for the orphans. Not so much as a time-out room with no toys, and more like they stuck the kids in cages and probably beat the crap out of them. Nice.
Most of the full-body apparition sightings (dude, EVERYONE sees a full-body apparition in this season except for viewers!) are of Father Juan, who was one of the priests that lived and died there. Robb mentions that it's always odd to hear of priest sightings, to which Dustin wonders why a person of faith would hang around as a ghost and not "move right on to the other side." Holy cow, you guys. I think the team just debunked religion!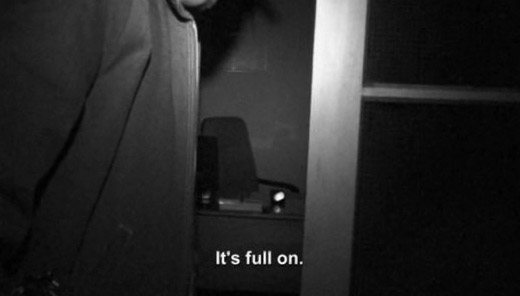 One of the new instruments they start using is a Ramsey meter. Robb and Brandy set the meter up in an office where things are constantly being moved around mysteriously. The theory is that when a spirit manifest, it builds up a static charge that the meter will pick up on. So they leave the meter in the office, close the door, and start taking pictures out in the hall. They hear some kind of rustling in the office, go back to check it out, and the meter is lit up. This seemed pretty interesting until I learned that a human body simply walking by the closed door could cause enough of a charge to light the meter up.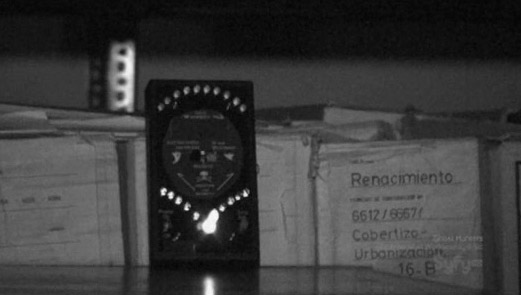 Later, Robb and Brandy take the meter into the orphan punishment room and again it starts to light up. This time, it starts going off seemingly in response to their questions. Robb acknowledges that since this is a new piece of equipment to them, they really just have to keep testing it out and get used to using it (i.e. they can't take the results of using it as 100% evidence of paranormal activity).
Paul and Joe wander down to the basement room where the suspected Communists were tortured after checking out the courtyard area. During the EVP session, Paul feels like someone pushed down on the top of his head. Unfortunately, this can't be counted as evidence since there wasn't any physical evidence. We also find out how out of order the film is, since Paul was there for the tour "before" the investigation, yet he asks Joe if any apparitions had been seen in that area (Joe and Brandy were not on the tour).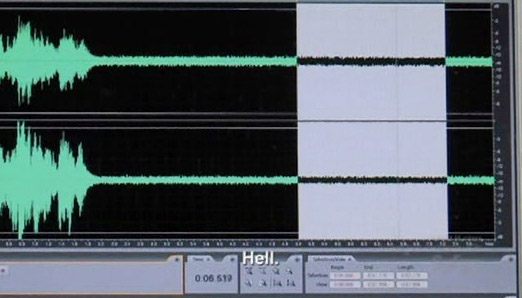 In the end, they caught some sounds of the chair and door being moved in the office that was once the Padre's room while no one was in there. They also get two EVPs (one shown in the cap), and again I realize the folly of listening to Metallica too loud through my teenage years because I can't hear either one of them. The place is haunted.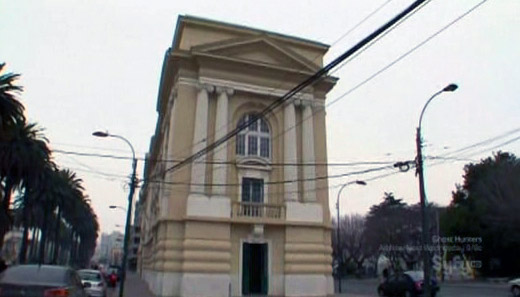 The second site is Santiago Sevrin Library in Valparaíso, Chile (again, I couldn't find a link for the location). The library was the second one to be built in Chile, and most of the ghosts people see are the people who built the library or the janitor (Juanito) who used to work there and they are always full-body apparitions.
Paul and Robb investigate the theater (in a library — how cool is that?) hoping to find some evidence of Juanito. They start to hear a lot of noises, and end up looking around on stage for the source. Eventually, Paul asks Juanito to "move a chair" and there's a sound like someone moving or sitting in a chair.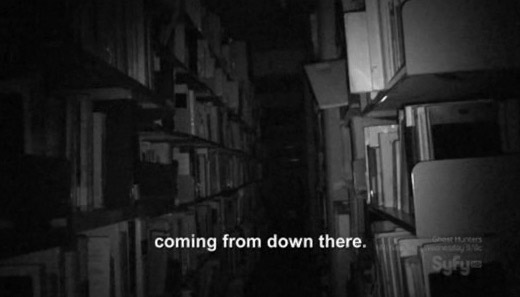 Barry (who seems very reserved in this ep) and Dustin investigate the Basement Stacks. And if you were waiting for someone to drop a Ghostbusters line, you'd have been disappointed. I guess this is why I wouldn't be a very good ghost hunter; if I'm in the stacks, I'm at least going to use "You're right. No human would stack books like this" one time.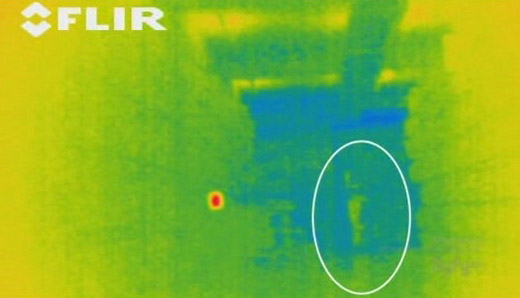 During the review of footage, there's almost an awesome moment when Joe notices a human shape in the FLIR Dustin was shooting in the basement. Rookie mistake, Joe! When it comes to FLIR, it's usually always someone's reflection. They get zero evidence and declare the library not haunted.
The tally for this season was: Haunted: 6; Not Haunted: 4.