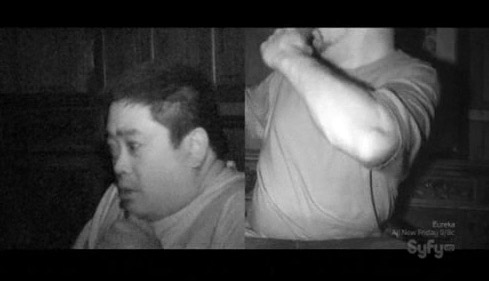 Review: Ghost Hunters International 2.04 – "Witches Castle"
Original Air Date: 29 July 2009
Rated: TV: PG (Parental guidance suggested)
Two cases were investigated on this episode, both located in Austria. Once again, the combo of tragedies of the past and wandering around in the dark seem to make every shadow, shift, and noise a paranormal event. By the looks on their faces, and the way they jumped at everything, the Skids Factor for this ep was apparently a 10 for the GHI crew.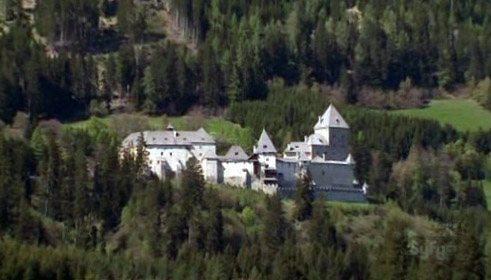 First up is Moosham Castle (the link's in German, but it was the only link I could find on the castle), located in Utenberg, Austria. The castle was built in the 12th century by people called the Mooshimmer. The castle was a place for the archbishop to kick it in and, during the 17th century, to torture suspected witches to death in. The current owners, who have kept the castle in the family since 1886, use it as a museum.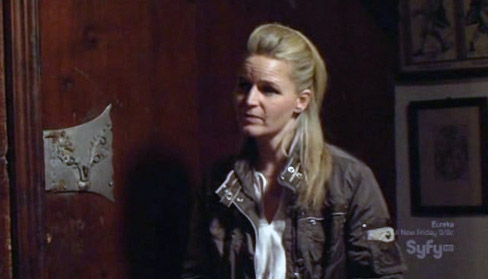 This poor woman (one of the current owners) is visibly afraid to be in the castle, period. She especially doesn't like to go into the Waiting Room (she tells them what happened there out in the hallway with the huge wooden doors to the room shut). This is the room where the accused witches would be put in, then dropped/pushed through a hole in the floor to the Judging Room. Injured from the fall, they would be "judged," then taken to the Torture Room. She pretty much gives the crew free reign to investigate wherever they want so she can get some answers about what's going on at the castle. Robb makes the claim that they aren't going to leave the site until they can give the client some answers. Which will conveniently be found within the span of one night.
While investigating the Hunting Room, Barry gets a start when a door "moves on its own." He and Dustin had followed some noises to this door, he went to open it, and apparently it opened by itself. From what we could see on camera, it didn't look like it had moved at all to me. Just Barry, jumping out of his pants. Then we get Brandy and Robb investigating Toni's Room (he was a warden there). They follow noises out to a catwalk. They make comments to each other about all the noises they're hearing (I guess I'm deaf, or the "ambient" mood music is too loud, because I didn't hear anything). Robb even says it sounds like someone walking along the catwalk, but they never walk up and down it to see what could be causing the noises.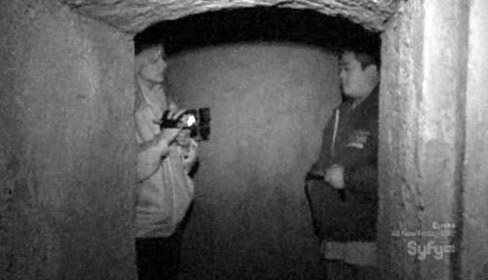 Joe and Ashley investigate the Torture Chamber, where there are actual devices of torture. Yep, Ashley's already bugging out before they even get into the room, working herself up with thoughts of what happened there, how it happened to women around her age (I can't back that up with facts). They head into a cell, start the EVP session, and she immediately claims to hear "breathing." Um, there's a dude not but two feet away from you, plus the camera guy outside the cell, and you're freaking out. Three guesses where the breathing could, could have been coming from. Suddenly, Joe feels something touch his back, they switch places, and Ashley feels a ghost getting frisky with her leg. The mind is a powerful tool, my friends, especially in groups.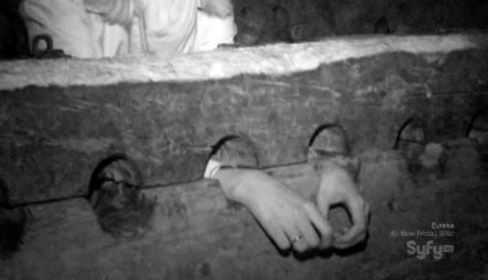 Ashley goes back in with Robb to find "answers" (or "alternatives," as Robb puts it). This is where my brain kicked me in the face for watching this episode (just in case you couldn't tell I was highly irritated by the entire thing). Ashley sticks her hands through the feet holes of the wooden stocks to "bring them out." She actually says out loud, "I'm down here, I'm locked, just as you were at one time. I can relate to you." I'll let you figure out why that statement made me want a full on ghost riot up in that castle. They both think they hear a male voice in the Waiting Room, so Ashley slides out of the stocks and she and Robb try to find the source of the voice. When they're wrapping up, Ashley says this has been more intense for her than previous investigation.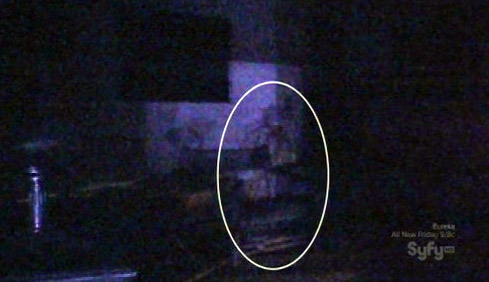 Two EVPs (one of which I didn't hear anything until Robb said it's saying "it's me") and one image with an interesting shadow in it. I wish I could have gotten a better screencap of it, but that was the best I could do. They do tell her she doesn't need to be scared of the place, so props to them for that, and they go on to the next case.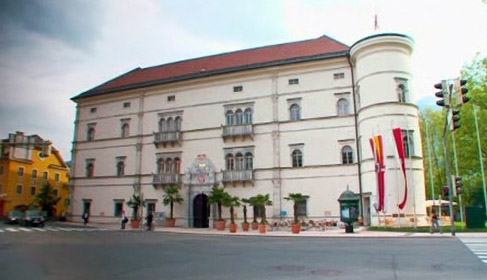 Case number two is Schloss Porcia, located in Spittal an der Drau, Austria. It was built in the 16th century by Gabriel von Salamanca-Ortenburg, who was a Spanish count. The castle is still used to this day as a museum and a place for movies, concerts, and recitals. The main ghost in the castle is the last descendant of the count, Katharina, and she is mainly seen walking along the inner arcades of the court. Legend has it, she hired a craftsman to hide her family's jewels so they wouldn't be taken after she died. After he did that, she killed him with a wooden shoe as he slept. To this day, the jewels are still missing.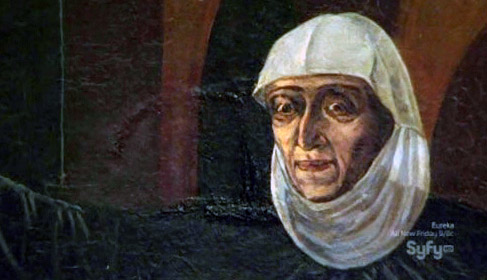 Robb and Dustin try to provoke Katharina by saying they're going to take her hidden jewels. One, that is not the face of a woman I'd try and provoke. I'm just saying. Plus, she had the gumption to beat a man to death with a wooden shoe. Two, everytime Robb called "Katharina," I wanted a ghostly "Arturo" in response. First person who actually knows what movie that reference is from, I'll give a free 2.5 x 3.5 inch sketch card drawing to.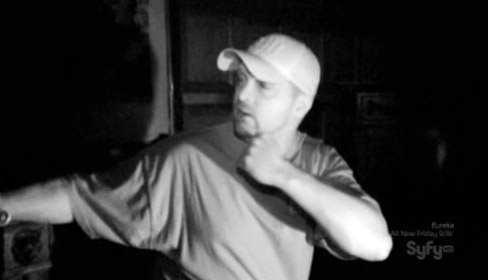 On the 3rd floor, a table moves while Robb and Joe are sitting at it. Joe asks the ghost to make a noise or do something again to show it's there. A beat goes by when suddenly, there's a noise that springs Robb into action. Instead of investigating where the noise came from or what caused it, they continue to sit there asking questions.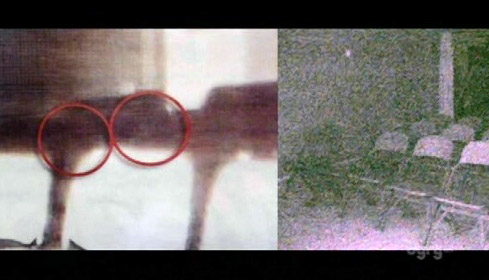 Dustin and Barry full spectrum the movie room to try and debunk the image the owners got there (the owner's picture is on the left, the GHI picture is on the right above). The picture on the right is supposed to look like two figures are in the second row of chairs.
In the end, they catch a scratching noise that, again, they all think is "weird" and I think is probably an animal of some kind. They do debunk the photograph, saying it's just shadows and our mind creating a recognizable image out of them. They also debunk another photo of Katharina by showing it could have been created by a mirror effect in the window. However, the reaction Robb and Joe had to that unknown sound gives them enough to say there's some kind of paranormal activity happening at the site, but not enough to say it's haunted.