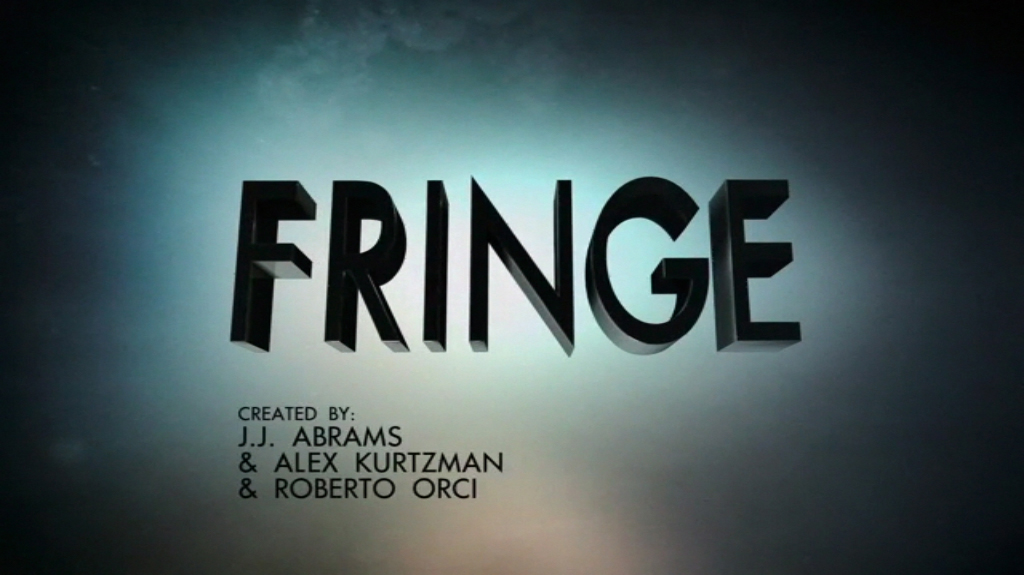 REVIEW: Fringe 2.01 – "A New Day in the Old Town"
Original Air Date: September 17, 2009
Screencaps were done by me this week!
Fringe is back and Walter is still as crazy as ever. Ah, Walter! How I wish you were real and lived with me.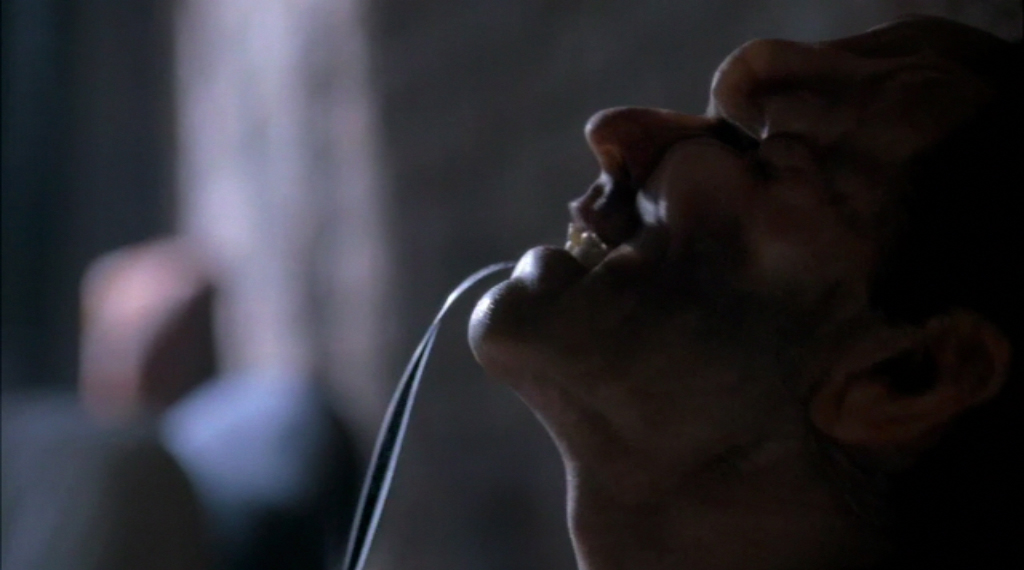 The episode starts on a Manhattan street with a guy coming to after a car crash. He falls out of his car and runs off in a panic, all bloodied up. As he's running down the street, he's looking for an apartment building to get into. He finally finds one, gets someone to buzz him in, encounters a tenant in a hallway, kills him, and proceeds with the weirdness. He breaks his face up, pulls out a machine and connects one end into the dead guy's mouth, the other into his own, and transforms into dead guy's duplicate. Which is alright with me, because Dead Guy/Big Bad is now being played by Luke Goss (fangirl squee).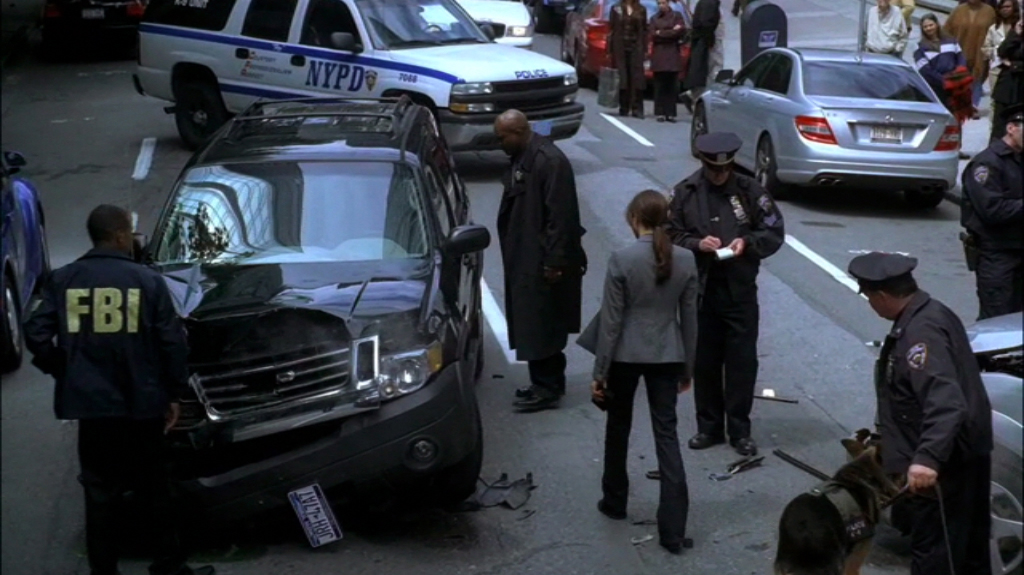 Back at the car crash scene, the FBI has shown up to no one being in either vehicle. New FBI chick (who's totally going to be a new member of our Scooby Gang) finds out that Olivia is the owner of the other vehicle.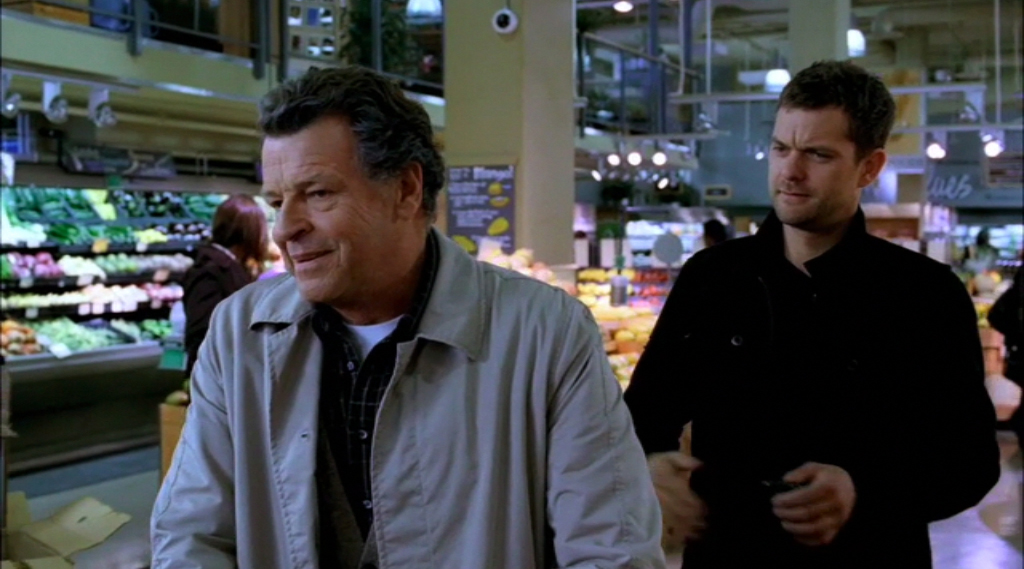 Back in Boston, Walter is dragging Peter through a grocery store to get ingredients for a custard (for Peter's B-day). Turns out, Walter was a Sous Chef before he was a big time Harvard scientist. He worked for the guy who invented the Ho-Ho! I knew I liked Walter. Peter's trying to get his father to leave (they must have been there a LONG time), mentioning that he's never liked custard, but Walter is adamant about him liking it as a child and doing something special for his birthday. Anyway, Peter eventually gets the call about Olivia's wreck and they head over there.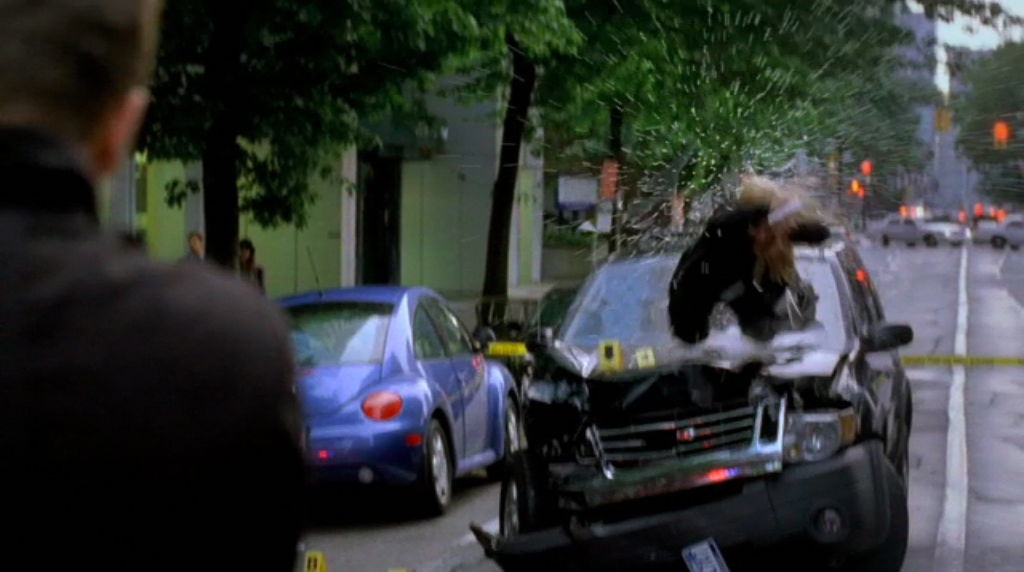 And as soon as they get there, Peter starts in on Agent Jessup (the new FBI chick) about where Olivia is, where Charlie is, basically where anyone he knows that's involved somehow with Fringe Division is. He totally runs her through the ringer about what is (or isn't) going on in about a minute flat. Meanwhile, Walter is snooping around in Olivia's SUV. The doors of the car are still locked, keys in the ignition, seat belt fastened. It's like whoever was in there just disappeared. Jessup finally starts grilling Peter about what exactly is so "classified" about Fringe Division, but she's not getting anything from him. Suddenly, the SUV comes to life and, in one of the best effects ever, Olivia flies through the windshield of the car! After the title credits, she's rushed into surgery, with a stunned Peter and Walter standing in the hospital hallway.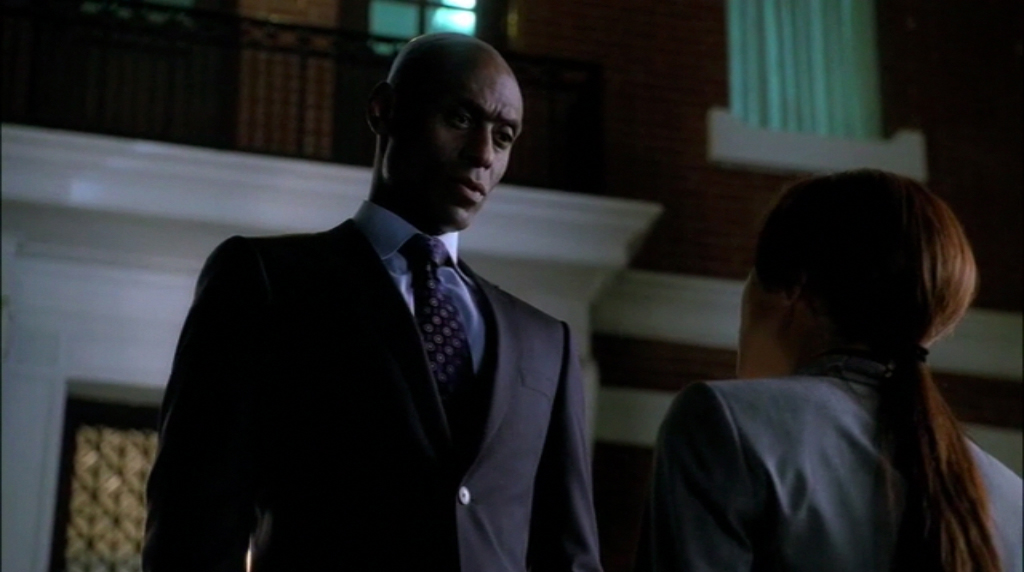 Outside the hospital, Agent Broyles shows up and gives Jessup "her" official report about what happened with the car wreck (just a regular traffic accident involving an agent, nothing more) before she can head into the hospital to start asking questions. She starts to balk and protest, but being a total BAMF that he is, Broyles makes her sign the report.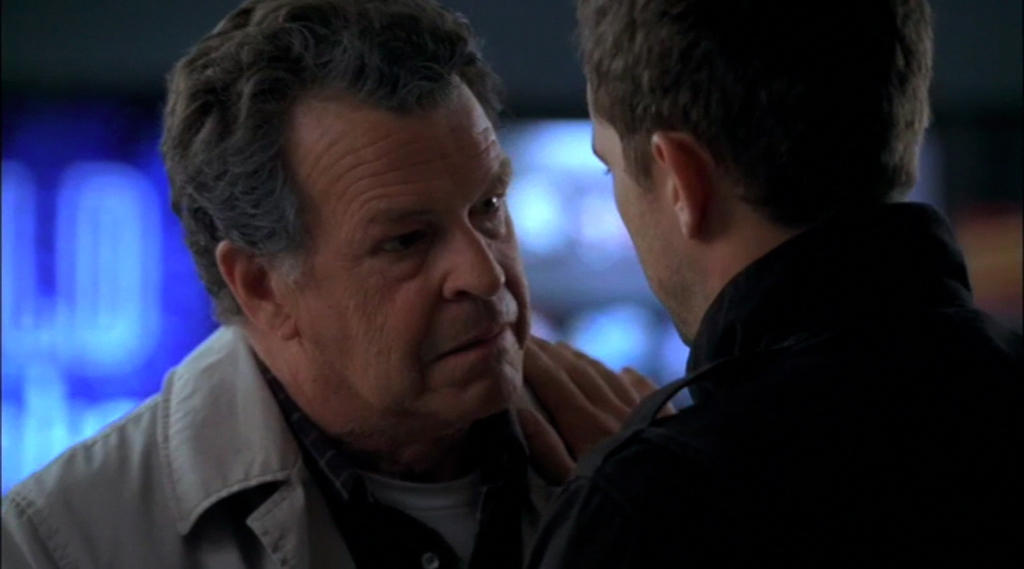 Back inside the hospital, Peter and Walter are still waiting to hear on Olivia's condition. The doctor finally comes out and informs them that they were unable to restore brain function. Walter does not accept that Olivia is brain dead, claiming they have primitive equipment at this hospital, and starts to freak out. Despite the doctor's protests that "they can't go back there," Walter heads to Olivia's room with Peter close behind.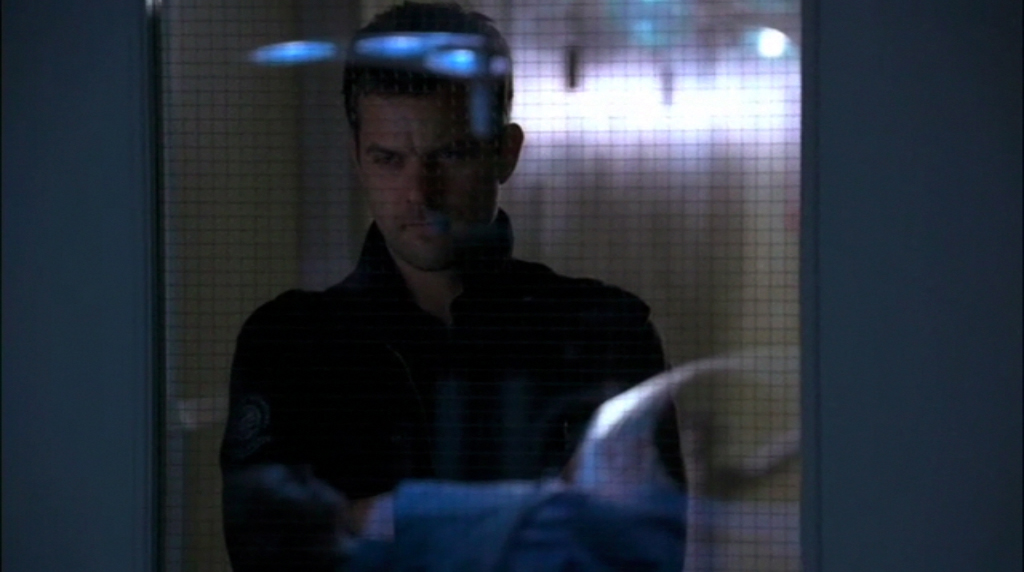 Once in her room, Walter does his own checkup and only confirms what the doctor told them. He's super broken up about this (even calls her "Olive" instead of "Agent Dunham"). Peter's watching it all from outside the room instead of going in there to comfort his father.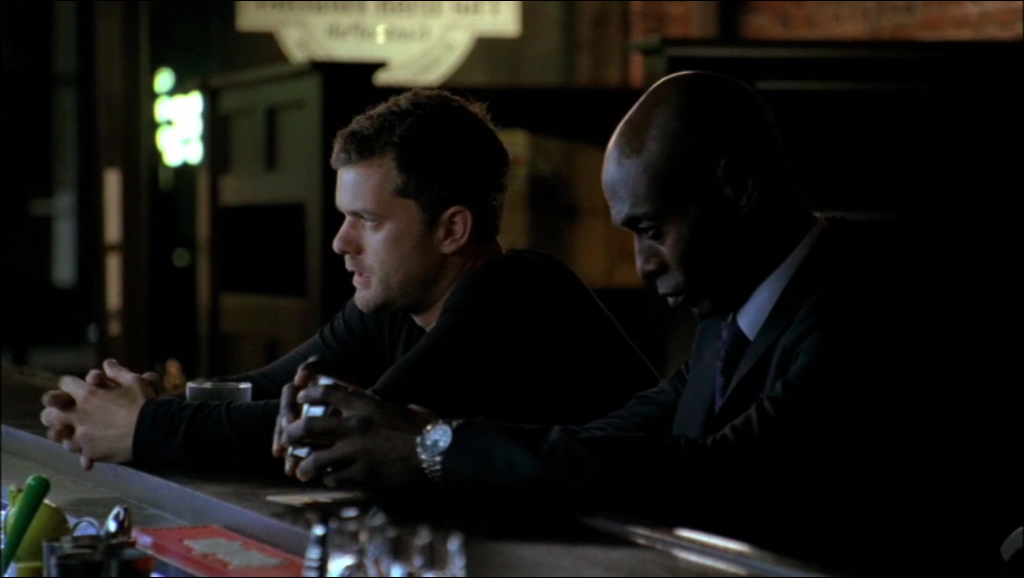 He hits the bar instead! What else are you going to do when the chick you work with, but totally want to be your Special Lady Friend, is brain dead in the hospital, your father has knocked himself out with a complex cocktail of drugs, and you don't have any other friends? Agent BAMF joins him for a double and tells him that the Fringe Division is getting shut down because their "failure to deliver any usable results is unacceptable." Saving the wold from a Wereporcupine just isn't enough for an FBI agent these days. I remember when killing a Flukeman was enough! Peter gets all shirty about how all they ever do is mop up the mess; they're always too late to do any real good. Especially for Olivia.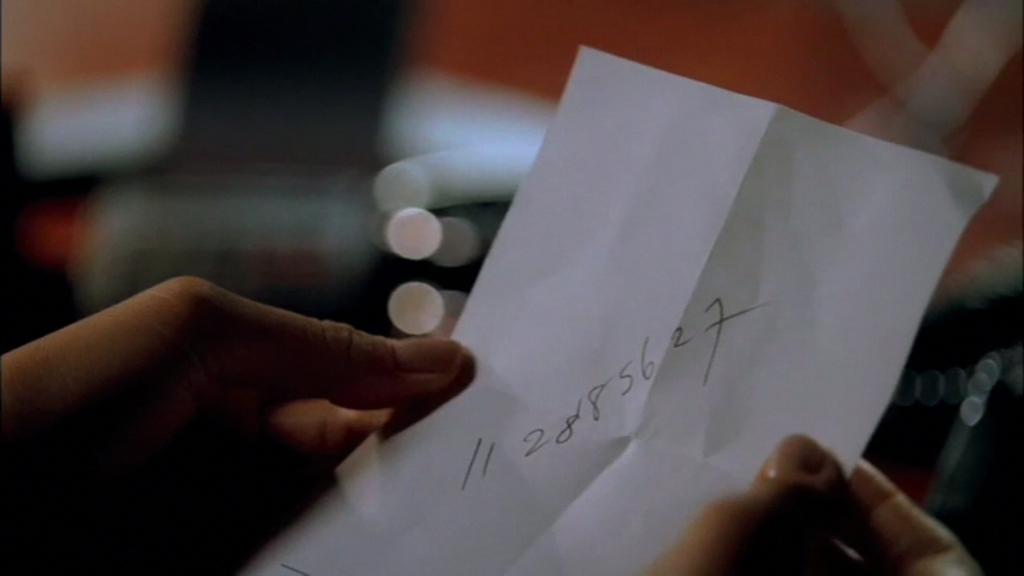 At the New York Federal Building, Jessup is trying her best to find out more on the Fringe Scoobs, but she's getting shut down at every turn. She finally pulls out a folded piece of paper with some numbers written on them (did Agent BAMF pass that to her?), and plugs it in as the password. It works, unlocking all sorts of classified info, and her eyes pop out of her face from the shock. Yours would too, if you saw a picture of the full-grown man baby with umbilical cord still attached.
After drinks, Peter heads back to the head trauma center where he runs into Olivia's sister, Rachel. She tells him that Olivia had a living will and didn't want to be kept on life support. So the doctors are going to pull the plug on her in the morning. Rachel asks if Peter wants to go in and "see" Olivia before she's officially dead, and he nods "yes." I think he's still a little drunk because Rachel also tells him that Olivia really liked him, and he just seemed confused by that.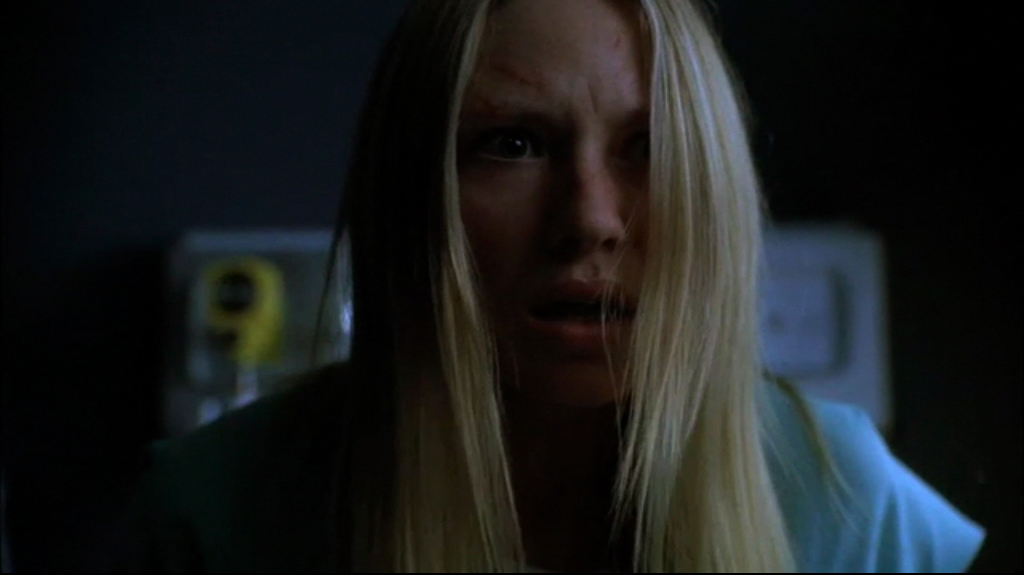 So he goes into Olivia's room and sits down next to her. For a few moments, he makes like he's trying to come up with something really deep and revealing to say to her seemingly unoccupied body, but only manages a good-bye while going in to kiss her. Olivia's eyes suddenly fly open, she starts speaking in a foreign language, then sits up and screams.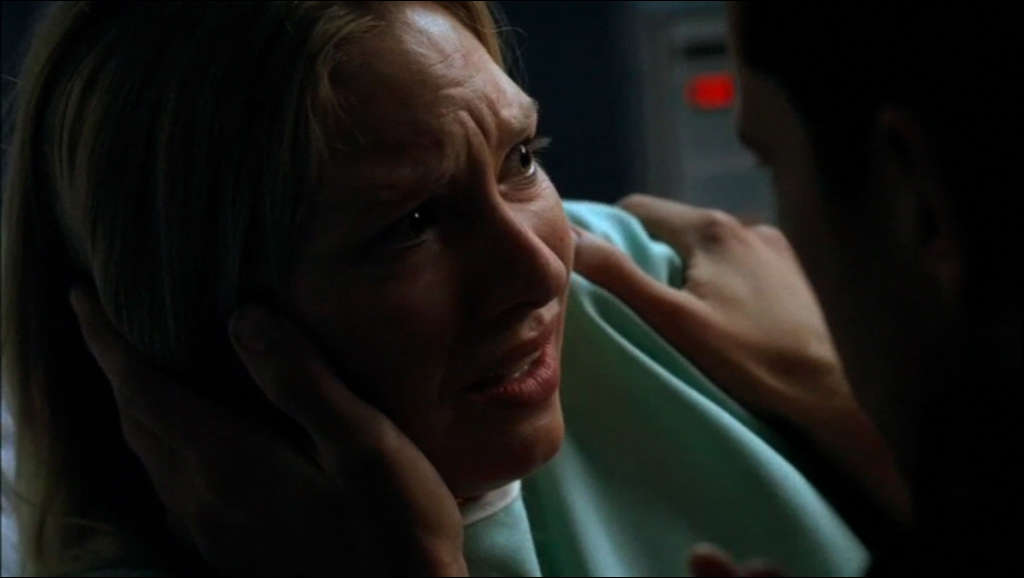 This scene happened fast. Olivia doesn't remember her meeting with Bell or why she's in the hospital with a bum leg, but she's sure someone is after her. She's positive she has to do something that will save everyone, but she doesn't know what. She's also pretty positive she needs her gun because she's "not safe."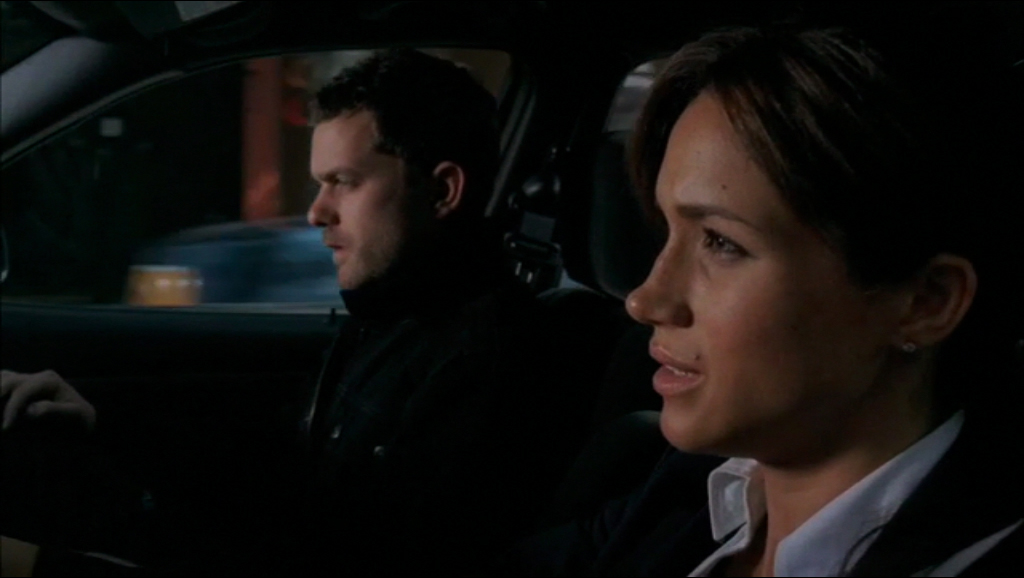 Next day, Peter heads to the Federal Building in Boston looking for Agent BAMF or Charlie, but instead gets his access pass shredded. He doesn't take this well and starts a ruckus. Jessup, conveniently, swoops in for the rescue. While in her car, she tells Peter she knows all about him and that she has the case file he's looking for because something about it wasn't sitting right with her. The other driver's tire tracks indicate that he sped up to meet Olivia's car head on. There's also a pic of the perp (before he shifted into Luke Goss), and they're headed to his house. Pulling a little "quid pro quo," Jessup asks Peter what exactly Fringe Division does. His response is, "Nothing. Not anymore."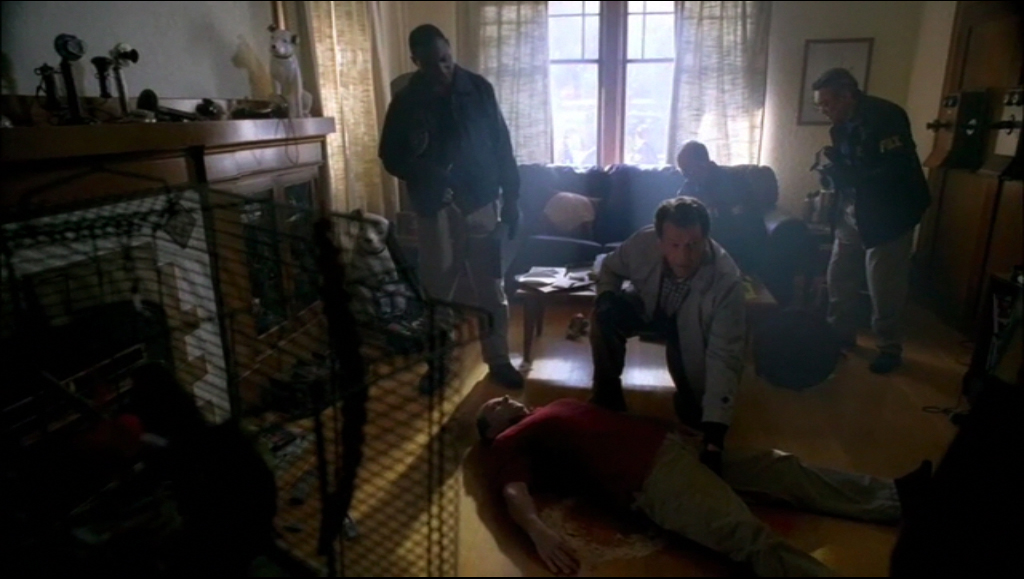 They bust into the house and find the dead guy Shapeshifter originally looked like on the floor. He'd been dead a while. Peter, sensing some weird is surrounding this dude's death, calls in Walter. This is why I love Walter: his first words about the body are, "Feel his anus; it's soaking wet." And a look of horror flies across everyone's face. Jessup lets Walter take the body back to the lab, and asks Peter, "Is he crazy?" To which Peter laughingly replies, "Oh, yeah." Outside the murder scene, Peter asks Jessup why she's helping them if Fringe Division is shut down. She doesn't give him a straight answer and before he can press her further, Walter rushes out of the house to excitedly tell him they said he could ride with the body. Peter gives the OK. Walter is ecstatic. Peter warns him to stay out of the meds. Walter is disappointed.
Shapeshifter strolls into a typewriter store, asks for a model that was never made, and the shop owner knows exactly what he is. He gives him a key to a room in the back. Apparently, trans-dimensional communication is done with an old timey typewriter and a mirror. It's confirmed Shapeshifter was supposed to kill Olivia and stop her from meeting with Bell (which he thinks he did). The other side informs him he failed and that his new directive is to interrogate her, then kill her.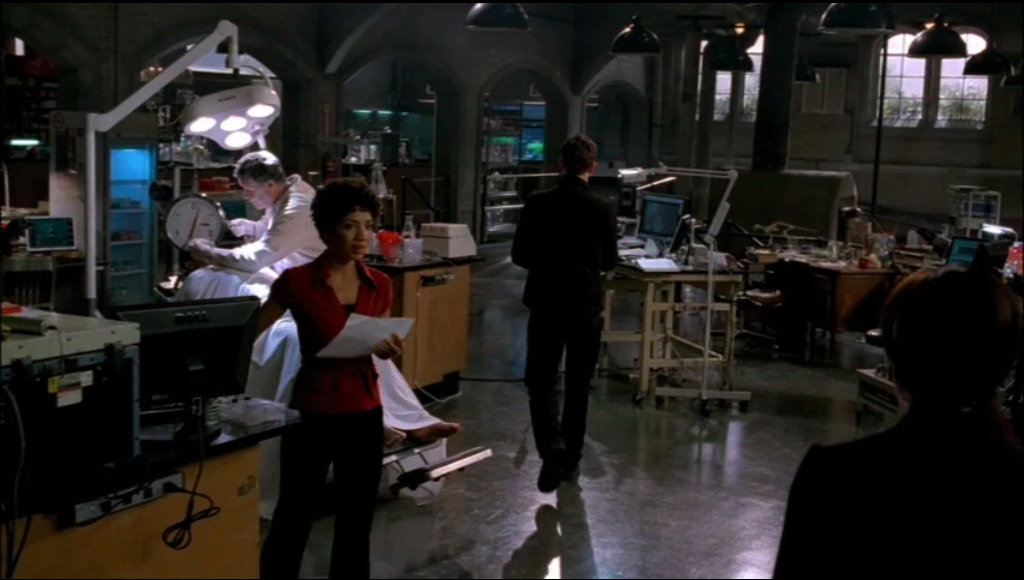 Peter takes Jessup to the lab, filling her in on what we already know about Walter. They get to the door, he tells her this is her last chance to walk away, and they go into the lab. Walter's working on the autopsy, ordering Astrid around, and he's refusing to give up on the custard. Even Gene gives Jessup a moo. Welcome to Fringe Division!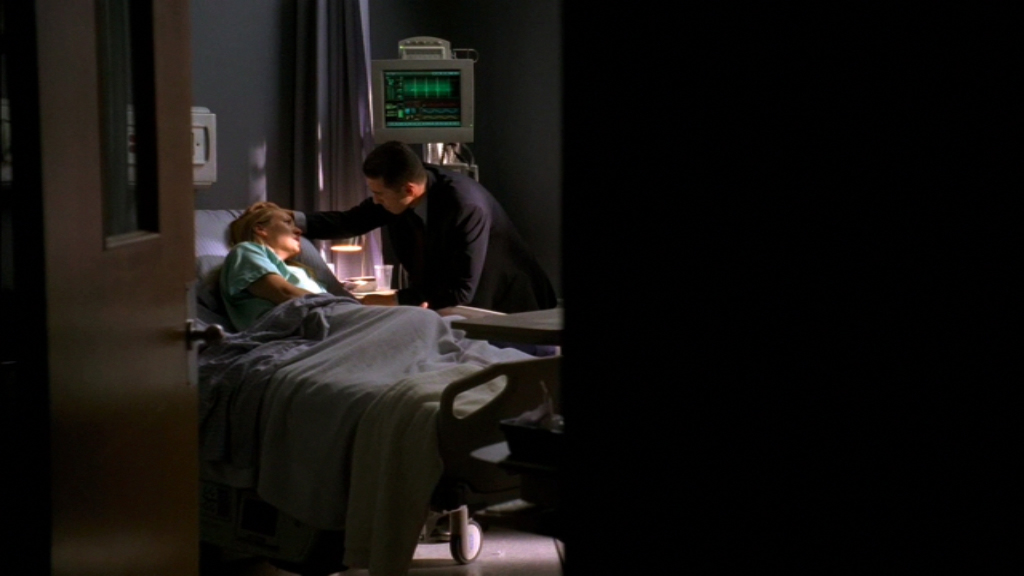 Charlie (who I also love and always refer to as "Joe Toye" from when he was in Band of Brothers) finally visits Olivia. He tells her a story about when he ended up in the hospital from a GSW, and that from his experience he knows she's not okay. Olivia cracks and admits her gun is under her pillow and that she's scared crapless.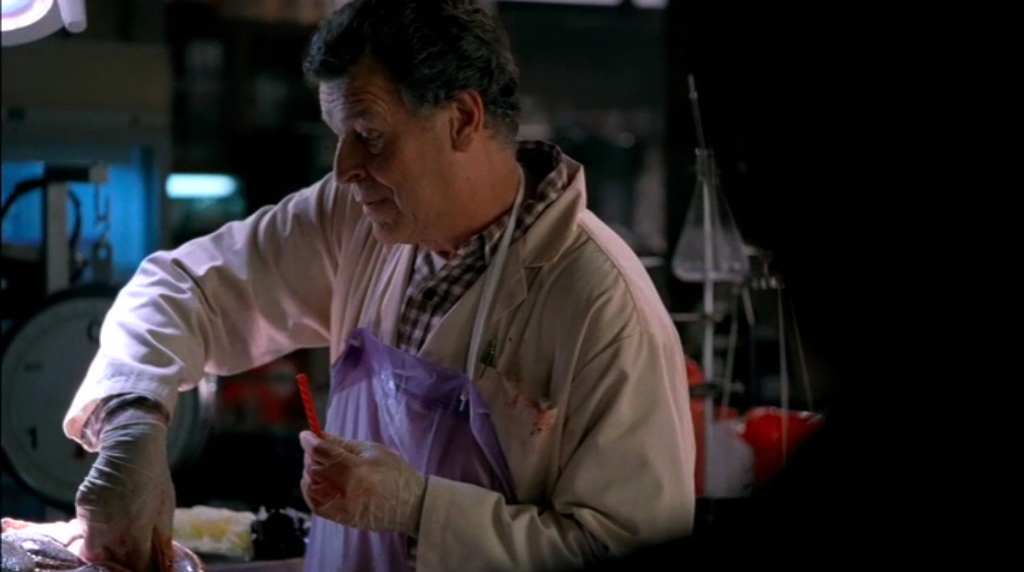 What is it about someone eating while doing an autopsy that gets me every time? Also, it seems Walter is getting better with Astrid (he actually remembers to use the word "please" when telling her to do something). Nothing odd about the body except three wounds in the palate of his mouth. This reminds Walter of something from his past, and he has VHS to prove it. Bell and he concocted an experiment where a girl was drugged out and hooked up to machines and saw into one of the other realities. What she sees is the Shapeshifter and she refers to him as a soldier. Peter gets Astrid to start looking for any bodies that have turned up with the same 3 wounds.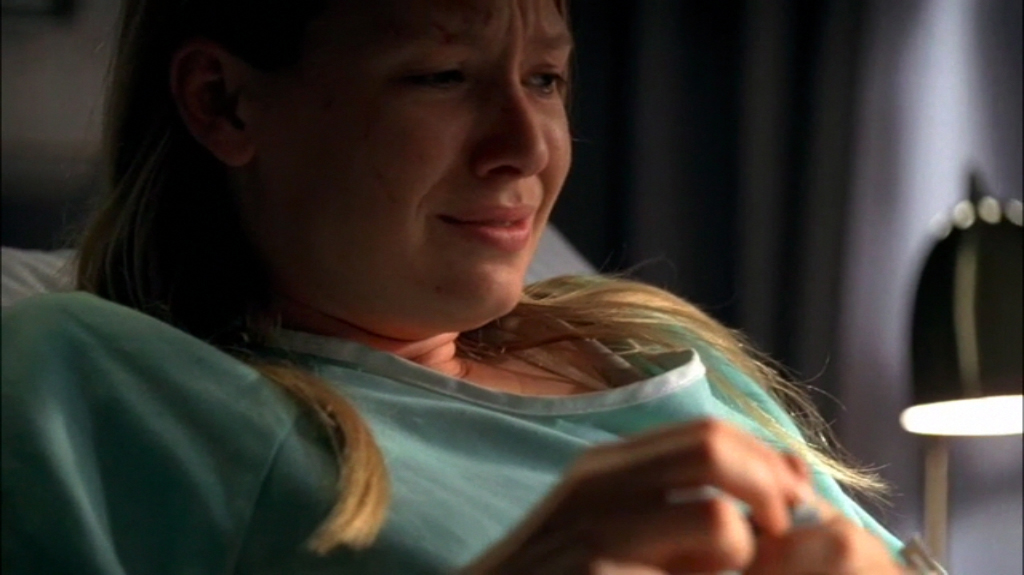 Back at the hospital, Olivia's still freaking out. Look at it this way — it seems she's moved on to Level 2 in the Charles Bronson School of Acting (she's not making the same face she made through the whole of S1)! So, that's a plus.
In D.C., Agent BAMF totally and completely lives up to the BAMF title, but it doesn't work with the politicians. Robohand meets up with him outside, lays one on him, and tells him to "save the day." He's Agent BAMF, lady! He doesn't need to be told that; he's already doing it!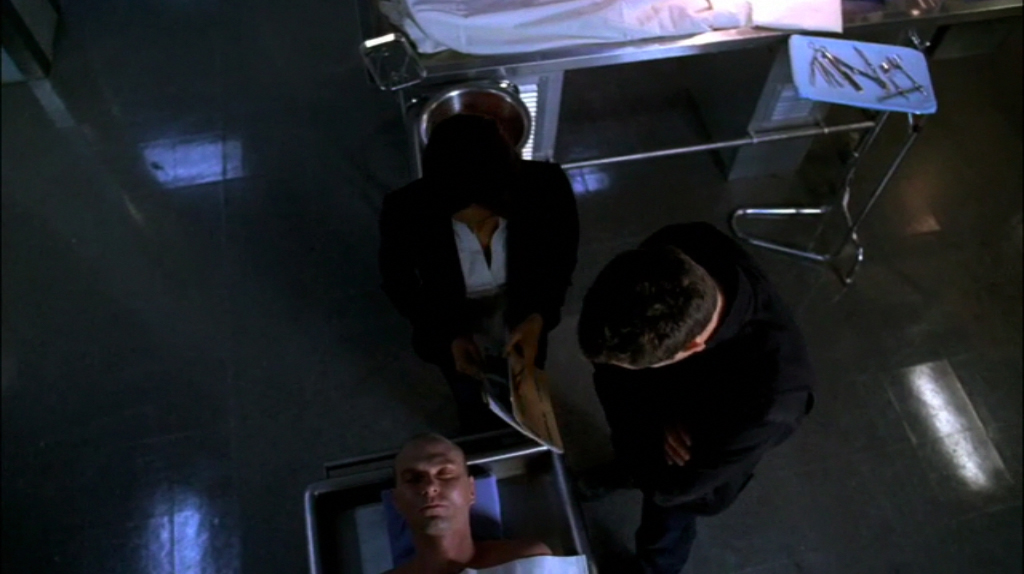 Peter and Jessup find the other dead guy's body, and determine that Shapeshifter leaves the body behind after he shifts. Jessup says that soldiers do one thing and that's stay on mission. Quickly, back to Olivia!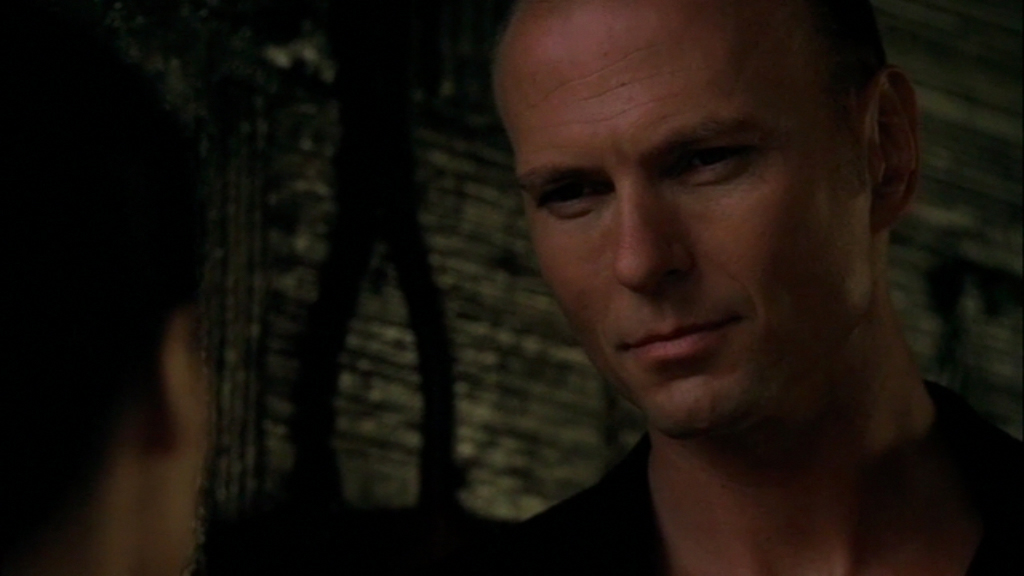 Too late, he's already there and shifts into a nurse. So long, Luke Goss! It was nice while it lasted!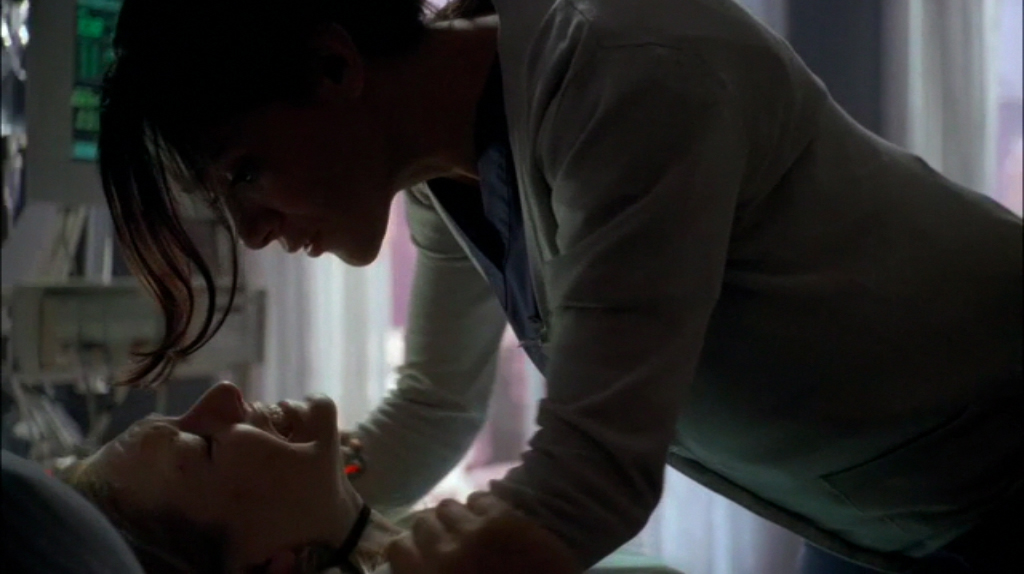 As the nurse, Shapeshifter starts questioning Olivia about what she remembers (which is basically nothing). Once that is established, Shapeshifter tries to strangle her. Jessup saves Olivia, and she, Peter, and Charlie all head to the basement to hunt down the perp. Of course, the three of them are split up because nothing bad would ever happen if the group split up. Charlie finds Shapeshifter first and fires twice. Peter hears the shots, then two more, and runs in their direction. Jessup and him find Charlie standing over the dead nurse and busted shapeshifting machine and assume he got the shapeshifter.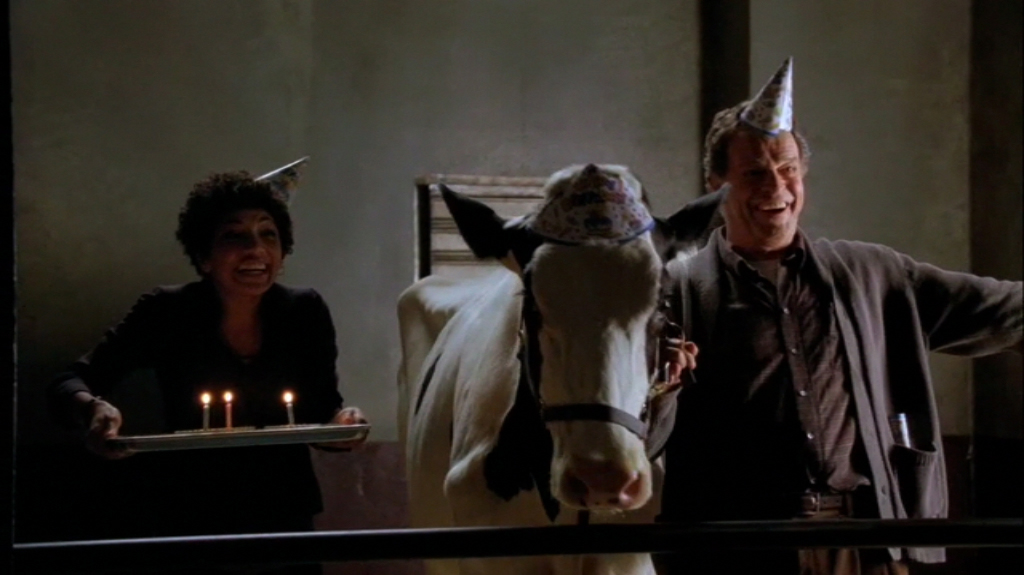 In the end, Olivia seems better (can even load her own gun now), but doesn't know what the foreign stuff she said to Peter means. Turns out it's Greek for "be a better man than your father" and it was something Peter's mother used to tell him every night. Later, Peter meets up with Agent BAMF to give him the busted shifter tech. He tells him to tell the stiffs they can have this tech, but they are not shutting Fringe Division down and Fringe Division is calling the shots from now on. No more just reacting to things. Meanwhile, Jessup is matching up Bible quotes with Fringe case files. She is so a Scooby now. Walter, Astrid, and Gene surprise Peter with birthday custard and you think this episode is going to end happy.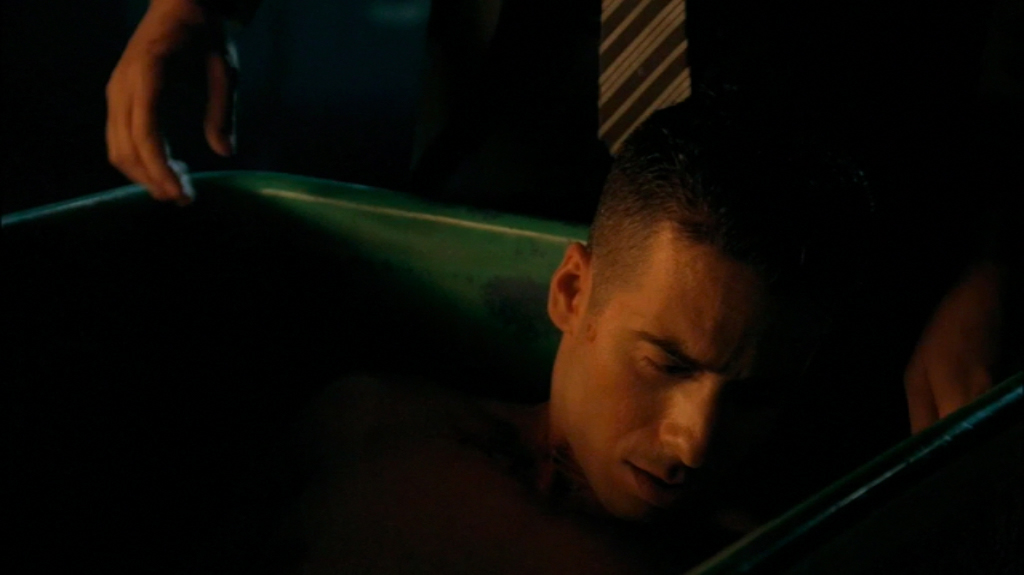 Nope. In the biggest upset ever (for me), the real Charlie is dead and Shapeshifter is still alive. Should have known something was hinky with those two extra shots.
For those of you playing the Glyphs Code Game, here's this episodes glyphs (you can find out what they possibly mean by using this cypher):