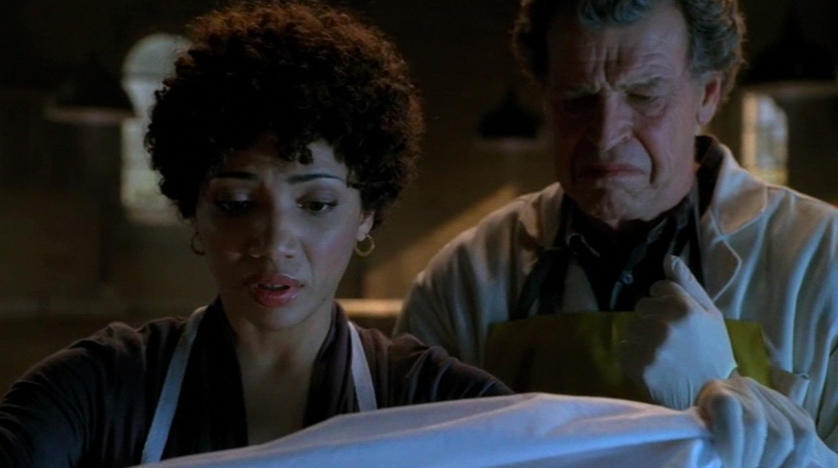 Episode: Fringe 2.14 – "Jacksonville"
Original Air Date: February 4, 2010
Holy crap, we finally get a mytharc episode! The center of Hell must have unfrozen! Wait, nope, it was just the last episode before a ridiculously long "winter" hiatus (the next new episode will air on April 1). No wonder we only get five episodes that have anything to do with the Fringe story; they only ever air them right before a break.
In any case, this one was pretty huge in the sense that a number of elements I'd been hoping would be addressed this season were brought up and furthered along (i.e., bringing one reality into another, the tests Walter and Bell did on Olivia and the other kids, Peter finding out he's from the other reality). Let's just hope these things get brought up in at least one or two more eps before the season finale.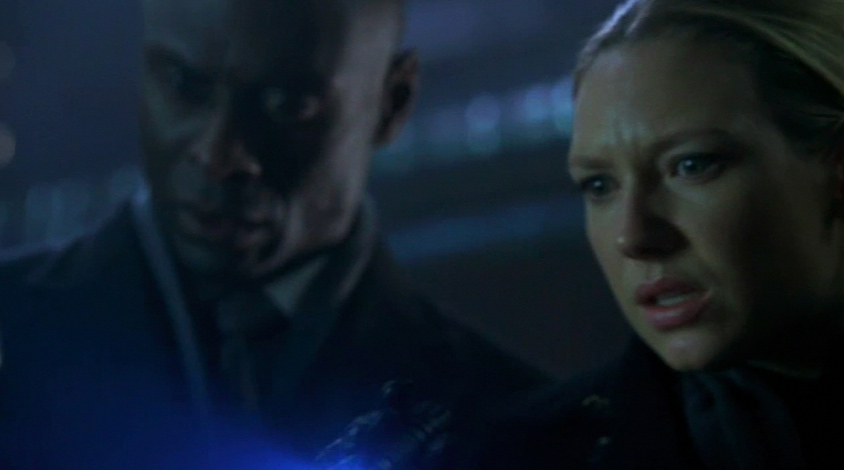 So, that thing Bell warned Olivia was going to happen if Newton wasn't killed? Well, he wasn't lying and it's started. A building full of AU (alternative universe) people are pulled from their reality and plopped into ours. Oh man, and when you and your AU self try to be in the same space at the same time? It is not pretty.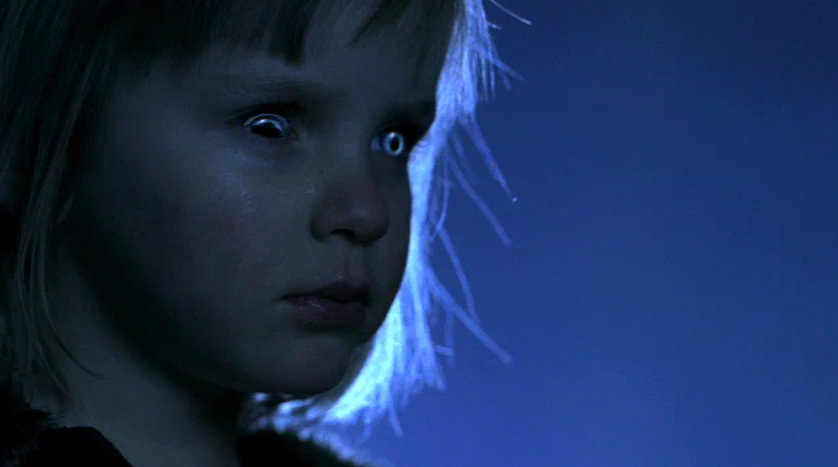 You can't take something from the AU and put it in this reality without replacing in the AU with something of equal mass (Walter and Bell figured this out back in the day). For the entire ep, the team has to figure out in a mad rush which building in NY is going to be sucked into the AU. Broyles gets Nina and Massive Dynamic to work on tracking the seismic activity that proceeds the shift in realities, while Walter gets Olivia to go back to the Jacksonville daycare center where he and Bell did those experiments on her. Apparently, the tests Walter and Bell did on Olivia and the other kids made it so they could see the AU (Olivia was the only child successful at it and said AU objects had a "glimmer"). Walter's theory is that if he can take her back to the site where it all started, he can restart the ability in Olivia to recognize things from the AU.
And that's where things kind of go south — for the character interaction and for me as a viewer.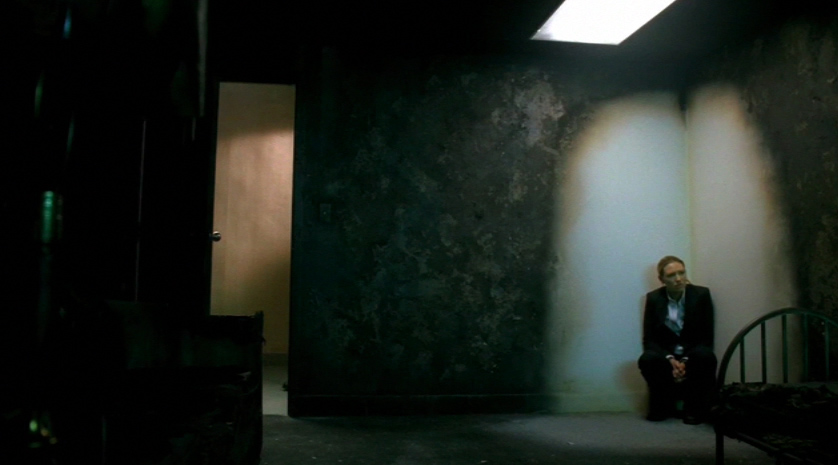 I'm not saying that Olivia doesn't have the right to be pissed at Walter and Bell for what they did to her or those other children, but once they get to the site she just shuts down and is full-on spiteful with Walter. This feels oddly out of place to me. Like I said, she has every right to be angry with him. He took advantage of her as a child and did scientific experiments on her. However, she has been treating him absurdly well in all the episodes between the one where she finds out about the experiments and this one if she really has been angry with him about it. I blame this on the ridiculous amount of one-off episodes that seems to make up this show. I find it extremely unbelievable that in the handful of eps before this one she could be trying to convince Peter that Walter is a different man than the one he used to be, and that he's not so bad, and yadda yadda yadda, only to get to this episode and have her literally just spew venom on a man who is literally missing parts of his brain and isn't, in fact, the same person he was before.
A part of me sympathizes with Olivia, but the other part of me wonders why she doesn't pull on her big girl pants and do what Walter and Bell picked her out to do: SAVE OUR WORLD. It could very well be because she turned that fear response she had as a child (the emotional response that supposedly triggered her ability to see the "glimmer") into anger. I have a feeling that if she isn't scared of something, scared of losing something, she doesn't have a reason to fight to save our world.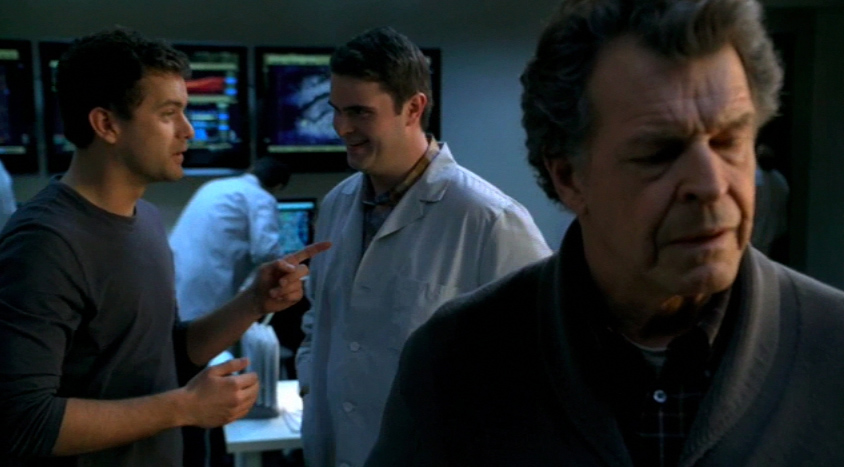 Eventually, when Peter, Olivia, and Walter's trip to Jacksonville doesn't pan out, they end up at Massive Dynamic where they scramble to figure this out. I love that nerdy science guy. I loved him even more after he referenced Raiders. You can never go wrong if you can relate everything back to an Indiana Jones movie, I always say.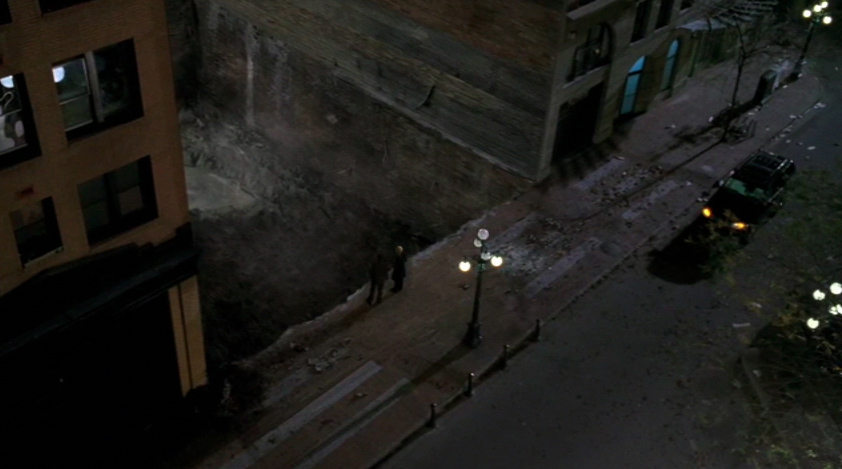 Just when Peter is about to suck face with her (it's always at the most appropriate moments, isn't it?) that Olivia suddenly feels that fear and her "sight" comes back and she spots the building that's going to be sucked over to the AU. What exactly triggered her fear (there could be a number of reasons), we don't know yet. I'm pretty sure she knows because at the end of the ep she gives Broyles the cheap answer of something along the lines of "maybe it was just time." At any rate, they get everyone out of the building in time and only the building itself is sucked over. Good guys save the day again.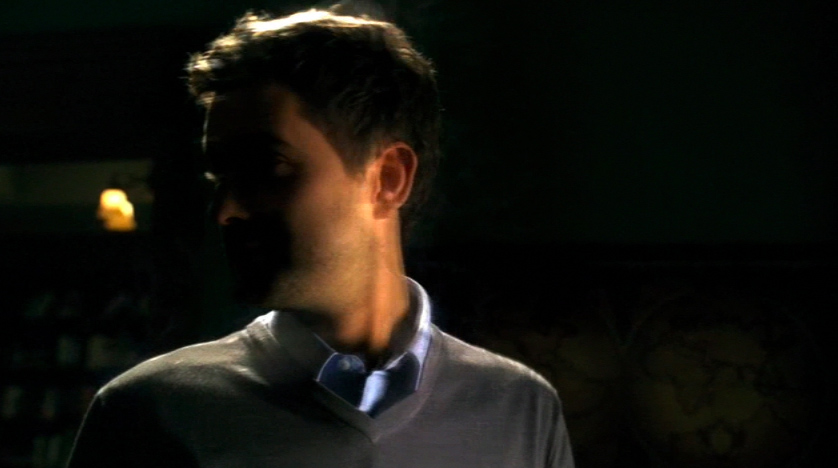 If nothing else, this episode was worth it for the end. I have been dying for it to come out to someone, anyone that Peter is really AU!Peter and it finally did! To Olivia, no less! Walter about crumbles into a blubbering fool and the look on Olivia's face was classic.
It might be too much to ask for with this series, but I hope the rest of the season will have more episodes like this one and much, much less of the Monster of the Weeks.
Here are this episode's glyphs:


REVEAL
Rating: 4 / 5 Stars