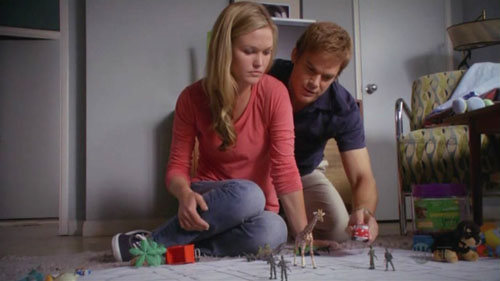 Episode: Dexter 5.11 – "Hop A Freighter"
Original Air Date: December 5, 2010
Screencaps from Shadow of Reflection.
This week's episode was crazy awesome. Spoilers ahead.
So Emily and Liddy are dead, Dexter is totally in a bind and I'm so nervous for the finale I don't think I'm going to sleep all week. I just don't think there's any way that Dexter, Lumen and Quinn will all be okay by the end of next week. This week was really tense and action-packed and did a great job really building things up for the end. I loved this week's episode!
I am really so happy Liddy is dead. He stressed me out, and he had figured out way too much about Dex and Lumen. A friend of mine said she wanted to see Quinn help Dexter kill Liddy, and after hearing that thought I agree that would have been pretty intense. But regardless, he's dead and I couldn't be happier. Do you think that tossing that laptop into the ocean means that all evidence is destroyed? I hope so. I'm worried that wasn't enough.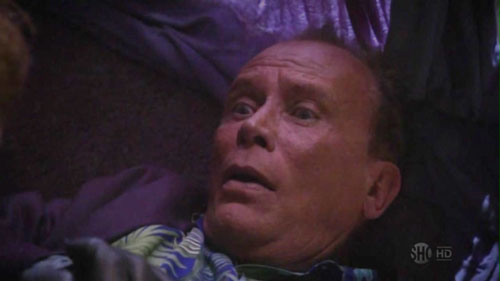 I love Lumen. I love Lumen and Dexter together. I am so scared that next week will be the end of them in some way. Dexter has never been so intimate with anyone, and I love seeing this side of him. I love how Lumen knows the real him and their dynamic is just so fun for me to watch. Watching them going over their plan together, moving the little army men and sharing those little touches was just making me melt. Perhaps that makes me kinda twisted. Alas, I just have a sad feeling that she won't make it to next season. I can still have hope though, right?
I really like Quinn. And I want Deb and him to work it out and say "I love you" to each other and be all cute and sappy. I'm pretty worried that there's no way I can get happy endings all around. Will Dexter have to kill Quinn? Probably. Maybe. If Quinn lives I wonder if there's a way stuff will get pinned on him, since the equipment Liddy took out was in his name. That would be a smart twist, but I'd still be bummed that he was off the force. He just cracks me up and I think he's interesting. Quinn is too hot on Dexter's trail though — he is just way too close.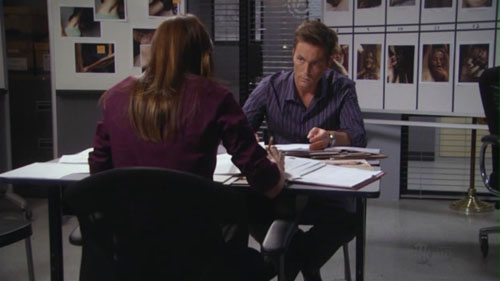 What's up with Jordan Chase killing the first victim, Emily? What is their connection and why did he just off her? I guess there wasn't a serious attachment there. He's a sociopath though and they don't really form attachments. His character is just über creepy to me, and I'm ready to see him on Dexter's table. I hate that he has Lumen right now and I'm all kinds of scared.
Deb is such a good cop! I really need to see LaGuerta leave her alone and let her do her job. Last season I started liking LaGuerta, and now I'm right back to being constantly annoyed by her.
All in all, I give this week a perfect score: 5 stars. It was action packed, suspenseful, had a little romance and was just edge-of-the-seat good times!
Rating: 5 / 5 Stars