Episode: Dexter 4.10 – "Lost Boys"
Original Air Date: November 29, 2009
Spoilers ahead!
Dex has moved his tools to a shipping container (irony!), where he plans to kill Arthur.
He follows Arthur to a circus/arcade where he's stalking a lady with two kids. At first, Dex is concerned Trinity's cycle is starting over again, but it turns out he's stalking the little boy. Arthur gets the boy to his van by telling him he's a cop. Dex catches him too late, and Artur drives off with the boy.
Arthur then calls Dex ("Kyle") on his cellphone. Dex says he'll call the police and Arthur threatens to kill the boy if he does. Arthur says he'll set the boy free once he is done with him. Dex runs to Arthur's house. Only Jonah is home so Dex gets him to help looking for clues to where Arthur might be.
The kidnapped boy wakes up in a basement-type room, where Arthur playing with a train set. Arthur keeps calling the boy Arthur. Obviously this is part of the Trinity ritual we didn't know about. Right after this we watch as Dex finds a pattern of missing boys that always happen directly before the bathtub murders. I guess we shouldn't call him Trinity anymore.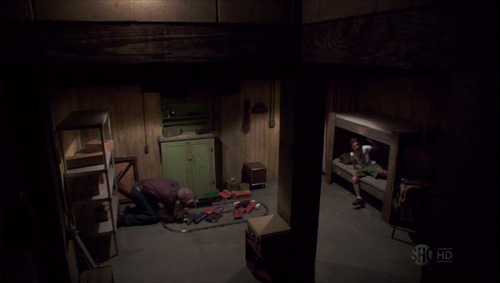 Dexter gives Arthur's license plate number to one of the officers at the station and asks him to let him know if the car turns up. Masuka is waiting outside of Dexter's office with Deb and tells her he needs to talk to Dexter about something from Thanksgiving (obviously the Rita incident). But Deb gets to Dexter first, informing him of the interview she has with Christine and how she thinks she's connected to the shooting somehow. Dex advises her not to tell Quinn about her suspicions. He tries to run out to get started looking for Arthur, but Deb makes him stay for her briefing on Trinity.
Afterward Christine shows up for her interview with Deb. As Quinn shows her to the room, Deb asks Batista to watch the interview from the monitor because it may have something to do with the Lundy shooting. Angel agrees and Deb heads in for the interview.
Deb starts getting sassy with Christine during the interview. Deb shows her the photos of Lundy from the crime scene and Christine immediately stops the interview saying she has everything she needs. But Deb then asks her how she got to the scene of the shooting in 20 minutes when she lives when she lives an hour away. Christine is visibly upset and leaves. Batista is now convinced Christine is involved somehow, so he and Deb plan to work on the case without telling Quinn.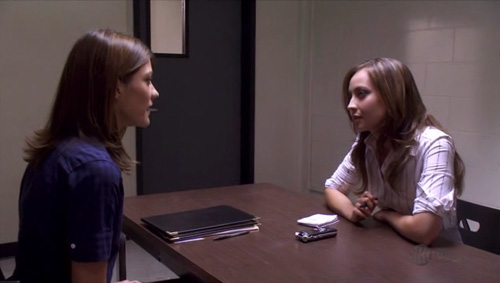 Dex first goes to the missing boy's house hoping for a clue of some kind. He then checks the local build site that Arthur would be working on but finds nothing. Luckily that's when he gets a call from Jonah who goes through his dad's search history on the computer and finds a real estate page. Dex concludes he's probably using an empty house to keep the boy so he starts checking out the houses on the list.
Christine calls Arthur, saying she really needs to see him. He says it'll have to wait and hangs up on her before she gets to telling him why. Then he brings some food down to the kid who has to put on a pair of pajamas before he's allowed to eat.
Batista and Deb are at her apartment trying to figure out Christine's part in the shooting. Deb points out that Christine is the same height as her shooter, so they decide they need to get her DNA. Deb goes to Quinn to get Christine's toothbrush from his apartment. He's obviously pissed but allows her to take it.
Later, Christine wonders where her toothbrush is and Quinn says the cleaning lady must have thrown it out. She starts getting angry, figuring that Deb told him something about her. She storms out and then calls Arthur again leaving him a message about "that woman in the bathtub that night when I was little." Meanwhile, Arthur is still with the little boy in the basement. He says he's going to let him go free and then drugs the kid.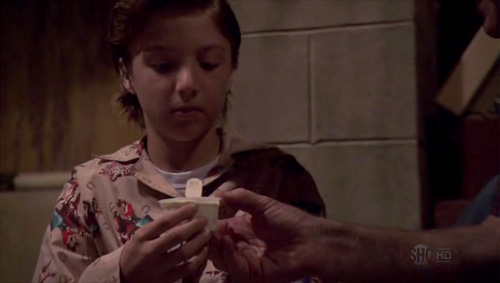 Arthur's car is spotted at a diner so Dex goes to check out the houses near there. On his way out, Dex encounters Deb, who is being met by one of Harry's old CIs. She mentions to Deb about being dumped for another CI, but is interrupted. The DNA testing on Christine is back, revealing she's related to Trinity.
Dex finds the place Arthur was using, an old bomb shelter, but Arthur and the kid are already gone. Noticing cement powder, he figures the next place to go is the build nearby.
Christine meets with Arthur, telling him that she knows about him and how she saw him kill a woman in a bathtub. When it happened again in the same house 30 years later she figured it out and she shot Lundy to protect Arthur. Arthur is clearly upset that she might be caught soon, but tells her she'll met her later that night and that he won't let anything happen to her.
Dex finds Arthur soon after with the kidnapped kid in a bag. The boy isn't dead yet, but Arthur is about to dump him into a grave of wet cement. They struggle and Dexter chooses to save the kid from drowning in cement while Arthur runs off.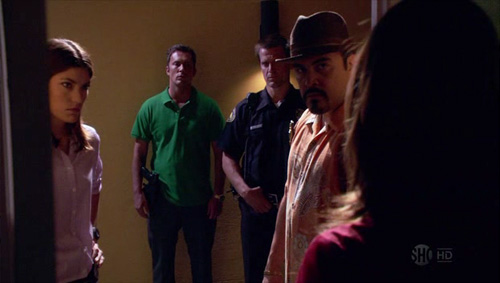 At Christine's there's a knock at the door. She assumes it's her dad, but is greeted by Batista, Deb, Quinn, and some uniforms to arrest her.
Dex goes home to his seemingly happy family, vowing to Harrison to never let anyone hurt him, especially Dex himself.
The writers seem to have found themselves again. I'm glad they are going back to the CIs and Deb potentially finding out about Dexter's mother. That's the storyline I think I'll like the most out of all of them this season. It's looking like everything will come to a head at once for the finale, and I hope the writers don't get sloppy like they did earlier in the season.