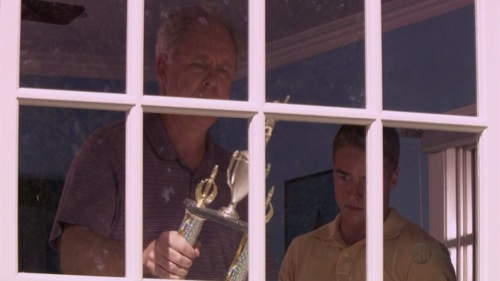 Episode: Dexter 4.09 – "Hungry Man"
Original Air Date: November 22, 2009
Screencaps by rhcp_csi.
Well, they've certainly thrown us for a loop with this episode. I just hope it's a good one.
Thanksgiving: a time of family and togetherness. We watch Dexter spying on Arthur from outside his house. He's yelling at Jonah and breaking all of his son's trophies. Jonah storms out and peels away in his car. Dex follows him to where he parks. At first Jonah starts hitting some baseballs with a bat, but then turns on the car and smashes up the front and windshield. Dex goes to talk with him and Jonah confesses that Arthur is physically abusive and implies he hurts the whole family. Dexter promises Jonah he will go to Thanksgiving dinner the next day to protect him from Arthur's wrath.
At the station, the DNA sweep has brought in lots of criminals to keep the place busy. Deb tries to insist on working through Thanksgiving since she's now back to being the lead detective on the Trinity case ever since she figured out it wasn't Trinity who shot her. But Dexter wants her off the case and sends her a video of the kids looking sad and begging her to come to dinner. So Deb has no choice, but invites Masuka along as well so she isn't alone.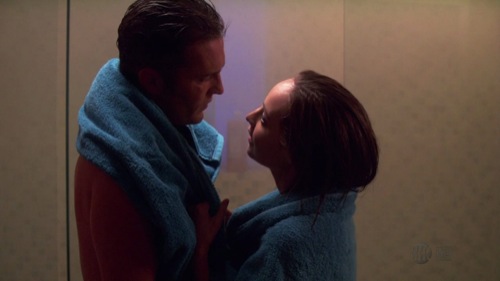 Christine starts bugging Quinn about being his "girlfriend" and later convinces him to spend Thanksgiving with her by coming into the office. Deb is there too, and when Quinn leaves the room Christine starts talking to her about Lundy dying in a super-creepy way. How it must have been awful watching the person you love die, looking into his eyes, etc. Awkward much?
Meanwhile at Dexter's, their neighbor Elliot is over helping with dinner. Rita realizes her oven isn't big enough for all the food so they head over to Elliot's next door to use his oven. Masuka shows up as they head over. Now everyone is there but Dexter.
Dexter told Rita he had work to do earlier in the day as a cover for going to Arthur's for Thanksgiving. When Dexter shows up at Arthur's house it's clear that Jonah hadn't mentioned he had invited "Kyle," but Dex talks his way in. While in the kitchen, Arthur's wife asks her husband if Rebecca can "come out now." Dex asks if she is grounded or something, but Arthur's wife answers no. Rebecca comes out a bit later and seems cheery.
Then Arthur and Dexter head to the garage to find the football to toss around. Dexter finds the coffin that Arthur had been working on. Arthur explains that it was made when he was still "confused" and covers it back up. Then Jonah drives up in the smashed car. It looks like Arthur is going to freak out, but he remains calm and seems to let it go.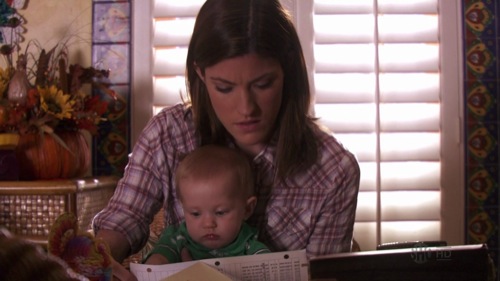 Back at Dexter's, Deb is talking to Rita about the kids and having them home over the holidays which triggers a theory about Trinity. His pattern looks to be linked to the school system's vacation days. Deb immediately calls Quinn, but he convinces her to wait a day before doing anything due to no one wanting to work on Thanksgiving.
Dex is still stuck at Arthur's while the wife is cooking and the guys watch football. Dex offers to go help in the kitchen so he can snoop around the house. He finds Rebecca's room which looks like it belongs to an 8-year-old and has locks on the windows and on the outside of the door. Back in the living room, Arthur grabs Jonah and breaks his finger. Dex wanders outside where Rebecca is cutting flowers for the dinner table. She then asks Dex to help her leave and also starts coming on to him, saying she'll do whatever he wants. Rebecca obviously has some issues. Then her mom shows up but instead of freaking out over her 15-year-old being so close with a grown man, she just begs Dexter not to tell Arthur about it. She even goes as far as to say she doesn't care what he does with Rebecca. Obviously this family has been a bit traumatized.
Then Rita calls to tell Dexter that Cody fell through the roof of Dex's shed. Luckily the air conditioner (with his blood slides) was left intact. Dex is about to tell Arthur he has to go but then he walks in on Jonah taping his finger. Dex is afraid to leave, fearing Arthur will hurt his family even more.
So it's finally time for dinner with the Trinity family. Arthur has everyone say what they are thankful for, but then no one says they are thankful for their dad. Arthur starts lecturing everyone about it so Jonah gets pissed and starts smashing things. He says that Rebecca isn't "Vera" nor is she his prisoner, and Jonah knows Arthur is really a killer. Arthur throws Rebecca across the room so Jonah takes Vera's urn and smashes it. Arthur attacks Jonah so Dex drags Arthur into the kitchen and pulls a knife on him. Dex says he should have killed him when he had the chance, but then Arthur's wife and daughter jump on Arthur to defend him from Dexter. Dex drives away obviously upset and wishing he'd killed him before all this.
And while Rita is over at Elliot's using his oven, Elliot uses the opportunity to be overly intrusive, going as far as kissing Rita, and for some reason it takes Rita a second or two before she pulls away. She then runs off, not knowing that Masuka was standing just outside and saw everything. He goes back to Dex's and tells Deb he's going to leave, but Deb convinces him to stay.
Dex shows up at home with Rita extra-lovey when he returns, obviously feeling guilty. Cody starts asking Deb lot of weird questions about Lundy dying in front of her while they set the table. Suddenly she realizes that Christine gave details about Lundy dying when they spoke earlier. Details that she couldn't have known unless she was there.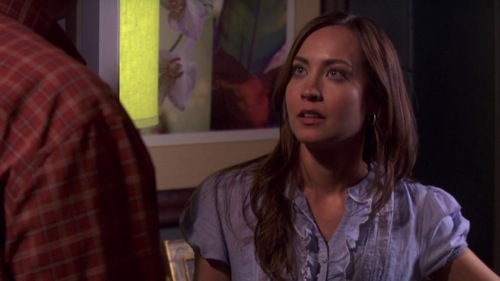 And then back at Christine's, Quinn leaves to go home but a minute later there's a knock at the door. She opens the door thinking it's Quinn, but it's Trinity.
"Hi, Dad."
So the explanation of Ms. Reporter being Trinity's dad does fill in some holes. It does make it even more likely that she'll end up dead, or at least she and Quinn will have to break up at some point.
Rita kissing Elliot is something I disagree with the writers on. If this had been when she and Dex had been having problems or something it may have made more sense. But her letting Elliot kiss her like that when her and Dex are perfectly happy makes very little sense character-wise. I'm not sure where they are trying to push this, but I'm not liking it.
Oh yeah, Angel and Maria both confess love to each other. Anyone caring yet? No.