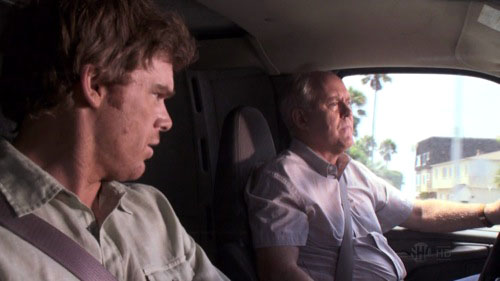 Episode: Dexter 4.08 – "Road Kill"
Original Air Date: November 15, 2009
Screencaps by rhcp_csi.
Spoilers ahead!
We begin with Dexter in his new backyard shack trying to tell himself that accidents happen, but not letting go of the idea that if he'd just concentrated on killing Arthur, he never would have killed an innocent. So his sights are now aimed back where they should be.
Later that morning, Deb is in the middle of briefing everyone on the serial bludgeon with the slides of all the victims with smudges next the bodies. She accidentally leaves a bathtub victim in with the slides which makes Maria force Deb into telling her the full story of the Trinity Killer, including the theory that Trinity shot Deb and Lundy. Maria seems surprisingly accepting and calls Deb into her office to speak with her privately.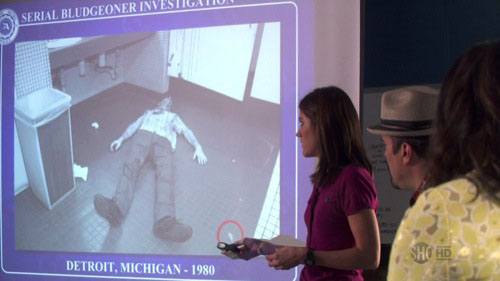 Dex heads over to Arthur's during his lunch break and finds out that Arthur is going out of town for a build without his family. Dexter decides he need to get himself invited and goes to find an alibi for a trip to Tampa. Dex is convinced he must kill Trinity before he starts his cycle again.
Back at the station, Deb thinks she had a big win with convincing LaGuerta of the Trinity case, but instead she's taken off it because she's technically a victim. Deb does her usual amount of pouting while Dexter is oblivious.
Meanwhile, Dex finds a meteorological conference to go to in Tampa as a cover and runs it by his boss and Rita. Rita makes mention that their neighbor, Elliot, will be taking the kids fishing this weekend. We'll hear more about that later…
Dexter packs for his weekend of out-of-town murder and stops Arthur in the morning before he leaves, begging him to take him with. Arthur is reluctant, but Dex (Kyle) convinces him, saying that he's in desperate need of help and Arthur is the only one who can help him.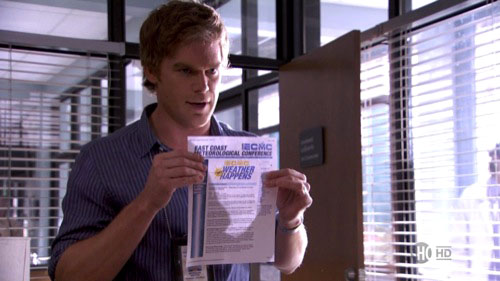 Deb is at work, busy back-seat investigating the Trinity case, telling Quinn what to do at every turn. She has him suggest doing a DNA sweep over the weekend which Maria agrees on, but she and Angel need to find money in the budget for it.
Arthur is grouchy, obviously disturbed to have Dex riding along with him and asking questions. Arthur tries to ask Dex what he did that was so wrong but Dex is vague and avoids the question. They make a pit stop and Arthur continues his questioning, proceeding to yell and demand that Dex tell him his secret. Arthur is about to walk away when Dex gives in and reveals he killed a man. Arthur looks taken aback. Dex explains it was during a hunting accident, that he though he was an "animal." Once Dex explains his feelings to him, Arthur suddenly seems more caring, understanding even. Once in the hotel, Arthur comes by (seeming bubbly and happy) to tell Dex he has a surprise in the morning.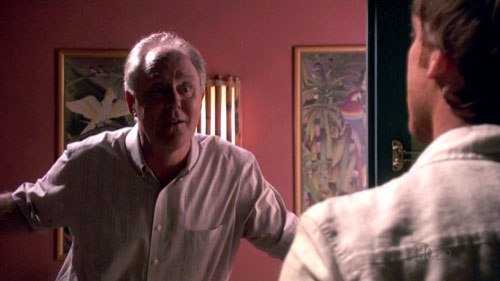 Christine (Quinn's reporter/girlfriend) stops by Quinn's apartment late at night to tell him she is going to be fired if she doesn't get a new lead on a story. She says she's only there because she "needs a hug" and not because she wants information. But once she gets her hug and sees the DNA swab information behind Quinn on the table, she's out the door. Poor Quinn, he's so dumb. Later, she confronts Deb about the DNA sweeps. Deb brushes it off as nothing and offers to do an interview with her instead. I guess Deb is taking one for the team.
Arthur catches Dex trying to leave early in the morning to establish his alibi at the weather conference. They get in the van and start driving with a crazy-happy Arthur at the wheel.
Deb is still directing Quinn on what to do with the Trinity case and tells him to get some crime-scene photos from Masuka. Of course the conversation between Quinn and Masuka degenerates into tales of having sex, and Masuka tells Quinn about Lila and how Dex was seeing her while he was dating Rita. Quinn seems obviously more interested than he should.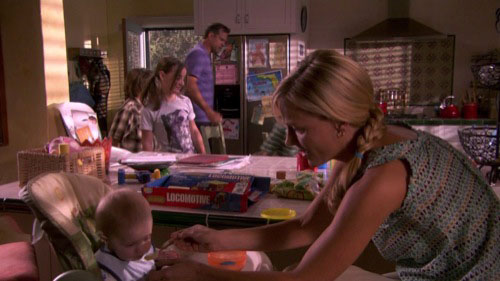 Our friendly neighbor Elliot comes home to Rita's with the kids and their fish. He offers to clean the fish so they can all have dinner together while Dexter is gone. Rita even misses a call from Dexter because they are all too busy goofing around at the house. Foreshadow much?
Arthur finally parks the van in front of a house and leaps out, running up to the door and pushing his way in past the owners of the house. Dexter follows him confused until they reach the upstairs bathroom of the house.
"This is where it all started."
Arthur reveals when he was 10 years old, he was looking at his sister in the mirror while she bathed and startled her. She fell through the glass door and bled out before the ambulance came. He says his mother killed herself afterward and his father became more violent when his mother was gone and then his father died. He reveals he's never told anyone this and that he wanted to let Dexter know he was not alone. The owners of the house scream at them to leave so they run out to get lunch.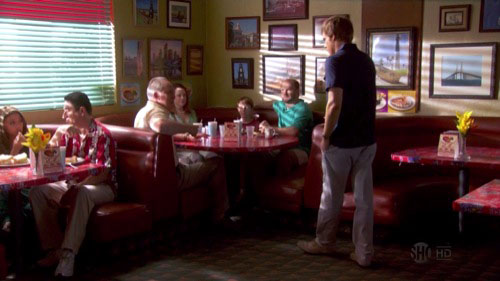 Dex and Arthur head to a diner. Dex slips out to go get his alibi at the weather conference nearby. Once he returns he finds Arthur sitting with a family eating their lunch. They are obviously uncomfortable as Arthur rambles on about his dead sister and the bathtub, etc. Dexter pulls him away saying he's just not as "open" as Arthur. He says he'd feel better if he bought some things at the hardware store for the build tomorrow.
Deb is looking over Trinity files in the bathroom when she suddenly realizes a detail about her scar from the shooting. The wounds have a completely straight trajectory which means the person who shot her was most likely much shorter than the Trinity killer. This means Deb is back on the Trinity case as she's no longer considered a victim, and Angel is now in charge of the Lundy/Deb shooting. I'm sure that will go well and Angel/Maria's relationship won't come into play at all. (That was sarcasm.)
Rita decides to get drunk with Elliot after dinner. She starts to come to her senses and suggests he should go home. We see her standing in the kitchen looking overly-guilty. Do we sense a theme?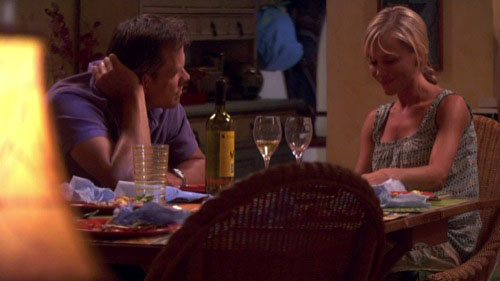 After their shopping trip, Arthur and Dex both separate to their rooms for the night. Dex sets up his kill room in the bathroom of the hotel and goes to Arthur's room with his syringe. But Arthur's gone. His van is still there and his tools are missing so Dex figures he's on foot and must have gone to the build site. There he finds Arthur about to jump off a roof. Dex catches him at the last minute while Arthur begs him to let him fall. But just as Dex decides to let him fall, two of the build workers also grab Arthur and help pull him up. Arthur is now convinced that Dex (Kyle) was sent by God to save him.
Afterward, Arthur seems in much better spirits. On the drive back they come to one of the checkpoints the department set up for the DNA sweeps to find Trinity. Dex makes mention of it to him and so Arthur nonchalantly decides to find another way home. Dex is now contemplating that since he himself feels guilt about killing an innocent man, it perhaps makes him human. Only time will tell I suppose.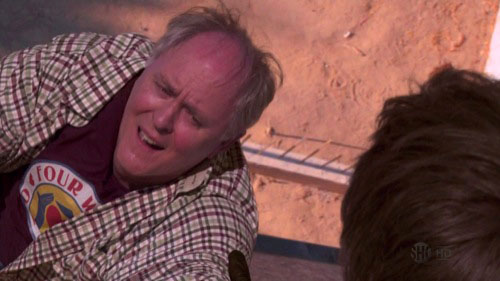 If Rita and Dex were still having marital issues, I might let Rita's character have a bit more leeway with this "Elliot" nonsense. But Rita and Dexter have been more than happy and she has no reason to go running to someone else for attention. She's naïve enough to have him over to dinner, but not enough to get so buzzed that she catches herself being an idiot. Maybe they just want to test Dexter with this one but I'm not too fond of it, mostly because I've always liked Rita as a character. Both Rita's and Dexter's causes of guilt are from things that are completely out of character for them. I want the writers to stop taking shortcuts and do some more smart writing.
Oh yea, Maria and Angel had sex at the office after everyone went home for the night. Is anyone shocked? No. Does anyone care? Definitely not.