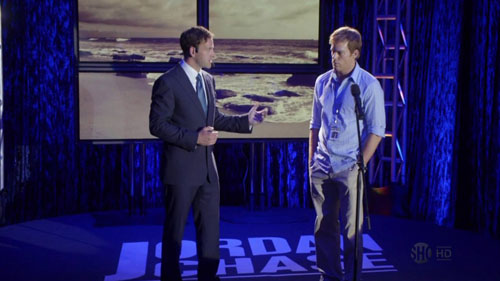 Episode: Dexter 5.08 – "Take It!"
Original Air Date: November 14, 2010
Screencaps by rawr_caps.
"Take It!" is the latest episode in this season of Dexter. Our favorite serial killer keeps weaving an oh-so-tangled web, Julia Stiles is starting to really win me over in her role this season, and despite a kind of ho-hum plot overall, I cannot wait for the next episode. Did you see the preview for next week? Eek times a million. Spoilers from this point on!
Whoa, am I actually really liking Julia Stiles on Dexter this season! At first I couldn't stand Lumen's character. She cried and made a lot of irritating noises, she was so fragile and hurt. And honestly, her storyline is so awful it's just about painful to actually watch and think about. But I gotta give it up to Ms. Stiles — she has really warmed up and won me over. Now, looking back, I do think all that whimpering she did in her first couple episodes was really quite a realistic depiction of someone who has survived so much.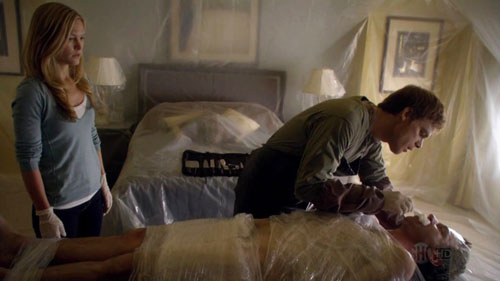 So yeah, I'm glad to have Lumen aboard. Just like with Dexter's late friend Miguel, I love it when he has a partner. I like seeing him share the kill, and get some vindication that he is doing good work. You see, I'm a Dexter viewer with little-to-no moral hang ups about what his character is doing. I love me some Vigilante Justice, and seeing him get the approval from a teammate makes me happy for him. I loved Lumen's facial expressions when Dex jammed that knife right into one of her tormentors this week.
I do think she needs to ditch the nerdy fiancé. I found that aspect of the plot to be a bit of a red herring and frankly, it was boring me. I suppose we'll see what happens with that.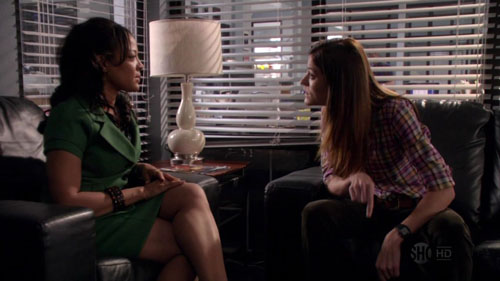 Let's chat about Deb for a minute now. Are you so livid? I am! I hate when Deb gets screwed over at work. She is a super badass detective, and in this sting operation in the club she was doing the total right thing. She even tried to warn LaGuerta about how to do it right. When they showed the press conference and Deb was getting thrown under the bus, I was super peeved.
I love Deb and Quinn together. I do! There is something about Quinn that I really enjoy. He's the perfect balance of scumbag and good guy, with the good guys parts being the ones that seem to matter. I love how sweet he is on Deb, and he offers a lot of laughs (which this season, are much needed. More on those feelings in a bit).
One thing Quinn needs to cool it on is this investigating Dexter stuff. Some friends and I were speculating about what will become of Quinn if he gets too hot on Dexter's trail. Will he go the way of Doakes? I wouldn't be suprised. I'd hate that Dex would have to screw over his sister like that, but I'd hate it even worse if our main guy got caught. I just think it's in everyone's best interest if he calls off that Private Investigator pal of his. Besides, that PI is not so easy on the eyes and his character is super creepy. I wouldn't mind a lot less of him on my Sunday night.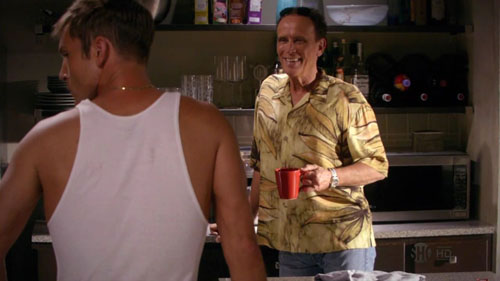 This season overall has been a tough pill to swallow. The content, in my opinion, is more disturbing than any subject matter the show has covered thus far. The idea of these women being tortured, raped, and eventually murdered is so haunting. The group of bad guys have been extra creepy too, between the motivational speaking and dead animal removal, there has just been a huge creepy factor this time around. I'm glad that there's been some comedic relief and levity as usual, but all things considered this is a heavy season of Dexter.
"Take It!" was pretty slow for a lot of the episode, so I'm giving it 3 out of 5 stars. I understand you have to build to a climax, and this season has been insane and exciting overall, so I won't hate too hard on a quieter episode. I can't wait till next week!
Rating: 3 / 5 Stars