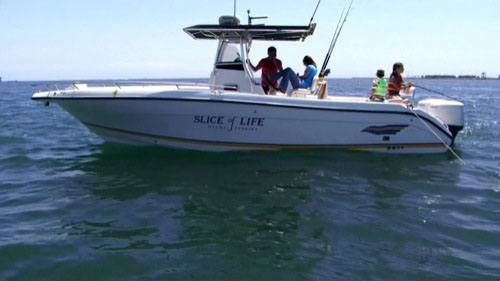 Episode: Dexter 4.07 – "Slack Tide"
Original Air Date: November 8, 2009
Screencaps by rhcp_csi.
Did the writers' brains fall out? Or were they stolen? And if so, would the cast of Dexter be able to find them?
The episode starts with Dex being interrupted from a peaceful boat outing with the family by being called to a crime scene. Someone shot and gutted an alligator and found a woman's arm inside. Anyone else hungry?
Dex continues his time with Trinity by "accidentally" running into him at the hardware store. Dexter is fishing for parenting advice, which Arthur happily gives. He also talks Arthur into inviting him to hang out the next morning.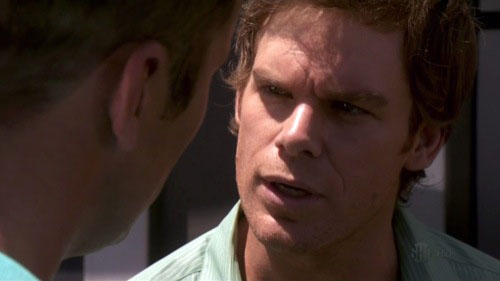 Deb is now officially back at work. As she and Dex walk in, Quinn's lovely reporter girlfriend tries to talk to Deb, but Dex intercepts. He tells her nicely to stay away from his sister. And then Quinn decides to get up in Dex's face about it. (Does anyone remember Quinn saying last episode how he didn't want Dex mad at him?) Dexter responds by reminding Quinn how Dex saw him steal money off a crime scene and how he might just say something about it if his girlfriend doesn't back away from Deb.
It turns out the victim with the arm in the alligator was a model, and the first suspect is the photographer she was last working with. The only thing on his record is a dropped rape allegation. He's appropriately slimy during his questioning but has an alibi, including his assistant who was with him all night. Dex is watching his sister question him, planning his new kill. But Phantom Harry doesn't agree with him and wants to know why Dex hasn't killed Trinity yet. Dex explains that Trinity isn't a threat and that he has more to learn from him before killing him.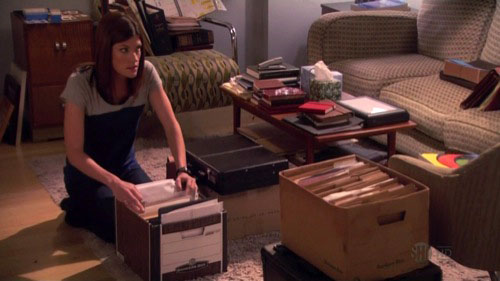 Deb moves into Dex's old apartment. She starts telling Dex how she's keeping all of Lundy's casework and of her intentions to open an official Trinity investigation. Dexter assumes LaGuerta will think she's crazy so he lets her continue. She also divulges info on her investigation into Harry's old CIs. Dex is a little concerned that Deb could stumble onto Laura Moser but since she hasn't gotten that far yet, he lets her go on that too. Luckily, once Deb meets with one of the CIs who claims to be one of Harry's girlfriends, it puts her off enough to stop her inquiries into the past.
Dex's early morning outing with Arthur is to go into the woods and cut down a tree for lumber. Arthur is visibly agitated, especially when he can't get the chain saw to work and Dexter does it in one pull and then downs a tree. (Did anyone else catch the horrible editing fail here? Where did that wedge in the tree come from?) It seems the lumber from the hardware store is not good enough for Arthur. On their way out, Arthur hits a deer while driving. Dex hands Arthur the ax, telling him he has to put the animal out of its misery but Arthur won't do it. He asks Dex to do it for him while he cowers, afraid to even look at the deer. Phantom Harry tries to push Dex to kill Arthur right there, but of course he just kills the deer.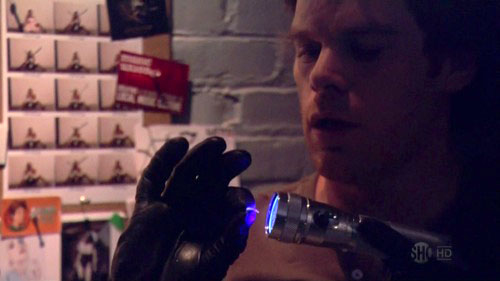 Batista finds more models who have gone missing that in some way could be connected to the same photographer. Dex heads to the studio after hours to do his own investigating. He sees the assistant locking up and then goes in. Dex finds traces of blood and part of a fingernail in the studio, and the fingernail matches the broken one on the severed arm lying in the morgue. So it seems this is evidence enough for Dexter that the photographer is the killer.
Dex is planning on killing the photographer the next night until Rita informs him that the sailing group he signed Cody up for includes going with them and camping over the weekend. Arthur's advice from earlier in the episode about getting the kids out doing activities ends up backfiring on Dex. So Dex jumps and decides to kill photographer that night under the guise of getting camping supplies. Dex follows him to a club but Quinn (Or should we call him Doakes 2.0?) follows Dexter in. Fortunately Dex spots Quinn and gives him the slip, opting to kill the photographer another day.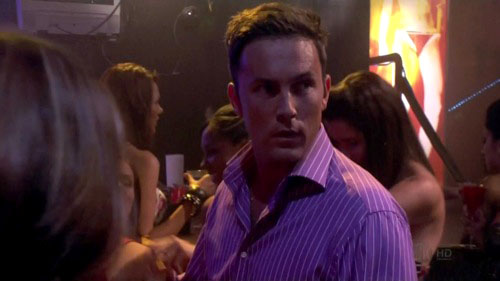 The next day Dex takes Cody on the sailing/camping trip. After failing at telling campfire stories, he puts Cody to bed and decides he can go kill the photographer while everyone is sleeping. And the kill goes off without a hitch, as Trinity spends the rest of the episode making a coffin out of his new lumber.
During the whole episode Angel and Maria have been super-defensive about inquiries into their relationship which is so far ended. I'm still wondering if we are supposed to care about these two, because I sure don't.
As Dex comes into work, he sees the photographer's assistant being brought in in cuffs. Angel tells Dexter they have all the evidence they need for a conviction. Dexter is stunned, and stumbles into his office reeling from the news that he just killed an innocent man. Phantom Harry watches him from afar, visibly upset.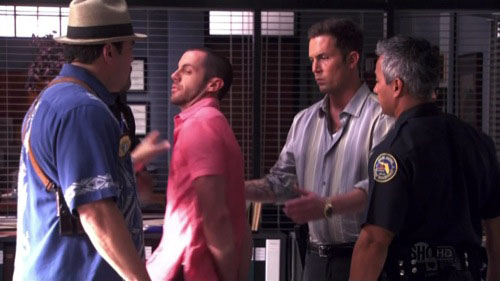 And do you know why Phantom Harry is crying? He is crying because the writers decided that throwing Dex's code out the window for a plot-point was a good idea. They couldn't have put just a little more effort into having some better evidence to convince Dexter he was right? I know that Dexter can't watch the episode and hear them mention "the assistant" four or five times. But after seeing said assistant locking up the studio without the photographer there, he would have know other people would have access to the place. Dexter isn't stupid. So shame on the writers for that. Don't mess with the code.
Also, what is with Quinn's mood swings? I love Dex. I hate Dex. Don't make Dex angry! I'll get up in his face! Are the writers on drugs, or just the character? I'm again going to say they are going to get this reporter out of the way somehow so Quinn and Deb can hook up. Deb is just as mood-swingy so maybe they will get along well.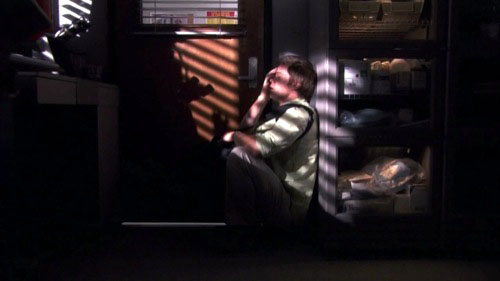 The preview for the next episode looks interesting. I hope the show goes back to being smart about things, because this episode was just sloppy all around. Add on to that the other glaring holes in this season (like everyone assuming the Vacation Murders and Deb/Lundy's shooting had anything to do with each other) and this season is turning out to be not-so-great.