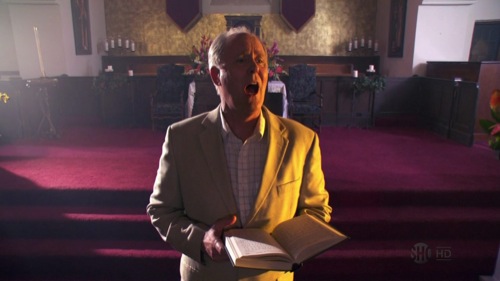 Episode: Dexter 4.06 – "If I Had A Hammer"
Original Air Date: November 1, 2009
Screencaps by rhcp_csi.
The Trinity Killer has an identity: Arthur Mitchell. He's a deacon at a church, a teacher at a local school, and a devoted father and husband. He's everything Dexter wants and needs to be. So before Dexter kills him, he's going to study him.
Rita is being typically pissy this episode because of the apartment that Dexter lied about and is now cleaning out. She's hired a marriage counselor for them to see together since she's convinced Dexter won't stop lying to her.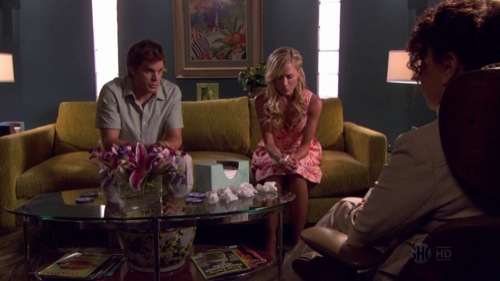 Dexter is called to the scene of the latest Trinity murder. He finds a smudge on the wall that he means to take into evidence for himself but Masuka grabs it. It turns out the smudge is the cremated remains that we've seen Trinity use at other crime scenes. And the police now have Trinity's DNA, though they have nothing to match it to other than knowing that it and the remains are from the same family.
Dex joins Arthur's home-building charity as a way to get closer to him. After talking with Arthur and Arthur's son about "generosity of spirit," Dexter goes home bearing expensive gifts for everyone in the family. Rita is not impressed and tries yet again to get Dexter to open up. Of course that doesn't end well, so Dex is left to look for another tactic to try on his failing marriage. If Trinity can do it, he must be able to as well.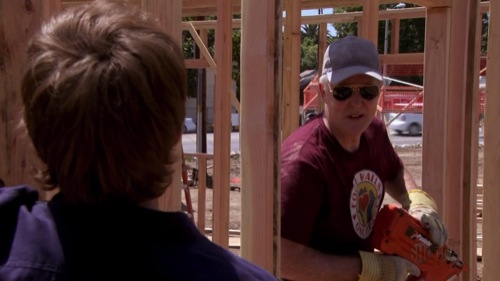 Quinn's reporter girlfriend wants him to get Deb to give her an interview. She really doesn't know when to quit, but I'm guessing neither does Quinn. I'm waiting for when Debra puts two and two together about his girlfriend's article being what got her and Lundy shot. And then Quinn and Deb can finally start their awkward romantic involvement.
Deb is obsessed with getting Nikki Wall to confess to shooting her and Lundy. But she finally backs off and decides that it's Trinity because of all the research missing from Lundy's apartment. And thank goodness, because the whole idea that the Vacation Murderers had anything to do with their shooting was so far-fetched to begin with.
Doing a search on Arthur Mitchell, Dex finds Arthur's sister's death (bathtub), his mother's death (jumped to her death) and father's death (head wound in an alley). Concluding that Trinity is just like him, Dexter thinks Arthur must also keep trophies of his kills.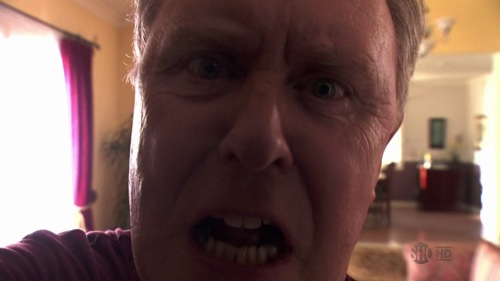 So after the next shift at the build site when they return to Arthur's house, Dex cuts his hand so Arthur has to help him. While Arthur is searching for the first aid kit, Dexter comes across a wall of plaques from every home Arthur and his family have built around the country. They all match to when the Trinity murders occurred. Dex then finds the ashes of Arthur's sister sitting in an urn. He decides to hold on to them to see how Author will react. And Arthur's response is to freak out and almost choke Dexter to death. But then he calms down and ends up giving Dexter a set of tools for the next house project. All's well that ends well!
Maria and Angel go back and forth about being transferred until they both decide to tell their boss they broke up. I'm not really sure if we are supposed to care about this relationship or not, because so far it's been completely inconsequential.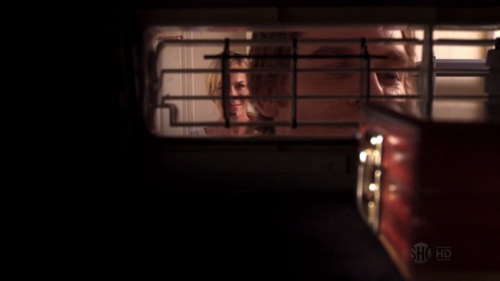 After a few sessions with their counselor Dex and Rita come to a happy compromise about Dexter needing his space. He finally empties his apartment and builds a shed (with his new tools) out in the yard to keep his things, complete with a padlock.
I'm hoping Deb gets to the Laura Moser file soon. I think that's really going to be the interesting part of this season. And they are definitely building Quinn up to play some part. As hot as his girlfriend is, I wouldn't mind (and could see the writers possibly) having her killed.
This season is definitely a slow build, and I'd like to see Dexter get some more killing in before it's over.