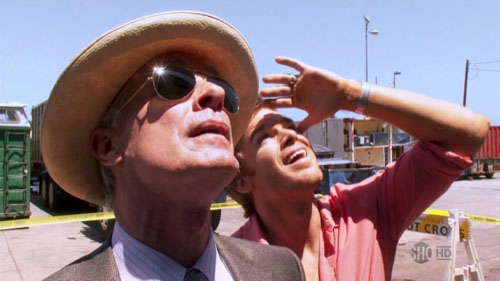 Episode: Dexter 4.03 – "Blinded By the Light"
Original Air Date: October 11, 2009
Dexter's happy suburban life isn't working out as planned.
The episode starts with Dexter having a cookout with his neighbors. Astor is being her annoying pre-teen self and she's now interested in a teenage boy who lives in the neighborhood. The same boy comes under suspicion when a local vandal starts trouble in the community by breaking bird baths and mailboxes. The horror!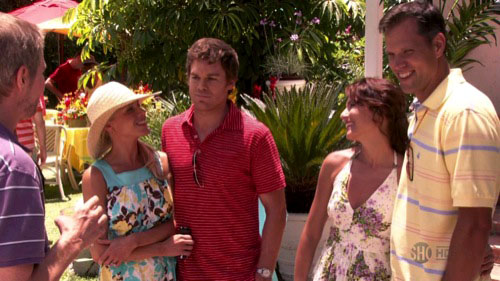 Rita confronts Dexter when she finds out about his concussion and insists on driving him around for the next few days on doctor's orders. That leads to Dexter having even less freedom and having to be driven around by Rita, Deb, and even Masuka. The scenes of everyone else driving Dexter around, each with their own loud music playing, were a nice touch. It was a fun contrast to Dexter's usual silent rides.
We watch the Trinity Killer take his next victim by forcing a woman to climb up a building and then jump off after threatening to kill her family if she doesn't. He then calls her "Mommy" and takes what looks like sand out of a tiny jar and smudges a bit next to the body. Later we see Trinity take the jar and pour it back into what looks like an urn, so we can assume that it is someone's ashes. He sits and he pours a drink for someone who isn't there. "Drink up, you're next," he toasts.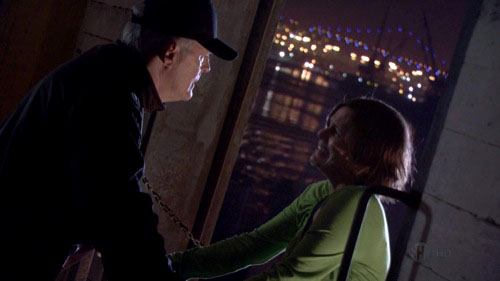 Lundy informs us that the next victim will be a man. First a young woman, then a mother of two. It seems like Trinity has some family issues. I'm sure Dexter can relate.
After a conversation with phantom Harry about the graffiti on his front gate, Dex finds a paint can in the yard and takes it in for prints. Later in the night Dex comes home to newly installed security floodlights on the house next door that are pointed directly at his yard. And inside he finds his house filled with neighbors who are starting a neighborhood watch. Putting a stop to the vandal has now become a priority to keep his own criminal habits a secret.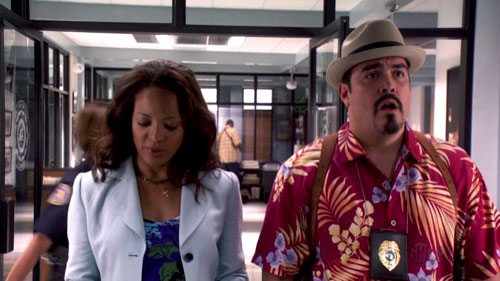 Batista and LaGuerta go to check out a lead on the vacation murders as a cover for a nooner during work. Once they finally get to working the case, they end up getting shot at by their suspect and his girlfriend, who catch them unawares and then get away. Not the best police work ever, and now Maria is even more paranoid about her relationship with Angel being discovered. Why anyone would really care, I'm not sure. It isn't like people in this department haven't hooked up before.
Deb begins to mess up her relationship with Anton. After a brief and awkward meeting between Lundy and Anton, Deb lies about being at work to go out with Lundy for dinner. Sure, it's under the guise of case work, but we all saw this coming from miles away. And who wants to date a young, cool musician when you can be with someone old enough to be your dad?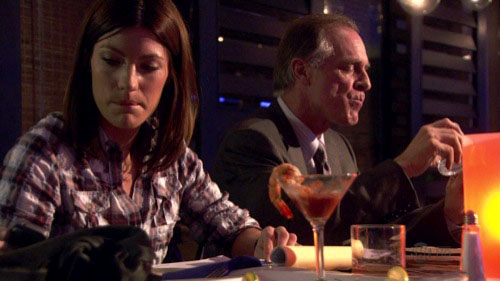 Since Dex has confirmed that the paint can had the teenage kid's prints on it, Dex goes to the kid's house while his dad is out. But it turns out dad was the vandal all along. Apparently after losing his wife and job, he's taking revenge on life by smashing windows and spray painting fences. At first he's not too keen on giving up, but when Dexter threatens his kid as well he finally yields and promises to stop the shenanigans. Satisfied, Dexter heads home.
But when the security floodlights go off again as he steps in his yard, Dexter impulsively begins smashing them with a rake. And who should catch him but Rita?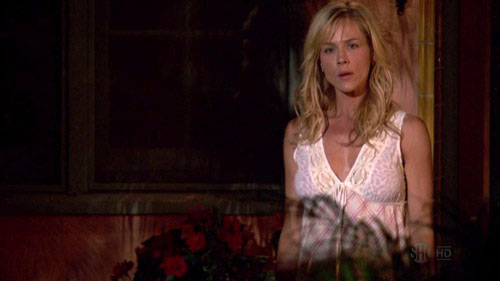 It seems like Dexter is becoming more and more human. It's almost as though he is having to kill less. And the life he chose as a cover is actually becoming his real life. But attacking your neighbors' lights with a rake where everyone can see you really isn't the best way to get in touch with your human side. What kind of excuse can you come up with for that? I guess we'll find out.