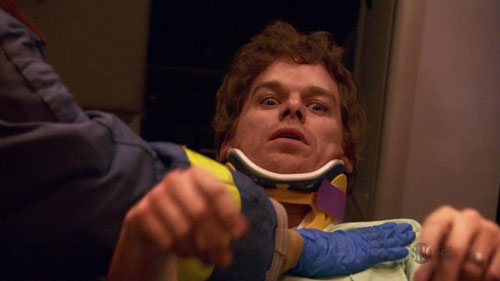 Episode: Dexter 5.02 – "Remains to be Seen"
Original Air Date: October 4, 2009
Screencaps by rhcp_csi.
It's time for round two of Dexter vs Sleep Deprivation. This time with a concussion and missing dead body along with it.
Dexter wakes up in his crashed car with police and an ambulance on the scene. He's taken to the hospital while panicking about where his latest victim's body parts have ended up. Turns out he just has a concussion, but this means he can't sleep for yet another 12 hours. He lies to Rita about the severity of the car crash and heads to work.
Short-term memory loss is preventing him from remembering where Benny Gomez's body is, and his search to find his missing bags of parts is interrupted by a new murder case. There's a second victim in what they are so far calling the "vacation murders." While at the scene Dex witnesses Detective Quinn pocketing a wad of cash from a safe at the crime scene. Quinn sees Dexter looking, but Dexter isn't really concerned. He's got bigger problems to deal with. And now Harry is haunting him every step of the way about his lost body.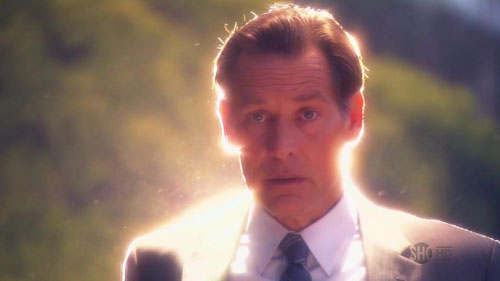 Deb continues to be her insane self. She thinks that Lundy is back in town just to see her, so she makes a dramatic speech to him about how she's happy now with her new boyfriend, expecting Lundy to have something to say. Instead he informs her that he's really just in town chasing the Trinity killer. To this, Deb runs away embarrassed. Later she mauls Anton as he comes home, crying that she loves him. As annoying as she is, she plays a good crazy.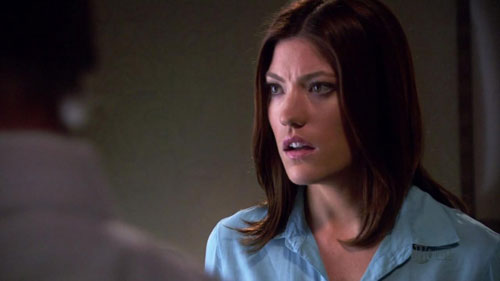 Rita goes to see Dexter's car at the lot and is shocked to see it completely totaled since Dex told her it was only a fender-bender. Her reaction is to go to his work and demand that he stop working so late, afraid that the hours are what made him not sleep and crash the car. Dexter manages to calm her down and send her on her way.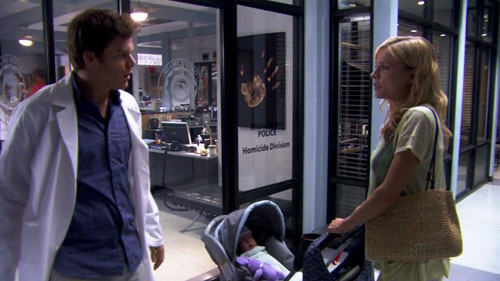 All the while the Trinity killer is stalking his next victim with the cunning use of puppies.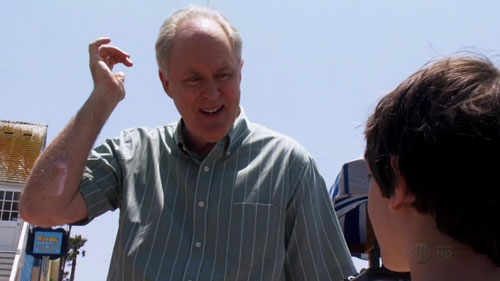 Dexter eventually retraces his steps and remembers where he hid the body. Phantom Harry is pleased with his son's use of the code, and Dexter thinks he can finally get some sleep. Of course, that's when Harrison starts crying.
I've seen a lot of reaction to Rita's character from the fans, particularly from this episode, and a lot of it has been rather harsh. One of the reasons that I like her so much is that she's written to be a real, very flawed person, and that makes her believable. I don't like the kind of person she is, and I'd never get along with her were she an actual person, but I like how real the character is.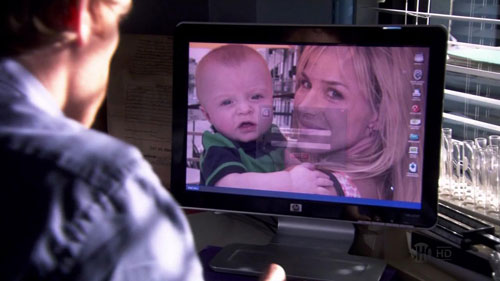 I was half-expecting Deb to do something stupid like cheat on Anton, but I think there are plenty more episodes to come for her to do that. Or maybe Lundy will die. Or maybe she'll bang him and then he'll die. Someone's gotta die, right?
With this little mini-plot of the car crash and missing parts over, I think the show now has a good direction to go in. I'm hoping we get some more info on Trinity's M.O. and maybe some more of crazy Deb looking into Harry's old C.I.s.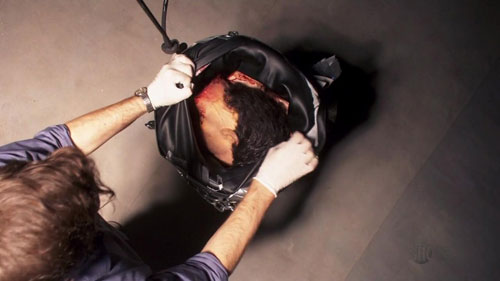 I just hope Dexter gets some sleep before the next episode.