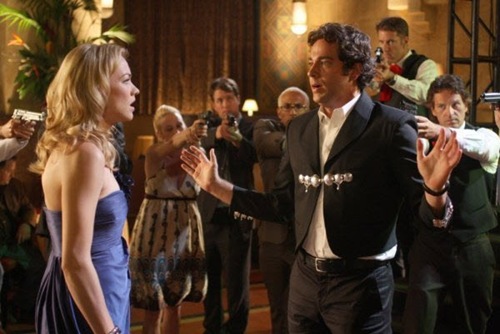 Episode: Chuck 3.01 "Chuck Versus the Pink Slip"
Original Air Date: January 10, 2010
NBC's Chuck has returned this week and the geek-centric spy show has, from all appearances, hit a ratings home run. The show that was so close to being axed last season has picked up right where it left off with Chuck trying to become the new Intersect 2.0.
The opening of the new season shot me back to Alias days with the opening in a small dirty room in Prague. Chuck "flashed" and took down the room full of thugs and escaped to a rooftop, where he had trouble flashing and we find out that this is purely a training exercise. Then his pants fell off.
It turns out that Chuck's emotions are getting in the way of his ability to flash on cue and that it's a big enough problem that General Beckman is going to kill "Project Bartowski" as a result. This could have a lot to do with Sarah's offer to run away together and get out of the spy business, which to me felt a little out of sorts with the characters and the story.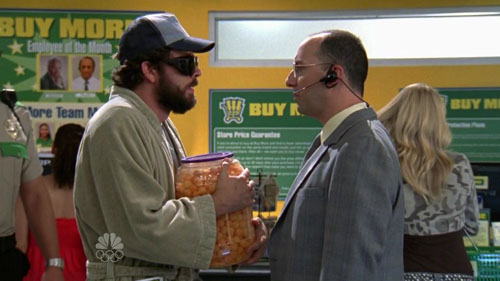 Chuck returns home to wallow in his own misery and a fine dust of cheese balls, much to the chagrin of Ellie and Awesome, though Awesome thinks that it is purely a cover until Chuck tells him otherwise. Morgan's return with Japanese steakhouse equipment on his hips was a funny touch. Chuck runs out of cheese balls, however, and is forced to return to the Buy More incognito ("a vagrant Serpico") to find more. This is how he discovers that Sarah is still around and how he comes to shave his mountain man beard and put back on the Nerd Herd uniform to try and help Casey and Sarah on their mission.
After the expected destruction of the mission and some fine guitar playing thanks to the Intersect, Chuck manages to save the day after he and Sarah are kidnapped to Mexico, but in the middle of it, he has a bit of a breakdown over his inability to flash on command and, through some fine acting by Zachary Levi, you see his pain in a way that the more comedic approach with the beard and the cheese balls couldn't convey. This is hard on him in a completely non-funny way.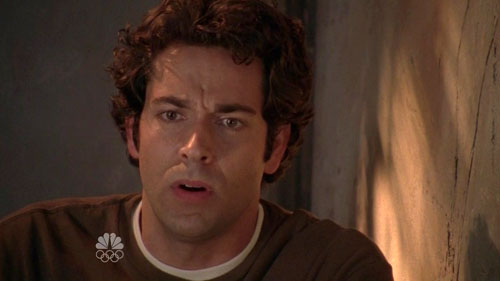 It also gives General Beckman an excuse to put the group back together, including Chuck and Casey's covers at the Buy More, the return of Big Mike to his job as manager, and even a little help to Morgan as he also returns. In essence, everyone is back where they belong. Well, except for Emmett, who truly appears to be dead if the blood on the broken glasses was any indication. I found it odd that there was no mention of his murder and can't help but wonder if this will be coming back again in the future.
The first episode of the season ends with an excellent Rocky III reference as Chuck and Casey spar.
Rating: 4.5 / 5 Stars