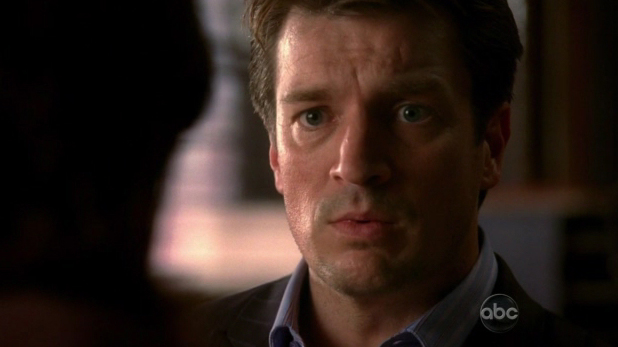 Episode: Castle 2.03 – "Inventing the Girl"
Original Air Date: October 5, 2009
This was another cute, fun episode. I get the feeling I'm going to be saying that a lot throughout this season. That's nothing against the show, it's just not the type to have that all-encompassing mytharc other shows have. It's fun and doesn't make your head want to explode with questions.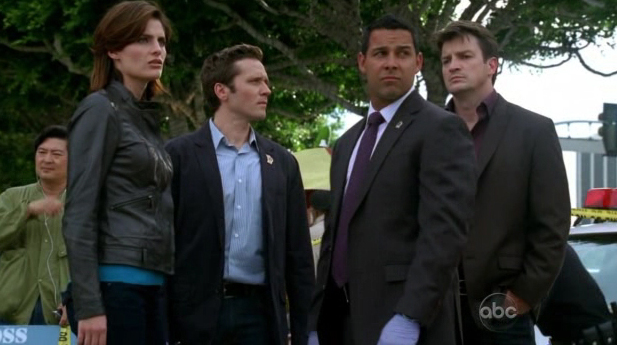 The show starts off at night with a frisky couple getting, well, frisky in one of those fountains that shoots water up from the ground. In the middle of their said friskiness, they discover a dead body a few feet away from them. Cue the screaming woman. The next morning, Castle and Alexis are helping Martha (Castle's mother) rehearse for her next audition. Things are getting intense with this audition as Martha gets that much closer to scoring a role in an Broadway play. Saved by death, Castle makes his exit, leaving Alexis there to suffer through another readthrough with grandma. The team gets to the crime scene, and the victim is missing her purse (and shoes) so there's no ID on her. Castle, being the kind of guy who would knows these things, determines the murdered girl was a model because she's ten pounds underweight and wearing lots of makeup. It's also Fashion Week, so she was probably at some designer's party. Beckett confirms that she's wearing a designer dress and wristband for Teddy Farrow (a big time designer)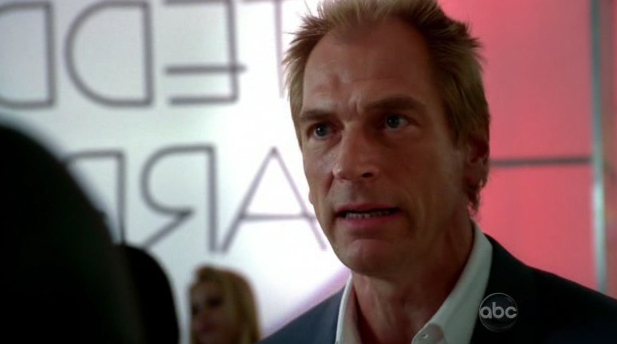 Castle and Beckett head down to Teddy's and OMG he's played by Julian Sands! MAJOR fangirl squee on that one — I scared my dogs, I shrieked so loud. He tells them that Jenna (the vic) had been working for him. In fact, he was planning on making her his new "face" for his next campaign. He tells them that the stress of work must have been getting to Jenna because she had been acting erratic and paranoid lately. So they chat with her BFF, Sierra, who tells them Jenna was actually a lock-in for the campaign but was still worried about getting the job. She also tells them that Jenna had a husband (Travis) they might want to get in touch with (since his wife is dead and all). While they're backstage at the runway, Castle finds time to chat with one of the other models who apparently knows him (he doesn't remember her) and scores her number. That sly fox!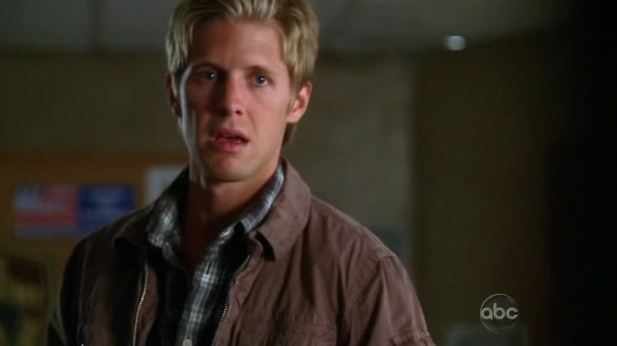 They get Travis in, and he tells them that they had filed about a dozen reports on someone harassing/stalking Jenna, but the cops they went to blew them off because they "had more important things to do." The letters weren't threatening enough for anyone to do anything. Nice. The photos do indicate that whoever was taking them was doing it from a nearby rooftop. Esposito and Ryan head out to canvas the area around her apartment.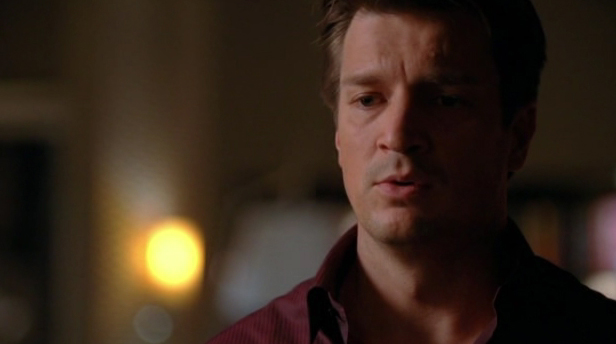 Back at home, Castle learns from Alexis that Martha didn't get the lead like she thought she would. Instead, the producers wanted her to play the "crazy granny… who dies in Act 1… off stage." Yeah, so that doesn't go over well with Martha and she doesn't take the role. Castle also, to his horror, finds out that the model he was making eyes at earlier used to babysit Alexis. Oooo, from sly fox to lecherous old man! That was a short fall.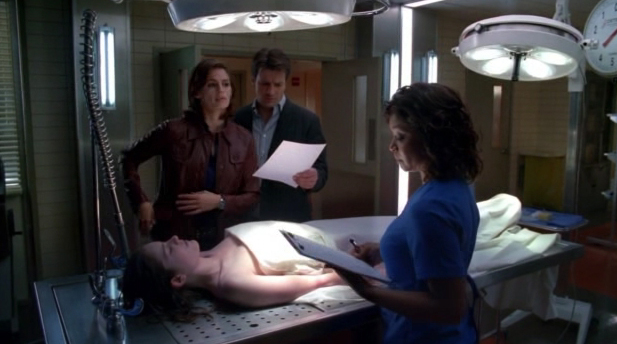 Back at the station, Parish tells them that Jenna died at least two hours after she left Teddy's party. She put up a hell of a fight, was slapped hard enough across the face to cut the inside of her cheek, but what killed her was a stab wound in her back. According to Parish, Jenna was stabbed with something that looked a lot like the Washington Monument. Also news to everyone, Jenna wasn't only drunk but high according to the blood work.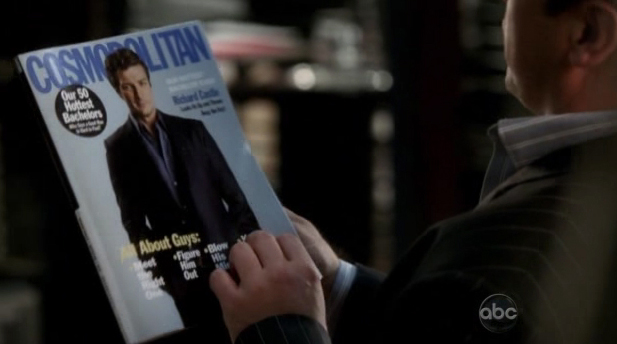 Big news at the cop shop (besides the murder) is that the new Cosmo mag with Castle's article and cover hit the stands. Castle is pretty thrilled with it, but Beckett isn't as excited for some reason but won't just come out and tell Castle because that would be too damn easy. Before they can really get into why, Esposito and Ryan show up to get the details on the model Castle scored digits from. Before they can get into that, they get a hit on one of the prints they pulled from some trash Esposito and Ryan found on one of the rooftops they were searching.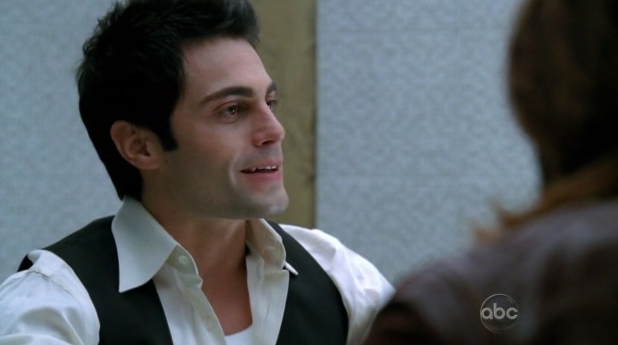 They get to the guy's apartment (while he's not there) and don't find the usual Wall of a Ton of Creepy Pictures you would think a stalker would have of their subject. The only thing they find, before the perp shows up, is one comp card (it's like a postcard of modeling pictures) for Jenna. They take him back to interrogate him, and he has an alibi that checks out. Beckett is determined to find out who killed Jenna, so they keep Creepy on stalking charges. They go back to Travis again to see if he knows anyone else that might want to harm Jenna. He says that Jenna was very stressed about the stalking (which she didn't tell anyone at work about), never used drugs, and got along with everyone with the exception of one photog. She had gotten in a fight with him after a test shoot and was convinced he was trying to sabotage her career.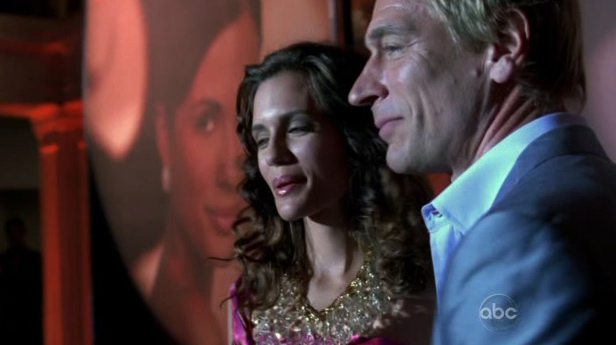 Wyatt, the photog with an attitude, claims he and Jenna had resolved their fight and he was going to re-shoot her photographs later. His alibi for the night Jenna was murdered is that he was at a different party that night, then asleep in his own place. Being that it's Fashion Week, this little interview is being held at the launch of Teddy's new campaign. The new face for his clothing is Sierra. Jenna's BFF. That's not suspicious or anything. They meet up with Babysitters Club, and according to her, Sierra was more of a "frenemy" than a BFF. She's known to do small, childish stuff to other models, but did dose at least one other model with drugs to make her go crazy in front of Calvin Klein. Even more suspicious. Esposito and Ryan show up, because they're guys and want to look at "hot" chicks, and they bring evidence that Creepy was stalking Jenna and taking nekkid pictures of Sierra. I think Sierra's guilty of something here, and it's not just bad taste.
So they drag Sierra off in handcuffs right in the middle of the party (and Teddy is not happy, but I totally was because any time Julian Sands is on screen being angry in the British way of his of I think it's awesome). In the interrogation room, Sierra is reluctant to be completely truthful, just like everyone they get in there. Wouldn't it be fantastic if, just once, they put someone in an interrogation room and the dude just spills his guts like Chunk in The Goonies? She finally tells Beckett and Castle that Wyatt and she were both trying to sabotage Jenna's career. He was trying to force her to sleep with him (like he was doing with all the other models), and she wanted to be Teddy's new face.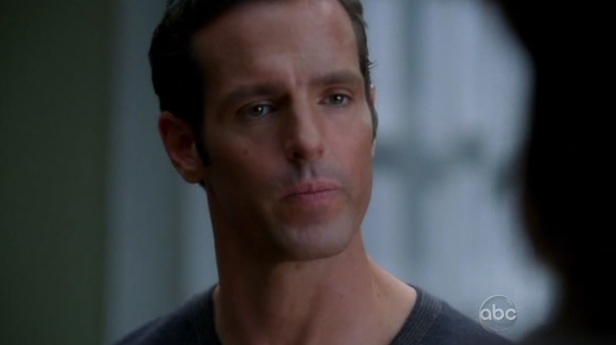 Pretty soon after that, Wyatt's alibi falls apart. I love how they don't check alibis right after they hear them. Beckett and Castle go to chat with him, and wouldn't you know? Wyatt's place is overlooking the fountain where Jenna's body was found. He claims to have forgotten to mention he'd been at Teddy's party and that he hadn't seen Jenna afterwards. That falls apart as soon as Castle finds Jenna's missing pumps under Wyatt's furniture. Of course, this is when he decides to tell the truth. He claimed that Jenna was trying to incriminate him by recording him demanding sex from her. They struggled, got into a little tussle, but she left alive with one of his awards shaped like the Washington Monument.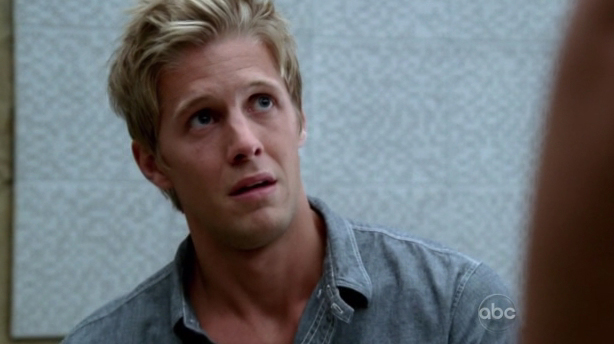 They eventually find the phone Jenna used to record her convo/fight she had with Wyatt, and everything goes down like he said it did, but it cuts out before she's murdered. The only person left to accuse is Travis, and that's who they bring back in and dupe into confessing. Sierra, being a shining example of humanity that she is, convinced Travis that Jenna was sleeping around with Wyatt. Travis followed his wife to the party, to Wyatt's, confronted her as she ran out of Wyatt's, and before she could explain what was going on he stabbed her in the back with Wyatt's award. Wyatt and Sierra don't face any criminal charges, but Teddy told Beckett that he intends to get the two of them blackballed from the industry. Beckett doesn't feel like this is a victory in any case.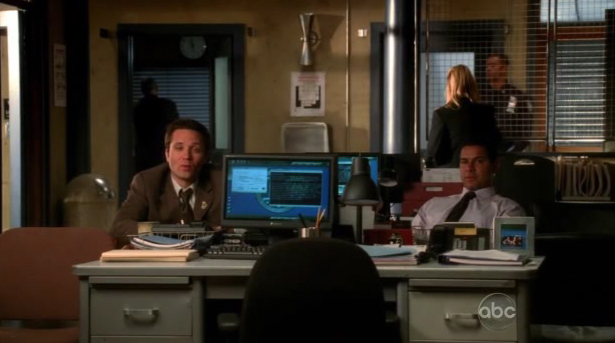 After they close another case, it finally comes out that Beckett's been perturbed with Castle for letting the Cosmo writer read the Nikki Heat novel but not her. He promises to get her a copy by morning and leaves in a hurry. Esposito and Ryan take this time to let Beckett know they found out she was a model when she 17. Of course, she threatens to kill them if they tell Castle about it (he's so finding out somehow).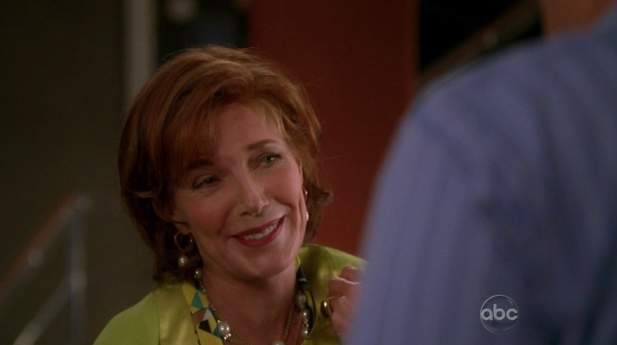 To close up the episode, Martha comes in with news that the producers of the play called back with a better offer and she took it. It's still the crazy granny who dies in Act 1, but she gets to die on stage and close the act. His date with Babysitters Club turns out to be a Girls' Night between her and Alexis. Proving he's not a total cad, Castle decides that he doesn't want what happened to Jenna to happen to her.