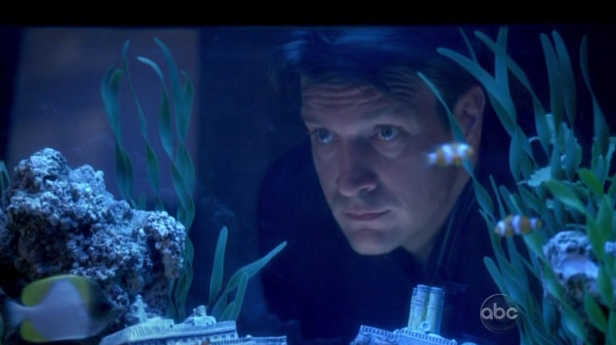 Episode: Castle 2.02 – "The Double Down"
Original Air Date: September 28, 2009
Screencaps were done by me this week.
Second episode down, and the show continues to be fluffy fun. We had bonding between Castle and the rest of the Cop Shop in the form of gambling, a Nathan Fillion Twitter reference, and even a slight mention of Beckett's mom's murder from Beckett herself. Overall, consistently Castle. I don't get the feeling the show will ever break out of that nice niche it has carved out for itself.
This ep is one of the standard Full Moon = CRAZIES episodes, and Castle's digging it. He's got his popcorn, and a front row seat to all the Madness, Mayhem, and Murder he can shake a stick at.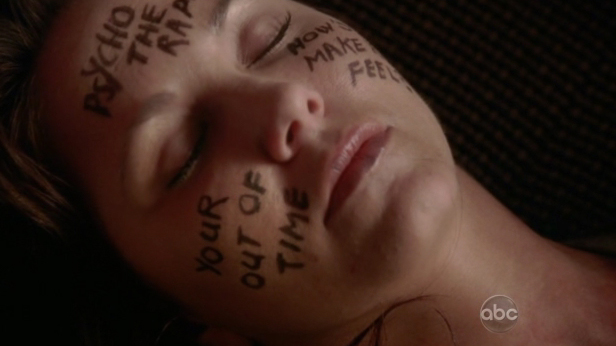 Beckett gets the call in for a dead head shrinker and the team's on the case. It's a weird set up: the vic has a message written on her face and there was clearly a struggle. Castle: "…whoever killed her also murdered the English language." Just like a writer to notice and fixate on the bad English instead of, you know, the fact that the lady's dead. He also has a hard time focusing on things because Parish (Sassy ME) is dressed to the nines and Castle has a wandering eye problem. As per usual, the husband claims not to know anything and that he was at a basketball game all night. Another body shows up dead — a "pop and drop" — that Esposito and Ryan (Heckle and Jeckle — yes, I looked all their names up) go take care of.
Back at the Cop Shop, Castle's still on about the horrible grammar on Beckett's dead body. Esposito and Ryan ask her if she wants in on their dead guy, but she declines. This gets Castle interested in their case. They talk him into a little wager on who can solve their case first, but stipulate the Beckett can't know about it. We all know Castle has a love for gambling, so they didn't have to work too hard at reeling him in.
Back at his place, Castle has some family time. He finds out that his daughter is trying to patch things up with her b/f and that his mother has an audition.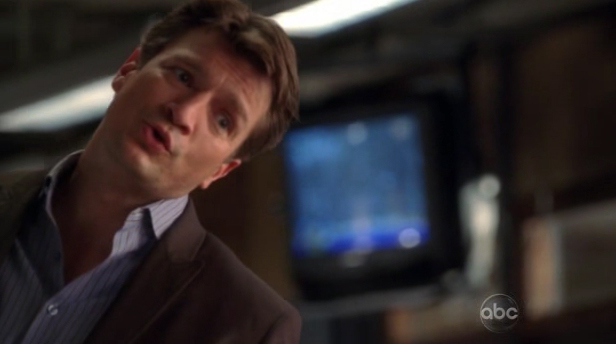 Then he gets called back into the Cop Shop when Beckett calls in the person her vic had dinner with the night of her murder. Turns out it was the vic's BFF lawyer. She claims that the vic called her to dinner to ask legal advice about getting a restraining order (she's sure it had something to do with one of the vic's patients). Castle meets up with Esposito and Ryan to update each other on where their respective cases are (Castle actually helps E and R with theirs). Before he can gloat too much about their lead, Beckett tells Castle they have a potential suspect.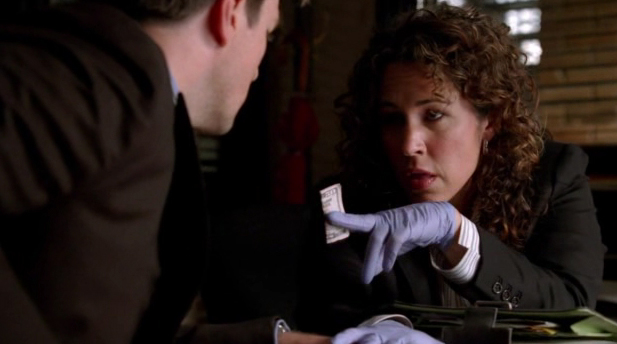 That guy, while very much in need of the vic's particular brand of doctoring, is not good for the murder. He suggests they look into the person who had the session before he and his wife. Guess there was a major blowout fight during that time that left the vic shaken. So they go back to the station, where the stakes in the bet get higher. Esposito and Ryan bring in their suspect, and it's looking like they may just win this one. So, not only is there money involved in the bet now, but the loser has to wear a dress to the station for a week and shave his head. Castle goes back to helping Beckett, where she and that other chick cop have figured out who the vic's usual Friday appointment is. Beckett goes to bring him in, and the other chick cop puts some money into the pool for them to win. Being Castle, he tells her to "spread the word" and get more people betting.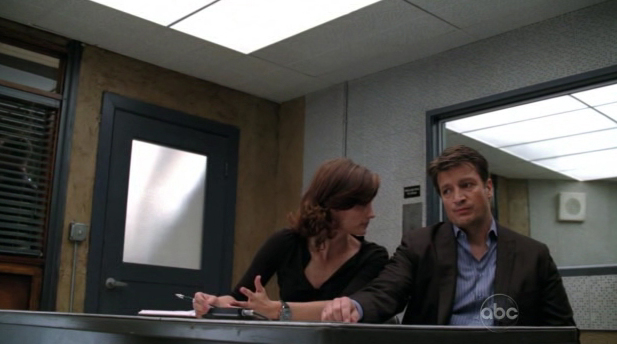 Suspect Nbr. 2 is also a bust, but Beckett notices that Castle is acting very Super Cop all of a sudden. Asking questions, being a tough guy, doing the "cop" thing with everyone they talk to. She calls him on it, but he denies it and blows her off. Following what Suspect Nbr. 2 told them, they confirm that the vic and her husband were the ones who had the major fight that Friday when he was supposed to be in session with her. They conclude she must have wanted the restraining order against her own husband and decide to go have a talk with him again.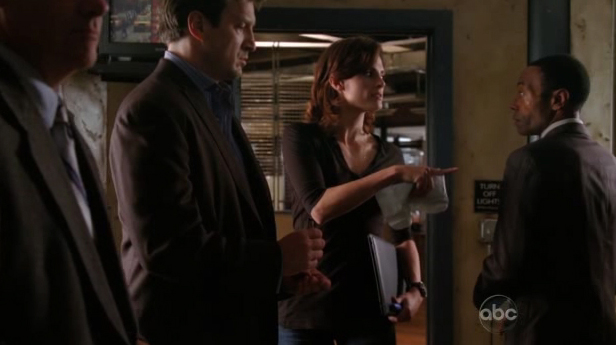 Around this time, it becomes pretty obvious the entire precinct is in on the bet, and Beckett puts two and two together (despite Castle claiming he's just collecting money for Girl Scout Cookies). Esposito and Ryan show up, bummed that their case is going nowhere as fast as Beckett's, and then bummed because they were all busted about the betting. The other chick cop shows up right then to tell Beckett that her vic's husband took out a huge life insurance policy on the vic last month. Beckett jumps into the pool for $100.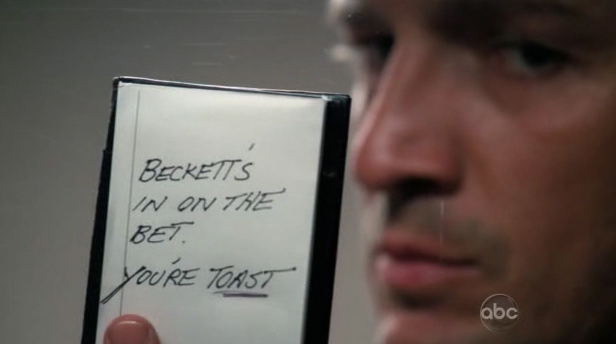 They bring the husband in and Beckett is pressing him hard for a confession, but this guy's slick and isn't tipping his hand at all. Esposito and Ryan are watching it all on the other side of the glass, and decide they can break this bout of good luck for Beckett and Castle by watching last night's basketball game to see if the husband's alibi is true. Turns out it was, because he's on camera during time outs. Back to square one.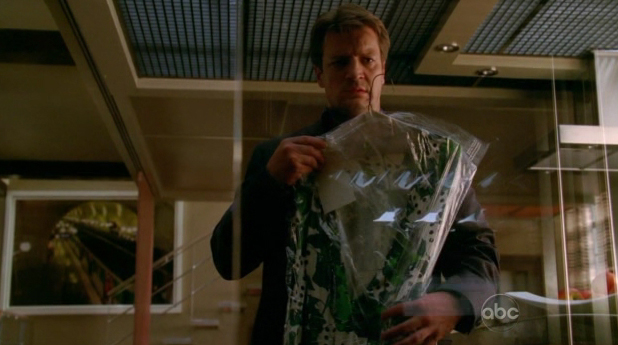 Back at his place, Castle takes a minute to see how he might look in a dress (I don't think he likes the look, though I've been told it's very free … down below … you know, for guys). Alexis (his daughter) shows up all broken up about how her date with the b/f was ruined by a girl with an impressive chest and a story about the two of them knowing each other in third grade.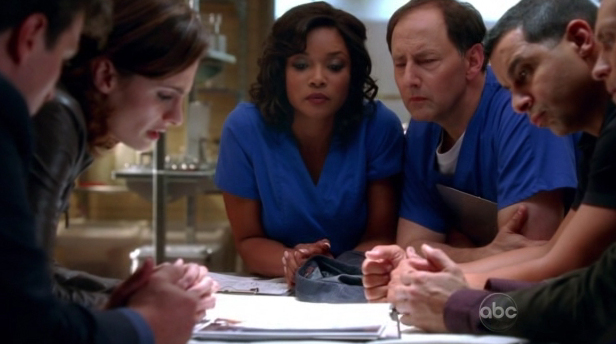 Before we can explore why people suck sometimes a bit further with Alexis, Beckett calls Castle back into the office. Turns out both teams keep hitting dead ends because all prime suspects have airtight alibis. Good thing they have a couple of attentive M.E.s in that place. Parish calls all four down to the morgue because both cases are connected. Both vics had contact with some kind of saltwater before they died/while they were being killed. Could the fish tank in Beckett's case be the source? Also, since both cases are connected, the bet's off.
They bring both families of the vics together to see if they knew each other somehow or if the vics knew each other somehow. The only connection they come up with is a man charged with child abuse both vics had contact with. He turns out to be a major coincidence and the teams are back to sitting on their thumbs staring at a dry erase board.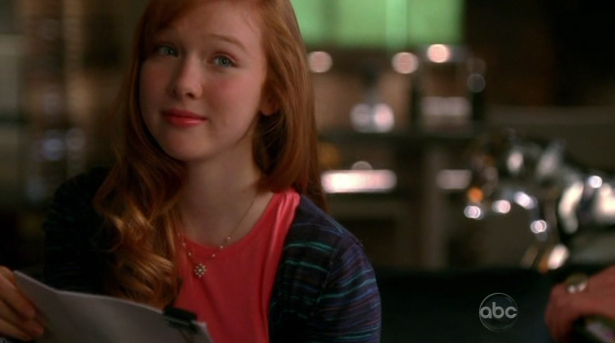 That night, Castle finds out his mother got a call back on her audition, and that Alexis has even more trouble with the b/f. Turns out, Big Boobs was lying about knowing him. She just thought he was cute and made some story up to get to know him.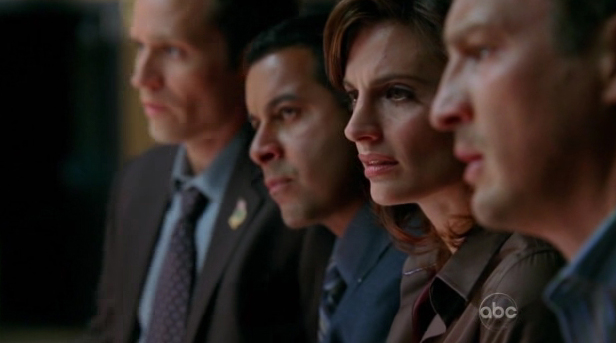 Next day, Castle finds Beckett at the dry erase board. Still staring at it. Beckett tells Castle this reminds her of her mother's case. Thinking the murder was random one minute, then finding out it wasn't and not being able to figure out why it happened. Nothing in this case makes sense, not even the fish tank water is the connection, but the two cases are linked somehow. Castle finally has an idea moment in four words: Strangers on a Train. Beckett's vic was killed by the son-in-law of Esposito and Ryan's vic, and their vic was killed by the husband of Beckett's vic. That way, both alibis remain air tight for their respective relative's murder.
They find out the two met on a water taxi on the Hudson, and bam said the lady (that was the Twitter reference), they have what happened nailed down. They just have to prove it or get a confession. That's right — the bet's back on to see who can get a confession first.
In the end, Beckett and Castle break Esposito and Ryan's suspect and get him to confess as the husband wasn't going to break a sweat let alone confess what they did.