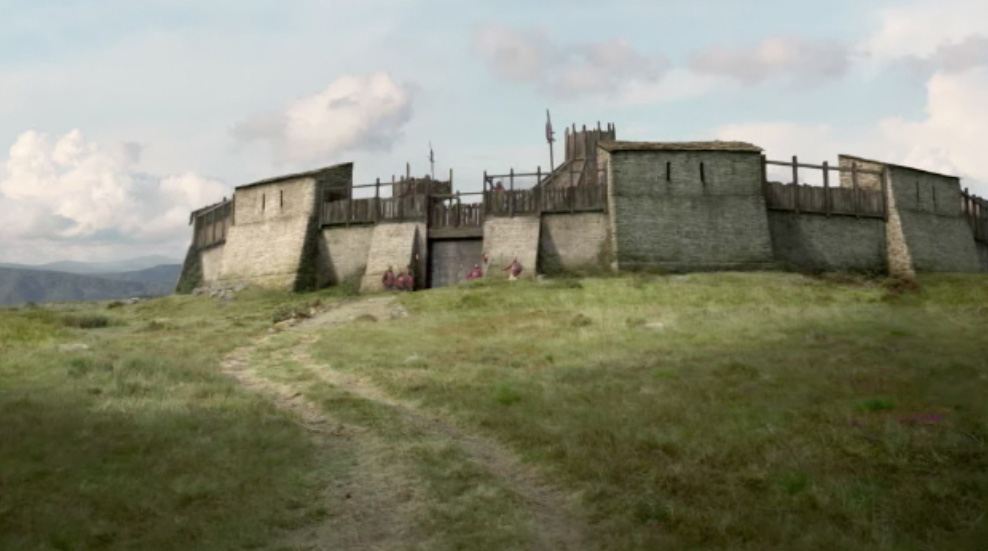 Episode: Camelot 1.05 – "Justice"
Original Air Date: April 29, 2011
Arthur and Morgan peddle for the loyalty of the subjects of the realm. One uses a battle of wills while the other uses a slaughter. I bet you can't guess who did what.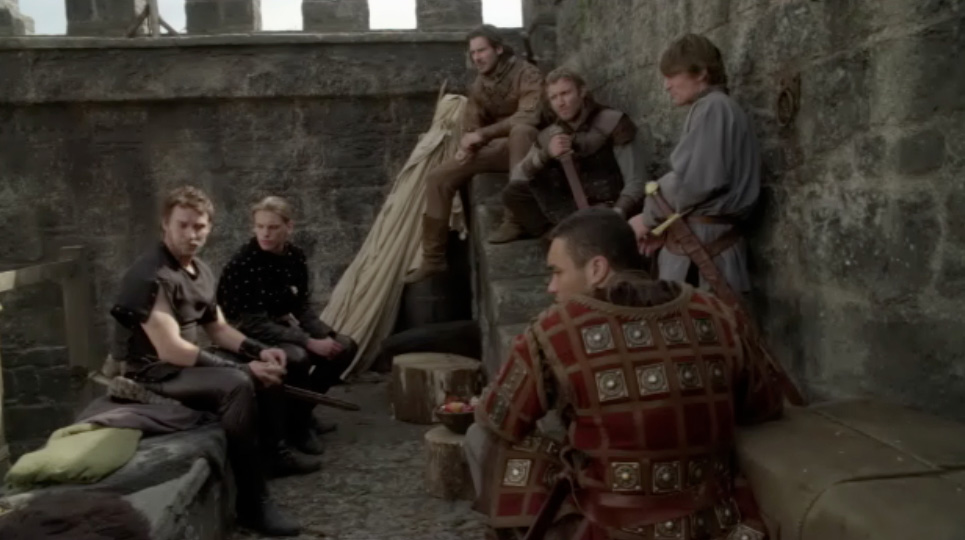 This episode finally stepped it up in the Arthur as King department. For one brief, shining moment, Arthur stopped being Anakin Skywalker and manned up to do the kingly thing by stopping a man from being hanged and making him stand trial. He does pretty well, listening to both sides of the story, asking questions, and taking council with his knights (nice nod to the Round Table). He even talks to Guinevere and gets her to talk to the accused man's daughter to see why she was running away from the village to find help instead of finding help within the village. This was a huge DUH moment for me. I don't know if everyone else picked up immediately on what was going on with her or if it's just a woman's intuition or if it's just that rape is used as a plot device so freaking often it's nauseatingly easy to spot at this point, but it took them entirely too long to figure it out. Granted, it holds more weight if she herself actually admits to what was going on and they were seriously dragging everything out to fill an hour's worth of TV here, but still.
So, Arthur brings this up at the next meeting for the trial and it's no big thing with the guy whose family apparently perpetuates this "Taking of the first of everything" deal they've been holding over the village forever. I'm sure that didn't win any favor for him with Arthur. He decrees that the almost-hanged guy and his daughter are to be banished from that village and that's it. He sends Gawain make sure he and his daughter make it out of town alive, and of course they almost don't. This is were the Gawain of legend shows up (he's very much into defending the honor of women), and he takes on the baddies pretty much all by himself. Leontes, Kay, and Arthur show up just in time and the village turns (finally) on the bad guy and Arthur puts the village under his protection. Easy enough to say something is under your protection, but protecting it is a little harder especially when you can't protect that which you are already supposed to be protecting.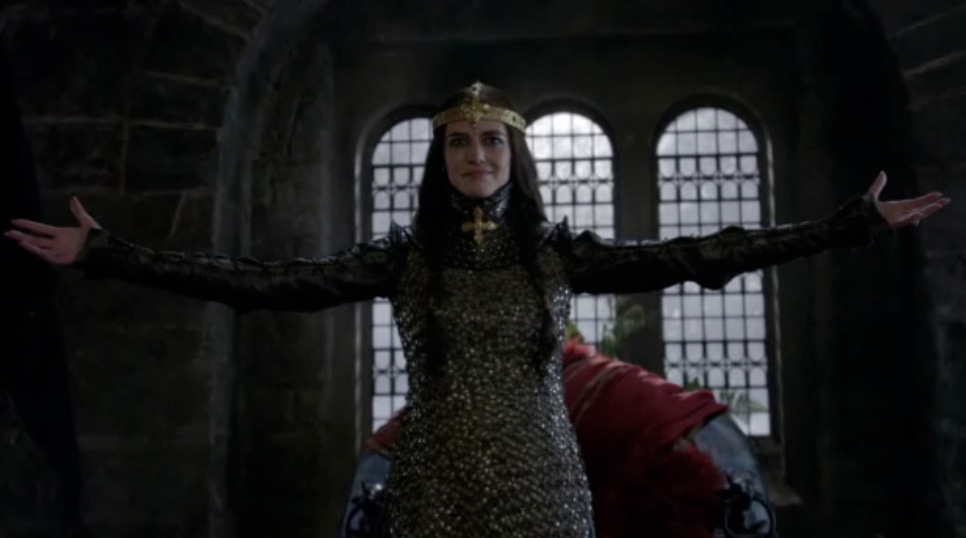 And that big gaping hole is just what Morgan and Sybil needed. While Arthur is having tribunals with peasants, Morgan is wining and dining merchants. Sybil is crafty, I'm telling you right now. She proves to be a great asset to Morgan in this power play she's got going on for the crown. She convinces Morgan to call all these merchants in and feast them and get them to trust her enough to tell her the things she's been hearing (that despite the Camelot flag being flown in these areas, they are still getting robbed and murdered and raped). At first, they don't trust her at all and things look to be backfiring a bit for Sybil and Morgan. Until Sybil hires a man to beat the living crap out of her. That does the trick, and people start spilling their stories and anger at Morgan faster than you can spit. Crafty, I tell you. Morgan promises to send word to Arthur so that he will come and listen to what they have to say with no intention of actually sending it. Which caused an interesting look to cross Vivian's face that made me think that maybe she might not be as 100% behind Morgan as she once was. I think there's a lot going on that Vivian doesn't think is a good idea at all, but I'll be surprised if she does anything about it. So, the next day there's another feast and everyone's wondering were Arthur is and I'm wondering how they can travel by horse so far so fast. Unless Camelot is, like, down the street from Morgan. Anyway, Morgan lies and says he didn't respond to the letter and isn't there and there's near bedlam, just like she wanted. What she didn't want, but it turns in her favor, is the guy Sybil paid to beat her is there and they run into each other. To cover this up, Morgan pulls him up in front of the crowd and has Sybil finger him as the guy who beat her. And then Morgan slices his throat in front of everyone. Vivian and Sybil look a little taken aback, but it works with the locals like a charm.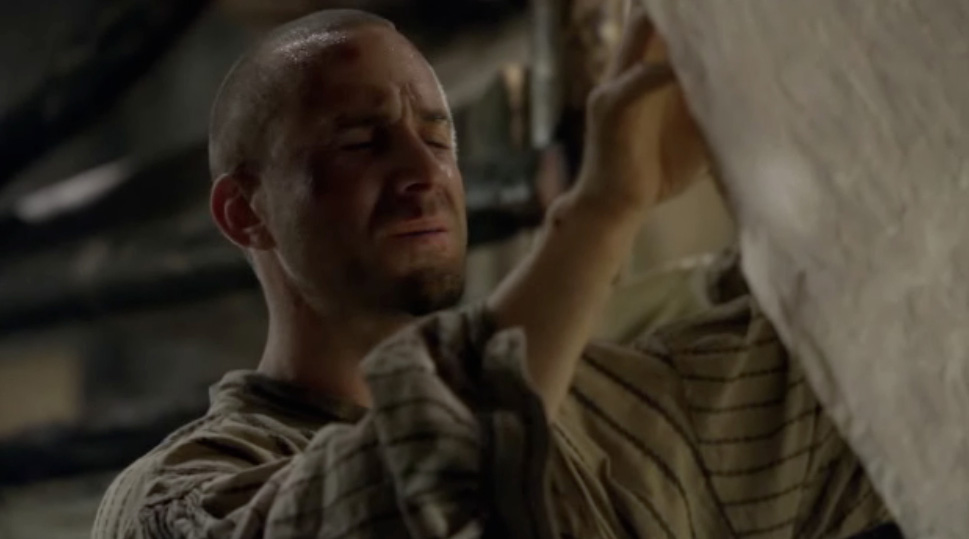 The other thing that was going on in the background was Merlin kinda going Froot Loops after having killed Excalibur and Caliburn. Everyone wants him to help Arthur but he refuses, and as it turns out, Arthur did pretty well without his council. There really hasn't been any serious displays of magic and I'm wondering if there never will be and this side plot is the reason. Merlin goes crazy when he uses his gifts? I'm not sure.
Rating: 3.5 / 5 Stars