Episode: Camelot 1.04 – "Lady of the Lake"
Original Air Date: April 15, 2011
Arthur's sword is broken during a sparring session with Gawain, so Merlin journeys off to find the legendary sword maker Caliburn for a more suitable sword for the young king. In what used to be Uther's castle, Morgan is experiencing some side effects to the magical dealings she's been making lately. After a conversation with Merlin, Igraine, Guinevere, and Gawain, Arthur decides he needs to make a spectacle of himself by trying a little too hard to beat Leontes in what is supposed to be a practice fight.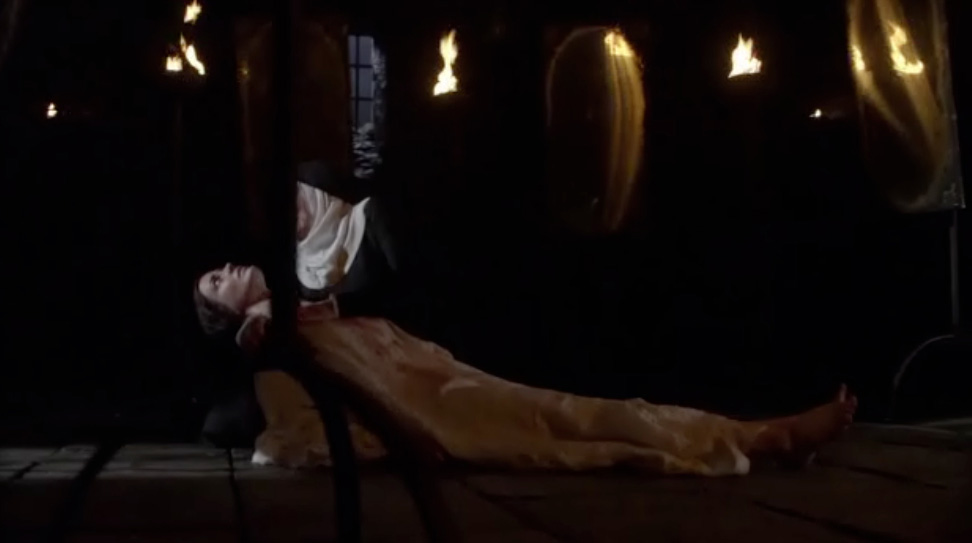 Okay, first let's talk about the things I liked about this episode. That being the two characters who use magic and really the only reason I've been coming back every week. First up, Morgan. It is always said that there is a price to pay or that there's some kind of effect using magic will have. Merlin tried to warn Morgan of this in the previous episode where she was making me gag by collecting his toenails. In this ep, she's starting to feel it but I don't think it's going to make much of a difference or deter her from using her magic any time soon. She has this plan to take a piece of jewelry to Guinevere (since she knows that Guinevere is important to Arthur), but that's derailed when Vivian convinces her she's too sick to travel to Camelot. They head back, and there's this nun waiting for Morgan upon their return. This is the nun who taught Morgan all about magic while she was growing up in the convent. At first, Morgan tries to get rid of her, but when her condition worsens she allows Sybil to help her. They do some kind of ritual, Morgan dies, and then she comes back to life. Not completely out of the woods just yet, she briefly turns into Igraine and feels what she feels (pain) and enjoys it. Sybil seems disturbed by this, which leaves me to wonder why she's helping Morgan. She doesn't seem to want Morgan to use magic the way she has been, but she's not stopping it.
I find Eva Green in this role to be fantastic. She is so brilliantly arrogant and, I don't want to say evil because I don't think that's actually what she is. I guess I'd say very willing to do whatever it takes to get what she feels is rightfully hers. And it's great to watch because she's supposed to be the villain but I still feel for her. I don't think the means by which she is trying to succeed are good ones, but part of me wants her to succeed in taking out Arthur sooner rather than later.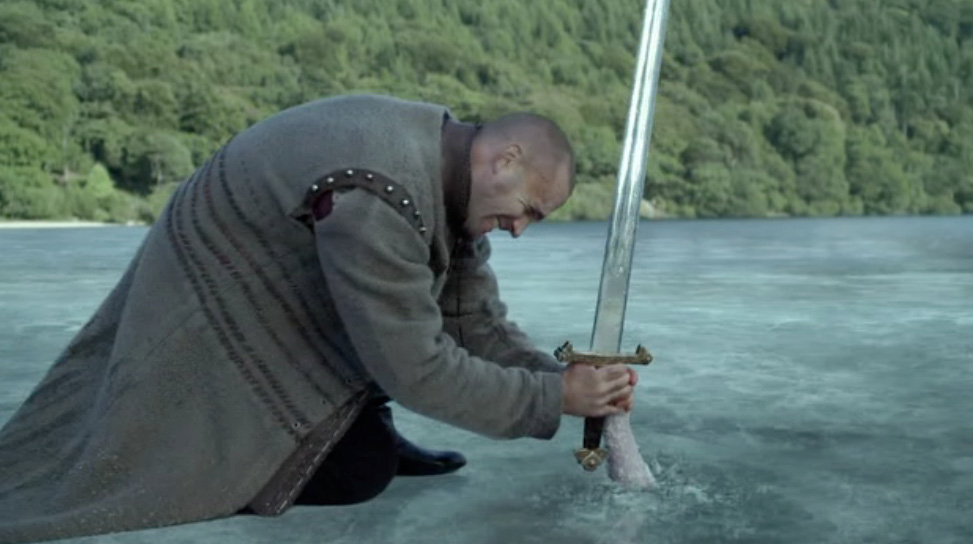 The other great part of this episode was Merlin getting Excalibur. Now, if you're like me, you were probably confused by this. I guess I didn't remember Arthurian Legend as well as I thought or I've been relying on Disney's The Sword in the Stone too much as a touchstone for it, but I thought the sword Arthur pulls from the stone was Excalibur. Either way, having them be two separate swords set up a good bit of story telling for Merlin's plot. Arthur and Gawain are training and Gawain breaks the sword Arthur had been using (I'm not sure if it was the sword in the stone or not just because that sword looked like an actual great sword while the broken one didn't to me). This prompts Merlin to want to get him a sword more suitable for a king. Gawain suggests the great sword maker Caliburn and tells Merlin where to find him. Merlin does, Caliburn is somewhat grouchy, but he ends up making the sword in record time (I know, I know, it's just TV, but give me a break). We also meet Caliburn's daughter, Excalibur. Things go awry, as they usually do, when Caliburn wants to take the sword to Arthur personally. Merlin, being a magic man, had a vision of a possible future where Caliburn kills Arthur with the sword. So they fight because Merlin refuses to let Caliburn deliver the sword personally, and we find out why Merlin doesn't use magic — because it kills people around him. Caliburn is a toasted husk and Excalibur runs off with the sword to the middle of the lake. Again, Merlin uses magic to reach her (he freezes the lake) and Excalibur ends up falling into the lake with the sword. Bet you can guess which one of them made it out.
When he makes it back to Camelot, he spins the tale we've all heard of the Lady of the Lake and says the sword's name is Excalibur. This made me pause as he's telling this story in front of Gawain. Now, Gawain knew Caliburn and that he had a daughter. I'm suspicious that he wouldn't have picked up on this and thought something smelled fishy with the story Merlin told.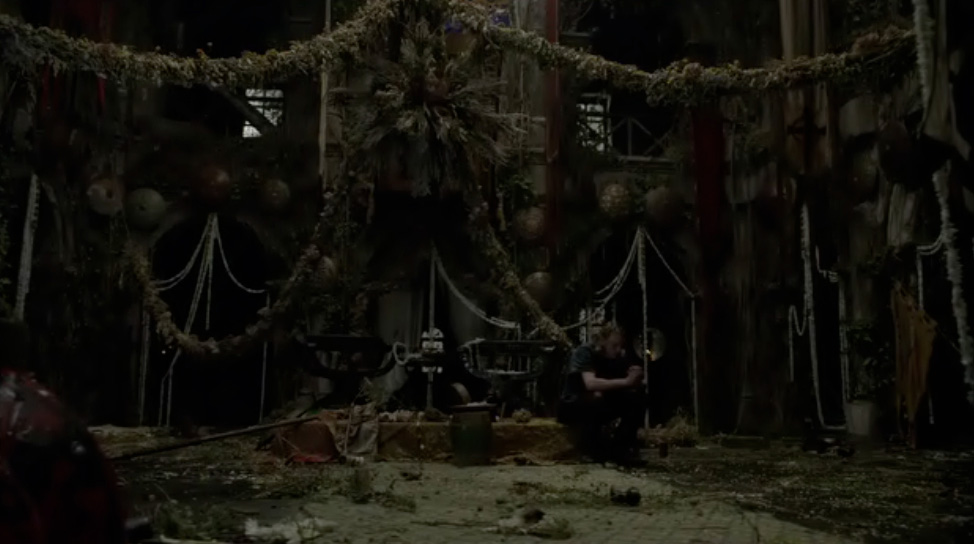 So the thing I didn't like about this episode is the same thing I didn't like the previous three episodes: Arthur. This character is Anakin Skywalker in a tunic. He spent a majority of this episode being butt-hurt about Guinevere marrying Leontes, and when he wasn't moping around like a petulant child he was trying to — you know, I'm not sure what he was trying to do, maybe make a fool out of his best and most loyal knight. Merlin tells him to let Guinevere go because it will just end badly. Doesn't listen. Igraine, a perfect example of what will happen when a king takes whatever he wants without concern for the people it effects, talks to him. Doesn't listen. What does he listen to? Gawain's opinions on how a warrior would behave when he comes up against defeat. There was no subtlety in that exchange at all. Gawain is talking about battle, and Arthur is talking about how he wants to steal the wife of the man who probably got just about every knight except Kay to follow him. It was just flat on the nose and you knew exactly where that was heading as soon as Gawain finished what he had to say. Stay classy, Arthur.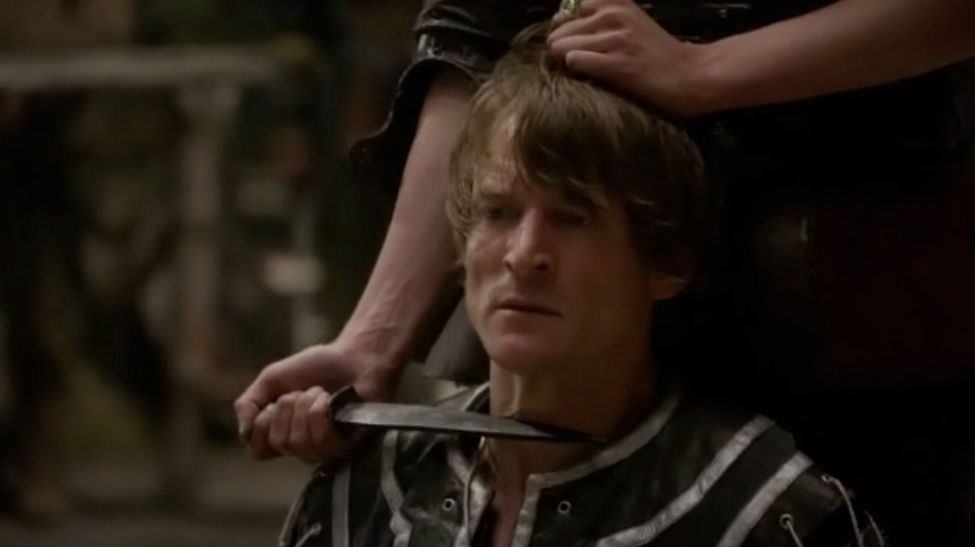 After doing whatever it was he thought he was accomplishing by "sparring" with Leontes, he catches up with Guinevere (and how this little relationship is such a secret when all these hushed meetings are happening in the halls of a RUIN is beyond me) and again tries to get her to be with him. She tells him she's happy and it's obviously a lie, but she knows they all have a duty to fulfill at this point and they should do it. I'm still not getting what her attraction is to Arthur. This character is completely unlikeable at this point and he's been a crap king so far. On the one hand, we've got Leontes who is an honorable, trusting, faithful man who believes that Arthur is the king who can make their world a better place and is more than willing to serve him and protect him and give his life for him. On the other hand, we've got Arthur who so far has done nothing but pout, think with Little Arthur instead of his brain, and has just parroted out what Merlin has told him to say, not to mention is more than willing to betray the trust of those closest to him. I can't speak for everyone, but I would go with the more honorable guy here.
I'm not sure how anyone could have thought that sparring session was just sparring. Clearly there was something else going on there that the characters (besides Guinevere's lady in waiting) should have picked up on. Hell, Arthur mooning over Guinevere every time they're in the same vicinity should have started tripping alarm bells with everyone in Camelot. I know these two characters are supposed to be together eventually, it's just really not interesting to watch at this point. In fact, for me, it's downright aggravating to have to sit through this love triangle because there's one person in it who's worth a damn and that's the person that's going to get shafted. I'm hoping that eventually, Arthur will become a more likable character because he's the main character of the story! It's not called the Merlin Legend or Morgan Legend. This is the Arthurian Legend and Arthur needs to be a character you like and want to succeed. He's supposed to be the once and future king, not the once and future crybaby.
Rating: 3.5 / 5 Stars