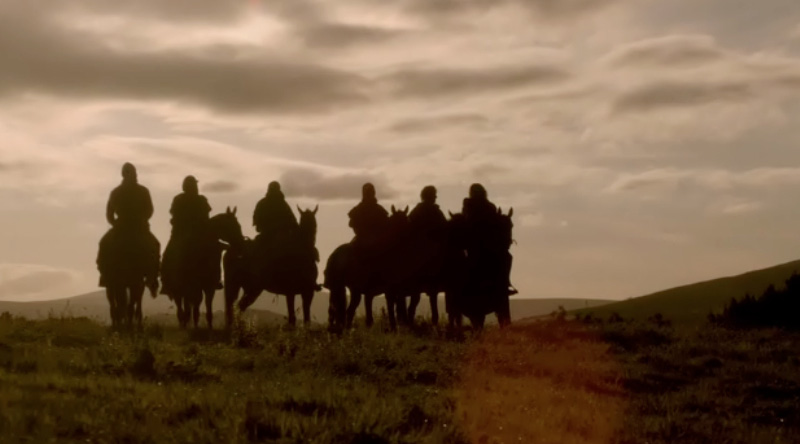 Episode: Camelot 1.03 – "Guinevere"
Original Air Date: April 8, 2011
Guinevere's family is sacked by bandits and Leontes seeks Arthur's permission for them to stay at Camelot. Afterwards, Kay and Leontes seek out a warrior to join them under Arthur's rule. Arthur and Merlin accept an invitation to join Morgan at her castle for dinner after Merlin forces him to let Leontes and Guinevere to have their wedding at Camelot also. This forces Arthur to concede defeat in his pursuit of Guinevere.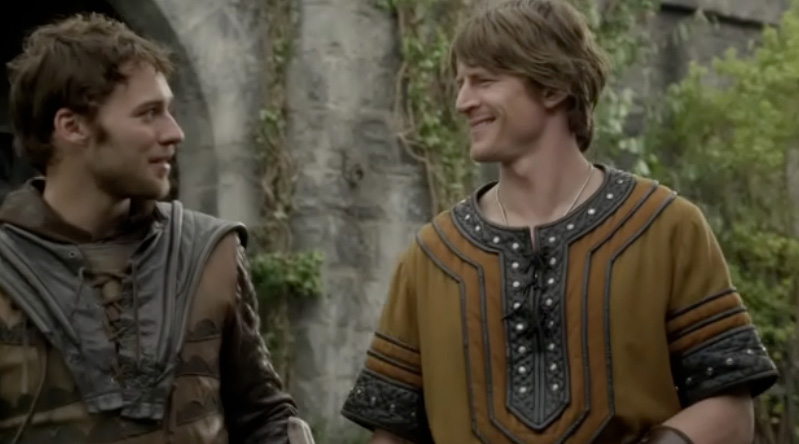 Three main things happen in this episode: Kay and Leontes get Gawain to join up under Arthur while Arthur is having sex with Guinevere, all after Arthur and Merlin meet up with Morgan and she does that voodoo she does pretty well. The first point is the one that interested me the most because Gawain has always been my favorite Knight of the Round Table. I always like Gawain because they usually play him as a kind of scoundrel and roguish in some modern retellings of the legend (traditionally, he's the most courteous knight and the ideal of chivalry). So, of course I like when he's changed into a slightly more shady character that you have to convince to follow the King. It's more fun that way. It was also nice to see Leontes and Kay having a bit of bromance on their trip. I like these two characters, so I can't help but think bad things are going to happen to both instead of just Leontes.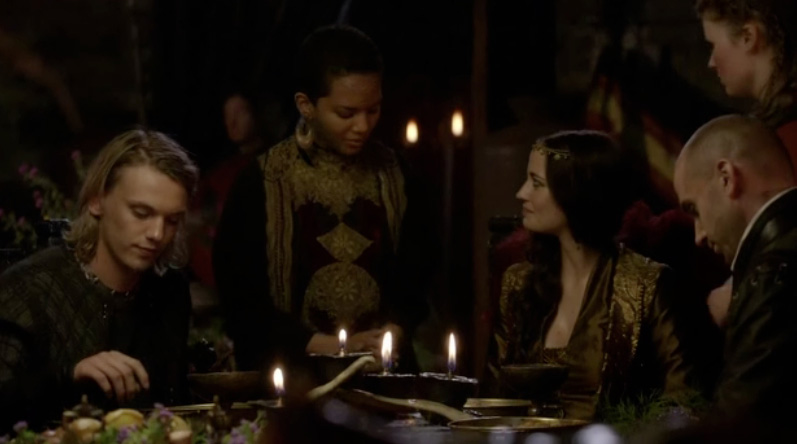 The other main thing that happened was Arthur and Merlin going to have dinner with Morgan. I liked that it was all like, sure, let's go have dinner with my weird, hateful half-sister as if she lived just down the street and hadn't tried to kill me an episode ago. Merlin, of course, is opposed to doing this. However, Arthur, much like a petulant child, demands that they do it because he doesn't want to watch Camelot get dressed up for Guinevere and Leontes' wedding. Because that's how all the great kings ruled and ruled well — with Mr. Winkie. I'm not sure how old he's supposed to be, but if he really wants to be king he should be taking all the advice given about not messing with Morgan. That's like shaking a bee's nest. It's not going to end well. Then again, if he were smart enough to heed Merlin's advice about women, Starz wouldn't have a show. So they go, eat, Morgan's suitably creepy by sneaking into Arthur's bedchamber at night to get some of his blood, he leaves in the middle of the night to shack up with Guinevere, and Morgan traps Merlin. I'm not sure what she was doing it for and it'll probably be for a later ep, but she collected his toenails. And I threw up forever. Feet are so gross. Something slightly more productive, she uses the blood sample she got from Arthur to conjure up a spell to see through his eyes. Too bad it was during the wedding ceremony and, you know, Arthur and Guinevere were being all subtle by staring longingly at each other the whole time. Now, Morgan knows Arthur's big weak spot.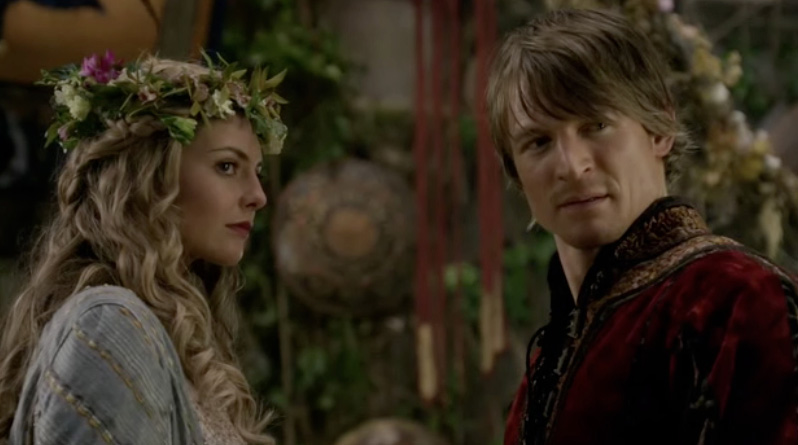 And, finally, there is the wedding. Like I said, my favorite part was Gawain, but as is turned out, it was the point that interested me because of Leontes. He is such a good guy (so far), and he believes in what Arthur can do as king so much that it makes you kind of wish he were king instead of Arthur. Because what does Arthur do with all that trust and faith? He goes and has sex with Guinevere right before she and Leontes are supposed to get married! She is not entirely blameless, but at least she attempts to dissuade Arthur from pursuing her. The line that didn't sit well with me was the "Why are you crying/Because I want this" line. It's more like, you're crying because you know you're doing something you shouldn't because it's going to hurt someone you care about, but you're too spineless to not do it. I mean, she goes so far as to bleed a dead deer so she can use the blood to cover the fact on her wedding night that her maidenhead is gone. So, Leontes is going to die (assuming he's not Lancelot) and it will only be a nice kind of symmetry when Guinevere hops ship Pendragon and jumps bandwagon Lancelot. Obviously, Arthur has no qualms banging out whomever he pleases (we meet him while he's having the girl Kay, his brother, is with), but it all makes him very unlikeable for me.
Rating: 3 / 5 Stars