Rose's favorite current TV show is Army Wives, which she'll be covering episode-to-episode. To start her coverage, here's her look at the series to date.
Army Wives, the Lifetime hit following five Army spouses, is easily my favorite show on television right now. The cast is complex and can be as hard to keep up with as the twisting multiple plots. Just to give the quickest of overviews, the show focuses on five main families, all living and working on the same Army base, located in South Carolina. The service members span all ranks, and their spouses run the range of wild personalities, each adding so much to the already vast dynamic. The Army members may be in uniform, but nothing about this show is tidy or straight-laced.
Claudia Joy is the mother hen of the group, as she should be, married to the stable and sturdy General Holden. The General's right hand woman is Lieutenant Colonel Joan Burton, a force to be reckoned with for sure. Joan's husband Roland is the male army "wife" on base and sheds light on a lesser-experienced aspect of a military marriage. Denise Sherwood is Claudia Joy's best friend, and her husband Frank is a Major. Their son Jeremy is also a soldier, and we see this family go through the greatest of trials. Pamela Moran is married to Special Ops Delta Force member Chase, whose job forces him to come and go quietly and often, leaving the feisty redhead Pamela at home alone to manage as she sees fit. Pamela's instant connection to best friend Roxy adds a lot of comic relief. Roxy is a newcomer to military life who married Corporal Trevor Leblanc two weeks after meeting him. She's a bar owner, a mother, and not one to think before she speaks, ever.
The supporting cast extends further into family members and co-workers, but the gist of the show is following these five families and their intertwining lives on the fictional Fort Marshall.
The ebb and flow of drama is neverending: up to the current episode (episode seven of season three) we've seen two different cast members commit infidelity, we've experienced the grief of sudden death (a main character's child was killed in a bombing off base), the joy of a new birth, domestic violence from an unexpected source, and we've seen the spark of love reunited and fueled into a flame.
Military issues are obviously aplenty, and for those of us intimately familiar with the lifestyle you can either laugh, cry, or roll your eyes as the characters go through promotions and demotions, deployments, the scary aspects of war (waiting for news after a loved one has been involved in an attack) and even the everyday aspects of base housing stress and shopping at the commissary.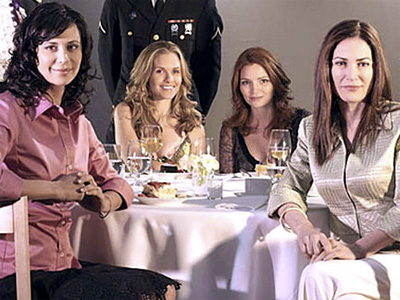 Don't be mistaken, though; you really don't need a connection to military life to love Army Wives. This show appeals on such a massive level by its themes, plot lines, drama, and acting. Surprisingly for me, my immediate connection to Army Wives was less about military life and more about the parallels between my personal socio-political ideals and those depicted on the show.
While the subtleness of issues approached by the show may vary, the thoughtfulness of how each is handled has never wavered. Some issues are just there, accepted, and not even a topic of discussion on the show. For example, all characters use reusable shopping bags in any grocery scenes. Also, a character's race is never discussed or mentioned; diversity is genuinely the norm. Some topics, like anti-war protests (show's take: families of troops want peace more than anyone) and Don't Ask, Don't Tell (a character on the show spoke out again the military's anti-homosexual policy) have been the focus of entire episodes. The series as a whole always encompasses family relationships, romance, the power of friendship, spirituality, and religion (all different strokes for different folks), Post Traumatic Stress Disorder, and grieving.
It isn't all heavy emotional lifting, though, as we see the five families go through so many joyous and light hearted occasions. The humor is definitely there, and the touching, heart-melting moments come rolling in often. The quirky soundtrack features artists such as A Fine Frenzy, Frou Frou, Ingrid Michaelson, and more unknown acts like Borne and Whitley, keeping the show fresh and off the beaten musical path.
And for those of us who are attached to military life, there's an interesting response to the series that puts a magnifying glass and inserts a lot of fiction into what we know as real. Of the military significant others I know, viewership seems to be a love or hate phenomena. Their opinions are pretty black and white. Some find the show too unrealistic and overdramatic, while others love and embrace it and are happy to relate.
Regardless of your personal feelings on the war or military service in general, if you like primetime drama filled with all the juicy goodness of any soap-esque series, I have to suggest you check out Army Wives. And if you already follow or are ready to start now, I'm excited to be your Fandomania contributing writer that'll be reacting and remarking as the show goes on. So check back here for my reviews, and let me know what your own feelings are on my favorite program.