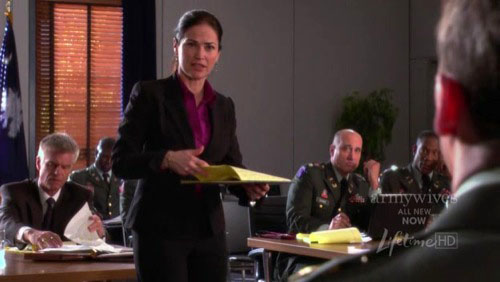 Episode: Army Wives 4.09 – "New Orders" and 4.10 – "Trial & Error"
Original Air Date: June 13, 2010 and June 20, 2010
Screencaps from thisyearsgirl13.
Whoa, I know I've been absentee for a few episodes. I won't lie, things got kinda ho-hum for a minute and I got super busy with real life. But the past two weeks have sucked me right back in and I'm my normal passionate, die hard, going-crazy self. WTF is going on?!?!? Insanity abounds, and I have lots of cheers and jeers for the going-ons at good ole Fort Marshall. Spoilers ahead.
So, two weeks ago, the series jumped six months into the future. The entire episode, I was just waiting and hoping for it to be some kind of elaborate dream sequence. I kept telling myself Roxy went to a psychic and this was all some kind of what-if. But it's not. It's real. This is all really happening to our beloved cast of Army spouses, and for the most part… it ain't pretty.
I'm going to mush together the past two weeks and just ramble some confused ramblings as life as we knew it on Army Wives just crumbles.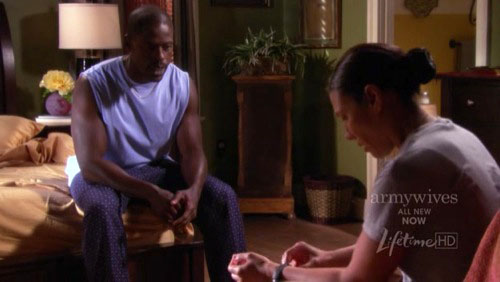 What is wrong with Joan? Something terrible, serious, and bad is going on with Joan. I'm not buying into Roland's PTSD flare up. She's having some kind of neurological break down. I'm so worried her injuries weren't fully realized in Germany and something bad bad bad is happening to her. The forgetfulness. The mood swings, her inability to bond properly with Sara Elizabeth. This doesn't look good for my favorite cast member, and as her bizarre symptoms progress, I'm getting more upset and more worried. Seriously, Army Wives, fix Joan. Now! Make her better. I can't stand to think she has some kind of brain tumor or aneurysm. It can't be, make it something fixable and let Roland have his lovely, competent, sweet wife back.
Pam and Chase are really divorced. Oh. My. Word. I really didn't think it would happen, and now that it has, it's more painful to watch than I could have ever imagined. When she had to pawn her grandmother's brooch to get a root canal, I was just dying on the inside. I'm not too sure why the show chose to portray a military divorce the way they did. To show the reality, to expose how tough it is for the women suddenly cast out of their own world? Well, they've done an all-too-realistic job. She can't get on base to shop at the commy anymore. She has no health benefits. It's a mess. And then Chase has the nerve to tell Trevor he's never been so focused at work, and he loves his job. Adding insult to injury, he feels like now the time he's spending with his kids is even better and it's more quality than when they were a family. And there's poor Pamela, scared, alone, unsupported, uprooted, and just struggling. Oh, it's painful. Make it stop, please? I do see some kind of potential mending happening. Maybe. Chase did go get back the brooch she pawned, and he seems to be making some kind of legit effort. But he loves his precious Delta Force so much, dare I say more than having a wife? Ugh. At least Pam is back in the line of duty herself: she got a job as a cop again.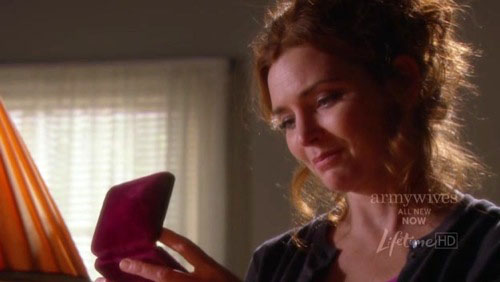 Which leads up to Roxy LeBlanc. Of course Roxy gets pulled over and somehow blames Pam!! How infuriating. I couldn't believe that Roxy was actually mad at Pam. Roxy was the one speeding, in an unsafe, illegal car with all kinds of problems. She had a warrant out, and Pamela was the one who convinced her partner to let Roxy go and take care of it. I am so annoyed when Roxy blames her problems on other people, and goes into some rhetoric about how hard she had it. Had is the key word of that sentence. Yes, she miscarried. And that is truly sad and awful. But Pam is not doing so fab these days, and I just couldn't be okay with Roxy's reaction.
Then we have Trevor getting a month's notice his recruiter billet has been pulled, he's back in the infantry, and he's going to Afghanistan in a few short weeks. This seems possible (I mean, I know the military can do whatever they want, whenever they want), but it still feels more Hollywood than Army to me. The military hates wasting money. They've invested in Trevor to train him as a recruiter, and he's doing well. Why pull him out of a job that's not easy to do from a budget item that is so very needed (a good recruiter is important to the Army's bottom line, and anyone coming out of boot can get trained to go fight at the infantry level). Just saying, it's sucky at best, and hokey when you think about it from a real-life point of view.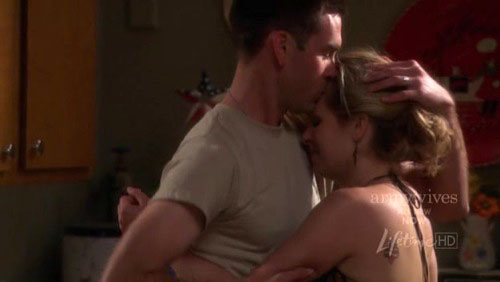 Regardless of the validity, he's leaving. Roxy thinks she could just be be preggo, so we'll see. I would probably be brought to tears to have to see her go through a deployment pregnant without Trevor and deliver while he's gone too. But if they did write that in, that, my friends, would be realistic. There's a sign at Camp Lejeune welcoming home Marines from deployment that says, "Welcome home, go meet your babies!" It's a hard, sad, crazy fact of war that life goes on at home, even and especially some of the biggest and most important milestones. I don't want that for Roxy. Much as she drives me crazy, I hate seeing any military wife have to manage a pregnancy alone while her husband is in harm's way, fighting the war.
At least Roxy apologized to Pam — she mostly came to her senses there.
The Sherwoods are the only ones I'm loving six months in the future. Denise is pregnant, and Frank is all into it! He's researching, and learning all about babies. Or, re-learning, rather. He did have Jeremy almost two decades ago. I love the messages Jeremy left behind for his new baby brother or sister. I guess he's deploying too, and he wanted to leave behind some words of love.
The aspect of leaving behind family during such momentous occasions just breaks my heart. I'm sorry, but I'm so hung up on it. Sometimes this show is too accurate, and I just cry all episode long.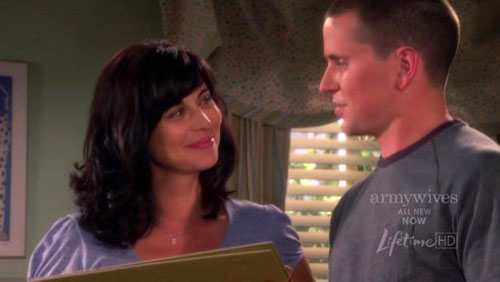 And finally I'll talk about the Holdens. C.J. is in law school. She started out not doing so hot, and this past week she's picked up her A-game again. But not without a price. Sure, she made friends and has a study group. That's awesome. But she was selected to help out on a case for her professor's private firm. And it just so happens that firm is in a suit with the Army. Sheesh. They make Claudia Joy question a witness, and her skills as a General's wife help her to uncover a pretty embarrassing mistake the Army is trying to cover up. Fort Marshall owns land that is dangerous for people to live on, the water source is possibly contaminated. This is a big blunder, and she's been the crux in uncovering this mess in court while Michael, the Officer who runs the Post is there in courtroom. He was less mad than I thought he would have been. Now the Army will think that Claudia Joy's instincts and hunches were based on confidential information; perhaps he compromised this issue by telling his wife too much? I do believe Claudia Joy though. There's so much she knows, just by knowing the world and the people involved in Army life.
Afterwards, she hardly felt victorious, though; she felt used. She had some harsh words with her professor, expressing she didn't like being a pawn. While I'd normally say good for her, I'm not sure what it does at this point. Is she just going to botch her own chances at being successful in law school? Has she helped unravel a nightmare of problems for her husband? The end of the episode showed the lawyer all coming to an agreement and issuing a statement that helped the Army save some face; but in real life and perhaps in future episodes, I don't think something like this goes away so easily. I love that she's a strong, intelligent, articulate woman. Maybe she should just be more careful to remember where her true allies lie. Just sayin'!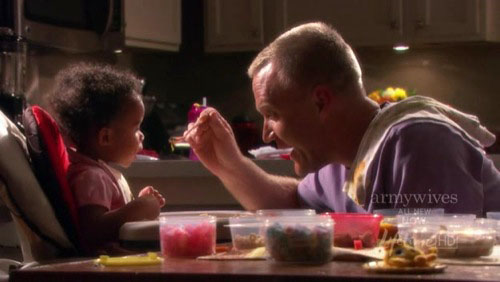 Frank babysitting was hilarious and adorable, and I was so thankful for the comedic relief.
Overall, things are a mess. I can't wait till this Sunday's episode now, and I hope some questions gets answered and things begin to look on the up and up. Maybe Chase can realize he loves and misses Pam? Maybe Joan will be okay? Seriously, I need Joan to be okay. And Trevor's deployment. Sigh. I wish that wasn't happening either, but that's real life for ya.
I gripe when the show is too Hollywood, and then when it's too real I get bummed out and sad. It's so tough to find a happy medium.
I won't rate two week's ago episode… but I'll give the most recent installation a 4 out of 5 stars. The plot kept moving, we got some turns, and I'm intrigued again. Even though I'm not happy with what's happening to some of my beloved characters, the writing is solid and the plot is moving in many realistic directions.
Fingers crossed for better, happier updates on this upcoming episode! Thanks for reading, and sorry for the hiatus. I'm back though (at least for now!).
Rating: 4 / 5 Stars (for 4.10 – "Trial & Error")