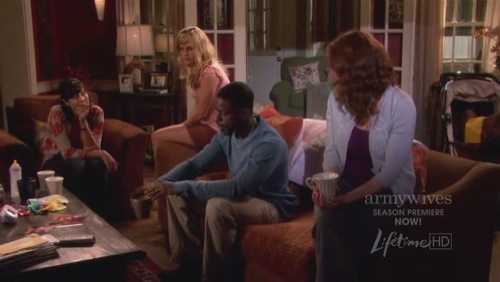 Screencaps from thisyearsgirl13.
Army Wives is back, and after missing the first couple episodes of the season (because I was off becoming an official military wife myself) I'm back with my weekly reviews. Spoilers up ahead as I catch us up to speed on the first three episodes of the fourth season!
Season three ended with a lot of loose ends, two of the most stressful being Joan and Jeremy. Was Joan alive? Did Jeremy kill himself? As the first episode of this season finally answered our questions, we find both Joan and Jeremy technically alive.
Jeremy thought about killing himself, but ended up just shooting into the air (or something). He ends up getting arrested by the MPs, getting evaluated, and put on a psych hold. Surprise surprise: Roland is his doctor and ends up guiding his treatment. At first Jeremy is cheeking his meds (pretending to take them, and then spitting them out), but by the third episode we're lead to believe he's on the right track and getting better. Super spoiler alert (for possible future episodes): in the book the show is based on, the character does kill himself. So part of me is thinking this storyline is still unresolved. I really like Jeremy and I really dislike suicide, so I am hoping he stays alive.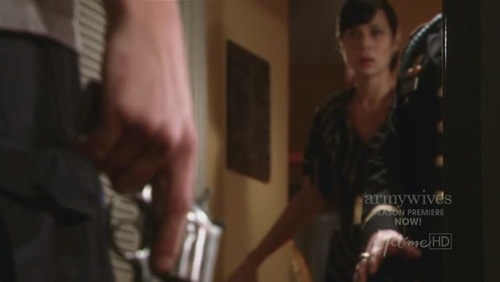 Frank hasn't had much of a presence the first few eps this season, but boy does Denise freak out. I just think Denise was belligerent to try and get her son medically discharged. I mean, are you serious? I understand being scared and being protective, but she's been an army wife for how long and she doesn't get it? I was totally annoyed with her. She redeemed herself though by being the cool adult when Emmalin needed to phone a friend from the party (Emmalin calls Denise in episode three when a new girl on base gets alcohol poisoning at a party).
Joan is alive too, and I am so happy. I seriously could not love the character of Joan any more. She is this amazing dichotomy of strength and grace. The vision thing was bumming me out, but she's getting better. I love her getting in touch with the donor's family, and I love her looking out for other injured soldiers in Germany. The bit about "hearts and minds" regarding her new assignment building schools made me giggle, that's a line that we hear a lot in regards to the humanitarian aspects of our wars. On a political note — and it is Army Wives, there is always some kind of political note in there — I love the pro-organ donor tone concerning Joan's cornea. Seriously, you don't need 'em when you're gone, so readers, please go become organ donors (totally my own personal opinion). Also, the bit about the softer side of the war, the rebuilding schools and fostering relationships kind of stuff, I'm glad they highlighted it. For me, I need lots of reasons to believe in something, and when my husband was in Afghanistan last year, I did like to hear about the good stuff we were doing over there. So thanks Army Wives, good call on making mention of what's important to a lot of us.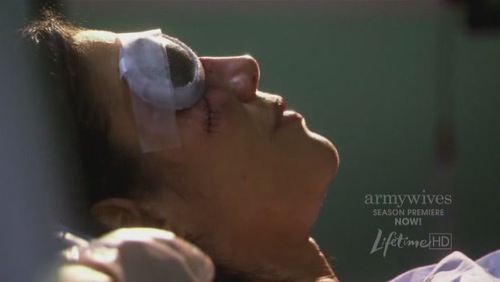 Shut up Lenore. Seriously. I could not give a crap about the "Army Spouse of the Year" awards and I hate that they keep bringing Lenore back. I just want her to go away. She's nasty. I really feel some kind of friendship effort between Claudia Joy and Lenore coming on, especially after all that mushy "you have friends, I have followers" prattle at the end of this episode. Please Army Wives, don't do it. Just write Lenore out, she's awful.
Roland sold out his partner. This is another plotline, much like the spouse awards stuff, that I just don't find that interesting. I love Roland, and I like that he always does the right thing, but I'm just more interested in him and him being awesome, I don't really care about Terry Price. At first I did, when he went missing and left town I was really hooked on his story. But now it's panning out to be kinda lame, so I'm over it. And while I'm talking about Roland: when he went to see Joan and he had tears rolling down his face in the second episode, I totally cried too. I love him and Joan so much. They're my favorite couple this season for sure.
Coming in around my least favorite couple is Roxy and Trevor. Trevor is too perfect. Like, way too fakey-fake perfect, and sometimes he's so sappy and dorky it makes me cringe. And I love sappy and dorky! Roxy is pregnant. We were seeeew worried that Trevor wouldn't be happy (rolls eyes), but of course he's thrilled. After having her fancy friend (Claudia Joy, overstepping her boundaries as usual) the Hump Bar is back open and the ban on the strip has been temporarily lifted. I guess we're supposed to take Roxy seriously as a business lady now. Whatever, I've never thought she was dumb and the more her character acted dumb, the more annoyed I've been. I'm glad she's pregnant though. Kinda. All of these babies have my womb yearning every time I watch an episode. Eeeks!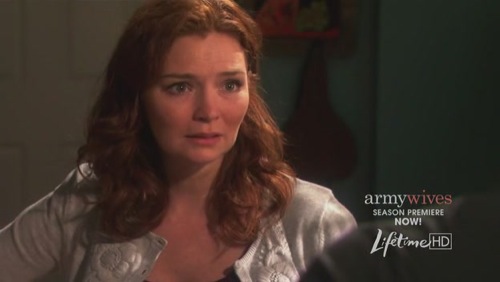 Pam's husband is being a jerk. He's off training somewhere and based on the previews for upcoming episodes it looks like she'll be contemplating a divorce. I hope they don't split up. I love Pam, but I need something more interesting and less depressing to happen to her story line. She is so awesome, funny and strong — watching her hubs be a jerk is just not fun at all. He should be so stoked to have her as a wife, and he should be extra nice, she puts up with a ton of hardship because of his "Delta" lifestyle, so what gives, dude?
That's about all I got. Sorry I was absent at the very beginning of the season, but I am now back in the saddle and should be reviewing every new episode as it comes out, giving you my very opinionated take each week. Do you agree with me? Hate what I have to say? Comment, please!