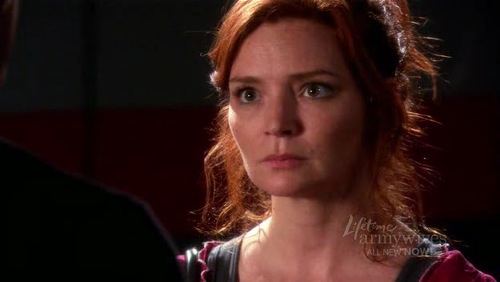 Review: Army Wives 3.13 – "Duty to Inform"
Original Air Date: August 30, 2009
Rating: TV: PG (Parental guidance suggested)
First of all, I apologize that I've been absent with my reviews for a few weeks — real life has been busy. But, with so much going on in the world of Army Wives, I had to make the time to editorialize on the latest happenings at our beloved Fort Marshall. Spoiler alert.
After a couple ho-hum weeks, it seems a lot has happened at once. Denise and Claudia Joy were in a car accident, Joan's deployment is approaching closer, Trevor has a new job while Roxy's adjusting to having a private school son, and Pamela's on pins and needles waiting for communication from Chase. Instead of going chronologically, let's just go family by family:
Frank and Denise. I'm glad the Shermans are back together and all seems well in their house of love. Denise is cooking and cleaning, Frank owns a Harley now, and they're being super mushy. A happy marriage is good news, but I'm just not sure if I'm buying how quickly it's been repaired. Stubborn Frank is so eager to forgive and learn from his past mistakes that it seems a bit out of character. His recent promotion that spared him from returning to Iraq mid-deployment is also on the side of too good to be true. Correct me if I'm wrong, but that seems beyond one-in-a-million. Granted, in order to like Army Wives, you do have to accept a good deal of make-believe, so I'm willing to swallow this one. I doubt the sunshine and rainbows will last long: the previews for upcoming episodes hint that rough times for Jeremy are up ahead. On a personal note (I'm a nursing student) I'm stoked to see Denise heading back to work.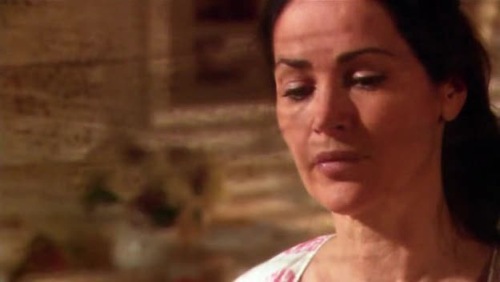 Speaking of medicine, Claudia Joy has me ready to pull my hair out. Last week she was diagnosed with diabetes. Yes, it is serious and will change her life, but I cannot believe such a clever, charming, and well-groomed woman would lose her cool to this extent. In this episode she snaps at Emmalin (who is finally talking to her again), lies to her friends about what's going on, and takes a totally unrealistic approach to managing (aka: hiding) her disease. If the angle of the show is to portray the mood swings associated with unstable blood glucose levels, I think they're being extreme with the sudden onset of these symptoms post-diagnosis. I know that every character needs a flaw, so some people may be relieved to see her as less than perfect. I agree, there is a certain truth to that: Claudia Joy won't be a Mary Jane. Finally, it's been noticed now more than ever (and I can't take credit for this observation; the idea comes from another AW fan, my friend Joy) that Claudia Joy loves to wear her husband's rank. Her concern for not going public with her diagnosis is that she can't have people "staring at the General's wife, wondering if she'll pass out." Okay, CJ, we get, your husband is important, but you're a real person too. I hope that she takes it down a notch, and gets off the high horse with the quickness.
Joan and Roland make me laugh — it's awesome. The doting husband he (almost) always is, Roland plans a sweet "staycation" for Joan as her deployment looms closer. Insert some bad oysters, and the romance is replaced with way too many bodily functions. The funniest line of the episode was Roland to Joan (as they're laying on the floor, presumably exhausted from being sick, and the baby monitor goes off): "I'll pay you fifty dollars to get that baby." Both characters have the tendency to be pretty intense and heavy, so I love how funny they have been lately.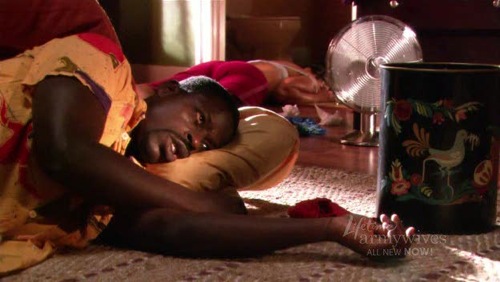 All season long I feel like Roxy's storyline has been serving us up a lot of filler material: comedic relief, teasers that don't pan out (we thought something was "wrong" with her son Quinn, turns out he's gifted), and basically just useless stuff to keep her in the show regularly. Trevor's character has arced a bit more: his new recruiting job is turning out to be harder than assumed. I'm hoping he'll do okay with it, and get this new grouchy boss off his back. While I love how silly these newlyweds can be, it grinds my gears when the show tries to make Roxy seem stupid or overly naïve. Would a real life Roxy really discuss her husband's war injury in such blunt and immature details at a work dinner with a potential recruit and his expecting wife? Maybe, if she was into drama-mongering, but I'm hard-pressed to believe the down-to-earth Roxy would be the type to get a petty rise out of someone.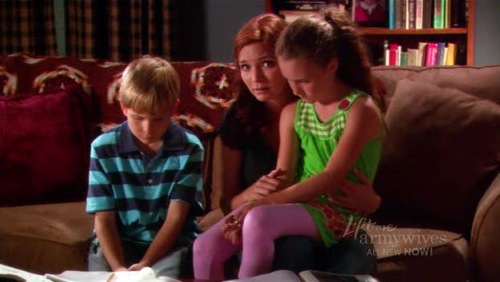 Most stressful this week was Pam's horrible waiting game. Chase, her special ops husband, should have been home two weeks ago and she has no idea where he is or what's holding him up. At the beginning of the episode, a notification car drives past Pamela and Roxy, on its way to break a neighbor's heart. This scene made my stomach drop; the whole notification process (notification that your spouse has been killed in action) is dreadful, morbid and every military wife's worst nightmare. From this point on, Pamela gets a hunch that Chase isn't okay, and she starts unraveling. At first I thought her character was a bit over the top, but now as the episode sinks in, I think her freak out was actually pretty genuine. Given the elusive nature of her husband's job and deployments, her fears are valid, and the lack of communication would be so frustrating. It was really hard to watch her flip out in front of her children, and refuse to answer the door. I wanted her to just open the door and stop scaring her kids. Headstrong as always, her refusal to leave the hospital seemed such a "Pamela" thing to do, and very character-fitting. I'm glad they gave us some resolution at the end. Chase may be very badly hurt, but for now I'm pretty sure he's not dead.
All in all, the next few weeks should be pretty intense, and I'm glad to see the drama level has picked back up. The previews have me pretty nervous for more doom and gloom ahead. I just hope the comedic level stays on par as well; I've really been enjoying that aspect of the third season so much.