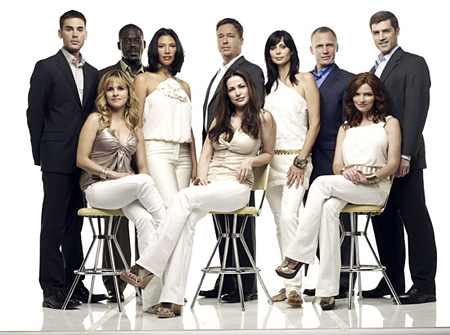 Review: Army Wives 3.08 – "Post and Prejudice"
Original Air Date: July 26, 2009
Rating: TV: PG (Parental guidance suggested)
There's never a dull moment at Fort Marshall, and this week's episode was as busy and exciting as ever. Season three started out heavy and deep, and the funnier and more exciting elements
of this week's episode bring in a breath of fresh air. The soldiers of the Post are participating in War Games with Colonel Joan Burton up against her nemesis Colonel Evan Conner. Back from Iraq just for the exercise, Major Frank Sherwood is serving "White Cell Duty," as a referee. Meanwhile, the wives and Roland, are raising money for both fellow spouse Julie and the recuperating Haneen Naji in some very surprising ways. The rest of the review will contain spoilers, so if you aren't up-to-date, stop reading now!
The rivalry between Joan and Evan has been brewing ever since he showed up last season, and I'm glad it's all finally coming to a head. After last week's heated trash talking, we saw the slimy Evan cheating in the War Game preparation by placing a spy within Joan's ranks. I went into this week's episode hoping Joan would not only destroy him strategically, but out him for the lying sneak he is. I was so happy that both happened.
On the first day of the games, Connor used the stolen intelligence and ambushed Burton's troops, resulting in embarrassing "casualties." Clever enough though, she soon figured out his guess on three out of three fronts was just too good to be true, and she set him up for serious revenge. Using Corporal Trevor LeBlanc as bait, she turned the tables on Connor, and delivered the defeating final shot herself. I loved the look on his face when he was ordered to get on the ground, his "laser tag" light glowing. At first when she was chewing out Trevor, I wasn't sure that he was in on the tactic but I'm sure a lot of you saw that one a mile away. It all did work out rather too nicely for Trevor, but after the incident at the range, I'm okay with seeing him succeed and continue his career progression; I think he's a good soldier who works hard.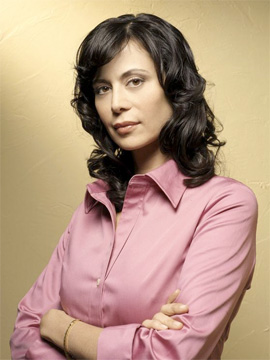 We see Denise going to Roland for advice early on; she doesn't think that she and Frank are on the same page with the marriage repair efforts. After weeks of being so mad at Denise, I found myself suddenly on her side again, and I was feeling bad for her this week. I know how sad she is, and I know she misses Frank and loves him dearly. When she was all dressed up for date night and he bailed on her, my heart hurt too. From the perspective of keeping the show realistic though, I am glad this plotline is slowing down a bit — it feels more accurate, like what would happen in real life. I'm keeping my fingers crossed that things keep moving forward, and they're a family unit by the time Jeremy gets home from his deployment.
Pamela is teaching classes on base on how to save money and cut corners. I love Pamela whenever she's in charge of something, be it on the mic of "Have At It" (which I really miss, by the way), coaching football or telling other Moms (and Roland) how they can save a few bucks here and there. Pam ends up helping Julie, an Army wife in her class, start an at-home sales business, and offers to host the first "party" in lieu of Julie's small, cramped house. Roland and Roxy attend the party, expecting to buy kitchen accessories, and instead get an eyeful of themed lingerie and edible underpants. Julie and Roland were both so perfectly awkward; I thought the actors did such a good job, and I couldn't stop laughing. The concept is also pretty real-to-life, as many military spouses do have work from home jobs, including hosting "Passion Parties." Roland winning the door prize was all too perfect.
Emmalin has finally come around, and I love how warm she has been to Iraqi explosion victim Haneen. Some of the most touching scenes this season have revolved around the storyline featuring Haneen's surgery, and how accepting the Holdens and others have been of her presence at Fort Marshall. This week's FRG (Family Readiness Group) Meeting was no exception. The account of bravery amongst Iraqi translators was poignant, and one of those teary-eyed moments that has to happen every week. Jennifer Connor drives me insane, and I was so annoyed that she was battling Claudia Joy in the FRG once again. So when she decided to drop the vote after the gripping testimony given by Major Adam Proell, I actually respected her character. The efforts of everyone to help Haneen and advocate for the effort of Iraqi translators has really impressed me, more on an actual social consciousness level than having to do with the plot of the show.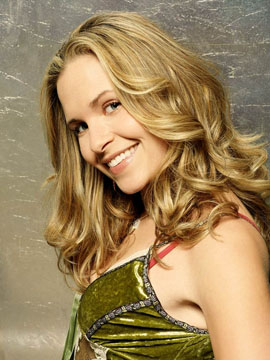 The episode wraps up with almost everyone in good spirits. Poor Denise is left disappointed, but I have hopes that things will get better for her. The Holdens sit down to a family dinner, as Emmalin gladly plays the big sister role. Roxy and Trevor joke in bed, as he's excited about promotion options and Roxy entices him with her new purchase. Finally, the show closes on the laughter of Joan in one the funniest scenes in Army Wives history. Poor Roland, always the man in a women's world, welcomes home his soldier by proudly wearing his edible door prize.
The previews for next week look pretty interesting, showing that something is wrong with Finn that is going upset Roxy. While I'm sad for her character to know her child may be facing a possible illness (that's the impression I got from the teaser), I have noticed that her plotline has been somewhat flat as of late, so I'm honestly not surprised to see a curveball coming her way. I hope that Evan Connor is out of the series for good, and I'm going to be sad to see Haneen leave too soon. I think she's been a pleasant addition to the show, and a small part of me just wished the Holdens would adopt her. I guess that would be pretty unrealistic, but stranger things have happened on the fictional Army Post. All in all, this was a great episode and I feel that I can now say with confidence that season three is by far the best of the series, with its funnier, wittier writing and its gripping plot lines. I can't wait till next Sunday!