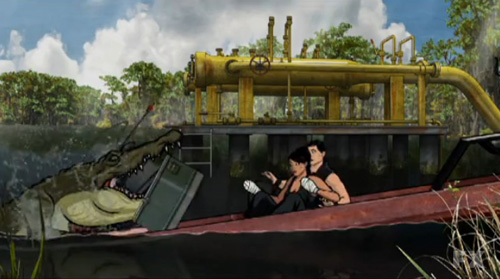 Episode: Archer 2.04 – "Pipeline Fever"
Original Air Date: February 17, 2011
ISIS agents Sterling Archer (H. Jon Benjamin) and Lana Kane (Aisha Tyler) travel to the Louisiana bayou outside of New Orleans to prevent an eco-terrorist from bombing the United States' largest natural gas pipeline. Meanwhile, back at ISIS headquarters, Malory Archer (Jessica Walter) has Cheryl (Judy Greer), Pam (Amber Nash), Cyril (Chris Parnell) and the other ISIS employees busy making the building green in order to cash in on some lucrative tax credits and government grants. Unfortunately, the energy efficient light bulbs and low-flow toilets the team installs turn out to be more trouble than they're worth.
"Pipeline Fever" is another character-developing episode, this time mainly in regard to Lana and Sterling. While the two make their way to the only above-ground section of the gas pipeline they've been hired to protect, the former couple end up opening up to each other in a way that they seemingly never have, Sterling admitting his three biggest fears and Lana divulging some interesting information about her pre-ISIS past.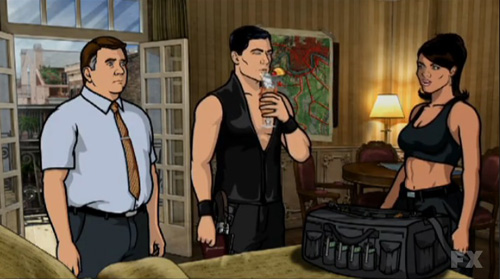 When I discovered that the bulk of this episode would focus on Sterling and Lana, I was apprehensive given that the latter is probably my least favorite character on the show (can you say annoying?); however, writer/creator Adam Reed came through yet again with a strong, entertaining, and laugh-out-loud funny episode that didn't suffer from having Lana as one of the two characters involved with the main story arc.
As usual, Archer is overly excited about his "vacation" to New Orleans even before he and Lana arrive in Louisiana, completely indifferent to their mission, the bio-terrorist, and the threat he poses to the environment and instead focused on the drinks, women, and the hover boat that he and Lana will be taking to reach the portion of the pipeline they need to protect. True to form, Lana is insufferable from the get-go, continually berating Sterling throughout their journey and becoming even more obnoxious when she finds out that a corporation more interested in profit than the environment hired ISIS for the mission.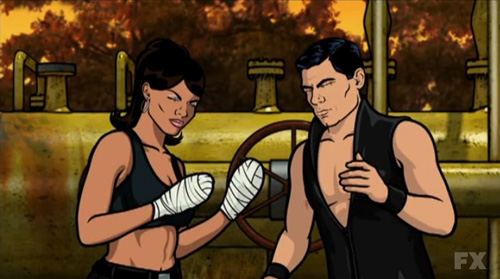 Fortunately, Sterling is in charge of packing the cooler of food and drinks that the two take with them into the bayou, and in typical Archer fashion he fills the entire container with beer and dry ice. When Lana reaches in to grab some of the ice, she burns both of her hands and Sterling is forced to wrap them up and shoot her up with morphine to dull the pain. As is often the case with morphine, Lana mellows out as soon as she's injected and the remainder of the episode is much easier to watch.
Overall, "Pipeline Fever" is another example of Adam Reed's genius writing and the type of irreverent humor fans have come to expect of Archer. The FX original series airs every Thursday night at 10 pm EST.
Rating: 4 / 5 Stars