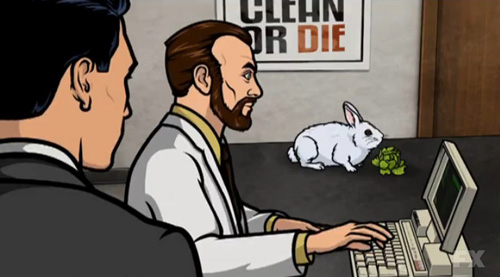 Episode: Archer 2.02 – "A Going Concern"
Original Air Date: February 3, 2011

Archer's headaches lead Krieger (Lucky Yates) to uncover the Russian mind control chip implanted in the secret agent's brain by the KGB last season in the newest episode of FX's original series, Archer.
The chip, which Sterling (H. Jon Benjamin) hands over to his mother, Malory Archer (Jessica Walter), winds up playing an integral role in a haphazard plan hatched by the ISIS employees in this episode. When Archer finds out that his mother lost all of her money in a Ponzi scheme and plans to sell ISIS and marry Len Trexler (Jeffrey Tambor), the owner of rival spy agency Odin and one of the men that might be Sterling's real father, in order to "survive," he recruits the rest of the ISIS employees to brainstorm a plan to stop the acquisition… and the marriage.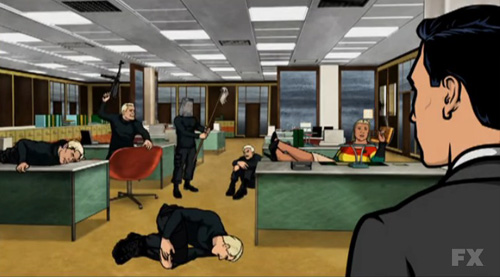 When Odin's agents move into the ISIS building to ensure that Malory signs the necessary paperwork to hand the agency over to Trexler and his employees, Archer and the rest of the dysfunctional ISIS staff dose Odin's men (and Krieger, accidentally) with LSD and take back control of the building. Per usual, the group somehow manages to carry out its plan to implant the Russian mind control chip in Trexler's brain in order to dissuade him from loving Archer's mother. Of course, Trexler is reduced to a rabbit-obsessed simpleton in the process and Malory is forced to seek alternative ways to save herself and ISIS from financial ruin.
While Sterling and the other ISIS employees try to save the agency, Lana Kane (Aisha Tyler) works to secure her dream job at Odin by promising to sleep with an extremely unstable and poorly endowed agent named Barry (Dave Willis). Lana, whose propensity for self-preservation rivals even Malory Archer's, manages to avoid the sexual faux pas of sleeping with Barry when Trexler suddenly changes his mind about buying ISIS and marrying Mrs. Archer, and numerous small penis jokes ensue.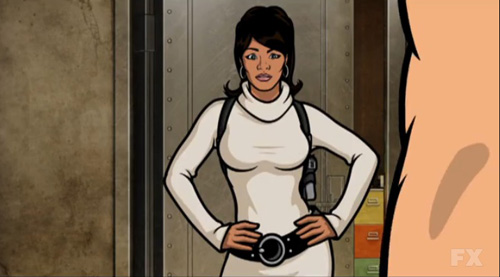 If we take a look at what's really going on in "A Going Concern," we find not character development as much as character reinforcement taking place; for example, Malory Archer's decision to sell ISIS and marry Trexler reinforces many of her known character traits. Much like Lana's agreement with Barry, Malory Archer's deal with Trexler is predicated on self-preservation and sex. Rather than choosing an alternative solution, Malory agrees to marry a man that she clearly has no romantic feelings for in order to maintain her socioeconomic status, and she does so with only the slightest regard for the impact that the decision will have on her son.
Simply stated, Malory Archer opts to take the easy way out and rely on a man — while simultaneously giving up her only responsibility — in order to secure the lifestyle to which she is accustomed. The decision is made even worse by the fact that Trexler is the owner of ISIS's main competitor, Odin, and the acquisition inevitably means the end of the International Secret Intelligence Service.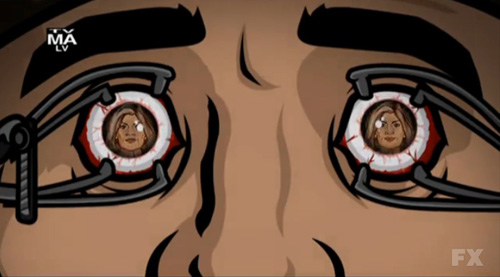 It's not new for Archer to highlight its female characters' decisions to participate in a social economy that rewards sex with power and money, and in fact I think that the show takes a strong stance on gender inequality. Regardless of the fact that both Lana and Malory Archer, arguably the show's strongest female characters, agree to have sex with men in order to get what they want, the plans ultimately fall through and the women are left standing on their own two feet, no worse for the wear.
"A Going Concern" is yet another example of Adam Reed's excellent writing, and Archer is by far the best adult animated comedy on air this season.
Rating: 4 / 5 Stars