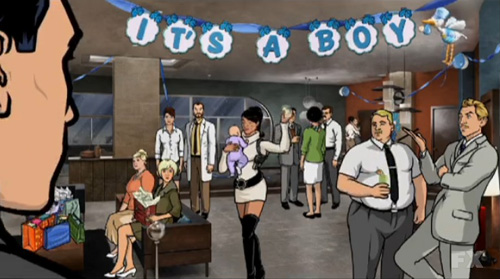 Episode: Archer 2.03 – "Blood Test"
Original Air Date: February 10, 2011
No matter what he does, Archer (H. Jon Benjamin) can't seem to get away from rival spy agency Odin and its less-than-friendly agents. In last week's episode, titled "Blood Test," one of Sterling's former flings brings a paternity suit against him and Odin is called in to ensure the integrity of the blood sample while it is stored overnight before testing.
Archer is less than pleased with his impromptu reunion with Trinette (Maggie Wheeler), the (former) call girl who claims to have borne his "love" child, the wee baby Shamus, several months earlier after a rather odd incident with a candy bar wrapper. Trinette's lawyer subpoenas Archer and shortly after he (and his mother, who claims to have a vested interest in the outcome of the paternity test) arrives at the meeting, Barry (Dave Willis) and his Odin men remove a pint of blood from the ISIS agent. For whatever reason, the actual blood test isn't going to be conducted until the following day, so Archer's sample is placed in a high security vault with 24-hour surveillance. While Sterling and Malory Archer (Jessica Walter) hatch a plan to swap the blood sample, Pam (Amber Nash), Ray (Adam Reed), and Lana (Aisha Tyler) decide to throw the wee baby Shamus a baby shower in Archer's apartment, much to his dismay.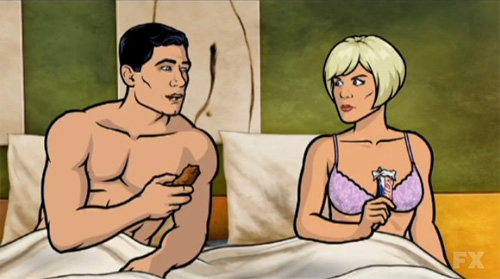 Whether intentionally or subconsciously, the Archer television series has taken the stance that all women are "whores." Of course, there are many female reviewers that would pounce on the series's construction of women and tear it to shreds in the name of feminism and gender equality, but I'm not one of them. In fact, I think the show's take on women is a relatively accurate one. That's not to say that all women are "whores" per se, but that the way the women on the show are constructed isn't necessarily wrong or sexist.
The female characters that have appeared in the series thus far this season include Malory Archer, Agent Lana Kane, Pam, Cheryl (Judy Greer), the "call girl" Trinette, German heiress Anka Schlotz (Kari Wahlgren), and the international terrorist that attempts to kidnap Anka, Sia (Nika Futterman). Each and every one of these women is established at one time or another as hypersexual, sexually available, and in most cases willing to trade sex for objects or power. In "A Going Concern," Malory Archer tries to reestablish her wealth by marrying Odin head Len Drexler (Jeffrey Tambor) and in the season opener, "Swiss Miss," she once again attempts to mix sex with work when she tries to bed Herr Schlotz so that he'll invest in ISIS. To top it all off, viewers discover in "A Going Concern" that Malory's sex and work lives are so intertwined that she keeps a vibrator in her desk drawer at ISIS headquarters.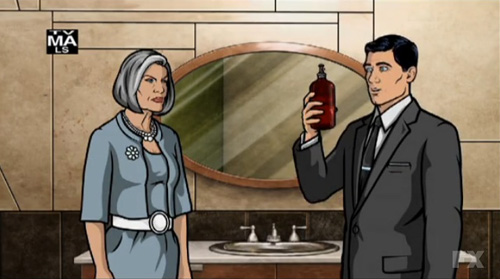 Each of the other women that have appeared on the show this season are similarly characterized: Lana agrees to sleep with Barry in order to secure the job she wants in "A Going Concern," Pam displays once again her sex-obsessed nature when she tries to take advantage of a passed out Cyril (Chris Parnell) in last week's episode, and both of the guest female characters in "Swiss Miss" are hypersexualized; the kidnapper Sia is working with twin brothers and has dated and slept with each of them, seemingly caring little for which one she's involved with as long as he's attractive looking, while the 17-year-old Anka is portrayed as what Archer terms "a slutty little ninja," constantly coming on to the ISIS agent with pointed innuendo and exposing herself to him. Of all of Archer's female characters, Trinnette is the most obviously willing to trade sex for money, having worked as a high-priced call girl, but in last week's episode her desire for wealth is taken up a notch when she uses her son, Shamus, to justify large child support payments from Archer that she is obviously planning to live on as well. That leaves Cheryl, whose kinky sexual habits and sexual availability are constantly discussed and joked about at ISIS, most recently when Dr. Krieger (Lucky Yates) inadvertently reveals that he's been dosing her with LSD-laced breath strips during their sexual encounters.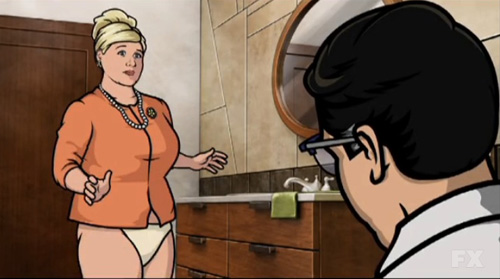 In my opinion there is no better time to discuss the way that Archer constructs its female characters that now, especially in light of this week's Valentine's Day holiday; after all, what other holiday promotes thinly veiled sexism and encourages women to exchange sex for pretty things more than this one does? By characterizing the women on the show using popular stereotypes that emphasize gender trends and expectations, Archer has created female characters that men and women alike can recognize and either relate to or enjoy hating. Everyone who watches the show is bound to find someone that mirrors a person they know in real life, and that adds an extra dimension to the show's situational and irreverent comedy. In other words, Archer and the other characters on the show are simply saying what we've all been thinking.
Rating: 4 / 5 Stars