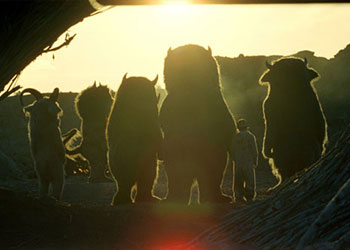 Take a look at the teaser to the latest film by visionary director Spike Jonze (Being John Malkovich, Adaptation). His latest is a film adaptation of one of the most beloved children's books of all time, Where The Wild Things Are by Maurice Sendak.
Link: Where The Wild Things Are trailer via Apple
The book revolves around a little boy named Max, who finds himself eager to escape the bonds of parental domination. Suddenly he is whisked away to an amazing forest where large beasties dwell. There Max roams the forest with the wild things, living free and wild.
The cast will include Catherine Keener as Max's Mom, and the voice over cast will include Catherine O'Hara, Forest Whitaker, James Gandolfini, Tom Noonan, and Lauren Ambrose.
FIRST IMPRESSIONS: OoooooMFG!!! This book was a pivotal stepping stone in my very early childhood. It was one of the few things I vividly remember when I was learning to read as an extrememly young child. To see that one of my favorite independent film directors is bringing this to the screen is like a personal love letter to me. Seeing this trailer resurrected the kid in me, so you can bet your fuzzy butt I'll be rushing to see this one.