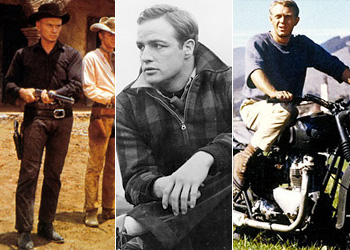 "Man up!" is one of Google's top 2010 search phrases. It doesn't mean you have to go out and get a steel suit, brandish a sword, and wear a Teflon codpiece; it means the time may come when you'll need to display your inner strength. If you want to know more about manning up, take another look at these great movies and the characters in them who really knew how to man up.
10. The Shawshank Redemption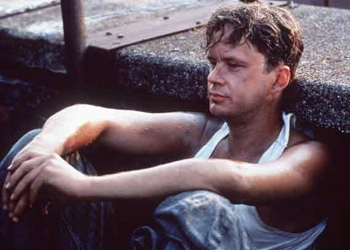 Bookkeeper Andy Dufresne is imprisoned for a crime he may not have committed. He is thrown into solitary, beaten, and forced to toe the prison line, eventually outwitting the Warden to whom he is assigned the job of keeper of the Warden's financial secrets.
Andy's "Man Up" Moment: As the warden bangs on the outside of the locked door to his office, Andy plays a recording of a duet, "Sual'aria, Che soave zeffiretto," from Le Nozze di Figaro, sung by Anna Moffo as Susanna and Elizabeth Schwarzkopf as the Countess, over a loudspeaker and into the prison yard where startled convicts soon find themselves weeping with the beauty of Mozart's opera. When the warden screams at Andy to stop, he just turns the volume higher.
9. Casablanca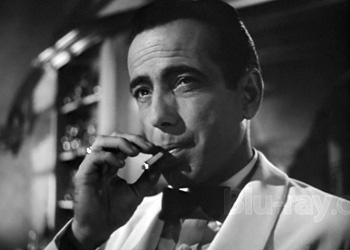 Rick Blaine's nightclub was the site of much World War II intrigue when passports to freedom were sold on the black market to the highest bidder. Because his long-lost love, Ilsa, believed Rick had been killed by the Germans, she married an Allied freedom fighter, only to reunite with Rick when she happens to enter his club.
Rick's "Man Up" Moment: Against their mutual desire to stay together, picking up where they had left off years before, Rick persuades Ilsa to stay with her heroic husband and continue helping in the fight for freedom.
8. The Magnificent Seven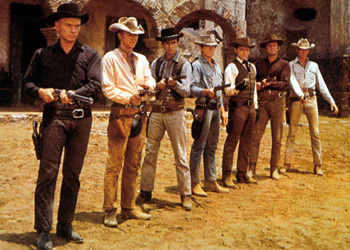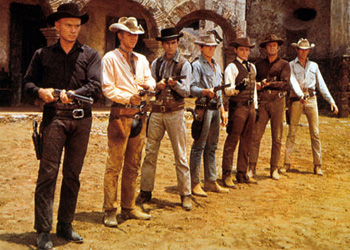 Gunslinger Chris Adams reluctantly accepts a job that pays only the pittance raised by a poor Mexican village, whose inhabitants badly need protection from bandits who periodically return to pillage, plunder, and steal their harvest. Chris recruits six other reluctant gunslingers, all of whom know that even seven good men will be greatly outnumbered by the bandits.
Chris's "Man Up" Moment: Head bandit, Calvera, with his many men behind him, looks at the seven gunslingers, snickers, and asks Chris "How many men you got?" and Chris answers, "Enough."
7. The Great Escape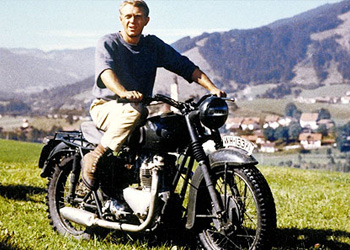 U.S. Air Force Captain Virgil Hilts features in a true story of the mass escape of 250 prisoners of war incarcerated in an "escape-proof" Nazi camp.
Virgil's "Man Up" Moment: Once out, Hilts steals a military motorbike, planning to flee to Switzerland. He evades German soldiers in hot pursuit by high-speed daredevil riding near the Swiss border, ultimately jumping his 297-pound Triumph Tiger over a 7′ high barbed wire fence, despite awareness of probable recapture.
6. The African Queen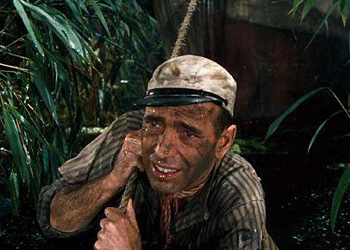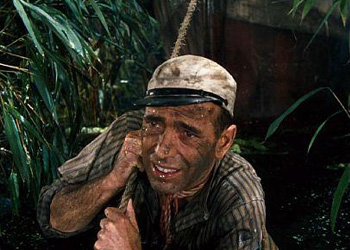 Gin-guzzling boat captain, Charlie Allnut, is persuaded by straightlaced spinster, Rose Sayer, into transporting her down an alligator-filled, treacherous river of dangerous rapids through German enemy territory during World War I.
Charlie's "Man Up" Moment: When the ill-fated African Queen gets stuck in shallow waters thick with mud, he gets into the water and slowly, torturously, drags the boat by hand through the leech-infested waters, fully aware that the black, creepy leeches are sucking onto his body.
5. Network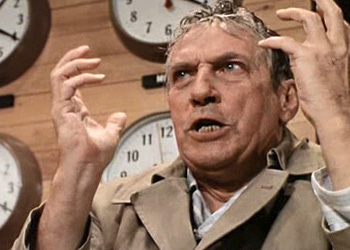 Howard Beale, a once-powerful news anchorman, is given his walking papers by the network due to declining ratings. He uses his final show as an opportunity to tell viewers the truth about what's going on in America.
Howard's "Man Up" Moment: On camera, he talks about crime, the depression, and the oil crisis, shouting, "I'm as mad as hell and I'm not going to take it anymore!!!! Get up out of your chairs, open the window and shout, 'I'm as mad as hell and I'm not going to take it anymore!!!!'" This timely scene could just as well air today and be just as relevant.
4. The Godfather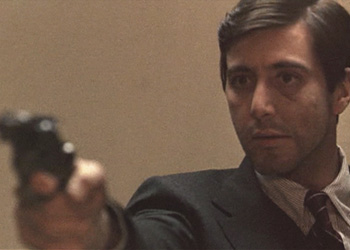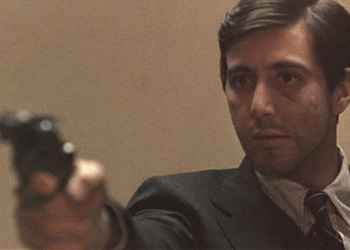 Returned World War II soldier Michael Corleone was never intended to inherit his father's lucrative crime family business, but instead was to go to college. He mans up when he visits his gunned-down father, Godfather Don Vito Corleone, in the hospital, finding no hired men remaining as guards, leaving the Don alone and vulnerable.
Michael's "Man Up" Moment: He moves his father's bed to another room, then stations himself on the front steps of the hospital with a recruited friend. Just the two of them, posing as menacing guards, dissuade his father's would-be assassins to keep on driving past the building, aborting a second attempt on the Don's life.
3. True Grit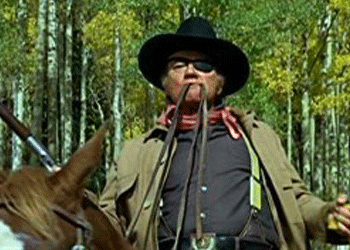 Aging curmudgeon, drunken U.S. Marshal Rooster Cogburn, is hired by a young girl to head into Indian territory and track down a murderous villain and his gang.
Rooster's "Man Up" Moment: Rooster encounters four members of the gang, including Ned Pepper, who he had once shot in the lip. Rooster takes the reins his his teeth, a rifle in one hand and a pistol in the other, gallops toward the gang, and disposes of three members of the gang, wounding Pepper.
2. On The Waterfront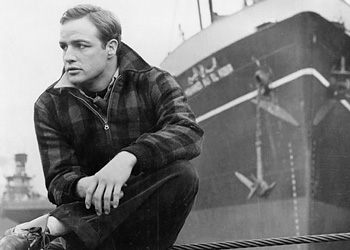 Ex-boxer Terry Malloy is an unwitting part of a corrupt longshoremen's union, and duped into taking part in the murder of a fellow member who was about to pull the plug on corruption.
Terry's "Man Up" Moment: After a horrific beating by thugs of the union bosses, Terry staggers to his feet, bloodied and stumbling, yet managing to report for work, thereby breaking the union's hold on the waterfront.
1. High Noon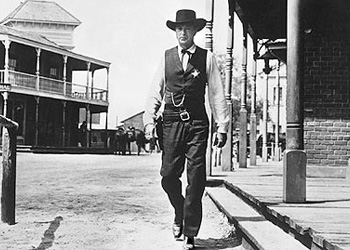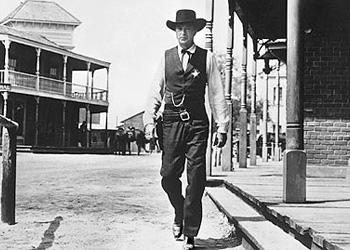 Town Marshal Will Kane has protected his town for years, and finally decides to hang up his badge. Fate decrees otherwise when Kane learns that Frank Miller, a criminal he had sent to prison years before, has been released and is coming with his gang on the Noon train for revenge. Kane fails in his attempt to get help from the frightened townspeople who turn their backs on him.
Will's "Man Up" Moment: Despite the pleas of his young wife, Kane does not run from the approaching disaster and certain death at the hands of these goons. No, he mans up to face them, all alone, on a dusty Western street.