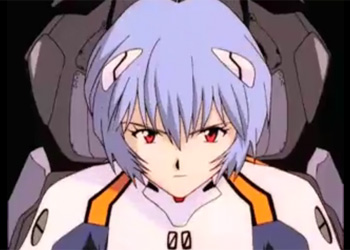 As a child growing up in an Asian country, I was hopelessly engrossed in animé, in the same way a child growing up in the United States to be engrossed in Saturday morning television shows. The moment I first heard the first notes to the animé's opening sequence, I became ensnared with the world of samurai swordsmen who can move faster than the blink of an eye, giant robots that combined to form even bigger robots, and generously proportioned (and slightly anatomically inaccurate) women who always happened to be wearing clothes twenty-two sizes too small. I soon realized that the opening sequences to these shows were designed to whet the appetite of the viewer to the upcoming show. With that in mind, I decided to dig through my childhood memories, my own recent experiences, and the expertise of some of my friends to find the top ten animé opening sequences.
10. Janguru wa Itsumo Hare nochi Guu
This was one of the suggestions made by a couple of friends who witnessed others succumbing to the power of its incredibly bright and catchy rumba beat, bright primary colors and all of the animé's characters dancing wildly, forcing the poor souls to twitch their bodies to the beat. It fits the animé's weird story about a boy stuck in a jungle somewhere in Asia, as both surrealism and dancing jungle animals ensue.
9. Peace Maker Kurogane

This rocking opening sequence to an animé about a young boy trying to avenge the death of his parents by training hard enough to be a great swordsman fits the show well, as it gets the blood going in anticipation of the animé. It has a distinct sound that is reminiscent of a mix of punk rock and hard rock, which fits its audience well too.
8. Last Exile

With a new age sound that incorporates a heavy synthesizer beat, much like any techno or electronica beat, flowing, ballad-like vocals and a bagpipe fanfare that grabs your attention the only way bagpipes can, the opening sequence for this steampunk animé set in the sky is rather fitting, as it's as anachronistic as the show itself. The effect on the viewer is hypnotic and rather mystifying, prepping them for the show.
7. Neon Genesis Evangelion

I included this show in order to show off a classic animé opening of the 1990s, featuring ballad vocals and a poppy and catchy beat, reminiscent of the female singers of the time. It was the theme song for many, many people who lived and breathed this animé. Personally, I think the sequence is great, but I still don't see how a catchy beat heralds a violent, mecha-based animé.
6. K-On!

A personal favorite of mine, the opening sequence to an animé about the lives of four high school girls trying to make music and possibly fame through a "light-music club" has the four main characters actually play their instruments and sing to the lyrics. Very meta, but with a driving, light-rock guitars, heavy drums and bass, and ridiculously "kawaii" vocals that matches the characters, it just fits!
5. Azumanga Daioh

If you thought the opening to Janguru wa Itsumo Hare nochi Guu was weird, I have news for you: not only are the characters for the opening sequence for this animé stretched to weird proportions and doing weirder things, but the airy, nasal vocals, weird beat and lyrics that give this opening a surreal feel that rivals Dalí. Also, a rocket-propelled cat makes an appearance. Let me reiterate: A Rocket. Propelled. CAT. Blasting off INTO THE SKY. My mind just shuts down at that point, which was probably its purpose considering the weirdness of the show.
4. Baccano!

Containing one of the most driving jazz beats and the craziest use of saxophones and other horns I have ever heard, the opening sequence is as chaotic as it is catchy, which fits the convoluted animé perfectly. The pacing and sequence of the animé about the interconnected lives of 1930s gangsters, thieves, alchemists and immortals is itself so confusing that its viewers are given a refresher to all the characters' names in the start of the anime, which actually helps too: there are more than a dozen main characters to keep track of!
3. Gate Keepers

With a driving and constant beat, guitar riffs, "happy" vocals, and the heavy use of a synthesizer, the opening of this animé alone makes me want to run as fast I can to the nearest alien invader and punch them in the face with as much force as I can feebly muster; it's so upbeat that I can't help but feel energized and ready to fight the enemy with all my might! Much like all the other choices in this list, the sequence fits the animé well, as it's about a group of high school students who fight aliens using their hidden "gate" powers that vary from wind projectile to healing sparkles of light. It's awesome, literally.
2. FLCL (Furi Kuri, or Fooly Cooly)

Okay, I cheated I little here when I chose this track, since technically this is the show's ending theme, but as far as I know, this track is the only song that is constant between all of six of the episodes. The indie rock sound that is present within this sequence, and within all of the animé itself, can rival anything made by the likes of We Are Scientists and Vampire Weekend, and happens to reflect the distinct feel and story of, well, a Vespa-riding woman named Haruko. Incidentally, it was this song that got me into J-Rock as a genre, and I've never looked back.
1. Cowboy Bebop

An amazing jazz track, subtle imagery, a very distinct use of color, shadow and typography makes this one opening sequence the best one I have ever seen in an animé; while others showcase their characters in bright colors and vivid detail, this opening uses contrast to highlight them better than color ever could. The sound and style of the opening sequence reflect the animé's distinct style, which has been often imitated but never equaled, of three bounty hunters, a hacker, and a dog on board the Bebop and their travels in space. On a personal note, this one song was the catalyst in my decision to begin playing the alto saxophone, in an effort to sound as cool as the sax in the song. Brilliant, bold, Cowboy Bebop; it's that awesome.
Have thought about which animé should (or shouldn't) be on the list? Have a suggestion or a bone to pick? Let me know in the comments!