This article originally posted on January 19, 2011 as part of our Cryptozoology Month feature. Since today is the 20th Anniversary of the premiere of The X-Files, we're bringing it back to the front page!
I am a huge X-Files fan. It is still my top favorite show of all time, and was a big part of my life in high school (yeah, nerdy I know, but it meant a lot to me!). I decided, in keeping with Cryptozoology Month, that a list should be made of the top cryptids from The X-Files. There are so many good "Monsters of the Week" throughout the series that I knew a pretty good list could be made.
Now, let me address the definition of "cryptid." "Cryptid." as defined by Wikipedia, is "a creature or plant whose existence has been suggested but is unrecognized by a scientific consensus, and whose existence is moreover often regarded as highly unlikely." The "existence has been suggested but is unrecognized by a scientific consensus" part of this rings especially true for The X-Files, since Mulder is frequently chasing aliens and monsters that science usually does not prove exist. There are a lot of "monsters" in The X-Files that are either aliens or are human "monsters," such as Tooms (link) and the Black Oil (link), so for the purpose of this list, I only used animal or insect cryptids. I counted humanoid cryptids, but did not count humans with strange abilities or characteristics.
As a result of this definition of cryptid, this list doesn't necessarily reflect my favorite MOTWs, but the five I narrowed it down to are some really classic episodes.
5. The Flukeman – "The Host" (2.02)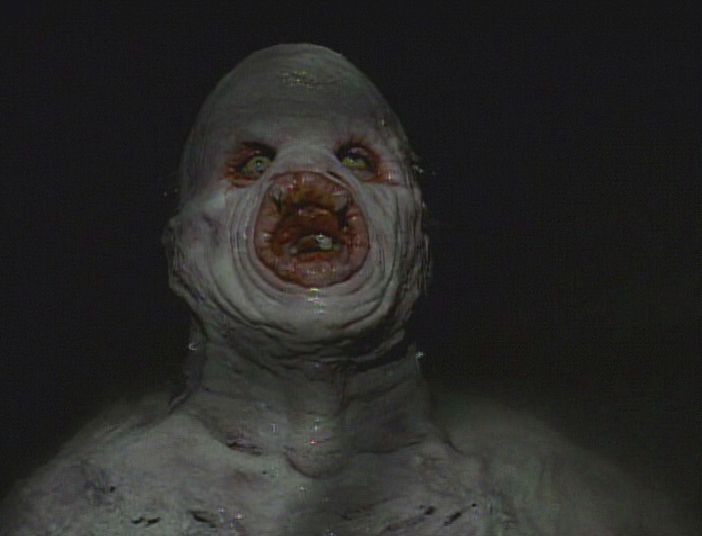 A body is found in the sewers in New Jersey, and Mulder investigates, even though he is bitter about the X-Files having been closed. Scully discovers a worm in the body during the autopsy, and Mulder meets a subsequent (surviving) victim with a bite mark on him. Later this victim ends up dead, because the worm is a smaller larval version of the larger creature, a giant mutant flukeworm. This one barely makes the cryptids list because it's determined that it's a new species that came from a ship with waste from Chernobyl on it. Giant flukeworm definitely makes cryptid, but origin makes it slightly questionable — I included it anyway. Classic and ridiculous MOTW.
4. Water Creature – "Agua Mala" (6.14)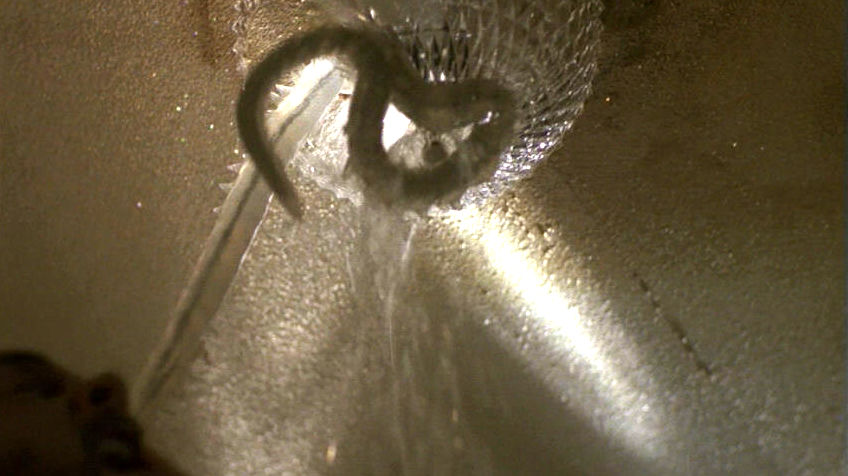 Although I usually consider the good ol' days of The X-Files to be seasons one through five, I unfairly forget to consider Season 6, which was actually fantastic. One of the best MOTW episodes of season six is "Agua Mala," which features a yucky parasitic sea creature that travels into a community through the pipes during a hurricane. Mulder and Scully are in Florida at the request of Arthur Dales, a former FBI agent Mulder has encountered before who worked with his father. Residents in the town in Florida are afraid of a sea monster they say has been attacking and travelling through the pipes in the form of water before attacking. In the middle of a raging hurricane, Mulder and Scully end up stranded in a condo building with the monster on the loose. It's thought it got in when the sewer system overflowed because of the storm. Mulder suspects it uses the human body to reproduce, as all they found left of one victim was slime. Two more people are attacked, including Mulder, and Scully realizes that fresh water will kill the creature, so the sprinklers are set off inside. Mulder, in the hallway after being attacked, sees a cat sitting outside in the rain, alive and obviously unaffected by the creature and realizes the same thing Scully did, so he goes outside which kills the creature. Scully also delivers a baby during the hurricane, and the episode has a few funny moments. This, besides being a good episode, was a good way to do another water monster without making it another Big Blue (see farther down).
3. Killer Mites – "Darkness Falls" (1.19)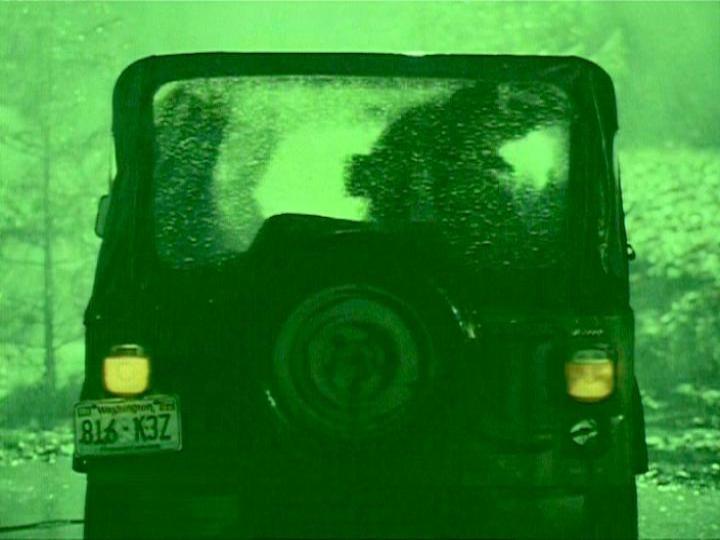 This is one of my favorite first season episodes. Mulder and Scully investigate the deaths of some loggers in Washington, who are shown being overcome by a swarm of glowing green insects. They determine that the bugs had been dormant for a long time, and were awakened/released when the tree they were in was cut down — a recently-cut tree stump with a green ring in it led them to this conclusion. The bugs come out at night and swarm — Mulder and Scully find a coccooned corpse in a tree. By the end, everyone else is dead and Mulder and Scully are both overcome by the bugs, ending up in a quarantine unit to recover. The forest is being burned and sprayed with chemicals to eradicate the bugs (in other words, the government is burying it). The first-season-cheesy-goodness abounds in this classic MOTW episode — the cheesy special effects used for the bugs adds to its awesomeness.
2. The Jersey Devil – "The Jersey Devil" (1.04)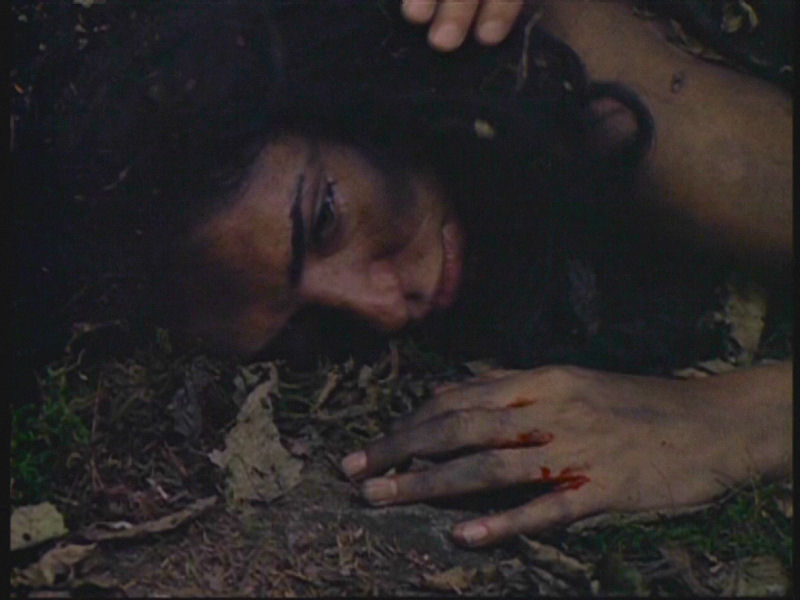 Mulder investigates a partially eaten man in New Jersey and links the current case to a similar attack back in the 1940s. He believes it is the Jersey Devil, monster of legend of south Jersey. A wild man is found dead in the woods, and Mulder eventually tracks down a second, a female, who attacks him then is chased down and killed. It's determined upon the autopsy that she had human bones in her stomach, and at the end of the episode we see a child-Jersey-Devil hiding in the woods.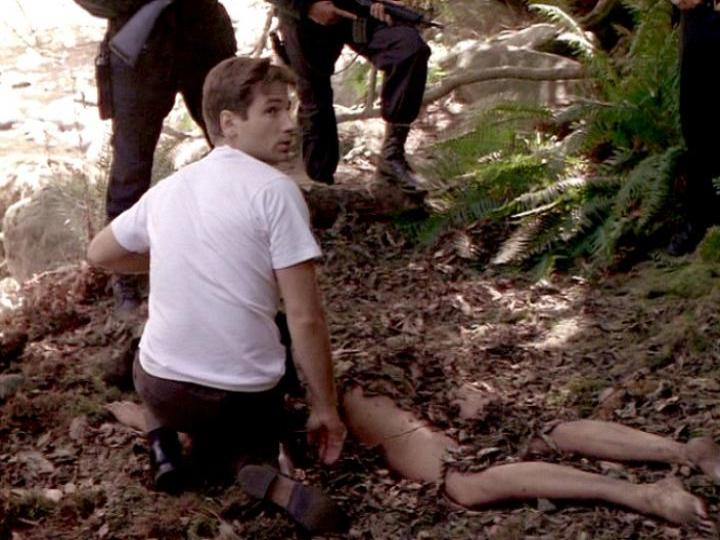 The two first classic "Monster of the Week" episodes of the show were "Squeeze" and "The Jersey Devil" — "Squeeze" was left out of this list because despite being a "monster," Tooms was human, unlike the Jersey Devil, which is humanoid but not human in the real sense of the word. This was placed in the number two spot because it is a recognized cryptid legend, although apparently the Jersey Devil that supposedly lives in south Jersey is kind of a horse-with-wings looking thing. Like "Darkness Falls," this is full of first-season-cheesy-goodness.
"You keep that up and I'll hurt you like that beast woman." -Scully
1. Big Blue – "Quagmire" (3.22)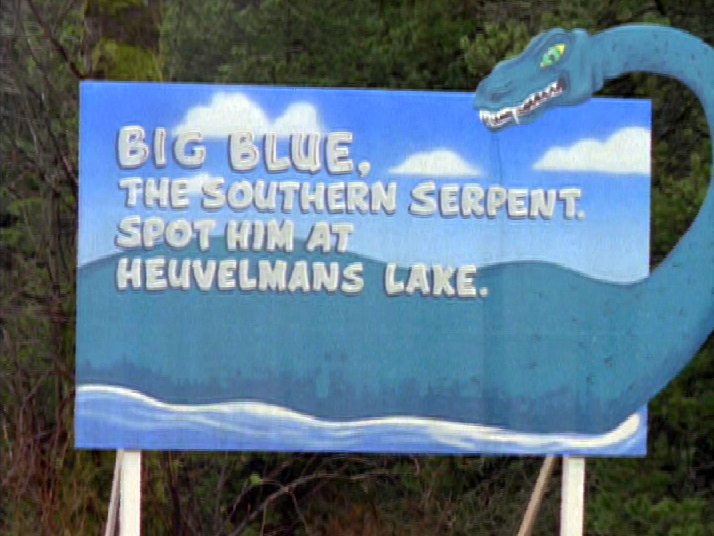 This is the "Loch Ness Monster" episode, only it takes place in Georgia, and it's Big Blue, not Nessie. Mulder suspects a sea monster named Big Blue is responsible for deaths and disappearances in a small town in Georgia. The town's main tourist attraction is Big Blue, who locals insist exists and lives in the lake, although it seems no one ever actually sees Big Blue.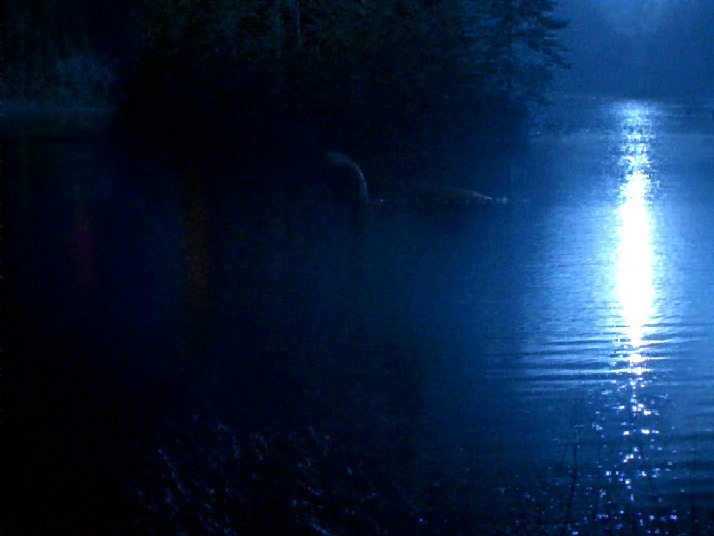 After several more people die and Scully's dog Queequeg is eaten, Mulder ends up chasing an attacker into the woods after someone else is attacked, and is disappointed to find that it's an alligator. However — as Mulder and Scully leave the town, we see Big Blue surface in the lake without being noticed. Great MOTW episode — Big Blue makes number one on the list because it's a take on a real, widely-known cryptid (Loch Ness Monster).
---
The "monsters of the week" on The X-Files are of varying origins and quality, but these are some of the true cryptid MOTWs, in honor of Cryptozoology Month.