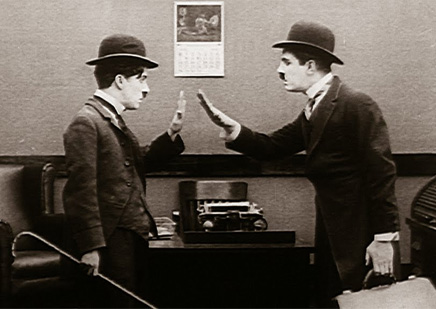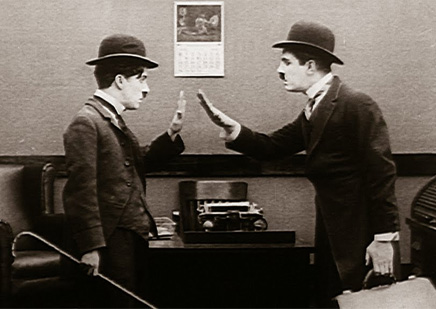 The first known mirror scene was performed by Charles Chaplin in 1916's The Floorwalker although, without a doubt, the most famous and often-copied mirror scene is in 1933's Duck Soup, starring the Marx Brothers. Harpo, as Pinky, dresses like Rufus T. Firefly (Groucho) in nightcap and nightshirt, and pretends to be his mirrored reflection, matching every move. They even exchange positions, leaving the audience pondering which one is the "reflection" of the other.
Probably, of the many replications of this scene, the most famous was performed by Lucille Ball with Harpo himself reprising his original role, both dressed in shabby trenchcoats, blond fright wigs, and battered top hats.
Aside from Duck Soup's mirror scene, which stands as the best-known in movie history, there have been mirror scenes which are often the standout of an entire film and the one we remember best:
(Some videos may be NSFW!)
5. John Travolta as Tony Manero in Saturday Night Fever
Tony stands in a black Speedo before his mirror, surrounded by posters of Bruce Lee, Rocky, and Farrah Fawcett. He's blow drying and brushing his hair, putting on his gold chains, and practicing his dance moves before dressing to go out to the disco.
4. Richard Gere as Julian in American Gigolo
Places over half a dozen outfits on his bed, complete with shirts, jackets and ties, chooses just the right one for the evening, and preens in front of his three-sided mirror, softly speaking words of love to his own reflection.
3. Edward Norton as Monty Brogan in 25th Hour (2002)
On his last free hour before serving a seven-year sentence for drug dealing, Monty rails at his mirror with hate-filled, invective-riddled loathing of the world and what he feels it has done to him.
2. Eric Roberts as Paul Snider in Star80 (1983)
Snider is a real-life small-time hustler who latches onto a girl he helps become a Playboy centerfold. Preparing to meet his idol, Hugh Hefner, Snider preens before his mirror dressed in a black Speedo, flexing muscles, adjusting his privates to best advantage, turning this way and that, practicing how to say "Hi," "Hiya," "Hello," "How're ya doin'" and practicing shaking hands.
1. Robert De Niro as Travis Bickle in Taxi Driver
Looks at himself in the mirror "You talkin' to me? You talkin' to me?? You talking to ME?" became and remains part of the English language. The only direction given was "Travis looks at himself in the mirror." De Niro improvised the dialog.
One of my personal favorite mirror scenes was by an uncredited actress, Fay McKenzie, who played a guest at Holly Golightly's wild party in Breakfast at Tiffany's. McKenzie had a drunken laughing fit in front of a mirror , which segued into a crying jag, runny mascara and all. She did a great and most memorable job.
People wonder how a mirror scene can be filmed without showing the camera. There are several ways, among which are the easy way of filming at a slight angle; as long as the camera isn't pointed right at the mirror, it can't be seen. Another way is CGI, which requires painting the mirror green (same as green screening) and overlaying the separately-filmed reflection onto the mirror in post production.