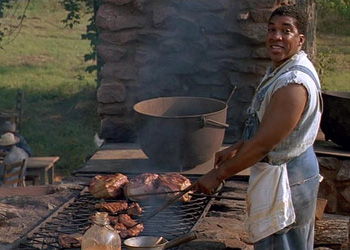 Thanksgiving, the eatingest day of the year, is just around the corner, probably trying to yank Jenny Craig away from Kirstie Alley. To honor our chow-down and gobble-up national holiday, I'm presenting my top ten movie food scenes.
10. When Harry Met Sally
Sally and Harry are eating in Katz's Deli. In response to Sally demonstrating how to fake an orgasm, director Rob Reiner's mother, an extra in the scene, utters this famous line: "I'll have what she's having." Another great food-related exchange:
Sally: But I'd like the pie heated and I don't want the ice cream on top, I want it on the side, and I'd like strawberry instead of vanilla if you have it, if not then no ice cream just whipped cream but only if it's real; if it's out of the can then nothing.
Waitress: Not even the pie?
Sally: No, I want the pie, but then not heated.
9. Lady and the Tramp
Tramp, the mutt, is in love with Lady, a high-class dog. They are eating pasta at an Italian restaurant to the strains of the romantic song "Bella Notte." They each start at opposite ends of a strand of spaghetti and, when they come to the middle, their lips touch, and she falls as much in love with him as he is with her.
8. Delicatessen
A futuristic, post-Apocalyptic society in Paris where food is so rare, it's used as currency. A butcher who owns the apartment building above his shop lures handymen there by a ruse of offering them work. He then chops them up for the tenants' dinner. One bug-eyed victim attempts a getaway. Does he make it?
7. Fried Green Tomatoes
At the Whistle Stop Café, Ruth barbecues the body of her abusive, Ku Klux Klannin' husband, murdered to protect a baby. When a cop who's hunting the killer arrives on the scene, he is invited to partake of the meal, unaware he himself is eating the evidence.
6. Animal House
Bluto works the cafeteria line, managing to smash an entire burger into his kisser as he loads his tray with everything they've got. He then joins others at a table, "See if you can guess what I am now" says Bluto, as he squeezes a chewed hard boiled egg out of his face. "I'm a zit, get it?"
5. Old Boy
For his 15 years in prison, Dae-su Oh is given only baked dumplings to eat. At last, he escapes and goes to a sushi bar to eat something that's alive. Four live small octopuses were eaten for this scene. Live octopus is commonly eaten in South Korea, where this movie was made, but it is generally sliced first. Won the Grand Prix at Cannes.
4. Goodfellas
Henry Hill narrates, "In prison, dinner was always a big thing. We had a pasta sauce and then we had a meat or a fish. Paulie did the prep work." (Shows Paulie slicing garlic with a razor.) "He used to slice it so thin, it used to liquefy in the pan with just a little oil." As in When Harry Met Sally, the director's mom, Catherine Scorsese, played the part of Tommy's mom, and his father played Vinnie, the prisoner who puts too many onions in the tomato sauce.
3. Pee Wee's Big Adventure
Funniest food scene ever may be Pee Wee's Food Machine scene, described by Chow magazine as "A dippy bird cracks an egg into a frying pan as a suspended model of a pterodactyl skeleton descends a zip line to drop two slices of bread into a toaster. A tyrannosaurus rex juices oranges in its mouth into a pitcher as a life-sized Abraham Lincoln figure stands by, flipping pancakes onto the ceiling." What else could you expect from a collaboration of Tim Burton, Phil Hartman, and Pee Wee himself (Paul Reubens)?
2. Five Easy Pieces
Jack Nicholson teaches everyone how get the meal you want when you eat in a diner. "No substitutions," says the waitress. They have no side orders of toast, but Jack wants toast. So he orders a chicken salad sandwich on toast, hold the lettuce, hold the mayonnaise, hold the chicken. He tells her to just bring him the toast, and bill him for the whole sandwich. Impatient waitress asks what she should do with the chicken. You can hear his answer here:
1. Cool Hand Luke
Anti-hero and prisoner Paul Newman breaks the record for number of eggs eaten at one time. Luke claims, "I can eat 50 eggs." "Nobody can eat 50 eggs," says another prisoner. Luke takes up the challenge of a bet, raises the ante by saying he can eat 50 eggs in an hour, and goes into training to stretch his stomach. To save time, his pal peels hard-boiled eggs and shovels them down Luke's throat and into his swelling belly. Even harder is a new rule: Luke is not allowed to throw up. This is like a scene out of Rocky, only with eggs instead of Apollo Creed.
Honorable Mentions
Lost Boys
"You're eating maggots Michael. Maggots. How do they taste?" says vampire Kiefer Sutherland. You've got to love a movie where they drink blood out of a jeweled champagne bottle and are obsessed with Jim Morrison.
The Gold Rush
Charlie Chaplin's iconic dance of dinner rolls, and eating his shoelaces as spaghetti, elevates film to a new height.
The Public Enemy
When James Cagney mashes that grapefruit into Mae Marsh's face, movie history is made.