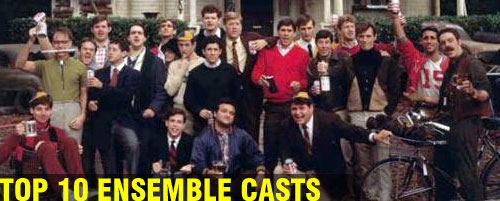 It's a classic trait of the egotistical movie star to labor under the misapprehension that the whole film is about him or her. They think the sun shines out of their butt, and people bow to the light. *cough*J-Lo*cough* Whew! Must be something in the air… Anyway, intelligent filmgoers will happily point out that many films gain their mojo not from one actor, but from many. Here are ten examples of some films which would have been nothing without their entire ensemble cast .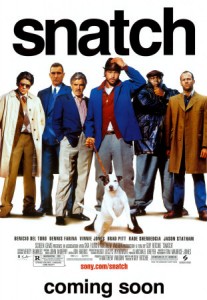 CAST: Jason Statham, Vinnie Jones, Dennis Farina, Benicio Del Toro, Jason Flemyng, Rade Serbedzija, Alan Ford, and Brad Pitt
This is Guy Ritchie's equivalent to Pulp Fiction. A wicked, in-your-face crime comedy with a British twist. That, and it's armed with a ravenous cast from both sides of the pond. The massive ensemble cast fights, shoots, and steals every scene from each other in this series of intertwining stories involving the theft of an 86 Carat Diamond, a pair of boxing hustlers, a hitman named "Bullet-Tooth," and another one nicknamed "Bullet-Dodger." Under Ritchie's breakneck direction, cinematography, and editing, this cast explodes with aggressive style. Though the standout performer of this piece has to be Pitt in his performance as Mickey, the inarticulate Gypsy boxer, this entire cast crackles with a sort of primal comedic brilliance.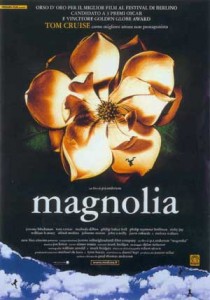 CAST: Julianne Moore, Phillip Seymour Hoffman, Jason Robards, William H. Macy, John C. Reilly, Alfred Molina, Luis Guzman, Phillip Baker Hall, and Tom Cruise
Magnolia is film that provokes us to wonder about the subtleties of human connection. Are we all connected simply by relation, or are we connected by external forces of coincidence? In P.T. Anderson's intricate cinematic mosaic we explore the intimate details of a series of people who, in the beginning, seem separate and distant. In the course of one day, through a series of revelations and sudden circumstances, people connect, they separate, and they realize that their lives can no longer be lived the same way. This is a hardcore, character-driven drama which would have been nothing without the epic ensemble cast. Though Cruise earned a much deserved nomination for the film, the rest of the cast give it their fullest. After viewing this film, you begin to look at complete strangers walking across the street, and you ponder about their life and whether or not your life is intertwined with that person through a series of seemingly unrelated incidents.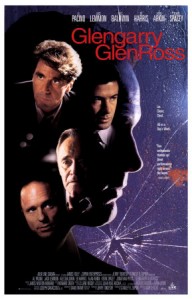 CAST: Al Pacino, Kevin Spacey, Jack Lemmon, Alan Arkin, Ed Harris, Jonathan Pryce, and Alec Baldwin
This film is definitive proof that even the best material could go sour without the ideal cast. Glengarry Glen Ross is fortunate, because it has just that. Adapted from the pulitzer prize winning play, Glengarry is an aggressive portrayal of the lives of struggling real estate salesmen. While one of them is on a hot streak, the rest of his fellow salesmen rest uneasily under the swinging pendulum, as they are forced to close with weak leads, lest they lose their jobs. Tempers are bubbling, and soon this lowly bunch begin to struggle with feelings of resentment, jealousy, rage, despondency, desperation, apathy, and worst of all hubris. When the time comes and this dream team ensemble explodes, it's nothing short of riveting.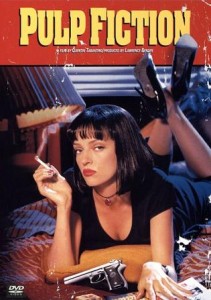 CAST: John Travolta, Samuel L. Jackson, Uma Thurman, Ving Rhames, Harvey Keitel, Tim Roth, Amanda Plummer, Eric Stoltz, Rosanna Arquette, Quentin Tarantino, Christopher Walken, and Bruce Willis.
Tarantino has done and will go on to do great and memorable things (and the best part is that he gives us something different every time), but we still consider Pulp Fiction to be his ultimate masterpiece. His enthusiasm shines through his cast as they shoot, dance, and slash with a sort of satanic glee. Only a cast under Tarantino's guidance could make such horrible things as heroin overdoses, bloody body disposal, cornholing, and mob executions a humorous endeavor. In lieu of all that mayhem, the cast will turn around and throw out surprising moments of insight regarding loyalty, redemption, and self worth.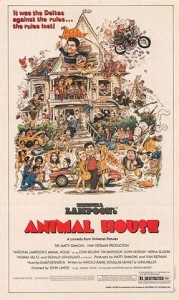 CAST: John Belushi, Tim Matheson, Bruce McGill, Peter Riegert, Kevin Bacon, Karen Allen, John Vernon, Tom Hulce, Mark Metcalf, Verna Bloom, and many more
You can tell that an ensemble cast succeeds in portraying a fraternity of miscreants and deviants when you find yourself resenting your own college fraternities. After all, why would you want to be in a stuff-shirted, ultra-conservative fraternity–one that is loaded with stuck-up, inbred, wannabe senators? As you witness the mass chaos caused by the boys at Delta House, you realize that you could care less about achieving Double Secret Probation, so long as you had fun getting there with your good buddies. By the way, when you're in Universal Studios, ask for Babs.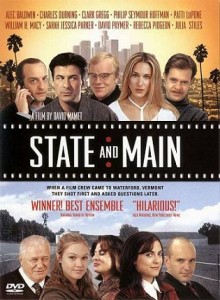 CAST: William H. Macy, Phillip Seymour Hoffman, Rebecca Pidgeon, Alec Baldwin, Charles Durning, Patti LuPone, Julia Stiles, Sarah Jessica Parker, Clark Gregg, Ricky Jay, and David Paymer
David Mamet's brilliant gift to comprehend the intricacies of human speech can only go so far, as the cast has to follow suit. Fortunately in the case of State and Main, Mamet scored a dream cast. State and Main is a voraciously sinister culture clash comedy where the stressfully superficial glamour of Hollywood invades the simple small town sensibilities of a little town in Vermont. All the cast members on the Hollywood side nail the frustration of trying to get a good film in the can, all the while having to deal with the inevitable backlash when the cast members representing the locals attempt to take the Hollywood folk for all they've got. At the epicenter of the chaos lies a poignant love story between Philip Seymour Hoffman's screenwriter and Rebecca Pidgeon's bookstore owner. The playful chemistry between the two is the cherry on top of this deliciously narcissistic romp.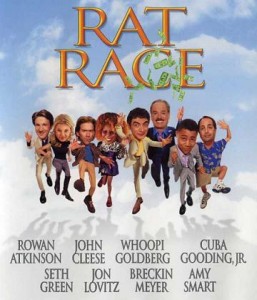 CAST: John Cleese, Rowan Atkinson, Breckin Meyer, Seth Green, Vince Vieluf, Jon Lovitz, Amy Smart, Kathy Najimy, Cuba Gooding, Jr., Whoopi Goldberg, Wayne Knight, Dave Thomas, Kathy Bates, and Smash Mouth
If director Jerry Zucker intended to make Rat Race the 21st century equivalent to It's a Mad, Mad, Mad, Mad World he clearly understood that it was that cast that had the hardest job. Fortunately, Zucker loaded this film with the most eclectic dream team of talented comedy actors working in film today. As a bonus, every one of them plays their character with the perfect amount of manic brilliance. The miraculous aspect of this film is how Zucker was able to balance the film to give each of the actors their moment to hog the spotlight while interweaving their antics together to give us a madcap farce the likes of which we haven't seen in decades. It goes to show that sometimes if you want to give us something new, it pays to delve into the old.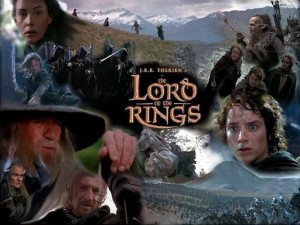 CAST: Elijah Wood, Ian McKellen, Viggo Mortensen, Sean Astin, Dominic Monaghan, Billy Boyd, Olando Bloom, John Rhys-Davies, Sean Bean, Andy Serkis, Hugo Weaving, LivTyler, Ian Holm, Cate Blanchett, Brad Dourif, David Wenham, Bernard Hill, John Noble, Karl Urban, and Miranda Otto
If ever there was a poster child for how unity on a project is essential to the making of a major Hollywood epic, it would be Lord of the Rings. Director Peter Jackson was extremely meticulous in the selection of his cast. After all, he was going to devote the better part of a decade to them, and after watching the trilogy as a whole, it was apparent how this cast became more than a just a cast in the years that passed. When you see them after the prinicpal photography completed, it was blatantly clear that the cast became a surrogate family. Never in the history of cinema has there been such unity in an ensemble cast of this magnitude, and it showed in every glorious frame on that big screen.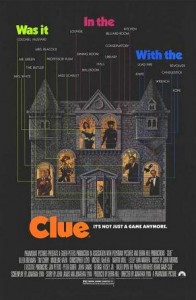 CAST: Tim Curry, Lesley Ann Warren, Madeline Khan, Eileen Brennan, Martin Mull, Christopher Lloyd, Michael McKean, Colleen Camp, Lee Ving
Sometimes to be a successful ensemble cast, size isn't necessarily everything. The classic board game of Clue came to delightfully malicious life, and in time the film became one of the quintessential cult classics of all time. The bulk of that honor can be heavily attributed to the extremely game cast. This is a cast that never misses out on their comedic opportunities. They zing the infinitely quotable dialogue with a deadly wit, almost like the script itself is Noel Coward from hell. The characters are so subtle in their respective tics that the actors are able to play them to the hilt without becoming too obnoxious. Whether it be Professor Plum's defeatedly persistent lechery, Mr. Green's neurotic tendencies, Miss Scarlet's sexuality, or even Yvette's French-ness, these traits are totally out in the open but the cast assists in never letting them get tiresome or worn out. Led by Tim Curry's less than traditional butler Wadsworth, this film is on a constant sugar high as they juggle farce with mystery, and they invite you in for the fun.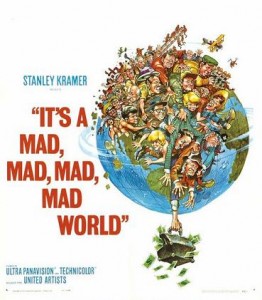 CAST: Milton Berle, Jonathan Winters, Ethel Merman, Spencer Tracy, Sid Caesar, Buddy Hackett, Mickey Rooney, Phil Silvers, Dick Shawn, Jimmy Durante, and so much more.
The only thing better than a film that aspires of to be the next It's a Mad, Mad, Mad, Mad World is the original movie itself! Stanley Kramer set out to create the original comedy epic. In doing so he called in a veritable who's who of comedy talent from stage and screens both large and small. This film is the living portrayal of the Snowball Effect. What starts as a treasure hunt between a small group of people gradually becomes the ultimate insurance nightmare involving a massive ensemble cast that travels by land, sea, and air to find a dead man's fortune under the big 'W.' Though the film is loaded with cameos, the movie never loses perspective on its principal characters. One would definitely think that a cast consisting of so much comedy talent would lead to the inevitable clashing of egos. Well if that happened, Stanley Kramer did a helluva job hiding it because many of the sequences of this film would never have worked if one actor was hogging the scene.
Honorable Mention: Sin City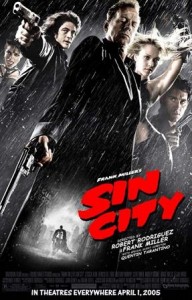 CAST: Mickey Rourke, Clive Owen, Bruce Willis, Jaime King, Benicio Del Toro, Brittany Murphy, Rosario Dawson, Alexis Bleidel, Devon Aoki, Michael Clarke Duncan, Jessica Alba, Michael Madsen, Nick Stahl, Powers Boothe, Carla Gugino, Elijah Wood, Rutger Hauer, Josh Hartnett, and Marley Shelton
The triumph of this ensemble cast lies in the fact that practically every actor and actress on that cast list was initially on Frank Miller's wish list. All it took was for Robert Rodriguez to make a ten minute short based on the Sin City comic strip "The Customer Is Always Right." Once all of the cast members saw the short, they were sold, they were game, and they were all one hundred per cent pitch perfect in their roles.