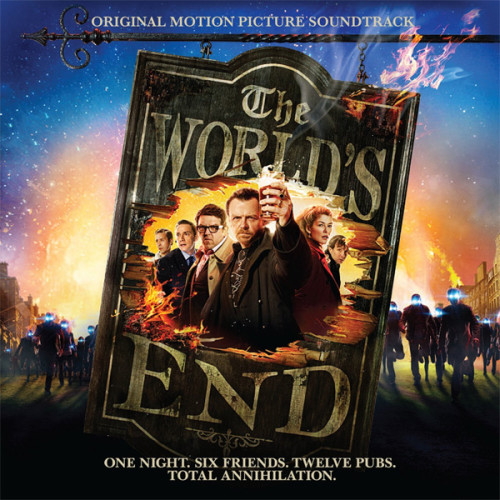 The World's End may have been released weeks ago, but I'm still jamming to the soundtrack. Yes, the last film in The Cornetto Trilogy, helmed by Edgar Wright, Simon Pegg, and Nick Frost, probably has the most rocking tunes of the three films, no doubt.
Starting unbelievably strong with Primal Scream's "Loaded", the soundtrack captures the essence of the early '90s before music had evolved into boy band pop. With songs by Blur, Pulp, Suede, and the Stone Roses, The World's End soundtrack definitely will remind those of us who were old enough at the time of the trials and tribulations of being a teen in those years. That is the sole purpose of the soundtrack, of course, within the film. What is interesting about the movie, as well, is it definitely shows the evolution of the trio behind it. Wright, Pegg and Frost have definitely come a long way since Spaced, yet The World's End has underlying elements of the TV series in it. We get the usual cameos of familiar faces from the program that ran from 1999-2001, but the quality of entertainment that was unleashed on us all of those years ago is still there and is still very strong. The World's End is almost an homage to this trio and their journey from Spaced to today and how they've never lost their sense of self. I could go on and on about Spaced and these brilliant beautiful men, but I'm saving that for my next Nostalgia article. Oh yes.
With the movie soundclips added between tracks, it is funny to actually think back, like the characters, as to just how long ago the hits on the soundtrack were actually hits. The Soup Dragons' "I'm Free" is a reminder of feeling invincible as a young age, when really we were just scared kids. Of course, Pegg's character's trademark is his steadfast devotion to Sisters of Mercy, and "This Corrosion" is a perfect pick here. And probably the best song on the soundtrack for me, personally, is Teenage Fanclub's "What You Do To Me", as even all these years later, I can still feel its power for a great mix tape for your crush. If you haven't picked up The World's End soundtrack yet, and can agree with any of the points I've made here, do yourself a favor and grab it now.