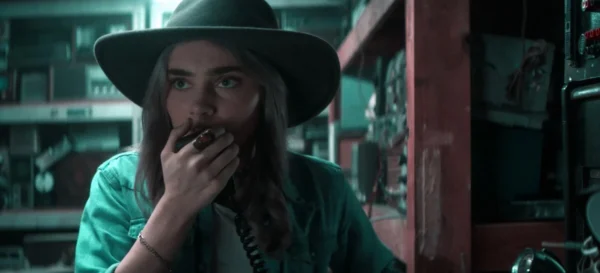 We get a case that is located at home, but they implications are far-reaching. The story of John and Mary continues to unfold, with the mysteries increasing.
Note: This recap may contain spoilers!
We open the episode in Lawrence. Carrie, a small girl, is talking to her mother on the CB radio. Her mom is a trucker who is taking care of the kids on her own, so she has to leave them sometimes to go on the road and make a paycheck. The kids live next door to Mary, so the Campbells watch over them while they're on their own.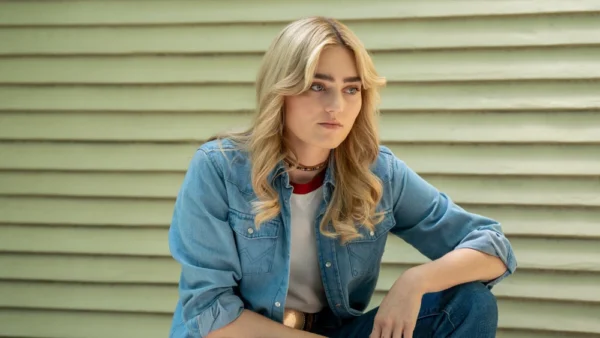 Carrie has lost her beloved stuffed bunny, Bernice, and wants her mom to return home to help her look for it. But her mom needs to pay the bills and cannot come home just yet. Unfortunately, with the Campbells and Carrie's mom gone, that puts Carrie in danger. Her beloved bunny shows up in a burlap bag inside her room, along with a monster that takes her away.
Meanwhile, at the clubhouse, there are multiple leads to follow. Mary's still looking for Samuel, though she's not sure where her relationship with her father stands. Last time they spoke, they got in a huge argument over Mary leaving hunting. And her mom's currently on a hunt, too, so Mary's not even sure she knows Samuel is missing. And despite Lata's help to foster John's relationship with Mary, going so far as to try to get Mary to go to the movies with John, the poor hunter strikes out. The John and Mary love story isn't moving forward just yet.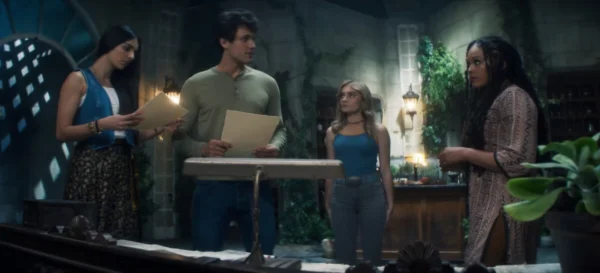 Ada's got a lead with the demons. The same address is recurring in her notes, so it's worth checking out. But that's when Carlos brings news about Mary's neighbor, so they need to split up. Mary and John take on Carrie's case, while Carlos and Ada head out to check on the address. Lata is left behind to continue doing research. Multiple strands of the story, but they will all come together in the end.
We find out that Carrie is 8 and her brother, Ford, is 12. He actually saw his sister get taken by the monster, as he tells Mary. A long, twisted arm pulled her into a sack and then disappeared. He's afraid to tell anyone, for fear they won't believe him, but Mary does. She tells him how she and her friends are part of the monster club that take care of things like that. They will get Carrie back no matter what.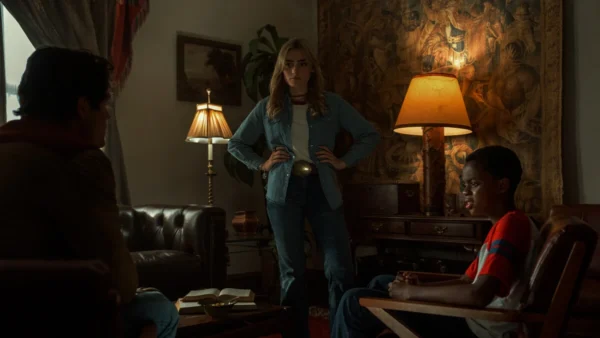 Mary puts Ford in her own house, surrounded by protection spells, as they investigate. Finding a piece of the burlap sack, Lata does research and finds that the monster they're hunting is called Bori Baba or Baba Sack. He traps his victims with an item they lost, then plays with his food for a while before he eats them. Which connects to the visual we see of his lair, filled with stuffed toys and other beloved items.
After Ford is taken, lured by a barrette from his sister, the hunt goes into overdrive. Mary sacrifices herself, being taken by the appearance of her dad's hat, in order to go in and save the kids. She tasks John to work with Lata to find a way to get them back. No pressure though! And they do figure it out. The Bori Baba is weaker in our world, so they must lure him there. But not before saving Mary and the kids from the sack, else they'll be destroyed along with the monster.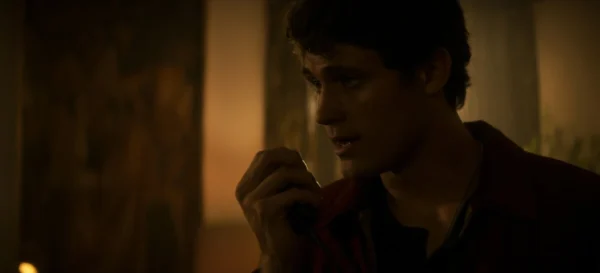 John manages to make contact with Mary through the CB radio, guiding the kids to destroy their objects so they can return to Carrie's bedroom. Saving Mary is a bit more complicated. The hat cannot be burned until Mary focuses on what it represents. That would be her unknown future She's afraid of what comes next, after she leaves hunting. But John manages to talk her through and get her returned as well. The Bori Baba emerges from his sack and John beheads him, with Carrie giving it a final stomp for good measure.
Meanwhile, Carlos and Ada are focused on the demon and finding out more information on the Akrida. They do manage to trap the demon and Ada does a spell to potentially house his soul in a bonsai tree for centuries if he doesn't give them the information they need. While he does provide some clues, including the fact that the Akrida is disguised as a woman, he doesn't give them much more of a lead. Ada follows through on her promise and traps the demon in the tree. We later see her pulling leaves off of it, seemingly torturing the demon. There's a bit of a dark side to Ada it seems.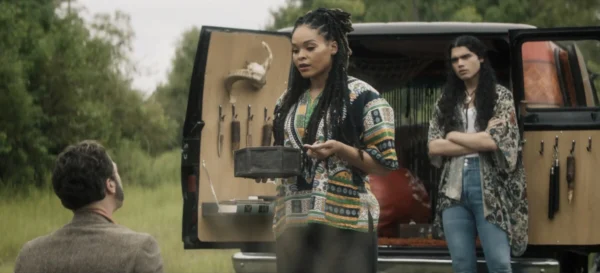 We find out that Rocking Roxy, a DJ, is the Akrida. Though, the hunters have yet to figure that out. We see her monster minion returning a bit of the bag the Bori Baba was trapped in, and she bottles its red essence just as she did to the monster in the prior episode. As Mary suspected, all these odd cases do track back to the Akrida. It's up to the team to take her down, but they've got many more steps and connections to make before that can happen.
During the episode, we also learn about Betty. She is now a cop, working the case, but she used to be John's fiancé. They were engaged before John shipped out, but they broke it off before he left. Betty returns the engagement ring at the end of the episode, and wants them to remain friends, so I suspect we'll see her again. Another addition to the lore of John Winchester's past. Along with the fact that, when Mary does take a night off to go to the movies on her own, she's joined by a mysterious stranger. The love story of John and Mary will take a while to get going, it seems.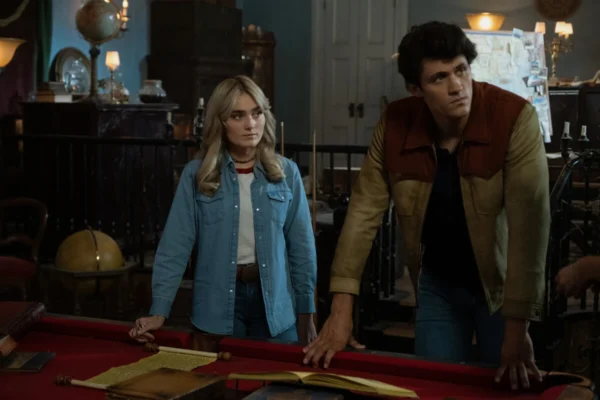 Many threads of the story, eventually weaving together to provide us a full picture. Carry on and enjoy the ride!
Rating: 4 / 5 Stars