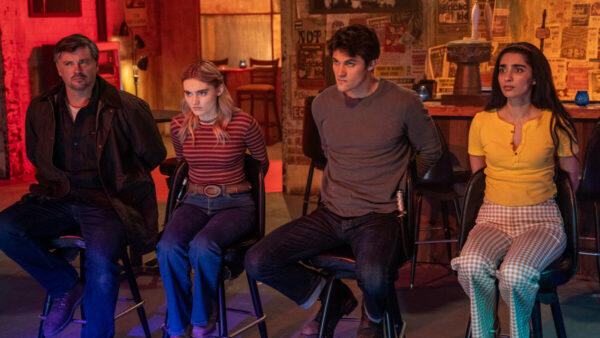 Samuel is back, adjusting to the changes that occurred in his absence. Mary and John's relationship evolves. And we are treated to two familiar faces from Supernatural. A fun return from winter hiatus!
Note: This recap may contain spoilers!
As is the common formula, we start the episode with a traumatic supernatural death. At the Knave of Hearts club in Kansas City, Missouri, the headliner Brock is leaving for the night. Heading down the alley, he starts sizzling and then spontaneously combusts. We see a strange figure warming his hands over the body. Based on the hat, though, we already know it's Loki. Fun times!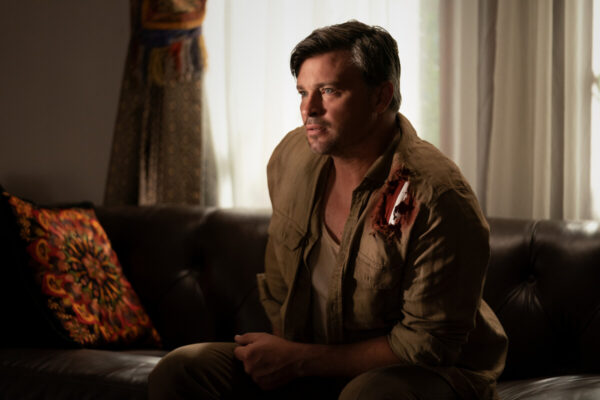 Back in Lawrence, Mary is taking care of her father. His injuries are still healing and he's in and out of consciousness. Samuel wakes up and says he knows a way to find the queen, but then passes out again. With this mystery hanging over their heads, the team has to prioritize. When Carlos and Lata bring news about the spontaneous combustion case, Mary says they should check it out. She and John are going to stay behind. So, the episodes splits locations as we pursue the case and Samuel's recovery.
Focusing on the club, Carlos talks to the bartender, who isn't very talkative. Meanwhile, Lata sneaks into the singer's dressing room. She finds all his pictures on his mirror are backed with protection symbols. On the way out, Carlos runs into an old friend, Jericho. Carlos used to sing with him and now he's headlining. Quite an evolution of Jericho's career. When Jericho invites them to the show that night, Carlos is reluctant to agree to, but Lata is on board. And, as they are leaving, Carlos accidentally knocks into Loki, so we know we'll see him again. All the pieces are starting to come together.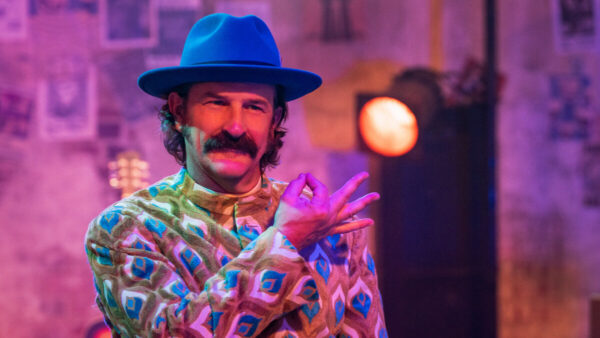 Going through the symbols, Lata discovers it's a protection from dark magic. So, they must find out who Brock was trying to protect himself from. And after talking to a roadie, they discover that the guy they ran into, Loki, was following Brock. So, they need to go to the show in order to make sure he's safe. Doing so, Lata sees Loki in the crowd. Carlos pulls Jericho off-stage to safety, but when Lata confronts the man it's not the same person she thought she way. What's going on?
While they are trying to figure that out, the bartender catches on fire outside. Carlos tries to put him out, but the guy turns to dust. Jericho gets scared and wants to leave, which prompts him to tell them about a guy he met in Nashville. Jericho apparently made a wish to become a hit. He woke up the next morning with a tattoo and appreciative fans. People burn as a result of his wish, else he will suffer the same fate. Brock found out and ended up paying the price.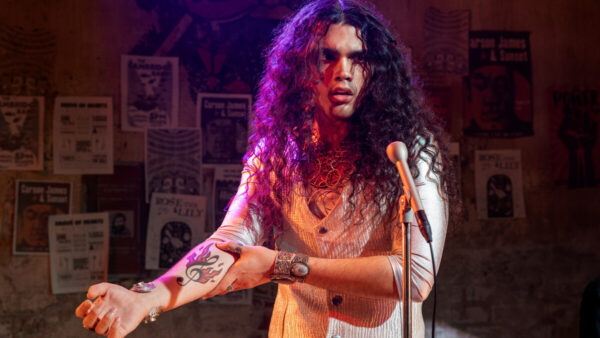 Lata and Carlos head out to the van with Jericho, trying to make their escape, but Loki is hiding out there. They find out Jericho was in on it all along and Loki was disguised as the roadie before. It seems like a no-win situation. So, with no other option evident, Carlos agrees to take on the mark from Jericho. He saves his friend, but suffers the same fate if he doesn't do Loki's bidding. They are going to need the entire team to help defeat him.
Back in Lawrence, John and Mary have been talking. The kiss means something to him, and Mary doesn't regret it either. However, she's not sure she's ready for anything new right now. So, their romance is seemingly on hold. And the fact that Samuel isn't a fan of John's lineage as a Men of Letters, or Mole Men as he calls them, doesn't help the situation. But Samuel is going to have to put his dissatisfaction on hold because the Akrida is still out there and now they've got Loki to deal with. At least he and Mary cleared the air over him abandoning her to go hunt the Akrida. While he did it with the intention of protecting her, so she could be free of the hunting life, he agrees that it was perhaps not the best approach.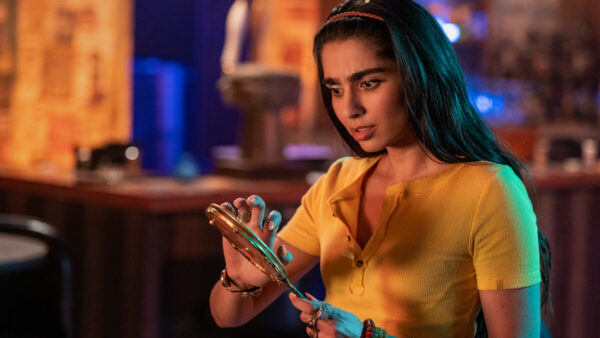 Loki's downfall is the destruction of his hand mirror. They can't destroy it, but they can use a blade with their own blood to try and take him out. Going to the club, Loki appears and replicates himself so he can take on each of them. When Mary seemingly takes out the real one, to save Samuel, he sees through the mirage and stabs her. Samuel knows his daughter isn't left-handed, so that's how he knew it was Loki in disguise. Good plan, but the knife didn't actually kill Loki.
Loki ties them up and mutes them. Carlos is put on stage with a bound and gagged Jericho. Instead of singing, though, Carlos destroys the guitar. He starts sizzling, for rebelling against Loki, but he turns the fire into confetti. Looks like Carlos knew the way to defeat Loki! The tattoo goes away and Loki's mirror starts cracking, then he gets sucked in. Case solved, Loki trapped, a good day's work. And later Carlos is convinced to do one last show with Jericho before they part ways.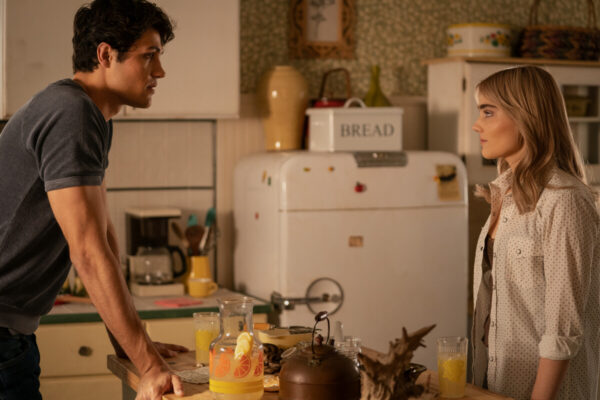 We end the episode with a mysterious lead. The photos Samuel took of the Akrida recon sites are overexposed. Since Ada has a lead on the queen, Samuel's going to follow it with her while Mary and John can focus on the photos. Before Samuel leaves, though, he gives them a recipe and instructions for a tattoo. If it's on them, the Akrida can't possess their body. With that, Mary and Samuel part ways for now, but he promises his daughter he won't drop off the radar like last time.
John goes through the photos on his own for a while before Mary comes in and gives him a deep kiss. She seems committed to trying this relationship, so that's a good sign. But before they can get more involved, John notices something in the background of one of the photos. It's Dean! He's getting out of the Impala and John says it's the same guy that gave him the letter from his dad when he returned from Vietnam. So, Dean's tied up in all of this and that just deepens the mystery of how the two canons intersect. Looking forward to exploring this more!
Rating: 4 / 5 Stars