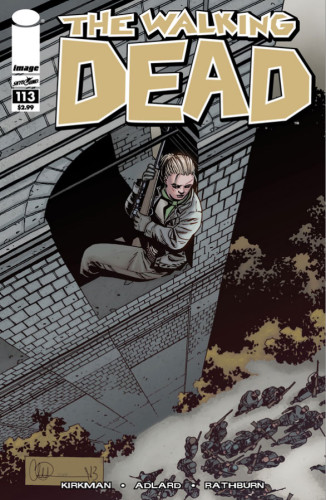 The Walking Dead comic is once again bordering on mimicking its TV counterpart. For the last few issues, Rick and his crew have been having what seems to be the same encounter over and over with Negan and the Saviors. While this has created some tense cliffhangers and moments, the nature of such elements grows tiresome much like lulls within the program, if they are repeated.
Note: This recap may contain spoilers!
The Walking Dead #112 had re-ignited my interest in the series. It was filled, every panel, with excitement and I had hoped that #113 would be even bigger and better. Issue #113 does have moments — big moments — yet in the end, we still haven't gotten much further than where we were last issue.
After the brief fleeting thought that Rick would bump off Negan in epic fashion, Negan revealed he had backup. Lots of backup. Immediately, we are back into the arguing between the two as the new issue begins. Meanwhile, Andrea is in the tower, waiting for a sign to take a shot, yet one of Negan's men is waiting for her, smashing her face into the ground multiple times. Throughout this she repeats the promise she and Rick have made to each other — that they will not die.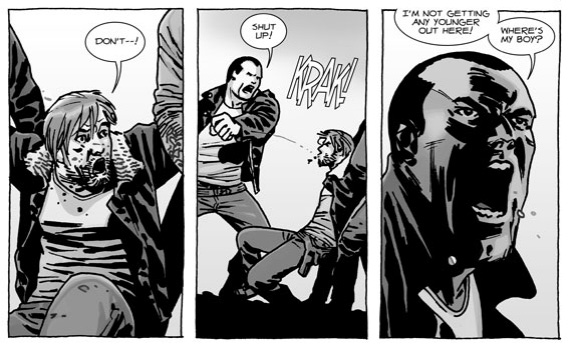 On the ground, Carl decides to take a shot at Negan, and for a brief moment, we see an insane change in this normally obnoxious villain. One of the bullets hits Negan's barbed wire-wrapped baseball bat that he has named Lucille. He is devastated and begins to break down until he reverts to his jerk self. He calls for Carl to be brought from his hiding spot. Negan makes a promise to kill the boy so that Rick, and his people, learn a lesson finally.
In the tower, the struggle continues until Andrea is being held out of the window, waiting to be pushed fully as she weakly holds her knife to her assailant's throat. From Rick's perspective, we see a body fall. Of course, Andrea is alive and well, and in the tower. Hopefully #114 will go the distance, perhaps opening with Andrea not bothering waiting for a sign from Rick and just taking that shot.