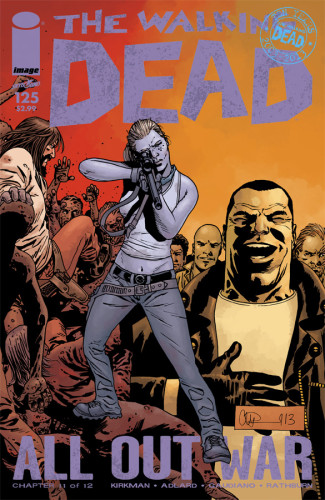 Boom! We jump right into Issue #125 of The Walking Dead.
Note: This recap may contain spoilers!
Dwight is alarmed. Really? Negan wants to desecrate Rick's body by urinating on it? Ick! Negan thinks it is hilarious. He is so confident that when he learns that the ammunition group has escaped with Carson's help, he is even more carefree. He thinks they will all come back soon enough!
Luckily, the ammunition group has found Michonne and Jesus as they try to fight off the walkers that are starting to horde around them. Jesus calls out to them — help take these zombies out! Meanwhile, Nicholas, who was cut in the attacks, is dying. His wife, Paula, is at his side. He is scared. His son is in the hall and Rick feels he should speak with him, but Andrea advises he should save his strength. She's convinced he feels warm and Rick demands she say the words. "We don't die."
After Nicholas passes away, Rick gives a speech to his group. He doesn't have a fever, which means Dwight is telling the truth. He shot him — but it was with a clean arrow. He IS on their side. The opportunity they have now is huge. Negan thinks he is dead and will be coming to take over. NOW is the time they fight.
As the groups head out, Maggie speaks again with Brianna. She assures Brianna that it's OK if people are scared. She is, too. Suddenly, there are gunshots.
Guess what? Negan is there!
Yep, yet again the man is giving a nice speech filled with the F word. He wants the good guys to send out their new leader now that Rick is dead. Just surrender, already. Little does he know, Rick is alive. And Rick is ready to show himself. And this time he is going to call Negan out.
And that's what he does.
Rick steps right up to Negan, stating he is stupid. Negan is shocked. Rick berates him. Negan is the problem. He causes more death than the walkers. He needs to learn how to share. How to barter. How to act civilized in the new civilization. And Negan? He is actually listening to Rick. Or at least he appears to when he questions all that Rick has laid out. Rick asks him if he is finally seeing things his way.
"Yes… Yes I am."
"Good."
And with that, Rick slits Negan's throat.
I FINALLY have goosebumps writing this recap, kids. Let's hope and pray that the "end" of this "war" comes in Issue #126 — and it does, indeed, go ALL OUT.