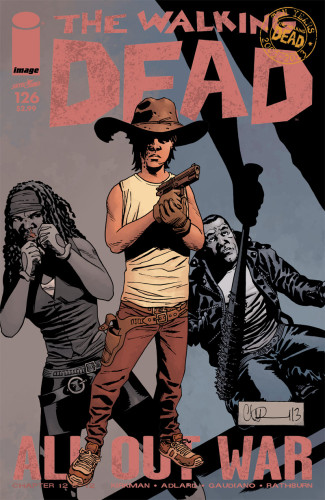 The Walking Dead #125 ended with a moment where I yelled and celebrated, because I was finally relieved we'd be moving on from the nagging monotony of Negan and his Saviors. Well, I celebrated a bit too soon and failed to remember that Rick Grimes is a man with a heart.
Issue #126 opens moments after Rick lashes at Negan with his knife. Negan has fallen to his knees and Rick declares the war is over and that the Saviors need to surrender and let his group take Negan into custody… before he dies.
Yep, Negan isn't nearly as mortally wounded as it seemed he was at the end of #125. He and Rick start fighting, a bit of a distraction as the good guys go after the bad guys. Negan, gushing blood from his neck, breaks Rick's right leg. Dwight helps, as he is on the good guys' side, stating he will take Negan's place. There is no reason to be afraid — Negan has fallen and they will now have a better life.
Rick, lying in agony from his leg break, demands that Negan's life is saved before his leg is set. This leads to Andrea being far from happy about this decision. She wants to publicly execute Negan. Carl agrees. Like a dope, Rick disagrees. Negan lives because they are better than him. Oh, Rick. You never learn, do you?
Cue a Rick speech. Speeches. What is it with The Walking Dead and speeches? Rick gives an "Us" and "Them" monologue as everyone stands around. Cut to Michonne telling Rick the speech went over well. Suddenly, everyone realizes Carl is missing. This is not a joke. Carl is standing over Negan with a gun. Rick pleads with him not to kill him. And, of course, he agrees not to. Negan is awake and wonders why Rick will keep him alive. Rick explains that he wants him to see how great things can be. He wants him alive — to see how wonderful things are as he rots in jail.
When has Rick ever made a bad decision by not killing Negan?
Oh, that's right…
#127 soon!