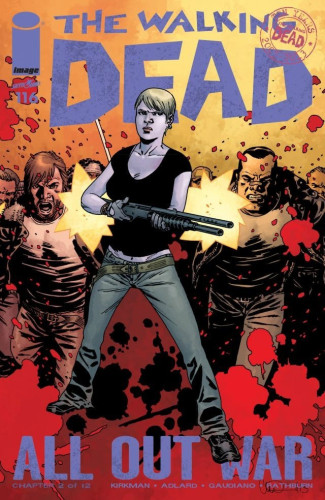 The Walking Dead Issue #115 came and went with little (excessive) excitement or action. #116, on the other hand, is action packed! Well, sort of. Going into this issue, again, I didn't have high expectations, but I had some hope for this war to actually start. And, yes, it partially delivered.
Note: This recap may contain spoilers!
We last left bad guy Negan expecting the majority of the army that Rick, Jesus, and Ezekiel marched up with to leave. He was, of course, wrong. As the fighting begins in #116, the shots, naturally, bring a horde of zombies towards the fighters and their nemesis. As the undead get closer, Rick tells everyone to retreat. Negan, in fight mode, wonders why his people aren't trying to take down those fighting against them and that is when he notices they're leaving… and what is heading towards him.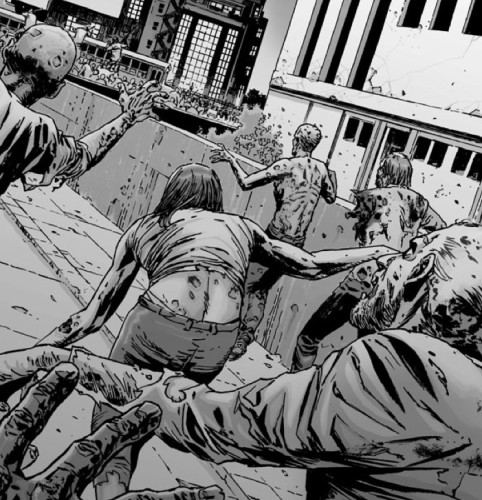 Before the group fully leaves, Rick and Holly argue over who is going to take out the gate so that the horde can overrun the bad guys. Holly takes the reins and smashes into the gate. As she tries to get away, she is almost grabbed by a zombie — which is taken out by Negan. Yep. She's gonna be at his mercy for a while. Hopefully this bit of storyline will force the group to fight sooner — and harder. As the buses pull into safety, the gang begins to celebrate. Rick advises against it. It is too early to celebrate because the war has just begun.
The Walking Dead Issue #116 was far better than the last few issues; however, we still have the stop/start drama going. I really enjoy the fact that we are getting into the war, but the action seems to be cut short time and time again. Perhaps with the war just beginning, we will see some major cliffhangers rather than nice bows wrapping the end of each issue. The dramatic speeches and one-liners are not doing the job for me. The comic deserves a bit more in my personal opinion. After ten years, I don't expect non-stop action, but it is still too much talk about fighting than actual fighting.
Until next time…