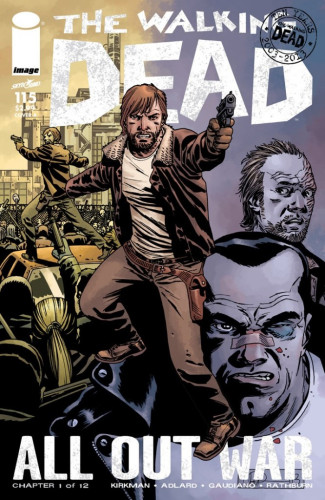 Remember when I recapped The Walking Dead #114 and stated that we were, again, just building up to the next confrontation? Remember when I said that the confrontations needed to pan out with no more mini fights and retreating? Remember how I said that we needed to get going with Rick Vs. Negan?
Well, #115 is not filled with action I had hoped. Again, we are left with a lot of talking, yet we are getting closer to that impending war.
Note: This recap may contain spoilers!
The Walking Dead issue #115 starts with Andrea and Rick discussing that today is finally the day they go to take down Negan's tyranny. It's a heartfelt conversation about war meaning there will be casualities, yet their world can't go on as is, and that Jesus has told Rick he is the leader to build a new one. Meanwhile, current leader Ezekiel is in bed with Michonne, and the two speak nonchalantly of their "potential". I wonder now if the two of these storylines will cause a rift that could end up with a brother against brother type situation within the "good guys" group.
The group is finally brought together and readied for battle — that is, after many more conversations and inspirational speeches that, honestly to me, feel like filler! Andrea and Carl stay behind to keeps things together, while Rick and the others head to Negan's and get into position. Rick fires his gun, and Negan appears, angry and snarky as usual. Verbal confrontation begins with Rick stating the days of being bullied are over, and that Negan and his crew need to surrender. However, Negan has a different plan, as he has members of the Hilltop stating they're staying with Negan and everyone else should go home. Rick is not amused.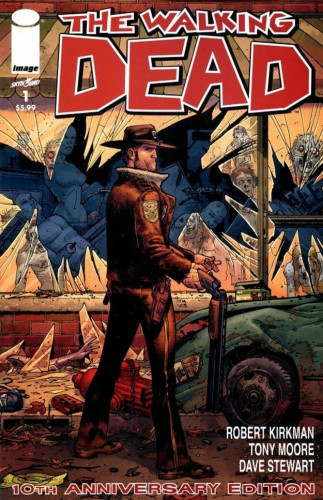 Well, #115 didn't move along as I had hoped; however, with the 10th Anniversary of The Walking Dead this month, we also got two special issues that made up for it somewhat. The Walking Dead #1 10th Anniversary Edition is fantastic. A colorized version of the first issue, the book also includes a huge interview with creator Robert Kirkman. It is definitely a must have for fans. The original proposal for the comic is included as well, which is interesting as the series was originally going to be called Night of the Living Dead. The title is public domain, and thus, the use of it would have been easy — but Kirkman was advised that it would be ridiculous to use it in the end, as the series would've been associated with the 1968 film and not stand on its own. The original 5-page comic proposal is also vastly different from the original issue. Rick's wife is named Carol, and the series starts with the two watching late night television while wild reports of zombie-like activity are talked about on the news. Again, this anniversary edition is well worth buying.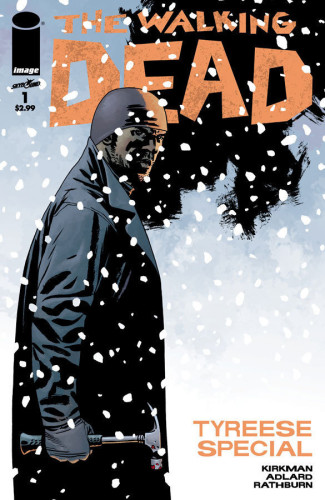 Also out this month is a Tyreese special. Not as entertaining as the anniversary special, the comic follows Tyreese's story, intertwining it with some of the original comics we've seen over the last ten years. There are some neat moments as we see where Tyreese was in contrast to when, say, Lori and Shane originally hooked up as they went on the run during the outbreak. But if you are a big fan of the series, again, this issue is worth having to fill out the story. Hopefully, the current story will be filled out a bit when issue The Walking Dead #116 arrives in November!